The Tour de France Mysteries Solved
Welcome to the Tour FAQ—find out how the riders go to the bathroom, what all those cycling terms actually mean, what Lance hopes to do after the race, what kind of bikes you can buy to live out your own Tour aspirations, and more...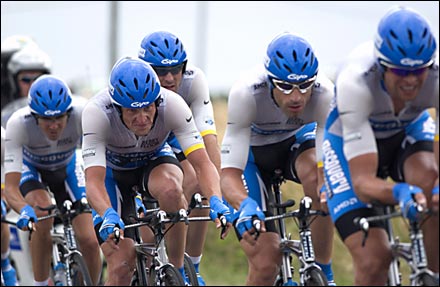 Heading out the door? Read this article on the new Outside+ app available now on iOS devices for members! Download the app.
How do they go to the bathroom? Why do they shave their legs? How can I become a podium girl? Answers to these and other pressing questions… [read]
Tour de France 2005
To get complete tour highlights—daily reports; special daily dispatches from Chris Carmichael, Lance's trainer; exclusive Tour photo galleries, an interactive map of the route—
CLICK HERE
.
Peleton, Broom Wagon, Feed Zone… What do all these words mean? [read]
Why do those TV announcers get so excited? [read]
What does this year's route look like? [view]
What kind of tactics are employed? [read]
How do they attack on the mountain stages? [read]
Who are the Tour's toughest riders this year? [read]
What are the defining moments in Tour history? [read]
What's Lance going to do after he retires? [read]
After Lance, who's the next U.S. great cycling hope? [read]
Before Lance, who were the repeat racers par excellence in le Tour? [read]
What kind of Tour-worthy bikes are available for us mere mortals? [read]