A Knockout Punch in the Fight for the Tour de France's Yellow Jersey
Sometimes the Tour becomes a boxing match, and Jonas Vingegaard versus Tadej Pogacar has been a battle for the ages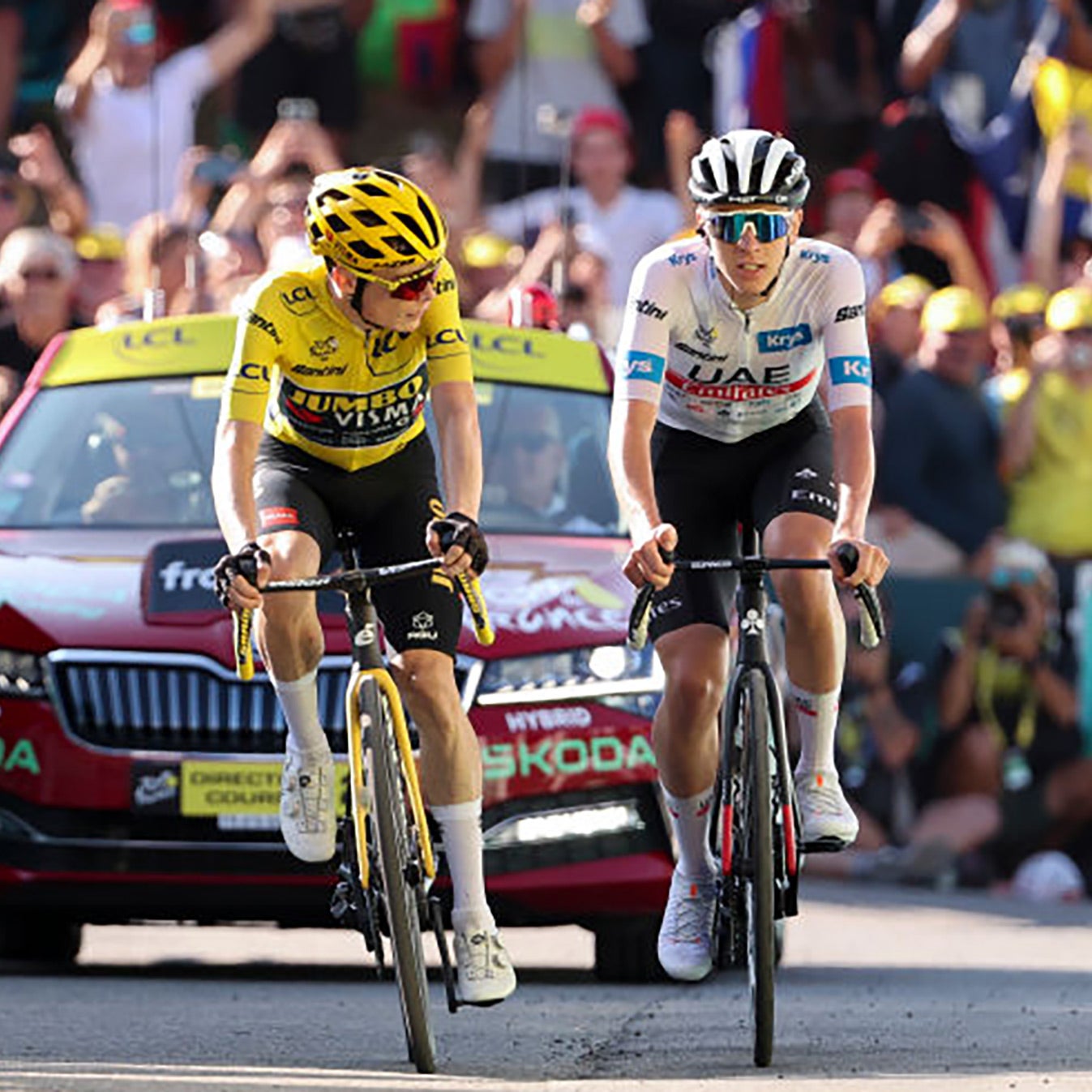 Jean Catuffe / Contributor
Heading out the door? Read this article on the new Outside+ app available now on iOS devices for members! Download the app.
You're likely familiar with the tired sportswriting cliché of comparing an unequivocally non-combat sport to boxing. The Super Bowl is a prize fight. Cavaliers versus Warriors has become a brawl. Grandpa's bocce ball tournament devolved into Hagler Hearns. 
Journalists covering the Tour de France are hardly immune from this rhetorical trope. But having covered pro cycling for nearly two decades, I will tell you that there are situations during the Tour when the boxing comparison is appropriate. You've undoubtedly seen video clips of these moments pop up on social media.
I'll set the scene: a small group of cyclists pedals up some impossibly long and steep climb at eyeball-bursting pace. Suddenly, one rider stomps on his pedals and accelerates away from the group. The move causes the others to rev up the speed to chase him down. Suddenly, riders are bolting away, one by one, playing a mean game of cat-and-mouse on the climb, until some become exhausted and the group begins to dwindle. After a few minutes, only two riders are left, attacking, chasing, and attacking again all the way to the top.
Froome, Contador, Porte, Alaphilippe and more battle on #Dauphine summit finish!

📺: Peacock pic.twitter.com/YHgdqHi9Ld

— NBC Sports Cycling (@NBCSCycling) May 30, 2023
Those fierce accelerations are cycling's version of an uppercut to the face. The next time you see a scenario like this, I want you imagine that each cyclist has the green health bar from the video game Mortal Kombat (or Street Fighter) above his head. During every speed increase, that health bar quickly drains from green to red. Then, when the rider rests, the health bar recovers. When a rider drops off pace due to too many accelerations, that's cycling's version of a knockout.
Cycling writers use various metaphores to describe this dynamic: matches in a matchbook, bullets in a gun, cards to play in a game of poker. I prefer the boxing idiom.
The best Tour riders train their bodies to be able to accelerate, rest, and speed up again for hours on end, day after day. The very best are the riders who can land the most punches—or register the strongest punch—during one of these fights.
Tadej Pogacar crack Jonas Vingegaard on the Grand Colombier!#TDF2023 pic.twitter.com/qTGLIdDHYW

— NBC Sports Cycling (@NBCSCycling) July 14, 2023
I bring all of this up because the 2023 Tour de France in recent days became a thrilling prize fight on the slopes of the Alps. Defending champion Jonas Vingegaard of Denmark, the race leader, and two-time winner Tadej Pogacar of Slovenia took turns pummeling each other with searing attacks. It all began on Friday, July 14, on the slopes of the Col du Grand Colombier climb in southern France. Pogacar had his UAE Team Emirates squad drop Vingegaard's Jumbo Visma teammates on the hulking climb, and then Pogacar landed a mighty punch near the top. He bolted away from Vingegaard inside the final mile to take eight seconds from the Dane's lead. You can see the move in the above clip.
A true battle at the top of Col de La Joux Plane 🤯⚔️

🎥 @LeTour pic.twitter.com/wXYW5pHTEz

— Velo (@velovelovelo__) July 15, 2023
The next day Pogacar attacked Vingegaard relentlessly on the slopes of the Col de Joux Plane, bolting away again and again. So fast were Pogacar's accelerations that he caught and nearly collided with a television motorcycle near the summit. He kept the aggression up during the following stage—another mountainous route. But Vingegaard absorbed Pogacar's punches, like Rocky Balboa taking haymaker after haymaker from Ivan Drago in Rocky IV. The race remained tight. After Sunday's stage 15, Vingegaard led Pogacar by just ten seconds.
😱 Así ha sido el ataque de @TamauPogi sobre @j_vingegaard en el ascenso al Joux Plane#EsenciaCiclista #LeTour #TDF2023 #Vingegaard #Pogacar pic.twitter.com/NICJQVV1ut

— Esencia Ciclista (@EsenciaCiclista) July 15, 2023
The ferocity of the battle was not lost on longtime followers of the sport. You may have seen headlines about this Tour being one of the best in ages. "I can't believe how good this Tour de France is," wrote columnist Jason Gay in Monday's print edition of The Wall Street Journal. I thought back to Tours of yesteryear to try and remember when two riders threw this many punches without one of them capitulating. I've watched the Tour every year since 1999, and for the life of me, I cannot remember a battle quite like this.
Of course all good fights must end, and this one appeared to reach its conclusion over the past two days. On Tuesday, July 18, Vingegaard scored what seemed to be a TKO during the individual time trial: a race against the clock where the riders start one-by-one. He blazed across the hilly 14-mile course in 32 minutes, 36 seconds, a whopping 1:38 faster than Pogacar. Cycling commentators Bridie O'Donnell and Simon Gerrans from Australian broadcaster SBS did a fantastic job analyzing Vingegaard's time trial win in the following clip.
Where Vingegaard took time on Pogacar during Stage 16 of the Tour de France!@simongerrans and @Bridie_OD break down the Dane's cornering aggression! #sbstdf #TDF2023 #couchpeloton pic.twitter.com/s8BkceMlXT

— SBS Sport (@SBSSportau) July 18, 2023
So massive was Vingegaard's margin of victory—individual time trials that short are often decided by a few seconds—that several cycling pundits on twitter wondered if the result was too good to be true—code for doping suspicion. How could Pogacar have lost by such a wide margin when the two appeared to be so evenly matched in the previous battles?
The cycling world got its answer a day later, during Wednesday's mountainous 17 stage across the Alps to the ski town of Corchevel. As the peloton pedaled up the soaring Col de la Loze—a massive, 17-mile ascent—Pogacar drifted off the back and lost contact with the group, long before the fight even started. The TV broadcast aired audio from his team radio. "I'm gone, I'm dead," he said. Long story short: Pogacar was exhausted, and that gap during the time trial was due to his weakening legs.
🚴Tadej Pogacar: 🗣️ "I'm gone. I'm dead"

Así las cosas en el Tour de Francia🤷🏻‍♂️

🏆Habemus CAMPEÓN de la edición 110 de @LeTour, se llama Jonas Vingegaard🇩🇰 pic.twitter.com/X0QaNOeF0Z

— Coco Trejo (@CoqueTrejo) July 19, 2023
I have one final boxing comparison for you. Pogacar versus Vingegaard was cycling's version of the Rumble in the Jungle, the historic 1974 bout in Kinshasa, Zaire (now the Democratic Republic of the Congo), between Muhammad Ali and George Foreman. Contemporary boxing scholars still debate why Ali beat Foreman, but everyone pretty much agrees that Foreman's aggression in the early rounds left him completely exhausted at the end, when Ali came to life and knocked him out. Foreman "punched himself out" of the fight, as the old adage goes.
I think that's what happened to Pogacar. He fought hard over the past week of the Tour de France, and was the most aggressive cyclist in the race for several days on end. But it's a three-week race, and every acceleration hurts. And by Wednesday, Pogacar was simply out of punches.
Lead Photo: Jean Catuffe / Contributor