The Twitter War on Lance Armstrong
Inside Floyd Landis's clandestine campaign to torment his former boss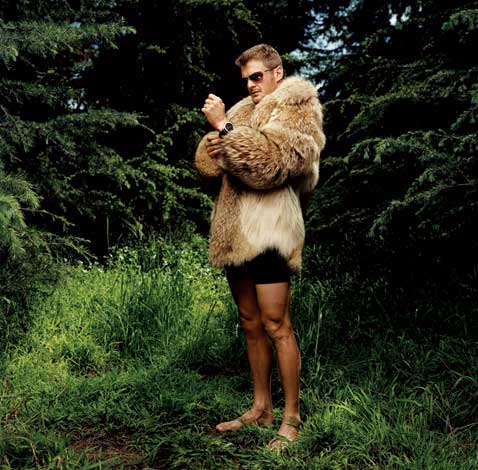 Heading out the door? Read this article on the new Outside+ app available now on iOS devices for members! Download the app.
ON APRIL 27, a mysterious Twitter user named @GreyManrod issued two cryptic messages. One read: "Nap time. Back in 60 Min." The other: "@UCI_Overlord 60 Min took over for you on that project."
The tweets might have seemed nonsensical—unless you knew that the person writing them was actually Floyd Landis, the 2006 Tour de France champion who had his title revoked after testing positive for synthetic testosterone. For the past few months, Landis, who is now retired from cycling, has been conducting what he describes as a "satirical" Twitter assault designed to antagonize and discredit Lance Armstrong, his old U.S. Postal teammate and current foe.
Landis, 35, sent the tweets after being contacted by CBS producers about an upcoming 60 Minutes interview with Tyler Hamilton, which aired May 22. Why? Landis believes Armstrong is engaged in his own campaign of online disinformation, and Landis hopes to expose Armstrong's hypocrisy. "I'm out to demonstrate how few people understand how easy it is to manipulate perception using the Internet," he told Outside in an e-mail. In particular, Landis believes Armstrong's camp is engaged in a concerted effort to buoy the seven-time Tour de France winner's image—which has been tainted by increasingly frequent doping allegations—by routinely posting prescripted pro-Lance comments beneath online stories about Armstrong, a claim Armstrong flatly denies.
That's the high-minded explanation, anyway. Down on the low road, it's obvious that @GreyManrod—a handle Landis says he shares with about ten other people—simply likes giving Armstrong a hard time. For example, after Armstrong's recent run-in with Hamilton in an Aspen bistro, Manrod poured fuel on the fire, tweeting and retweeting rapid-fire insults. "He's practicing being in peoples faces to protect his backside to prep for prison," said one of the messages. Another, a retweet, observed: "Soon Jeff Noviztky [sic], a 'Good Friend' of @Ty_Hamilton is going to toss @lancearmstrong out of the bistro called freedom."
It's tempting to write this stuff off as mere towel-snapping by a disgruntled jock and his online pals, but Landis's cyber-heckling could seriously backfire, particularly if he's called upon to testify in court. Reportedly, Landis is a plaintiff in a federal whistle-blower lawsuit filed against Armstrong and his former U.S. Postal teammates, and he's a potential witness for the government should a current grand jury investigation of Armstrong result in fraud or perjury charges. (The inquiry began shortly after Landis accused Armstrong of cheating in 2010, allegations that were made public after The Wall Street Journal obtained a letter Landis had written to cycling's governing body, the International Cycling Union. Armstrong has steadfastly denied any wrongdoing.) Landis also says he's the subject of an ongoing FBI investigation into fundraising activities by his Floyd Fairness Fund.
With litigation on the table, leaving a trail of hostile tweets might not be the brightest idea. "No good can come from this, either as a whistle-blower or as a federal witness," says Bill Lawler, a former federal prosecutor who's now a partner at the Washington, D.C., offices of Vinson and Elkins. "As a prosecutor, I want someone who's credible and not biased, and not going to be viewed as someone with an ax to grind."
Sandra Baron, executive director of the Media Law Resource Center in New York City, agrees. "Tweeting under assumed names, name-calling, and similar antics opens the door (and pretty widely) for the argument that his animus toward Armstrong is so great as to taint everything he says about Armstrong," Baron wrote in an e-mail.
Armstrong and his inner circle have taken notice, and they're not pleased. "Twitter is a public forum," Armstrong told Outside in an e-mail. "Using it to publicly and intentionally attack and humiliate people of diverse backgrounds is offensive to me and many others."
Armstrong's longtime team director Johan Bruyneel, who's been on the receiving end of @GreyManrod's barbs, has also had enough. On May 30, he responded to the barrage, telling his 75,000-odd Twitter followers, "Someone who tweets 47 times in 44 minutes is SICK!!!"
THIS ALL STARTED back in February, when the International Cycling Union (UCI) sent Landis a letter announcing that it was suing him in Switzerland for defamation. Officials were upset because Landis had accused the organization on numerous occasions of covering up a 2001 drug test, administered at the Tour of Switzerland, that Armstrong had allegedly failed.
"You can't sue someone for defamation when they're telling the truth," says Landis. "The only response I can think of that was justified was to just make a joke of it." Landis set up a website for a fictitious law firm called Grey Manrod Associates—which claims to have offices in New York City, Baghdad, and Djibouti—and began corresponding with the UCI. He masqueraded as a lawyer named Chade O. Grey, representing Landis.
"Please be understanding of Mr Landis's current mental state," he wrote on February 17, "as he seems to have suffered some sort of trauma. He has informed me of his intention to fully cooperate with the UCI and issue a retraction."
Then Landis leaked the dozen or so e-mails that circulated between him and the UCI to the cycling blog NY Velocity. The mainstream media took no notice of Landis's stunt, while cycling editors—several of whom were aware that Landis was behind Manrod—treated it as a joke.
On May 4, the UCI posted a statement on its website announcing that its current and former presidents, Pat McQuaid and Hein Verbruggen, had "lodged a case in the Swiss courts against Mr Floyd Landis regarding repeated, serious attacks against their characters." (Landis maintains he's never received any official notification that he's being sued.)
Neither the UCI post nor any of the news stories about it mentioned the fictional Manrod, who by this time was focusing attention on the fast-approaching 60 Minutes report. Manrod started bashing Armstrong and Armstrong's attorney, Mark Fabiani, in hundreds of disparaging, profanity-laced tweets per day, sent at all hours to the handle's roughly 1,000 followers.
Armstrong, who has nearly three million Twitter followers, says he always believed that Manrod was Landis, and Landis acknowledged the connection in a webvideo recorded on March 27 that went mostly unnoticed. But once the 60 Minutes segment's teaser was posted online on May 19, Armstrong saw the Twitter feed as more than just a nuisance: he believed Landis was feeding lies to CBS News, which was accepting them at face value. (Landis admits that CBS contacted him but denies giving them any information that wasn't already public. CBS wouldn't comment on its sources but says it stands by its reporting.) Lance's camp aired this theory, among other arguments advanced in his defense, on a hastily produced website called Facts4Lance.com.
The site quoted numerous @GreyManrod tweets that mentioned 60 Minutes in advance of the Tyler Hamilton segment—evidence, the Armstrong camp maintained, that Landis was colluding with CBS. Facts4Lance was mostly ignored by the media, but it was seized upon by anti-Lance bloggers, who ridiculed Armstrong's fixation on Manrod. On May 20, former Versus cycling correspondent and Armstrong critic Neil Browne wrote on his blog that "the defense of Armstrong is based on fictional Twitter accounts."
Landis sees his Twitter hijinx as an appropriately humorous response to the absurd state of professional cycling. "I started it just as a joke," he says. "It was never meant to be Floyd Landis speaking through this thing. I never made statements on there that were of any serious nature."
Two weeks ago, Facts4Lance.com was taken offline. Fabiani then told Cyclingnews.com that the site had served its purpose, adding that it was shut down because "the 60 Minutes story has been completely debunked by subsequent revelations."
Manrod seized the moment. "Facts4Lance.com had become my daily morning inspiration to never go full retard again," he wrote. "This gonna be so sad…"
TECHNICALLY, LANDIS says, he wasn't the one who created the Manrod Twitter handle. Instead, Andy Shen—NY Velocity blogger, Armstrong skeptic, and cartoonist—registered it for him around the time the fake e-mails were released. "I said Grey Manrod should have a Twitter handle, and [Landis] said, 'Make it happen,'" says Shen, who then turned over the password to Landis.
After the 60 Minutes report aired, Landis sought out people on Twitter who "were saying the most fucked-up things [about Armstrong] but seemed to be educated." Landis sent them private messages with the password to @GreyManrod and told them to "go on here and talk a bunch of shit."
According to one person who received the password, Landis doesn't just give it out to any old Lance-hater: a recent inductee was subjected to a month-long informal interview process after he learned Manrod's identity from the March 27 webvideo. This person, who spoke to Outside on the condition that his full name not be used, is a 37-year-old Boston business analyst and cycling fan named Ben. He used to wear a LiveStrong bracelet and purchased Armstrong RadioShack jerseys on a recent visit to Paris. In light of the 60 Minutes allegations against Armstrong, however, he became disillusioned.
"I bought the Lance Armstrong story hook, line, and sinker from the very beginning," Ben says. Feeling violated, he started corresponding with Landis, first via @GreyManrod, then via Landis's personal e-mail account. When this began back in March, according to Ben, Landis was still the only Manrod.
"Landis thinks there should be a scorched-earth approach to cleaning up cycling," says Ben, noting that the whole thing reminds him of the movie Fight Club, in which Tyler Durden, a crusader with multiple-personality disorder, assembles an army of nameless, tight-lipped followers to spread mayhem around the country. According to Ben, each of the roughly ten Manrods received the password from Landis. They interact via Twitter's Direct Message feature, but few of them know who the others are. Landis acknowledged tweeting through the account up until a couple of weeks ago, around the time Outside started reporting this story.
"He's definitely tweeting," says Ben. "There's some madness there, but there's a method, too. The joke he keeps making is that someday he's going to have to explain all this to some poor jury."
THIS ISN'T THE FIRST time Landis has antagonized his enemies by crowdsourcing his Twitter feed. Before Manrod, Landis had at least half a dozen handles. When he first signed on to Twitter, before 2009, he discovered that someone was already masquerading as him. So he decided to register as @floydlandis1 and "pretend" to be Floyd Landis.
"I thought it would be funny if I pretended to be someone pretending to be me," he says. He found it so amusing that he started seven or eight more fake Landis Twitter accounts, adding different digits to the handle. Then he gave out the passwords to those accounts.
In August 2009, before Landis had come clean about his use of performance-enhancing drugs, VeloNews ran a critical story on him, discussing what the magazine described as his inability to regain his form following a two-year doping suspension. Though the story insinuated that Landis was slow because he was no longer on drugs, he was most angered by its suggestion that he had a drinking problem.
A tweet by @floydlandis1 called the writer of that story a "coke addict," and then things got more serious.
"I'm willing to forgive @velonews," tweeted @floydlandis1 on August 19, 2009. "No, really … come check out my new nickel plated 9mm guys … I keep it out here by this hole I just finished digging."
When Outside contacted Landis and asked if he'd used Twitter to attack VeloNews, he didn't respond at first and then referred the magazine to his lawyers. Earlier, when he was unaware of Outside's interest in the threat he appeared to have made via @floydlandis1, Landis wrote of the handle: "I believe I started that one, but I don't know who has it or if it still exists…. See, the problem is that once you give out the password, there is no way to know who that person gives it to. Also, any of those people can change the password and even the e-mail associated with it and hijack the entire thing."
Landis's strategy is a strange hybrid. On the one hand, distributing passwords is a brilliant alibi for speech he says everyone should know is too ridiculous to be intended seriously. And even if he did make a few off-color remarks, Landis says, "satire and jokes are protected free speech." On the other hand, many of the Tweets don't appear to be satire at all, and one could argue that what Landis is doing is more like whipping a campfire into a blaze, asking a bystander to tend it, and then denying any responsibility for the conflagration that ensues.
When we spoke to Landis last week, he was about to meet with his lawyers in Los Angeles. He's been through a lot in the past five years, from winning the Tour de France to having his title stripped, lying about his drug use, coming clean, and organizing the Twitter campaign against Armstrong. Still, he claims to be at peace.
"I know half the things out in the press say that I'm homeless and alcoholic," says Landis. "But I'm fine, man. I'm really doing quite well."
Still, he's hoping to bring Armstrong down to earth in court. And if that doesn't work—or even if it does—there's always the Internet.
"Certainly, if your story doesn't emphasize the absurdity in Armstrong paying Fabiani $40K per month to do things like build a website alleging that a fake law firm by the name of Grey Manrod conspired with 60 Minutes to fabricate a story," Landis e-mailed, "then you missed the point of these shenanigans."