Sponsor Content: Fjällräven
Two-Wheeled Adventure 
Fjällräven partnered with Specialized to create a line of gear that makes bikepacking easier, more comfortable, and more fun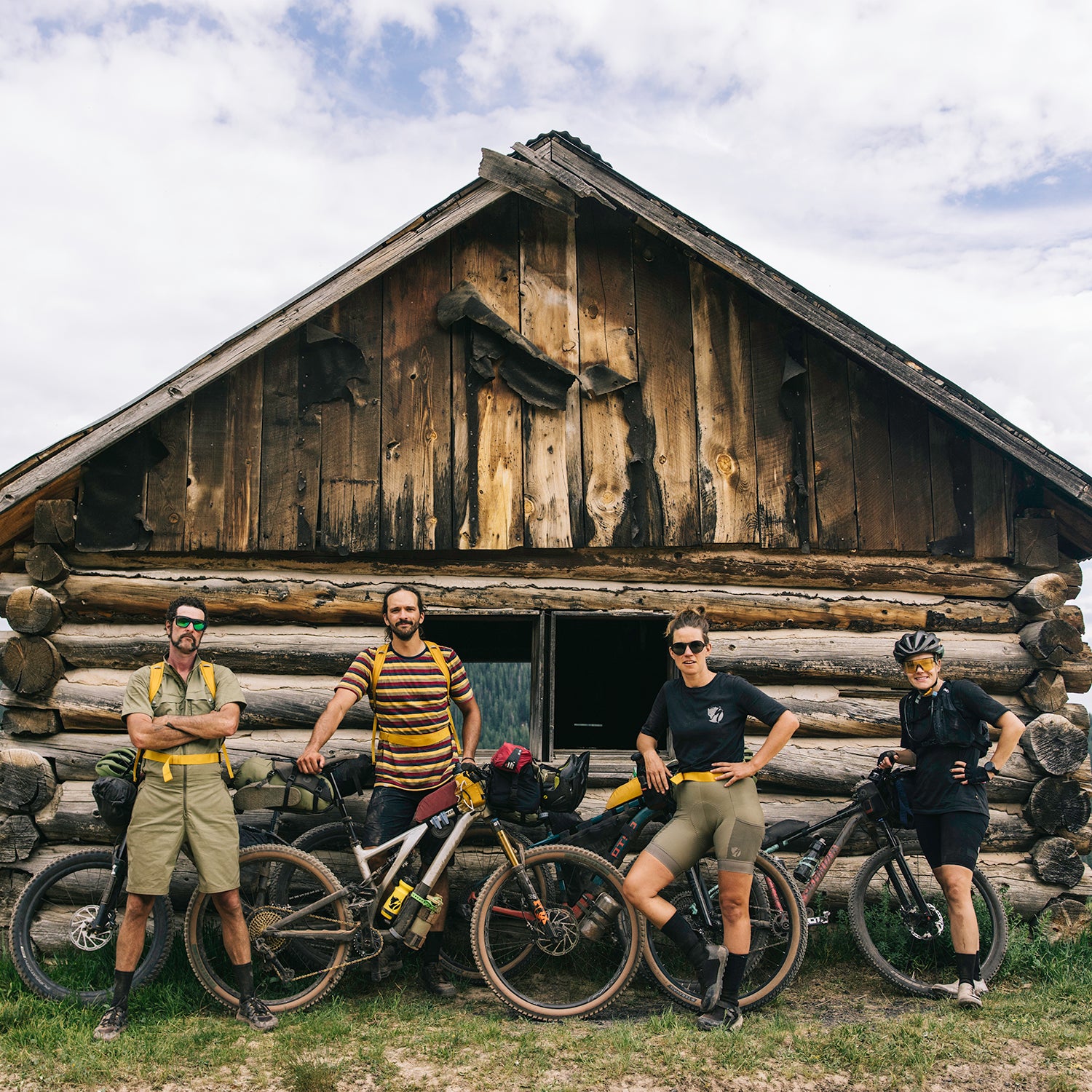 Andy Cochrane
If you love biking along backcountry roads and trails, why not just keep going? Why not indeed. Simply pack camping gear and ride as far and as long as you want. That's the beauty of bikepacking, and why Fjällräven has launched a new line of gear designed specifically to support the growing sport. We spoke with Sarah Swallow, a Fjällräven Friend and adventure cyclist and advocate based in Durango, Colorado, about bikepacking, the new S/F gear, and her top advice for beginners.     
Outside: What's special about bikepacking?
Sarah Swallow: Bikepacking offers a unique opportunity to explore and immerse myself in experiences and natural landscapes often inaccessible by other means of transportation. Every trip is an eye-opening journey that takes me away from everyday life while bringing me closer to myself and my surroundings. The sport provides perspective on life and an understanding of my physical and mental capabilities. I gain inspiration from the natural environments I travel through, and I'm always humbled by lessons from the adventure. Bikepacking is not an escape but an embracing of reality that always leads me to a newfound appreciation of my life and the world around me.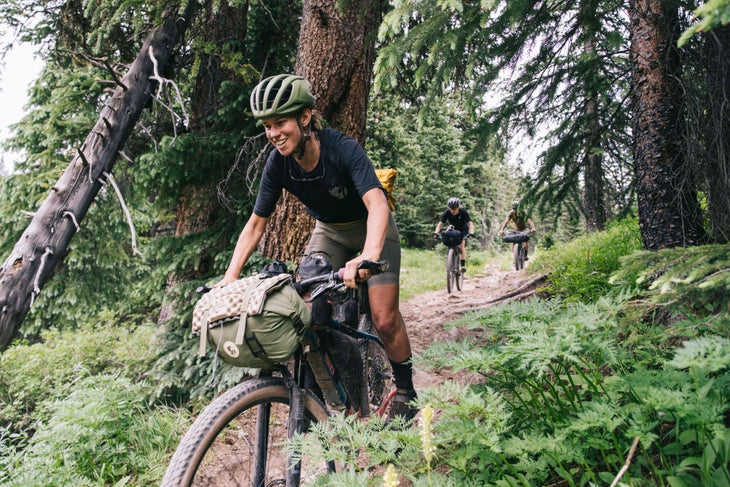 What are your favorite bikepacking adventures?  
My favorite bikepacking trips include a combination of land and water adventures. For example, I love bikepacking in Baja California, Mexico. One minute I'm sweating it out pedaling a technical dirt road through date palms or otherworldly cacti characteristic of the diverse Sonoran Desert. The next minute, I'm boogie boarding in the Pacific Ocean or snorkeling and exploring life beneath the surface of the Gulf of California. Because I am traveling by bicycle, I can often get to remote beaches that most folks can't reach—a little private slice of paradise for the night. It's nice to mix up the routine of a bike tour with some extracurricular activities. While cycling is my primary love, swimming and water activities are a close second!
How and where did you test the new Fjällräven bikepacking gear?
I've tested the Fjällräven bikepacking gear on all types of trips: monthlong expeditions in South America; the Tour Divide; scouting and developing new cycling routes in Sonora, Mexico; on my favorite bikepacking loops in the San Juan Mountains in Colorado and the Sky Islands in southern Arizona; and just commuting around town in Durango Colorado, and Tucson Arizona. The gear is versatile for everything from big expeditions to commuting around a city.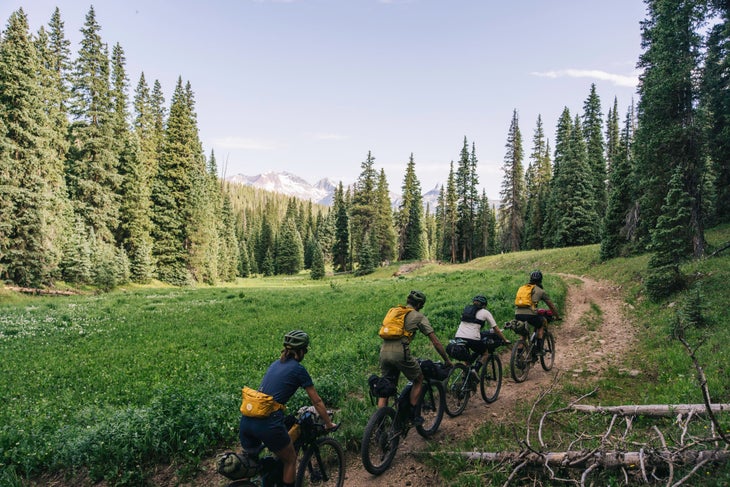 What makes S/F bikepacking gear different? What are your favorite products? 
The Fjällräven bikepacking gear is different because each product is a creative and multipurpose solution to bikepacking equipment. Some unique offerings from the product line: a waterproof seat pack, a tote for the cool cave pannier, and a warm-weather sleeping quilt that doubles as a wearable down poncho. In addition, the gear is fashionable and designed with high-quality, durable, and environmentally conscious material that will withstand the use and abuse of years of bikepacking in all weather and terrain. My favorite product is the Expandable Hip Pack, which is much more than just a hip pack—it also converts into a lightweight backpack. I use the Expandable Hip Pack in backpack mode as my carry-on when traveling to bikepacking trips, in hip pack mode while I am riding, and in backpack mode again while resupplying in town. I also use the hip pack on my daily mountain bike rides to carry snacks and an extra water bottle, and then I swap it into backpack mode to pick up a few items at the grocery store on my way home after the ride.
What are the Fjällräven Ride Outs?
The Fjällräven Ride Outs are opportunities to go on a beginner-friendly bikepacking overnight trip with a community of like-minded individuals. The Ride Outs are a great time to try your first bikepacking trip in the company of others, meet fellow bikepackers, talk gear, and get inspiration for future trips. Three Ride Outs are scheduled this year: Boulder, Colorado, on August 26-27; Asheville, North Carolina, on September 16-17; and Costa Mesa, California, on September 30-October 1. I'm excited to attend the Ride Outs in Boulder and Costa Mesa.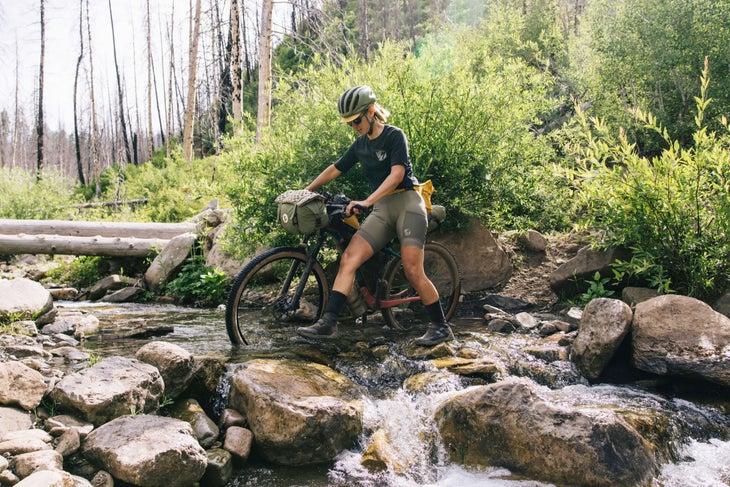 What's your top advice for people just getting into bikepacking?
Getting into bikepacking can be overwhelming initially, so try not to get bogged down in the details and nuance. Use what you have or borrow some bags, throw in whatever gear you currently own, and get out for your first tour! You'll quickly figure out what works for you and what you like and don't like. Then you can gradually acquire gear and refine your setup as time and budget allow. Here are my top tips for new bikepackers:
Plan ahead, but not too much. Have a route and note its distance, elevation, and food and water resupply points. 
Embrace the unexpected. We live such rigid, goal-oriented lives that it can be challenging to be flexible and adaptable and to embrace the unexpected changes that can happen during an adventure. Bikepacking can be less stressful and much more fun if we let loose a little. 
Don't rush it. Take a lot of breaks, go for mid-ride hikes and swims, explore, and take pictures! Ditch those gel packs, and bring real food for a picnic, such as hard salami, cheese, crackers, and olives. 
Get out there, no matter your gear. My friend carried a backpack full of her stuff and strapped a full-size pillow to her bike on her first bikepacking trip. She had a blast! You don't need fancy gear to start. Work up to it and use what you have. Bikepacking.com has tons of general information about bikepacking, gear, routes, events, and stories. 
Start small. A 50-mile route one a bike fully loaded with bikepacking gear will take much longer than an unloaded ride. Plan more time than you think you need for your first few trips. My favorite average daily distance is 25 to 30 miles, depending on terrain (dirt road vs. singletrack), conditions, and elevation.
---
In 1960, Åke Nordin founded Fjällräven in his basement in the Swedish town of Örnsköldsvik. Since then, the brand has stayed true to its mission of developing timeless, functional, and durable outdoor equipment; acting responsibly toward people, animals, and the environment; and inspiring more people to discover outdoor life.
Lead Photo: Andy Cochrane