Ty Kady: Back in the Saddle
Heading out the door? Read this article on the new Outside+ app available now on iOS devices for members! Download the app.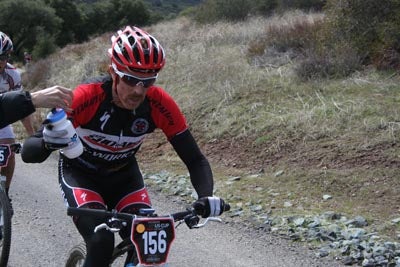 In honor of the Sea Otter Classic, which starts today and runs through April 18 in Monterey, California, I caught up with a three-time champion of the event, Ty Kady. He's traded in his moto for the self-propelled two-wheeler this year and having fun. Kady is the marketing director of the U.S. Cup, and he spoke with me about its debut year and about what's next for Team Sho-Air, which he manages.
I see you're out there ripping it up this year and winning. Is that a job requirement, or a stress buster?
It's definitely a healthy outlet for me, and a nice perk of my job. I took 18 months off of all bike racing after I vapored at the 2008 XC Nationals in Vermont. I needed that time to decompress from bike racing, and turn my focus on running the U.S. Cup and Team Sho-Air. However, during that period, I gained some weight–all that good beer and bar food from the '09 Happy Hour tour–so I figured for 2010, it was time to get some fitness back and lose some weight. And the bike has always been a good tool to get me fit! It's great to get to race my bike, with no expectations or pressure on myself, and I can just focus on building really fun courses for all of us working-class heroes, and then enjoy it with everyone on Sunday. With me managing two top-level XC riders in Sid Taberlay and Max Plaxton, I can relish their accomplishments and focus on giving them the support they need to win at the highest level, so I couldn't be more content than where I am currently.
What are you rolling?
I'm sitting on Carbon and 29's laced with chrome, running a 2×10 on the roam! The 2010 S-Works 29 Hardtail is a really good bike, and I'm stoked to be able to ride it. I can't believe how good the technology is these days. It makes riding your bike so much fun!
Your season started off with the Triple Crown. Were you happy with the turn out? Did the purse help?
We were happy with the turn out and the caliber of riders. Mountain biking is all about history and credibility with these top teams and athletes, so getting traction often takes years. To get the turnout we did in our first year and this early in the racing season, we really felt it was a success and something we can build on in the years to come. I hope the purse helped, which I'm sure it did. But we were still a little disappointed in the women's pro turnout being so light. We offered equal prize money based on a sliding scale, but only 11 women showed up.
Having Fontana so close kept riders local. Was that a schedule tactic?
For sure. Fontana has some good history and has been gaining the attention of the media and riders with its end-of-March date. Keeping in that tradition, we chose to run it again this year as the opening round of the Pro XCT series and as the third round of the Kenda Cup West Series, presented by Specialized for the local pros and AMs.
Any endurance races for U.S. Cup?
It's on the drawing board, but nothing has been confirmed yet. We have so many irons in the fire, we don't want to over extend ourselves and then host a mediocre event because we didn't have the bandwidth to properly support and market the event. We'll try to do something in 2011.
You have been much more visible in social media. Is that "Blogs" Muller?
Absolutely. John Muller, known as the "Blogger," has really helped us take it up a level with our social media networking, like Facebook, Twitter, and our Web sites. You know, these young kids love their iPhones and tech crap, so they geek out whenever they get the chance. Social media was a key element that we were missing before bringing John on, and he's done a really nice job for us.
And for Fontana, nice payout! Who was behind it?
The payout was dictated by the UCI on the normal structured payout for a UC2 cross-country race. Scott Tedro then took some additional money saved from not hosting a C1 and spread it down the normal payout, plus he threw some money at the short track races, which typically don't offer prize money.
Why didn't Manny Prado race and wrench for the XC race?
Manny is our endurance-focused rider, and after his big win at La Ruta, we're going to have him target big endurance events for 2011. It's also a little known fact that he is an excellent mechanic, and since we need one on hand for the bigger events, Manny will be taking on the team mechanic role. He will still race XC at local and regional races, but for all Pro XCT events and H2O Overdrive Triple Crowns he will be spinning the wrenches, and we're glad to have his skills and knowledge on our side.
Who are your main supporters for the U.S. Cup this year?
This year, H2O Overdrive stepped up as presenting sponsor all U.S. Cup events, and they are the naming sponsor on the Triple Crown. They're the official hydration company of the U.S. Cup and have been really nice to work with. Kenda Tires is back with us a second year as the official tire and tube of the U.S. Cup. Jim Wannamaker and the folks at Kenda are a class act, and they're a huge supporter of mountain bike events across the country. Last but not least is Specialized Bicycles. As the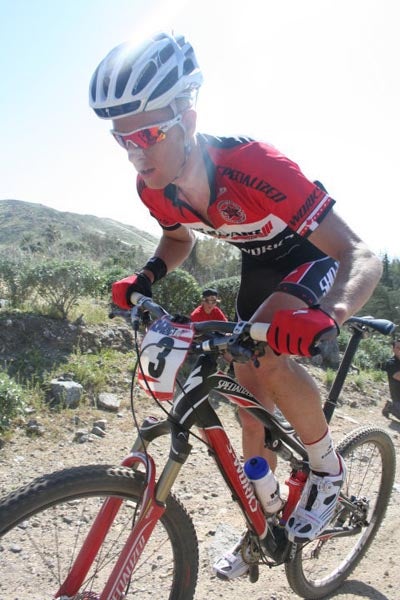 official bike of the U.S. Cup, the guys at Specialized stepped up their support another notch for 2010. To have one of the largest, most visible bicycle and equipment manufactures back the U.S. Cup, it's a huge boost for us. Then we have some smaller associate sponsors that really dot the I's and cross the T's for us, like KMC chains, ESI grips, Team Duke.org, Fox Shox, Kawasaki, GU, Clif Bar, Acid Zapper, Epic Cameras, Baghouse Industrial Team, Damion Hickman Design, and Primal Wear. For example, the Kawasaki lead moto footage we post is brought to you by Epic Cameras, a helmet camera company. Chad Smart at Baghouse provides all the really cool custom pro and amateur podium awards. He's really helped bring the awards and presentation for us to a new level. The gang at Primal supplies the Kenda Cup West Series champion jerseys. And people like Damion Hickman play a major role in the look and branding of the U.S. Cup. It's an eclectic group of industry and out-of-industry sponsors that really help tie it all together.
What's next for Sho-Air?
The guys are going to be spread out across the globe during April. Max and Manny hit the Continental Championships on April 11th to try and pick up some UCI points for their country. Meanwhile, Sid will be doing a dealer meet and greet in Santa Barbara and then hit the second round of the H2O Overdrive Regional West Triple Crown at Santa Ynez after he celebrates his win on the S Works 29er. Then we all come back together as a team at the Sea Weasel the following week. We even have guest U23 rider Tad Elliot coming, hot off an Elite XC Skiing National Championship the week we were at Fontana. So we'll see how the Golden Boy takes to the dirt. The following week, the "Mountie" Max heads off to Europe for the opening rounds of the World Cup, while Tad heads back to Durango to hang with Ned Overend for some training, and Sid and Manny return to SoCal.
What do you do in your spare time?
I like to get away with my wife when I can. We take little three-day trips up into the mountains or places we like to go just to relax and get away from all the hustle! Other than that, having dinner with friends or just running it low key at the house is always nice.
Tell us about your lead moto duties. Do you miss your Pro MX days?
It's a pretty cool gig! Kawasaki was nice enough to get us a bike for the lead moto at our events. That alllows us to get some really cool helmet cam footage of the pros battling it out. It's really the best seat in the house as I get to watch these riders throw down. But no flash backs to my pro days. Bicycles are way safer, and it's been nice to stay healthy these last few years. I know as soon as I hop on a legit 450, I would start to probably push it more than I need to, and the consequences on a MX bike compared to an XC bike are significant.