Whistle. Blown.
We all know Floyd Landis is a liar. But is he telling the truth this time?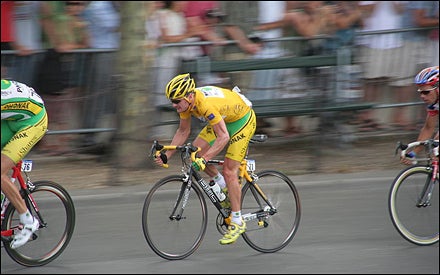 Heading out the door? Read this article on the new Outside+ app available now on iOS devices for members! Download the app.
WHAT WOULD a Lance Armstrong Tour de France campaign be without a little contre­temps? In more years than not, Armstrong's attempt to win le Tour has been accompanied by allegations of drug use. But the latest shot, fired by former U.S. Postal Service teammate Floyd Landis in the form of leaked e-mails published in a May 20 Wall Street Journal story, is not like all the others. Landis, tarnished as his credibility may be, says he was both a witness to and a participant in the transgressions. He named names—David Zabriskie, Levi Leip­heim­er, and George Hincapie among them. Landis may prove to be just another detractor spewing lines, or he could be Jose Canseco outing Mark Mc­Gwire. Right now, it's impossible to tell.
In scope and specificity, Landis's claims reach far beyond any previous allegations. In the e-mails, he recalls being asked by Armstrong to mind a refrigerator at Armstrong's Girona, Spain, apartment, to make sure that bags of stored blood didn't spoil; and he claims the Postal team's bus stopped on a remote mountain road between stages of the 2004 Tour—so that the entire team could receive blood transfusions, which boost the body's ability to carry oxygen.
The timing of the leak couldn't have been much worse for Armstrong, who was in the middle of the Tour of California. During a press conference held outside the team bus the morning after the Journal published its story, Armstrong went on the offensive, just as he has in the past. "We have nothing to hide," he said. "We have nothing to run from." Armstrong was also quick to attack Landis's credibility, reminding reporters that Landis had lied about his own drug use for four years and through two arbitration hearings. "This is a man that has been under oath several times with a very different version," he said.
Juicy though the accusations were, the most significant detail didn't emerge until days later: a report that federal official Jeff Novitzky was launching a probe. Now a special agent with the Food and Drug Administration's Office of Criminal Investigations, Novitzky is best known as the IRS agent who broke open the BALCO scandal that sent Marion Jones to prison and produced a list of 104 Major League Baseball players who used steroids.
Novitzky's presence is significant. Although various journalists and French anti-doping authorities have investigated Armstrong in the past, this marks the first time that the U.S. government has gotten in on the act. Meanwhile, the United States Anti-Doping Agency (USADA), a quasi-governmental organization that oversees drug testing for American athletes in most Olympic sports, is also taking a look.
What possible jurisdiction could the FDA have over allegations of doping that happened a continent away? The prevailing theory focuses on fraud. Since Armstrong's 1998–2004 Postal Service team received sponsorship money that came from Uncle Sam, the feds have an interest in knowing whether that money was used to fund sports doping. If it was, the government could pursue charges ranging from drug trafficking to violations of the Racketeer Influenced and Corrupt Organizations (RICO) Act. Penalties for RICO convictions are stiff, with prison sentences of up to 20 years per count, seizure of assets, and triple damages. And, unlike USADA, attorneys pursuing a criminal case could subpoena anybody who may have knowledge of a crime, including Lance's ex-wife, Kristin Armstrong. Landis has claimed that she was present during drug exchanges between him and Armstrong.
Armstrong said he has not been contacted by federal prosecutors but would "absolutely" cooperate if he were. Landis has largely declined to speak with reporters, but after the Journal article was published, he told ESPN.com that he realizes that many people won't believe his story. "I just want to clear my conscience," he said.
Where that leaves Lance and Floyd and the rest of us is an open question. A federal investigation, if there is one, may not move fast enough to affect this year's Tour de France. But the race organizers could, at their discretion, ask Armstrong (and his team) not to attend. A separate investigation by French authorities into suspicious medical waste found during the 2009 Tour could also implicate Astana. The combination of such inquiries might make organizers uneasy with RadioShack's presence, given that the majority of Armstrong's new team—riders and staff—came from Astana.
If nothing else, the Landis allegations might finally answer a question about Armstrong that has vexed cycling fans for years: Did he or didn't he? Novitzky has the resources to put the matter to rest with the finality that no sports federation or journalistic exposé could match. But if Armstrong successfully defends his record and reputation this time, it may have an equal effect. Either way, it ends here.