Wonder Kids Emma and Wes Wallenfels
Heading out the door? Read this article on the new Outside+ app available now on iOS devices for members! Download the app.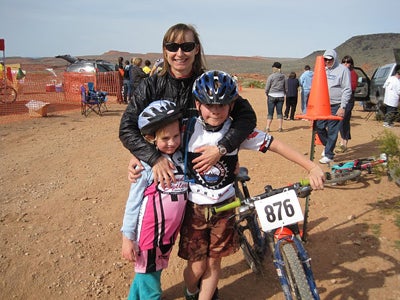 I wondered what is was like to race as a kid under the wing of rock-solid coach, racer, and mom Lynda Wallenfels. I talked to her children, Emma and Wesley, after they raced the Cholla Challenge. Hands down, they've got the best race program, pre-race nutrition, and taper plan I've ever come across.
What did you like about the race?
Emma: You get to ride your bike fast, and I like to. You get to put a number plate on your bike, and it makes your bike look cool. I like people cheering for me, and I like getting a prize.
Wesley: I liked the bumpy parts where you rode on the slickrock and it looked really cool. It was like a little adventure trying to get up the rocks without stopping.
Did the race have any tough parts?
Emma: I was in fourth place and I liked that, but then I was in fifth and I didn't like that.
Wesley: When I am racing fast I feel like I am going to puke. I always think I am going to puke at the end of the race for a minute or two.
What did you win?
Emma: I got fifth place, and I got a ribbon and a bottle of water.
Wesley: I got third place, and I got a ribbon and a hat. I like the hat. It is cool. The hat says the Cholla Challenge so I can wear it and prove I did the race.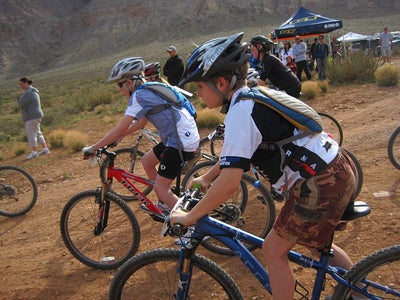 Do you guys have Wii or PlayStation?
Wesley: We have both. My favorite PlayStation game is Star Wars.
Emma: My favorite is Wii Sports and Wii Play.
How does playing Wii help you with your bike-handling skills?
Wesley: They don't help because there are no games about biking.
What is your favorite thing to do when you have free time?
Wesley: Call my friends and see if they can play.
Emma: I like playing with my Pipos [soft toys].
Did you taper for this event?
Emma: Tape me? How can I tape me?
Wesley: No. I was in the event.
If you got in trouble for something, what would you choose as your punishment: no TV, intervals workout from Mom, or vacuuming the house?
Wesley: I get a time out for ten minutes.
Emma: I don't know. I don't do naughty stuff.
What outside games would you say are the best cross training for you?
Emma: I like to ride bikes and play and do exercises and yoga with mom.
Wesley: I like to play with friends on bikes and play soccer.
What is your pre-race meal?
Emma and Wesley: Banana and strawberry pancakes.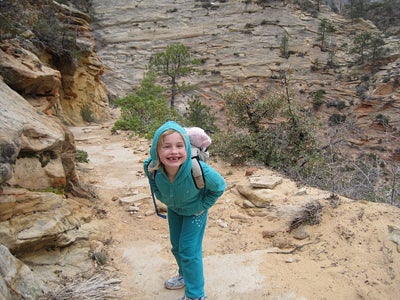 Do you race your sister?
No. I ride in circles around her.
Who was your biggest competition for this race?
Emma: The small kids.
Wesley: I don't know his name.
Wes, spec out your bike for us.
I have a blue Acess bike with green grips and a blue fork. It is fast, and it is a mountain bike.
Wes, how much do you travel on your bike?
Mostly I ride ten miles.
Em, how do you like your red Specialized. Are you using small Block 8s?
I like it. I like the tires. They are new and fast. Mom says yes, they are 24″ small Block 8s.
Do you like Gu, or would you rather just have ice cream or chocolate?
Emma: I like ice cream.
Wesley: What is Gu? Is it like candy? I like candy.
What is your favorite Clif Bar flavor?
Emma: I like pineapple smoothie power bars.
Wesley: I like candy mostly.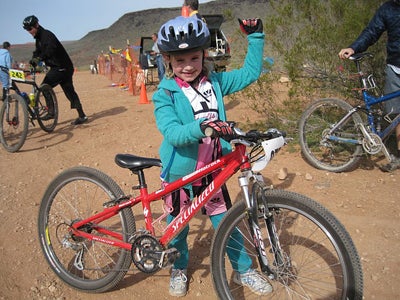 Was it fun to hand off bottles to your Mom?
Emma: No, 'cause I waited a long time and mom rode right past me without getting her bottle.
Do you guys know your Mom and Dave [Harris] are superstar riders?
Emma: Yes.
Wesley: Pffft–yeah!
Hope you are getting a good deal on your coaching plans. Does she write one up for you?
Emma: No.
Wesley: No.
How do you like to recover?
Emma: Get my prize.
Wesley: After the race I played on my bike with my friend Bryn.
Do you guys like CamelBaks more so then bottles?
Emma: I like CamelBaks better because you don't have to reach and pull the bottle out, all you have to do is get the hose and put it in your mouth and that is all you have to do. While you are riding your bike you have to pull and pull and pull to get the bottle, and it is hard and makes me stop. Bottles are hard for me, and I don't like that they make me stop.
Wesley: CamelBaks because when I am riding and I try to pull a bottle out, I might hit a rock and crash.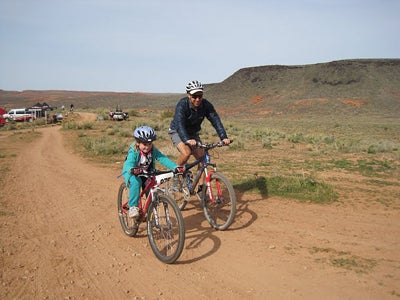 How do you fuel for your race?
Emma: We had banana and strawberry pancakes then went to the race. I ate a chocolate-chip granola bar before my race.
Wesley: Mom let me drink some Pepsi before my race.
Why do you race?
Emma: Because it is fun and challenging a little and you get prizes, too. I like getting prizes.
Wesley: I race for the fun of it.
Do you always ride your special bike during the race?
Emma: Everybody does. If you like racing you should choose the special bike you like so then you will be prepared for the race. You should race the bike you like.
Wesley: Yes, so I can go fast. My school bike is slower and heavy and the gears don't really work on it so I just leave it in the biggest gear.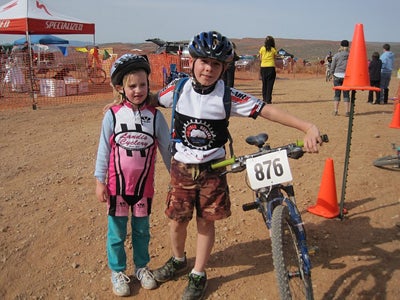 What is your favorite place to ride?
Emma: I don't know. I like a lot of places.
Wesley: Thunder Mountain Trail, Red Canyon.
Do you like to go mountain biking with your mom?
Emma: Yeah, because it is fun. I get to see all the things that are beautiful in the desert.
Wesley: Yes, because she teaches me new things. We go cool places and see really cool things like nature and the horizon.
What type of riding do you like the most?
Emma: I like the downhills best but only on smooth trails. I have to walk too many of the rocky downhills.
Wesley: I like jumps and rocky trails.