We're Watching Two of Cycling's Greatest Young Talents
This weekend's Road World Championships may be your last shot for a while to see Chloé Dygert Owen and Mathieu van der Poel animate the peloton. Don't miss it.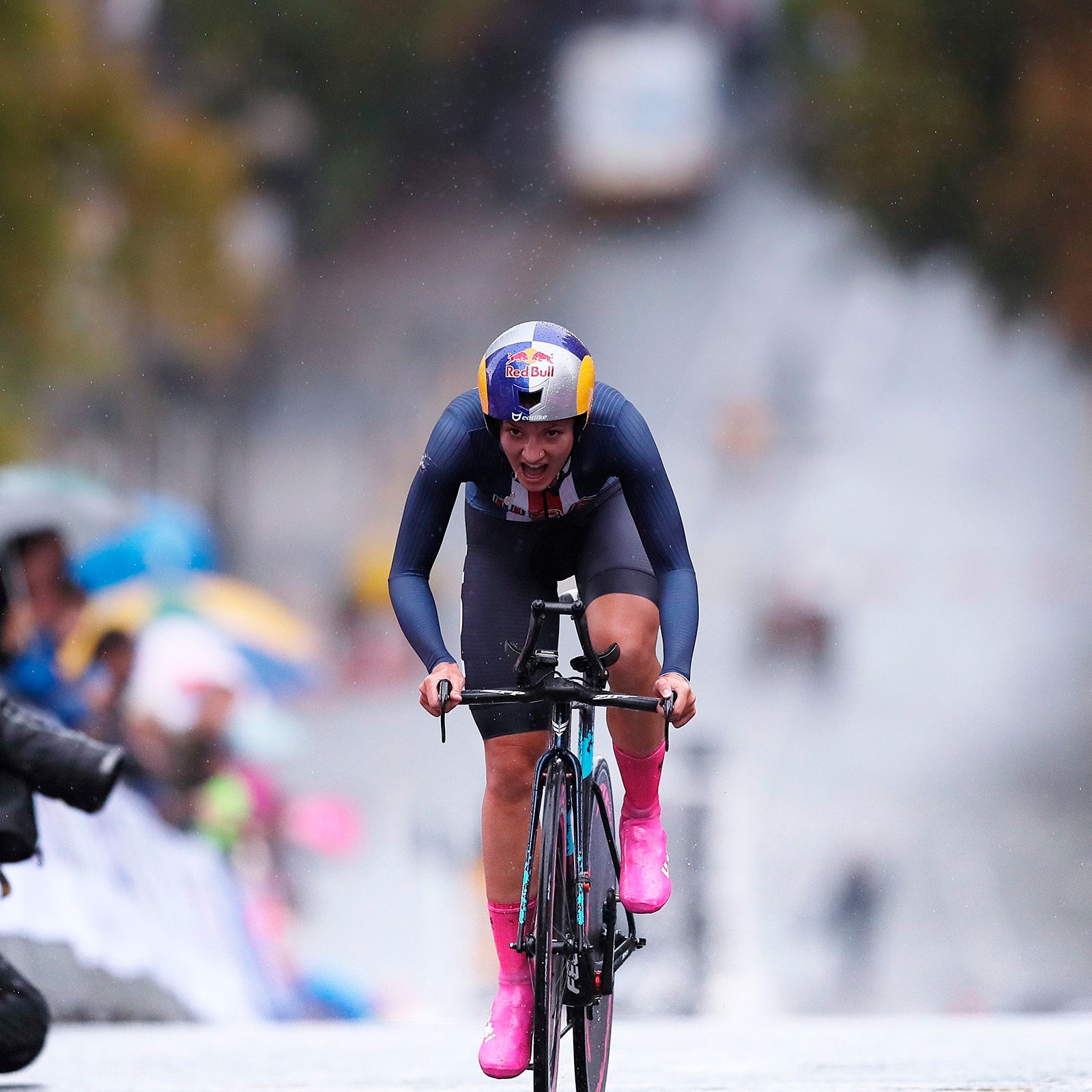 Sipa USA/AP(Photo)
Heading out the door? Read this article on the new Outside+ app available now on iOS devices for members! Download the app.
This weekend, 206 men and 174 women will line up in Yorkshire, England, for the UCI Road World Championships. Unless you're a hardcore cycling fan, you probably aren't going to watch. But you should, because it may be your last chance to see two once-in-a-generation talents race on the road, maybe for several years.
Start with Chloé Dygert Owen, the 22-year-old American who, on Tuesday, became the youngest-ever women's world time-trial champion since the event began in 1994. The Indiana native didn't just win the women's elite event, she utterly dominated it, catching and passing several riders, including one who started seven minutes before her. The gap to second place, 1:32, was the largest margin of victory in the history of the competition and almost as much as the total gap across the next nine places combined.
In fact, as she neared the final straight her time looked like a mistake: she was more than three minutes faster than then leader Alena Amialiusik—an eternity in a discipline where margins are often a handful of seconds. Crossing the finish line, she collapsed off the bike in an almost perfect imitation of her coach, Kristin Armstrong, when Armstrong won her third Olympic time-trial title in 2016. 
Dygert Owen isn't exactly an unknown. She's an elemental part of the U.S. team-pursuit track squad, which she has helped power to three elite world-championship titles and a silver medal at the Olympics in Rio. She's won two more elite world titles in the individual pursuit. But track doesn't have quite the spotlight that road racing does. 
In some respects, it's a surprise that she's even here. A horrific crash at the 2018 Tour of California cost her the rest of that season, as she fought stubborn symptoms of a concussion (plus a lingering knee injury). She didn't start easing back into high-volume training until January. Two months later, the cycling world was rocked by the news that her friend and pursuit teammate Kelly Catlin had committed suicide.
For many riders, that combination of injury, lost form, and grief takes years to recover from. Some never quite do (head injuries are so highly individual that a crash one rider shakes off can end another's career). But once Dygert Owen came back, she came back fast: by May, she'd already won two stages and the overall title at the domestic Joe Martin Stage Race and two more stages at the rugged Tour of the Gila in New Mexico. 
But Dygert Owen really laid it down in August at the Colorado Classic. On the final climb of the the first stage, she made a sharp attack followed by a fearless descent on dirt roads to hold off the chasing field for the victory. The next day, she did the exact same thing, bridging up to a two-rider break on the final climb and then just powering away. Stages three and four? Rinse and repeat. You could argue it was unsuspenseful, or you could just marvel at the sheer inevitability of it all: Chloé Dygert Owen simply could not be stopped.
The field in Colorado wasn't as strong as the one she'll face this Saturday, and though knowledgeable pundits have tipped Dygert Owen for the win, she isn't exactly first on on most fans' minds as the rider expected to deliver a virtuoso performance at the worlds. That brings us to the other generational talent to watch this weekend.
Dutch racer Mathieu van der Poel was the breakout star of the spring's one-day Classics season, where he won several events, including his home country's Amstel Gold Race, after a dramatic chase and sprint finish.
Like Dygert Owen, Van der Poel is hardly unknown. A two-time elite world champion in cyclocross, he busted out one of the most thoroughly dominant seasons in that discipline's history last winter, with 31 wins in 33 elite races. But like Dygert Owen, Van der Poel, who is 24, had relatively little road experience, so fans weren't sure what to expect for his first World Tour events in the spring.
While his Amstel win is the stuff of YouTube highlight reels, it was his ride at the Tour of Flanders, in April, that looms larger. Flanders, arguably the most prestigious one-day Classic on the calendar, takes place on narrow Belgian farm roads and steep, cobbled bergs. Positioning is vital: simply being too far back in the pack at the wrong moment can doom a rider to never catching up. Just as the race was reaching a critical point, with less than 37 miles to go, Van der Poel suffered a broken wheel and a violent crash and was stuck on the side of the road, dazed and hurt, while the race simply rode away from him. Most riders would've understandably packed it in, but instead, he took a spare wheel from a teammate, remounted, and began a furious chase, plowing solo through the remnants of the field with such speed it looked as though he had somehow gotten mixed up in the Flanders sportif amateur ride. He caught the main chase group, even as it was going full gas, and sprinted to fourth behind breakaway winner Alberto Bettiol.
It's performances like that which have him tipped as a favorite in Yorkshire, on a long, lumpy course that features mostly shortish draggy climbs that favor his massive power. And a forecast for raw, rainy weather is one that a mudder and first-class bike handler like Van der Poel will love.
Of the two young phenoms, Dygert Owen's result is more of an unknown: she'll be on a deep, experienced U.S. team, with top riders like Ruth Winder and Coryn Rivera, the latter a bazillion-time national champion who's in fantastic form right now. Dygert Owen also doesn't consider herself a climber. But given her performances in Colorado and New Mexico, I honestly don't think you can classify her in any way currently except strong as fuck. Rival teams will be idiots if they let her get in a break.
No one in the men's field plans to willingly let Van der Poel go either. But the Dutchman races as though tactics don't exist. At Amstel, he singlehandedly dragged an elite chase group up to the lead trio, then opened his sprint from the front, and simply held everyone off with ridiculous power.
Of course, with Dygert Owen's breakthrough performance and Van der Poel marked alongside Peter Sagan as the one of the two presumptive favorites for the men's race, it's likely we'll see some defensive racing against both riders. Perhaps another young rising star, like Belgium's Remco Evenepoel, will capitalize.
But win or lose, Dygert Owen and Van der Poel will be make their races worth watching, especially since chances to see them in road races may be few and far between for a while yet. We're less than a year out from the Olympics in Tokyo, and Dygert Owen is again set to be a key part of the U.S. women's team pursuit foursome, meaning she will focus her time on the track. Meanwhile, Van der Poel is targeting the cross-country mountain-bike event in the Games. After Amstel, in April, he raced the heart of the Mountain Bike World Cup season, and aside from worlds on Sunday, he will likely race on the road sparingly, if at all, until after the Olympics. (The good news is that the World Cups for both track and mountain biking are in the same NBC Sports Gold package as the Road World Championships; international readers can watch mountain biking for free on Red Bull TV.)
Yes, I know it's late September and much of the country is looking forward to a gorgeous fall weekend. Go ahead, get outside for that ride. But maybe check out the event replays or at least the highlights. The women race on Saturday, with coverage starting at 5:30 A.M. Eastern; the men's event, on Sunday, starts at 3:30 A.M. Eastern but won't end until 11 A.M Eastern. You'll be sure to see Dygert Owen and Van der Poel on the front (or out front). Both may add to their already considerable trophy cases—and legends. And you'll get to enjoy watching the continuing emergence of two riders who may be among the best we'll see in this lifetime.
Lead Photo: Sipa USA/AP