Marianne Vos Is Leading the Tour de France Femmes. That's Where She Belongs.
The greatest of all time may not hold the lead until the final stage. But she's loving every minute in the yellow jersey.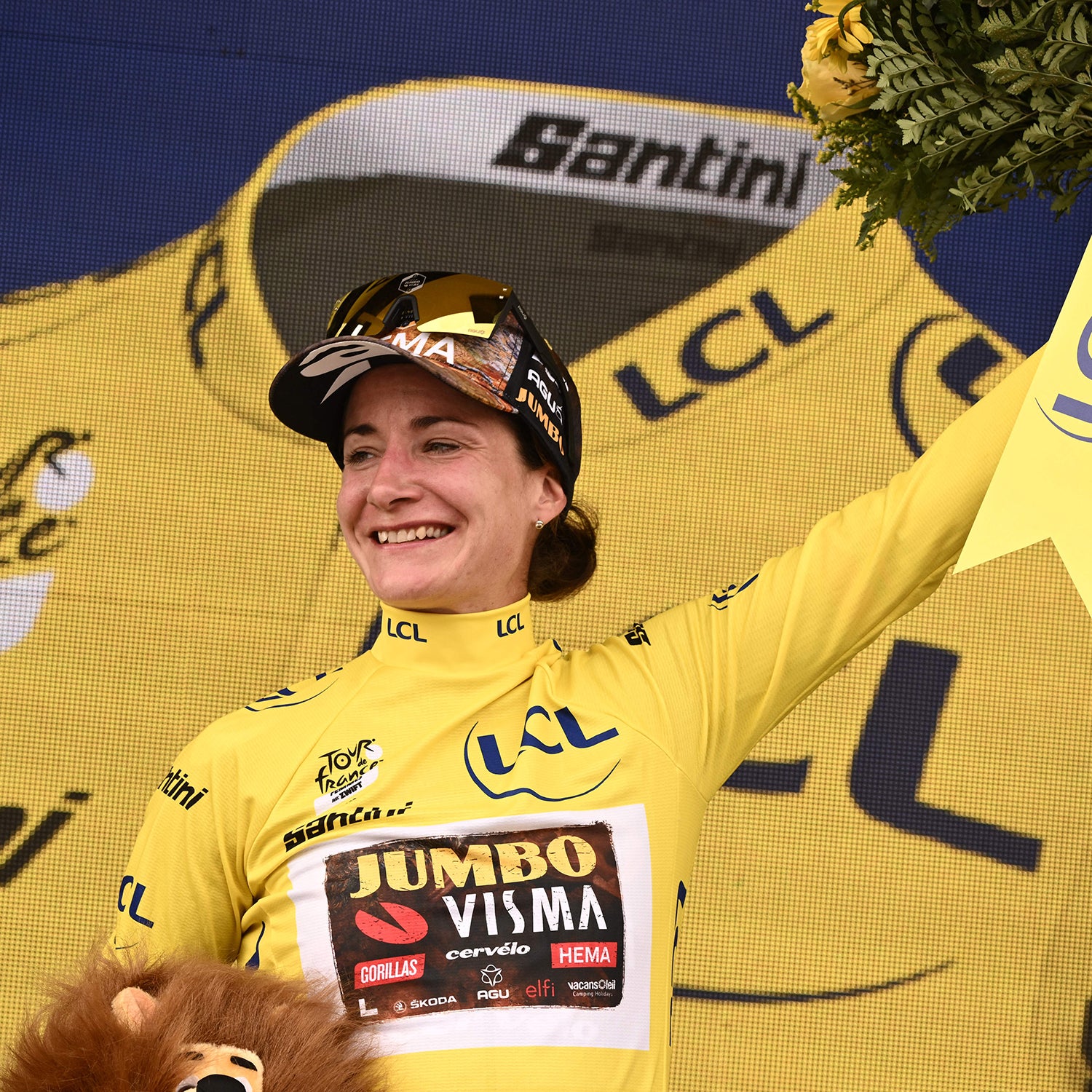 Jeff Pachoud/AFP/Getty
Heading out the door? Read this article on the new Outside+ app available now on iOS devices for members! Download the app.
This article was first published by CyclingTips.
In the medieval walled town of Provins, Marianne Vos (Jumbo-Visma) sits on a bale of hay. She's got her head bowed, hands clasped together in front of her, taking a moment to catch her breath. As a throng of journalists crowd around her, Vos reflects on the moment.
In a pro cycling career that's included nearly every type of victory, Vos has never had this: a stage win and the yellow jersey at the Tour de France Femmes. She'll later call it "definitely the best" win of her career–a weighty statement given that her career contains more than 240 victories in road cycling alone, including three world titles, an Olympic gold medal, three UCI series titles, and 32 stages at the Giro d'Italia, among other wins. And that lineup doesn't even include her eight cyclocross world titles, Olympic gold medal in track cycling, and various other accomplishments in cycling.
Sitting there past the finish line, in the eye of a post-race media storm, Vos shares a brief hug with her mother–a moment of comfort and calm with a stalwart supporter. Later, in her post-race press conference, Vos reflects on the significance of the celebration.
"Of course, it's special to us to share a moment with the people close to you," Vos says. "And I also know that, yeah, even when my girlfriend is not here, she's also supporting from the side. And my dad and my parents, if they're not at the race they're also with their hearts at the race.
"But it's of course really cool that they were here and also here at the finish line to enjoy and celebrate with me."
There's a nice symmetry to Vos winning a stage at the inaugural Tour de France Femmes. Back in 2009 she won the final stage of the final edition of the Grand Boucle Féminine Internationale, one of several races touted as an unofficial women's Tour de France in the years following the end of the officially licensed event. And then Vos won two editions of La Course by Le Tour de France—a race she helped to launch—including the inaugural edition on the Champs-Élysées back in 2014.
Like that win in 2014, her stage win on Monday at the inaugural Tour de France Femmes was a landmark result for both Vos and for the sport.
"When nine years ago we were talking with the ASO about an opportunity to race [at the Tour de France] it went really fast to get La Course," Vos says. "And when we raced then the first time on the Champs-Élysées it felt [like] a milestone. And now to be here back for a stage race, for a real Tour de France? Yeah, that's another milestone."
In her press conference, the subject of Vos's age becomes the subject of multiple questions. At 35, how is it she's still at the top of the sport? Did she think she'd miss her chance to race the Tour de France if the race hadn't happened now?
"They say age is just a number," she says with a chuckle. "I feel good and I try to be at the best [that] I can. And, yeah, I think the most important thing is to enjoy and to be able to ride your bike every day with pleasure. As long as I'm healthy and enjoying racing as much with this team …
"At this moment, I don't think age is something that's really playing a role except [for] the fact that, of course, some experience might help, especially if you're racing a final. And that doesn't mean you never make a mistake. I keep learning."
As Vos finishes her press conference in a humble sports stadium on the outskirts of Provins, she receives a hearty round of applause from the gathered media members. That's not a normal occurrence in a Tour de France press room. Then again, there's nothing normal about what Marianne Vos has achieved today or in the sport more generally.
Vos likely won't be in yellow on the final podium on Sunday. She and her team are more interested in stage wins on the way there. But you can bet that while Vos is in the maillot jaune, she'll be doing what she can to keep it. On paper, it's possible she maintains her lead for the next few stage—all the way up to the mountains of the final two stages (Vos defended her yellow jersey on Tuesday's stage into Epernay).
But even if Vos loses the jersey between now and Friday, there's something most fitting about seeing her in yellow. The greatest cyclist of all time, so long a figurehead for women's cycling, a winner of virtually every race there is to win in a career of remarkable longevity—there could be no finer recipient of the yellow jersey at the inaugural Tour de France Femmes.
In wearing yellow, Vos is right where she belongs.
Lead Photo: Jeff Pachoud/AFP/Getty
Trending on Outside Online