Yes You Can: Ride the Rockies
If there's one bike tour that's a must-do, it's this Colorado cruise: snowcapped peaks, open valleys, and winding blacktop through the Rocky Mountains. The best part? You don't need to be an endurance freak to finish.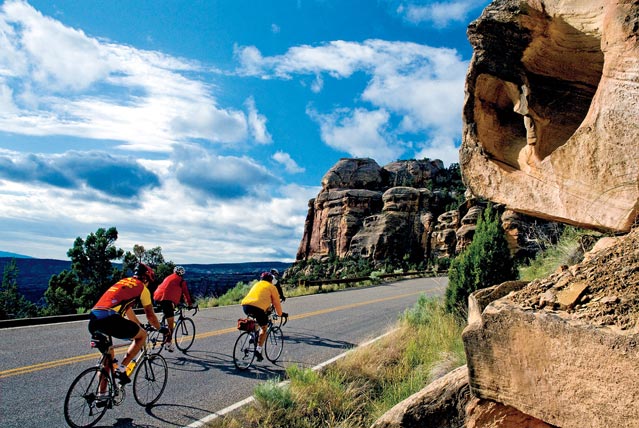 Haji Mahmood
Heading out the door? Read this article on the new Outside+ app available now on iOS devices for members! Download the app.
THE MOMENT will arrive in every multi-day bike tour when your backside is so sore and your legs so heavy that you'll start to wonder where—as in "Where exactly do I abandon this bike and hook up with the sag wagon?" But don't give up. Trust us on this one: If you let your training kick in, you'll top the next climb, and suddenly—sore ass be damned—you'll find yourself craving more. 
That's the thing about a bike tour: it demands more than your average century—more training, more time, more stamina—but the rewards are also greater. Beyond a simple test of endurance, a bike tour is part outdoor vacation, part road trip, and, if it's a group event, part rolling party. The mass rides—where a registration fee buys shuttle services, space for camping, tech and sag support, and stocked aid stations—are definitely the best option. You get to enjoy all the high points of touring without the logistical hassles of doing it yourself. And there are more of them than ever. Events like Cycle Oregon (seven days), the Bicycle Ride Across Georgia (eight days), and Iowa's Ragbrai (six days) are drawing crowds because they offer killer scenery and first-rate riding. And that's not even mentioning the fundraising rides, which introduce a whole other motivational element.
So there's your justification. Now, which one should you commit to? If you're willing to put in some real preparation, the six-day, 446-mile Ride the Rockies—an annual event that draws 2,000 cyclists to move en masse across the most stunning bits of Colorado every June—is the perfect tour. "You can't beat spending a week in June riding your bike on some of the best roads in Colorado," says seven-time Tour de France veteran Ron Kiefel, who has notched 12 Ride the Rockies.
This year's course is especially good, taking in the choicest sections of the state: Colorado 92 along the north rim of the Black Canyon of the Gunnison, the high-altitude Trail Ridge Road through Rocky Mountain National Park, and 12,095-foot Independence Pass. The latter is where Levi Leipheimer struggled and nearly lost the inaugural USA Pro Cycling Challenge—and where you'll find yourself fighting to survive, too. "This year's tour will use some of the same roads as the UPCC," says Ride the Rockies tour director Chandler Smith. "It's a chance to experience riding like a pro."
Given that Ride the Rockies is noncompetitive (there are time guidelines but no cutoffs), the goal of finishing is attainable for almost any rider. That is, if you put in the training to prepare for 60-to-80-mile days with serious climbs. "An event like this introduces huge physiological stress," says Derick Williamson, a sports scientist at Austin's Durata Training, which coaches endurance athletes. "You have to be able to recover effectively to bounce back the next day." 
But in the end, Ride the Rockies is not about getting in shape; it's about the celebration of being in shape. It's about marveling at the 14,000-foot peaks surrounding you and looking forward to that ribbon of switchbacks leading up the next pass. Because one of the best things about a Colorado climb is knowing that a screaming descent awaits you on the other side.
Getting In
The details you need to know about registering for Ride for Rockies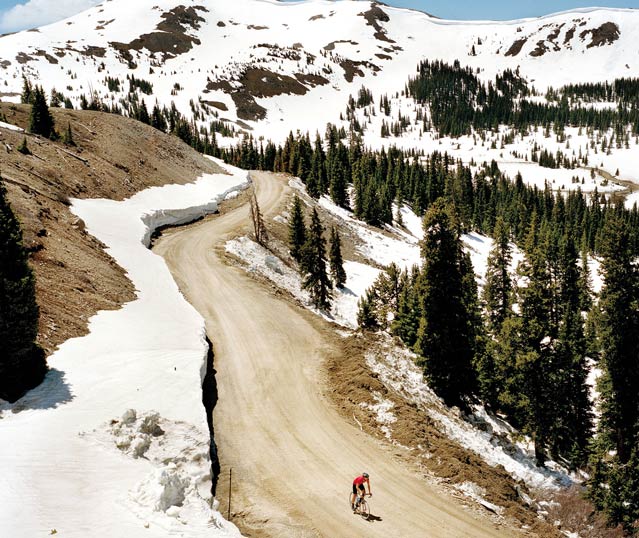 GETTING IN
When: The race is June 9–15. Registration opens February 5 and closes on the 24th. (Too late? See "Tour Mania" for more tour options.)
How many: Two thousand participants are decided by lottery March 2.
How much: $400, which includes transportation of one bag during the tour, shuttle services during the ride, aid station support, bike techs, sag vehicles, and camping spots.
Extras: Charter transport to and from Denver International Airport is available. Accommodation in hotels or local homestays along the route costs extra (prices vary), but it's worth it for the hassles you'll save.
UNFRIENDLY SKIES
If you aren't prepared, getting your bike to the start line can be tougher than riding the tour. The smart option is to box your frame (bike shops often have leftover cardboard boxes) and ship it with FedEx ground, which is usually cheaper than airline fees, and you'll be able to insure it. Still insist on flying with it? Check airlines' policies carefully before buying your tickets: Frontier doesn't add a surcharge for bikes, while United and Delta tack on oversize fees ($100 and $150, respectively). Also, avoid hard-sided cases, which ­typically put you over the standard 50-pound weight limit (often $100 or more). Instead, invest in an Aerus Biospeed travel case ($375), which will pay for itself in no time.
Soft Contacts
Nothing will ruin your ride like pain, and the most likely culprit is anywhere your body meets the bike: think feet, hands, and backside. Preempt that discomfort with gear that fits.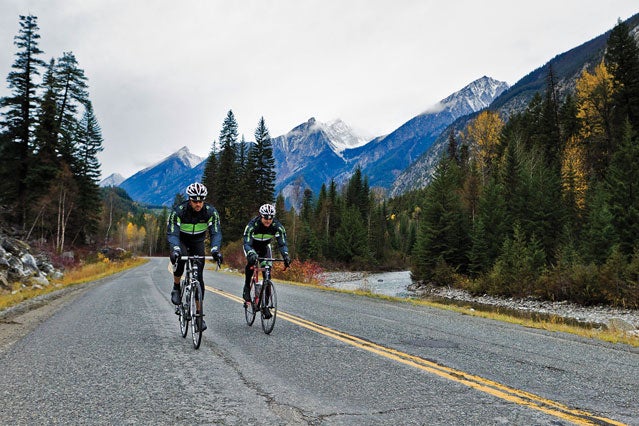 Saddle
Get a seat that's fitted to your rear end, like Specialized's popular Toupé ($90–$300), which comes in a full range of padding options and widths. Have a dealer measure your sit bones with a gel seat pad to make sure you get the right size. 
Shoes
Over long distances, foot fatigue caused by poor support can be debilitating. The Giro Trans ($225) has interchangeable arch supports for the insoles, which will help ensure that your feet won't swell and burn. 
Handlebars
When riding day in and day out, avoid back pain by bringing your bars up slightly. Gloves with gel inserts, like the Pearl Izumi Elite Gel Vent ($38), and padded bar tape such as Lizard Skins DSP 2.5 ($38) will help keep your hands from falling asleep on rough roads.
Direction Sportif
Tour director Chandler Smith offers his tips on how to make the most of the ride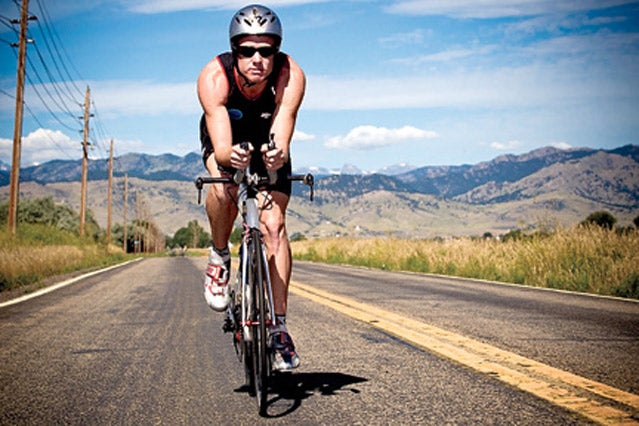 1. Hydrate
Altitude won't kill you just because of the lack of oxygen; it will also dehydrate you. (Many altitude headaches come from dehydration.) As a rough guideline, drink 20 ounces before a day's ride, 16 to 32 ounces per hour while riding, and 30 to 40 ounces in the evening.
2. Think Winter
Colorado's weather shifts about as quickly as a politician's position. "The last time the tour tried to go over Trail Ridge Road, a snowstorm led to what we now refer to as the Mass Sag," Smith says. So don't even think about riding without a packable shell, and on high-altitude days, stuff a cap and arm warmers into a jersey pocket.
3. Avoid the Postride Peloton
"When you roll in at the end of the day, don't lollygag," counsels Smith. "With 2,000 people vying for services, it's best to hit the showers immediately, otherwise you might end up in some long lines."
4. Camp in Style
If you want to sleep in a tent but don't want the hassles, Sherpa Packer, a Denver-based outfitter for bike and motorcycle tours, will not only rent you a tent, air mattresses, sleeping bags, camp chairs, and cell-phone chargers; they'll also set up and tear down your site each day (from $400 per week; sherpapacker.com).
5. Savor It
Rather than hurrying, visit the sights and chat with the other riders and volunteers, many of whom come back year after year. It's Ride the Rockies, not Blow Past Them. 
Rockies Training Plan
Get in shape to Ride the Rockies.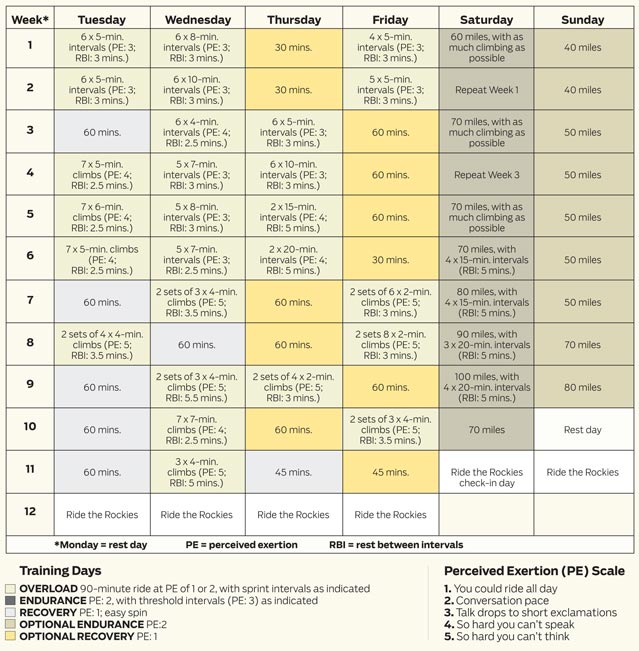 With a master's in sports science from the University of Texas at Austin, Derick Williamson trains professional Ironmen, cycling and marathon champions, and dedicated amateurs through Austin's ­Durata Training. Williamson tailored the program above to the 2012 Ride the Rockies course. "The big challenge is ­going to be six days of hard riding in a row," Williamson explains. "That's why this plan has so many tough two- and three-day blocks." They'll prep your body for faster recovery, and the interval sets will add the power and endurance you'll need to crank out serious climbs over multiple days. And because no one is perfect, we included a few optional (but highly recommended) endurance rides to super­charge your legs for the three passes over 11,000 feet you'll need to negotiate.
Fuel for the Long Haul
Six days and 446 miles on a bike means you'll burn around 20,000 calories. But don't fixate on volume alone to replenish that energy. Focus on quality and timing.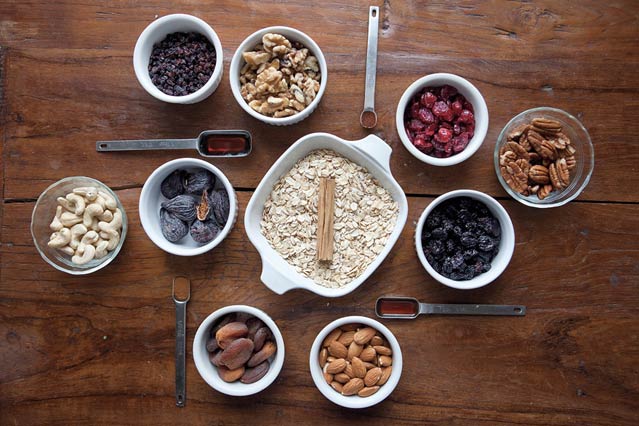 PRE-RIDE
"Start the day with a small, easy-to-digest meal," says Kelli Jennings, a sports dietitian at Apex Nutrition in Golden, Colorado. "You need to eat, but you probably need less food than you think."
The rule: One to two hours before riding, eat 400 to 600 calories that are high in carbs (75 to 100 grams), moderate in protein, and low in fiber and fat.
Try this: Granola mix. Stir together 1 1/2 cups oats,  1/4 cup almonds, 1/2 teaspoon cinnamon, 2 scoops vanilla undenatured whey protein, 3 tablespoons honey, and 1/2 cup water. Spread on an oiled cookie sheet and bake at 350 degrees, stirring often, for 60 minutes or until crunchy. Add  1/4 cup dried fruit. Pack it in ziplocks (make three servings) and then eat it with 3/4 cup of milk.
ON THE BIKE
"The most common mistake is trying to replenish everything you burn," Jennings says. "Your body can process fewer calories while exercising than it burns."
The rule: Every hour, down 16 to 32 ounces of sports drink with 12 to 15 grams of carbs per 8 ounces. Also eat some food with 25 grams of carbs (three Clif Shot Bloks or ten Honey Stinger chews, for example). Every three hours, eat something slightly more substantial, like half a sandwich. 
Try this: Homemade whole-food bars. In a food processor, grind 1/4 c up cashews, 1/2 c up dried cranberries or raisins, 1 scoop vanilla undenatured whey protein, 1/2 tablespoon organic coconut oil, and a pinch each of salt and cinnamon. Press resulting paste onto a parchment-covered cookie sheet, let set, and cut into quarters. Makes four 110-calorie bars. 
RECOVERY
In the first 30 minutes following hard exercise, your body works overtime to replenish itself. Fuel now and you'll store carbs (glycogen) in your muscles for use the next day. 
The rule: After climbing off the bike, get 45-plus grams of carbs, 10-plus grams of protein, some healthy fat, and at least 32 ounces of water. At dinner, choose lean proteins, carbohydrates such as whole grains or yams, and easy-to-digest vegetables like salad, spinach, tomatoes, avocados, and bell peppers (no broccoli or cauliflower).
Try this: Chunky recovery smoothie. Mix 1 cup yogurt, one banana, 1 cup berries, and  1/4 cup ground almonds with 8 ounces of water and slurp it down. A pint of chocolate milk is a good, easy alternative.
The Course
The lowdown on getting high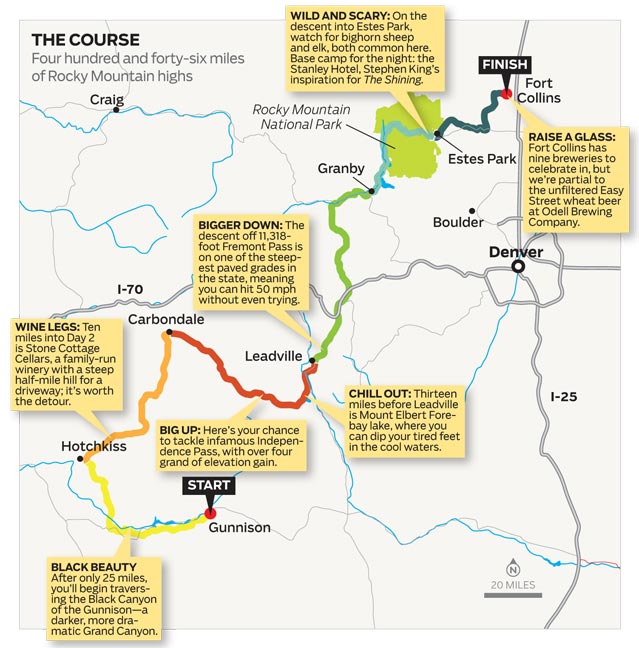 Elevation gains

Your day-by-day guide to elevation gains during Ride the Rockies.
Elevation gains

Your day-by-day guide to elevation gains during Ride the Rockies.
The altitude is one of the most demanding features of Ride the Rockies. Research suggests that aerobic capacity decreases by about 2 percent for every 1,000 feet of elevation gained. According to Joe Friel, author of The Cyclist's Training Bible, it would take around four weeks to acclimatize for this ride, so showing up early probably isn't an option. His advice for sea-level dwellers? "Just get in the best aerobic condition you can wherever you live," he says. "That will translate to better performance up high." To do that, make sure you follow the training plan, paying particular attention to the high-intensity sprints and hill climbs. Doing so won't save you from getting taken down a notch or two by Colorado's thin air, but you'll be a few notches higher to start with.
Tour Mania
Didn't win the lottery for Ride the Rockies? Here are our favorite alternatives.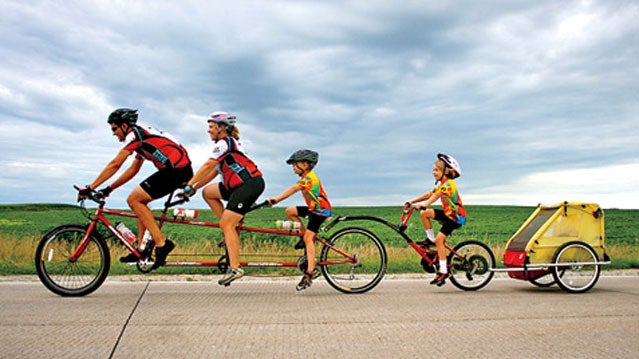 Bicycle Tour Colorado
Starting and ending in Fort Collins, this 462-mile loop through northern Colorado and Wyoming is a perfect stand-in for Ride the Rockies: the scenery is almost as good, and it rarely fills up. June 17–23; from $375.
Cross Country Challenge
The full 52-day ride takes in 3,865 miles of the U.S., from San Francisco to Portsmouth, New Hampshire. If you can't commit to the whole thing, hook up for one of the 6-to-11-day legs, like San Francisco to Salt Lake City. June 2–July 13; from $2,398.
Ragbrai
Now in its 40th year, the Des Moines Register's Annual Great Bike Ride Across Iowa covers 471 miles, with 10,000 entrants. It's flat compared with Colorado, but it ain't easy. July 22–28; $150.
Trending on Outside Online