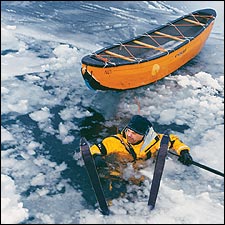 Gregg Segal
Heading out the door? Read this article on the new Outside+ app available now on iOS devices for members! Download the app.
"The only thing i can see stopping us is a medical issue, like a badly twisted leg," says veteran polar explorer and native Minnesotan Lonnie Dupre, 44, of his plan to cross the Arctic Ocean with 33-year-old adventurer Eric Larsen this summer. "I'm thinking we have an 85 to 90 percent chance of success."
Lonnie Dupre

SLUSH FUN: Lonnie Dupre takes a test plunge in Lake Superior.

It's doubtful Vegas bookies would lay the same odds. More than a century of conventional wisdom says that winter, when the ice is both hard and plentiful, is the best time to travel the polar pack. Yet when Dupre and Larsen set off this May from Cape Arctichesky, Siberia, on a 1,240-mile slog to Ellesmere Island, Canada, via the North Pole, their three-month-plus One World Expedition will encounter temperatures of up to 40 degrees, which will turn ice into mush and leave the Arctic frequently shrouded in fog. The duo will ski, paddle, or swim, depending on conditions, and spurn all outside assistance.


Only two adventurers, Norway's Rune Gjeldnes and Torry Larsen, have ever managed an unsupported Arctic crossing—but just barely. When the two staggered onto Ellesmere Island in June 2000, after 109 days, a doctor deemed them 48 hours from death. Such history has many in the tight Arctic brotherhood watching Dupre and Larsen with eager fascination. "I wouldn't say they're nuts," says Briton Ben Saunders, 27, who tried and failed to pull off the same traverse solo in the early spring of 2004, "but it's a long way out there—and a big step into the unknown."

Trending on Outside Online