The Charity of Others
I'll give to a good cause, I promise. Just as soon as Daryl Hannah shuts up.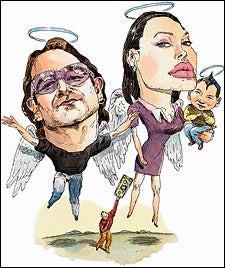 Heading out the door? Read this article on the new Outside+ app available now on iOS devices for members! Download the app.
I DON'T DONATE. I'm not active in any environmental causes. It is embarrassing, but I give virtually nothing back. This is sort of like admitting I'm an ass. Well, actually, I am admitting I'm an ass.
Philanthropy in America
0.3 billion: Total that Americans gave to charitable organizations in 2005. 2.2: Percentage of after-tax income that Americans donate to charity. 1: Rank of religious organizations in support received. ,405: Average household donations in Utah in 2004, thenation's highest. 2: Average in West Virginia, the lowest. 25 TO 95: Percentage of every dollar kept by for-profit fundraisers (usually telemarketers) hired to solicit on behalf of charities. 0: Percentage they get if you hang up and give directly to the charity.
Celebrity Charity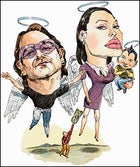 So what's wrong with me? It's not that I don't see the virtue. Global warming, Third World debt, AIDS, refugees, cancer—I am convinced, I'm sold. Leo, Bono, Elton, Angelina, Brad, Lance, you're all right:Every second and dollar counts. If we (I guess I mean you) don't volunteer time, money, and know-how to help overcome these crises, the planet will boil into a giant, AIDS-infected refugee camp. Yet I sit back and let the rest of you do the heavy lifting while I wring my hands and watch An Inconvenient Truth, nodding my head in agreement without getting up to help. The least I could do is write a check. The money is even tax-deductible. But I sleep easy without giving a penny.
Actually, I have given a few dollars to environmental candidates, but trust me, it was an aberration brought on mostly by my loathing for their opponents. In fact, that seems the only way to cajole me into giving: Make me dislike something enough and there is a chance that I will be moved to contribute to the contrary cause. Which is why celebrity activism can be so dangerous. If the wrong celeb endorses the right cause, he or she can taint the whole undertaking. And I mean you, Daryl Hannah (environment), and you, Michael Bolton (women and kids at risk). Nothing could ever have made me less sympathetic to childhood bed wetters than Mark McGwire's throwing his weight behind that cause.
I have a recommendation for certain celebrities: If you really want to do your pet cause some good, speak out against it. Would anything raise more money for the environment than Janice Dickinson and Michael Jackson doing an infomercial debunking global warming? Even I might become a little more involved.
Still, why aren't I already? My parents didn't really give, either. My mom spent more time buying vacuum attachments from the Fuller Brush man than she ever did with the folks from the Boys Clubs of America. When I asked her why we didn't give to charity, she said that we had our own needy individual here at home. She was referring, I assume, to my autistic younger brother, rather than me or my father, but her argument, even then, struck me as self-serving. We were solidly middle-class—new cars, expensive carpets, an ocean view. In my mother's defense, she has since gone on to do substantial community service. But, at a crucial age, I watched and I learned.
Now I have a family of my own, and I wonder what my two daughters may be picking up from me. We live in New York City, where being solidly middle-class can make you feel impoverished. Note the verb feel. We are not actually poor by any metric you could employ. If you look at our income, our net worth, our caloric intake, whatever, we are among the best off on the planet. So, again, no excuse.
I wish I could say there was some philosophical underpinning to my total lameness, but I can't think of any. And while I know incompetence is no defense, when I have given my time to a cause, I have proven consistently feckless. A few years ago, I volunteered to mentor some kids who were underperforming even by the standards of their own underperforming elementary school. Within a few weeks, the children assigned to me stopped showing up at the program—no one ever told me why. And when I enlisted to help clean up a state park in California that had been damaged by brushfire, I was chastised by the program's representative for inadvertently destroying what flora remained.
I have not been any more generous with my money than I have been effective with my time. My company will actually match most employee donations up to a certain point, yet last year I screwed up and missed the deadline. (I give a few bucks whenever the company sets up a table in our lobby to collect for various charities and nonprofits, but I do that mainly for the free cupcake.)
It makes for awkward social and professional situations. I have participated in a fellowship and seminars where the focus was on philanthropy and community service and found myself speaking in generalities to obscure the fact that I give practically nothing. I've written cover stories for major magazines about charity, yet didn't feel moved to mention that I may not be the most qualified to cover the subject.
I suspect that I'm not the only one, though. There are probably millions of us. The greedy. The selfish. The me-firsters. This country was practically built on egocentrism. Wasn't Manifest Destiny just another way of saying, "All this land? Screw you. It's ours."
Well, now we're stuck with it. And writing this has made me so disgusted with myself that I will make a pledge. I will donate my fee for this article to a good cause. I'm thinking about the Rosie O'Donnell foundation. You know why? Because Donald Trump seems to hate her, and that makes me sort of like her.
Now, if a prick like me is willing to open his wallet, what the hell is stopping you?