The Aftermath on Everest
As rescue efforts continue at Base Camp, attention shifts to dozens of climbers trapped at Camps I and II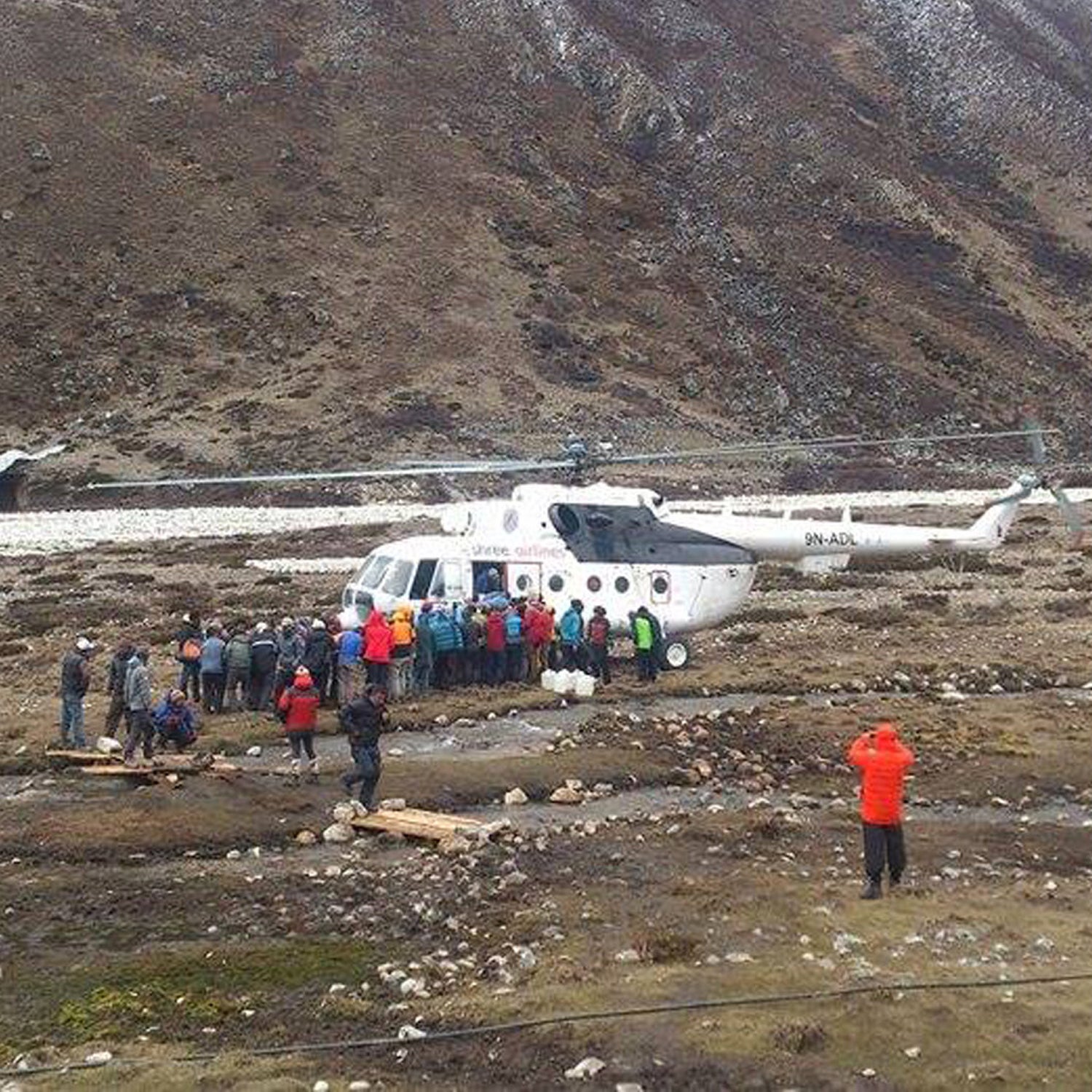 AP(Photo)
Heading out the door? Read this article on the new Outside+ app available now on iOS devices for members! Download the app.
It's early Monday morning now in Nepal, a day and a half after the earthquake. Sunday—12 hours ago—dawned clear as rescuers had hoped. Helicopters began landing in Base Camp just after first light. I spoke briefly with Under Armour director of innovation Nick Cienski, who was climbing the mountain with HimEx and who is still in Base Camp after helping recover bodies and stretcher the injured to the makeshift medical facility at International Mountain Guides' base. According to Cienski, 50 injured people were evacuated by helicopter, 21 of them in critical condition. There are 18 people confirmed dead, most of them Sherpas. By late afternoon the weather closed in again, and the rescue flights had to stop.
At this point, the upper portion of Base Camp looks like the natural disaster area that it is. Sleeping tents have been blown away, chairs and tables scattered across the moraine, and the tattered skeletons of mess tents stand stripped bare of their fabric by the hurricane-force winds that raced ahead of the avalanche.
According to an email from a New Zealand–based Adventure Consultants staffer, all patients were initially shuttled to Pheriche, at 14,000 feet, and then by a larger Russian cargo helicopter to Lukla or Kathmandu.
"We know our injured Sherpa are in both the Kathmandu Medical College and another clinic in Kathmandu," wrote Adventure Consultants operations manager Caroline Blaikie. "We have also heard reports from our Mera Peak group of the Lukla hospital taking patients from Everest Base Camp."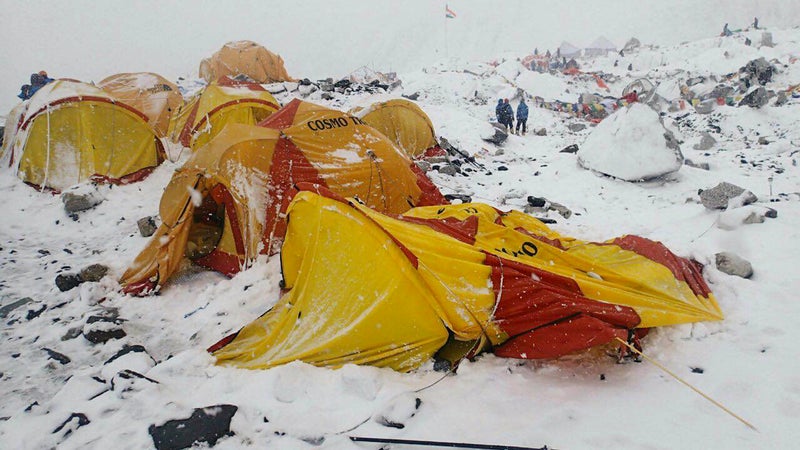 Cienski confirmed that the Himalayan Rescue Association (HRA) took a direct hit and was completely wiped out. The HRA camp houses the legendary Icefall Doctors who set and maintain the route through the Khumbu Icefall. Three of the Icefall Doctors were killed, and more were injured. Since no thorough, camp-wide count has yet been conducted, the total number of dead and missing has not been firmly established. It's still possible that there are climbers buried at Base Camp and in the Icefall. According to International Mountain Guides founder Eric Simonson, who is in contact with his team on the mountain, a helicopter pilot was scheduled to make a careful inspection of the route through the Icefall Sunday morning. A more accurate count of the missing should emerge within the next 12 hours.
The news that the Icefall Doctors are out of commission also makes the situation more tenuous for the climbers trapped in Camps I and II, who until now had planned to descend under their own power. I don't have an exact count of who is above Base Camp, but the list includes groups from Alpine Ascents International (AAI), Madison Mountaineering, Adventure Consultants, International Mountain Guides, and Rainier Mountaineering. Madison has posted an accounting of the whereabouts of its climbers. Madison Mountaineering's Base Camp manager Kurt Hunter estimated that the number of climbers above Base Camp was between 100 and 120.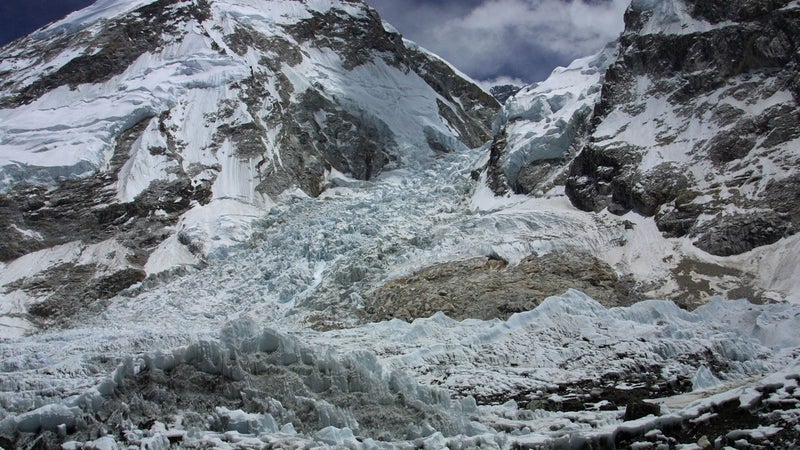 On Sunday, Rainier Mountaineering's Dave Hahn checked in with his office by sat phone to confirm that helicopters were able to reach Camps I and II during the morning weather window. "A couple of … courageous helicopter pilots made use of that time flying out from sick and hurt people from Camp II to Camp I," said Hahn.
Meanwhile, Argentine guide Damian Benegas, working this year for Seattle-based AAI, took advantage of the clear skies to lead a small team downhill from Camp I to try and find a route back to Base Camp.
"But tremors made this impossible," a spokesperson from AAI wrote in an update posted to the company's website. "At this time, the teams at base camp feel a route through the icefall will be very difficult and thus we are looking to use helicopter transport to move our and other teams from Camp I to Base Camp."
Because of the reduced payload capacity at that altitude for the Eurocopter B3s that are used for rescues on Everest, that would mean roughly 40 sorties above Base Camp to complete the rescue. Yesterday, I speculated that the quake might have settled the blocks of the Icefall and surrounding mountains, making them more stable. As it's played out, though, powerful aftershocks from the quake have continued to dislodge more ice, keeping all of the climbers on edge. On Sunday morning, a magnitude 6.7 aftershock sent the Icefall-scouting party back to the relative safety of Camp I.
Up at Camp II, Garrett Madison of Madison Mountaineering was hunkered down with 14 of his guides and clients. In a sat phone call from camp, he confirmed that team doctor Eve Girawong, who'd been in Base Camp, had died from injuries she sustained during the avalanche. Madison explained that he and his crew would descend to Camp I to await helicopter rescue. On Sunday morning, helicopters were able to make several rescue flights above the Icefall.
In the coming days, the weather is expected to start clear enough to allow aviation in the mornings and deteriorate into snowfall by the afternoon. EverestWeather.com forecaster Michael Fagin continues to predict up to ten inches of snow on Tuesday, though some models call for up to 20 inches. The ministry of Culture, Tourism, and Civil Aviation has already indicated that the Everest climbing season is finished. This year, that decision will spark little controversy.
In his sat phone check-in, Hahn sounded reassuring: "We are safe. We are in a good spot. And we are not in panic mode."
More Outside Coverage of the Everest Disaster
Lead Photo: AP