The Outside Voting Guide
Alex Honnold to Politicos: Leave Our Public Lands Alone
The pro climber and free soloist extraordinaire went to D.C. to tell politicians we want to preserve the wild places we grew up with—and not turn them into radioactive tailings ponds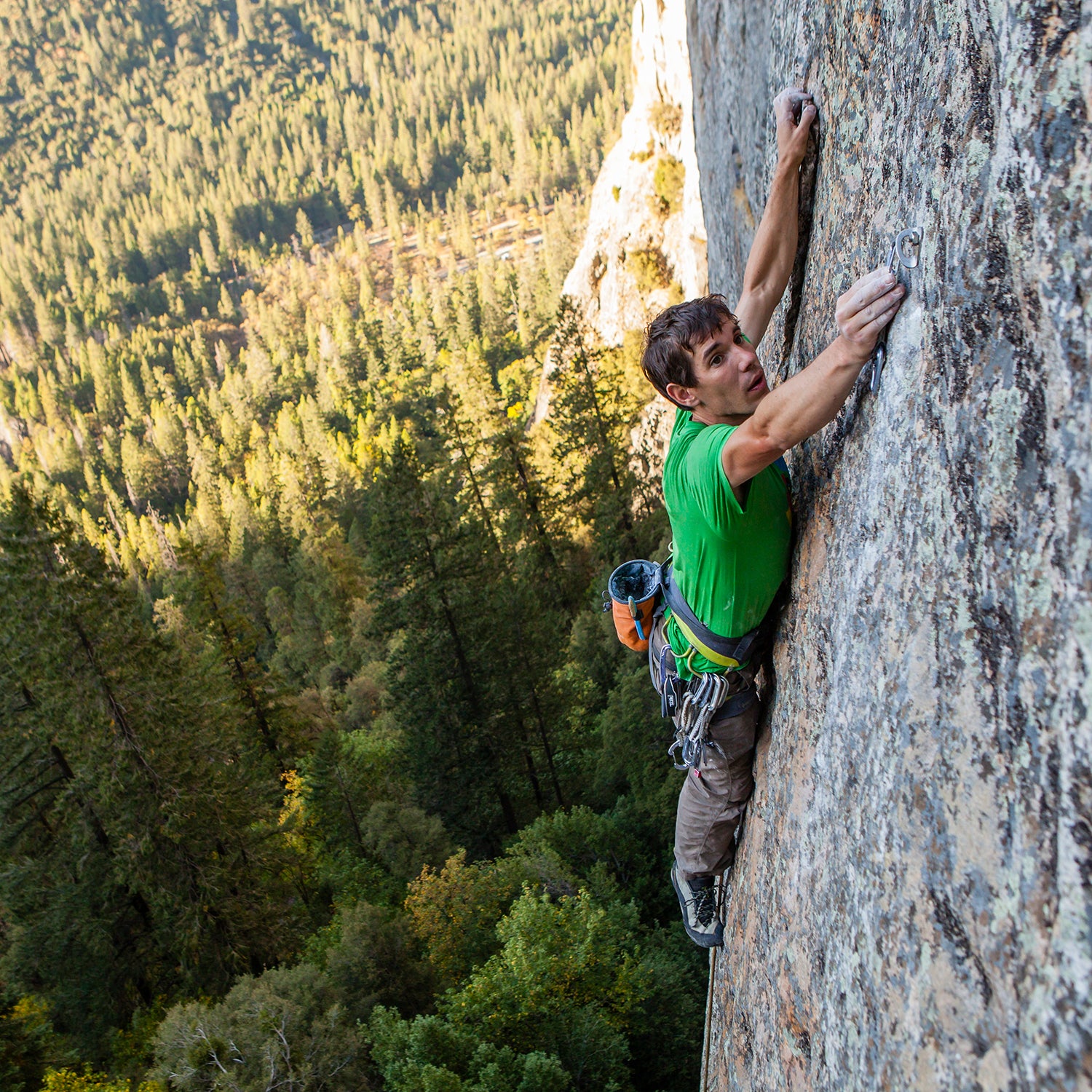 John Dickey/TandemStock(Photo)
Heading out the door? Read this article on the new Outside+ app available now on iOS devices for members! Download the app.
A couple weeks ago, I was dangling from a rope on the side of El Capitan, 2,500 feet above the ground. I'm working toward free-climbing the Nose, one of the most iconic climbing routes in the world, and on this morning, I had lost track of time. It's easy to do that while climbing, which is a big part of why I love it so much. I was about 500 feet from the summit when I realized that I'd need to hustle if I wanted to get to Fresno in time for my flight. I started to move quickly, because the next day I was supposed to be in Washington, D.C., for the Climb the Hill advocacy effort. There were a few things I wanted to tell our politicians.
Almost all of my climbing is done on public lands. The Access Fund estimates that more than 60 percent of all outdoor climbing is on land we all own. I've participated in Climb the Hill—an annual event organized by the American Alpine Club and the Access Fund—for the past two years. Both organizations represent the interests of climbers like me, and lately we've had a lot to be both proud of and worried about.
One point of pride: The outdoor economy is much larger than most people realize. Consumer spending on outdoor recreation contributes an estimated $887 billion to the national economy, according to the Outdoor Industry Association. And it's estimated that around 7.6 million jobs (including mine) depend on outdoor recreation. As an industry, we're just starting to flex this muscle. Highlighting our industry's economic clout is probably the best way to counter the other economic forces competing for the use of our public lands: extractive industries like oil and gas development and mining. The American public overwhelmingly supports our parks and wild spaces, and the exploitation of those areas comes down to solely economic interests.
The Outdoor Industry Association reports that 145 million Americans participated in outdoor recreation last year. The vast majority of these people take pride in our American heritage of untrammeled wilderness and don't want to see unchecked development in our nation's most spectacular landscapes. Public lands are not an inherently partisan issue. The fact that President Trump has chosen to undermine the Antiquities Act and attack our public lands has less to do with political ideology and more to do with shortsighted economics.
During Climb the Hill, we sat down with 63 members of Congress from both political parties and talked honestly about the economic and intangible values of outdoor recreation. One of the most interesting conversations I had was with a congressional staffer who had family living in Monticello, Utah, right outside the shrunken boundaries of Bears Ears National Monument. She was interested to learn that a climbing area within the monument called Indian Creek is considered the premier crack-climbing destination in the world. I've spent months camping in Indian Creek with climbers from all over the globe, and each of us bought our food and fuel from the nearby communities like Monticello and Moab. Indian Creek helped draw valuable tourism dollars to both these towns.
Bears Ears has been shrunk by 85 percent and the boundaries conveniently redrawn to exclude potential uranium and coal deposits. I can see the allure of tapping the low-hanging revenue that energy extraction promises. But it's a short-term gain. Future generations will not benefit from the energy boom of the next ten years—they'll be left with toxic mines, abandoned infrastructure, and a landscape that can never be fully reclaimed. To see the remnants of this kind of development, you can drive 50 miles north to Moab and visit the uranium mine tailings pile that's in the midst of a half-billion-dollar, 25-year restoration project to prevent pollutants from leaching into the nearby Colorado River.
Inspiration is hard to tabulate or put on a spreadsheet, but in many ways, it's more powerful than any economic incentive.
Tourism, on the other hand, buoyed by climbers like me who make regular pilgrimages to Indian Creek, will pay the local economy a steady dividend. Kentucky's Red River Gorge is another great example of how climbing contributes millions annually to a rural economy and has supported an increase in jobs and wages in the area. In fact, climbing has made enough of an impact on Kentucky's Congressional District 6 that its representative, Andy Barr, randomly stopped us in an elevator while we were navigating the tunnels between the congressional buildings and asked if we'd ever eaten at Miguel's Pizza, a renowned restaurant-cum-climbers'-campground in the heart of the Red. Maybe Barr just knows his district well, but I think it's more that climbers helped put the restaurant on the map.
As our day on Capitol Hill wound down, I joined up with other professional climbers like Tommy Caldwell and Sasha DiGiulian, sharing our personal stories at a reception filled with people in suits drinking glasses of wine and eating tiny sandwiches. Tommy focused on how growing up next to Rocky Mountain National Park influenced his life and shared his hope that his children will get the same exposure. Sasha mentioned that her climbs around the world have made her more appreciative of our public lands and more proud to be an American. Several other climbers and skiers mentioned the economic benefits of the outdoor recreation economy.
I chose to close the reception with a reminder of one of the least quantifiable but most important aspects of public lands: their power to inspire. Yosemite National Park has always been the most awe-inspiring place in the world to me, and it has provided a lifetime of challenges and dreams. Inspiration is hard to tabulate or put on a spreadsheet, but in many ways, it's more powerful than any economic incentive. As any climber can attest, it's not about money—it's about experiencing grandeur in some of the most impressive places on earth. That has always been my experience on El Cap.
I feel optimistic that our voices were heard in Washington. Yes, our public lands are threatened. But we, the American people, don't want to see our heritage exploited for short-term profits. Our elected officials just need to be shown a better way and then held accountable to hewing to it, which is exactly why we were there to Climb the Hill. You can help, too. Call your representatives and senators—let them know that you want your children to appreciate the same wild places we've grown up with and not just piles of radioactive mine tailings.
I'm back in Yosemite now, working with Tommy on a new project on El Cap. Our lives are richer for the challenge, and it's only available to us because of the many farsighted individuals who have worked hard over the past 150 years to protect the park. I respect their efforts and look forward to carrying on the fight for our lands.
Lead Photo: John Dickey/TandemStock
Trending on Outside Online