Alpinist Tomaz Humar Stranded on Langtang Lirung
Heading out the door? Read this article on the new Outside+ app available now on iOS devices for members! Download the app.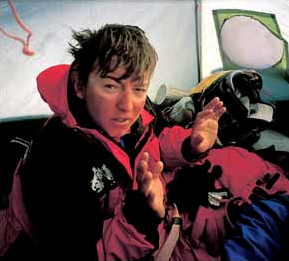 Slovenian Tomaz Humar, one of the most accomplished and audacious high-altitude solo climbers in the world, has been stranded since Monday on Langtang Lirung, a 23,710-foot peak in the Langtang Himal of Nepal. Humar, who has some 1,500 ascents to his name and been the recipient of several mountaineering awards, apparently used a satellite phone to call a friend to say that he was injured. There is some confusion as to how injured Humar is—he likely has a broken leg and ribs, but may have back injuries as well—and where, exactly, on the mountain he is, although he is believed to be stuck at an altitude of about 20,670 feet somewhere on the southern face of the peak. Humar has not been heard from since Tuesday, when he placed a call to basecamp and sounded "very weak."
Rescue attempts are underway, but have been progressing slowly due to bad weather. On Tuesday, a helicopter dropped off four Nepalese climbing Sherpas at basecamp, who were able to look for him above Camp 1 on Wednesday before being forced back to basecamp due to a snowstorm. And earlier today, three rescue climbers from Switzerland, along with some of Humar's relatives, have reportedly arrived to aid in the search, but haven't been able to ascend the peak due to bad weather.
This is not the first time that the 40-year-old Humar, who is married and has two children, has needed to be rescued. In 2005, a Pakistani military helicopter plucked Humar from Nanga Parbat. You can read more about the controversy surrounding that rescue, and his subsequent solo ascent of the 26,040-foot east summit of Annapurna here. Peter Maas wrote a feature story about Humar for us in 2002, which you can read here. You can also check out our online gallery of images that accompanied Maas's story, and a highlight tour of some photos from his memoir, No Impossible Ways.
More details about the current rescue can be found here, and we'll update you as soon as we have more info.  —Sam Moulton
Trending on Outside Online