Rescue on the Killer Mountain
When two climbers were stranded near the summit of Nanga Parbat last winter, they sent out a desperate call on their satellite device. A hundred miles away, a Polish team of extraordinary climbers answered the call, prompting one of the most daring rescues in mountaineering history.
Heading out the door? Read this article on the new Outside+ app available now on iOS devices for members! Download the app.
It was already late—just one hour before sunset on January 25, 2018—and they had yet to reach the summit. The shadows of the high Himalayan peaks were growing longer every second, covering the surrounding valleys with a dark veil and turning the air so cold that every breath became painful. Elisabeth Revol, a thin, 38-year-old French climber with four 8,000-meter peaks on her résumé, filmed the landscape as they began their final push. Her camera swept left, then right, capturing the steep terrain and the snow and ice interwoven with bald rocks.
For a second, the frame stopped on her partner, Tomasz Mackiewicz, a Polish climber who for a decade has been obsessed with climbing Nanga Parbat in winter. This was his seventh attempt on the mountain, and he had never tried to climb another 8,000-meter peak. On this day, Tomasz was slower than Elisabeth. In the video, he was roughly 300 feet behind her, barely visible, a small black dot moving up a shiny white slope.
Elisabeth turned off the camera, pulled out her GPS, and recorded their position. She was just 300 vertical feet from becoming the first woman to climb Nanga Parbat in winter. The weather was relatively calm. There was hardly any wind; the temperature hovered around minus 22 Fahrenheit. But that would change once the sun set. The winds would rise, and the temperature would fall to minus 60 degrees. They needed to move.
She waited for Tomasz, and they continued. Elisabeth later told Polish TV network TVN that they reached the summit—26,660 feet—at dusk together. (Elisabeth declined to speak to Outside through a representative.) She then asked Tomasz how he was feeling. "I can't see you," he told her. "I can't see anything."
Elisabeth knew what this meant. Blindness is a symptom of acute mountain sickness, a condition that can ultimately lead to death. She needed to get him low enough that he could get more oxygen into his system (they were climbing without supplemental tanks). But as they left the summit behind, Tomasz got slower. Soon, he could barely move. Elisabeth put his arm over her shoulder, and together they moved lower, every step improving his odds, however slightly, of survival.
By the time they had hiked down to 25,900 feet—just below the so-called death zone—Tomasz was having trouble breathing. When his face mask came loose, Elisabeth could see blood flowing from his mouth, his nose white with frostbite.
At 11:10 p.m., she pulled out her InReach satellite device and sent a text to three people: her husband, Jean-Cristoph; Tomasz's wife, Anna; and Elisabeth's friend Ludovic Giambiasi. She asked them to send helicopters to help them down. As friends and family tried to locate one in Pakistan—a difficult feat, as most helicopters are capable of flying only to 20,000 feet—Elisabeth helped Tomasz get as low as they could. At just below 24,000 feet, she built a temporary shelter and sent another text: "Tomasz is in terrible condition. He cannot move. We are not able to put up a tent. He needs to be evacuated."
---
Tomasz Mackiewicz was born in 1975 in Działoszyn, a town in a flat, lowland region of Poland, near the Warta River. For the first ten years of his life, he and his sister lived with their grandmother in a small town. It was there that he developed his deep love of wilderness, roaming the wetlands at the river, free to go and do whatever he wanted.
At age ten, Tomasz moved with his parents to a bigger city, Częstochowa. "For Tomasz, moving to the city was a disaster. He hated it. He missed wildlife, walks at the river, forests," says Małgorzata Sulikowska, his sister-in-law.
As a young teenager, he began inhaling rubber glue containing a hallucinogenic solvent, a habit that eventually led to his using heroin. Tomasz left home and began living on the street. His sister Agnieszka found him there one day and brought him to rehab, but within three months he was back on the street, using again. "Tomasz felt he was dying from inside. He had no illusions that if he didn't stop, he would die very soon," says Małgorzata.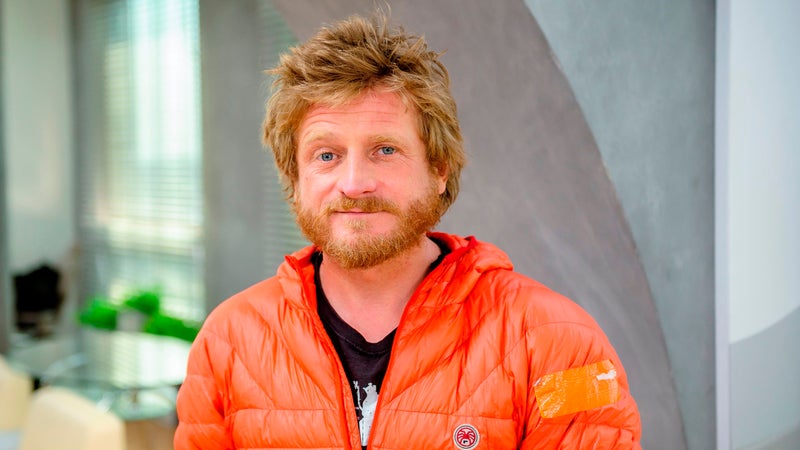 When Tomasz turned 18, he checked himself into a rehab center run by an organization that hires former addicts to aid current ones with their fight. For two years, Tomasz dug ditches, cleaned the house, did construction jobs, and, ultimately, stayed clean. When he moved to Warsaw, Tomasz met Małgorzata's sister, Joanna, whom he would eventually marry. But he could not shake a feeling of emptiness, a lack of purpose. He enrolled at the University of Warsaw to study philosophy but gave up after a few months, opting instead to hitchhike to India, where he spent an entire year. It was there that Tomasz first saw the Himalayas and decided he wanted to climb them.
But first, he had a life to tend to. Tomasz married Joanna, and the two of them moved to Ireland. She got a job as a child psychologist; Tomasz worked as a mechanic in Cork. One night in 2008, he met Marek Klonowski, a fellow Pole and a mountaineer.
"We just met in Ireland at a party in his garden," Marek says. "I was talking about how I tried to solo climb Mount Logan in Canada. And Tomasz told me out of the blue that he would go there with me next time."
Tomasz threw himself with abandon into climbing the local crags in Ireland. "He climbed better than me. Tomasz was able to on-sight routes there that were around 5.12b," Marek says. "He learned everything by himself, without attending any courses, climbing schools, nothing. Just by trying and discovering."
In May 2008, the two men arrived in Canada to attempt to hike to the mountain from the boat, ascend to its summit, and then descend by rafting back to the ocean. The 40-day expedition earned them a Colossus award at Kolosy, Poland's largest gathering of adventurers and explorers. In 2009, after having soloed 22,999-foot Khan Tengri, on the border of China, Kyrgyzstan, and Kazakhstan, Tomasz's sights fell on Nanga Parbat, the ninth-highest mountain on the planet. With dramatic vertical walls guarding every path to the summit, it is one of the world's most prominent mountains and one of the most difficult 8,000-meter peaks to climb. Tomasz asked Marek to join him for an ambitious winter ascent.
Western mountaineers have been fascinated by Nanga Parbat since the 1930s. In 1953, Austrian Herman Buhl made a dramatic 41-hour push to make the first ascent. But many others have failed: More than 70 climbers have died on the peak, which has earned it the nickname "killer mountain."
Tomasz and Marek were attracted to Nanga Parbat for several reasons beyond its notoriety. First, it's relatively easy to get to. "To Diamir Face, it's just a two-day approach," Marek says. Equally important, the climbing permit was relatively cheap—just over $300 in winter. And finally, at the time they were making their plans, Nanga Parbat, along with K2, was one of the only remaining 8,000-meter peaks yet to be climbed in winter.
The pair had limited resources, so they had to improvise. "To save money on porters, most of the stuff we needed on the mountain we brought to the base camp on our own backs," Marek says. They lacked good equipment—their jackets, tents, and stoves were of the type used by hikers, not winter expeditions. "We were so different than the other expeditions that even local Pakistani villagers living near base camp could not believe what they saw."
That first year, they didn't make it very high. The next year, they returned—with slightly better gear, slightly more experience—and managed to ascend just beyond 18,000 feet. The year after that, Tomasz reached 24,000 feet on Nanga's Mazeno Ridge. (Marek experienced an equipment malfunction and had to turn back earlier.) Their money spent, they had to sell their equipment in Pakistan to afford the trip home.
Back at home, Tomasz began to travel between Poland and Ireland. His marriage to Joanna had fallen apart after the death of his son. (He carried the son's ashes to Khan Tengri.) In Ireland, Tomasz met his second wife, Anna, and they soon had a child, whom they raised along with a son from Anna's previous relationship.
By 2015, Marek had decided he was done with the mountain. But Tomasz wouldn't give up. Without Marek, he decided he'd just climb solo and alpine style—fast and light, without setting up multiple camps filled with supplies. That's when he met Elisabeth Revol, a rising star on the French national climbing team. Elisabeth was five years younger than Tomasz and his complete opposite. He was a talkative, eccentric anarchist; she was a quiet phys ed teacher from the small town of Saou. He was a former heroin addict; she avoided alcohol and gluten.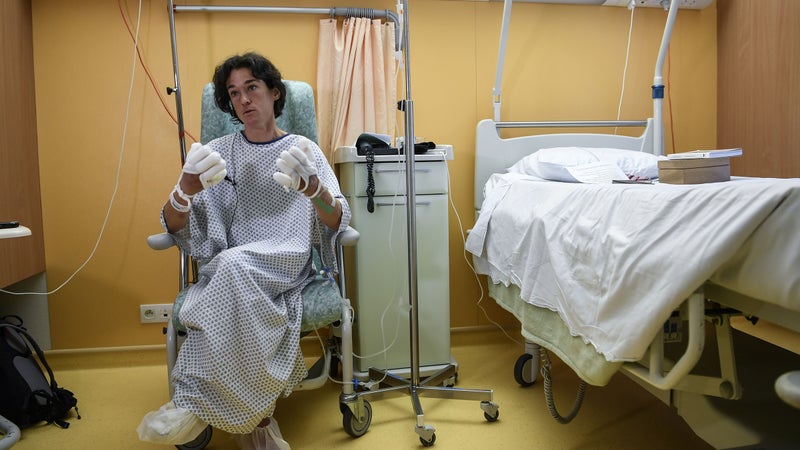 Growing up, Elisabeth was a gymnast. When she turned 19, her parents suggested she try climbing. By 2006, she had joined a French expedition to the Bolivian Andes. She returned with nine summits, five first ascents, and an appetite for opening new routes in bigger mountains.
In 2008, a year after making her first Himalayan expedition, Elisabeth went to Pakistan. There, she summited three 8,000-meter peaks—Broad Peak, Gasherbrum I, and Gasherbrum II—without supplementary oxygen in a span of 16 days.
In April 2009, Elisabeth went to Annapurna with Martin Minarik, her Czech climbing partner. The two reached the east summit (26,040 feet) but were turned back from the main peak by hurricane-level winds. On the way down, Minarik disappeared; his body has never been found. Elisabeth stumbled into base camp frostbitten and exhausted and was evacuated to the hospital in Kathmandu.
Minarik's death devastated Elisabeth. She took four years off from climbing and instead focused her talents on adventure racing. But in 2013, she decided to return to the Himalayas, choosing Nanga Parbat. Though Elisabeth failed to reach the summit, she returned two years later and teamed up with Tomasz for a winter attempt.
"I liked our climbing together very much. We talked a lot, we climbed, had very good time," Tomasz said in an interview with Polish Radio. "And we reached an elevation of 25,600 feet."
The two teamed up for another attempt at a winter summit in 2016, but bad weather turned them around at 24,600 feet. It was Tomasz's sixth winter bid. Prior to his departure, Tomasz told Polish journalist Dominik Szczepański that he was finished. "Before the farewell, Tomasz said to me that this time it is the end of his struggle. That he is not going back to Nanga Parbat. Never again," Szczepański says.
But there was another team in base camp that year: Simone Moro, Alex Txikon, and Muhammad Sadpara Ali. The three climbers waited longer than the other teams for a weather window. On February 26, 2016, their patience paid off: They reached the summit of Nanga Parbat in winter—the first team to do so.
By the time they reached 25,900 feet, still well within the so-called death zone, Tomasz was having trouble breathing. When his face mask came loose, Elisabeth could see blood flowing from his mouth, his nose white with frostbite.
When Tomasz heard the news, he was furious. He publicly questioned Moro's GPS data and his pictures from the summit. Moro didn't respond to Tomasz's request for more proof, and though the rest of the mountaineering community accepted his team's achievement, Tomasz never did. Instead, he reached out to Elisabeth and said he wanted to give it one more go. "He was connected with this mountain," Elisabeth said in the TV interview. "Tomasz told me he wants to end this case with Nanga Parbat. He wants to finish it this time."
They arrived at base camp on December 23, 2017. For Tomasz, it was his seventh attempt. For Elisabeth, it was her fourth. Four weeks after their arrival, they began their summit push. On January 21, they broke camp before sunrise at 23,000 feet and headed out, their headlamps pointing toward the summit.
---
As Elisabeth ushered Tomasz down the mountain, another winter expedition was underway roughly 115 miles to the northeast. A Polish expedition was 20,700 feet up K2, attempting to make the first winter ascent of that mountain. News of the trouble on Nanga Parbat reached them via satellite internet.
"I realized that the only option for Elisabeth and Tomasz was to fly the rescue team from us to Nanga Parbat and climb to help them," says Krzysztof Wielicki, the K2 expedition leader, when I reached him by satellite phone in the midst of his team's attempt. Wielicki, 68, is one of the most experienced climbers in the Himalayas, having collected all 14 of its 8,000-meter summits. He completed the feat by soloing Nanga Parbat in 1996.
When word reached him that Tomasz needed to be evacuated, Wielicki asked the 13 climbers at K2 base camp if any of them were willing to interrupt their summit push to rescue the two stranded climbers. "Every single one said yes," he says. Wielicki chose Adam Bielecki, Denis Urubko, Piotr Tomala, and Jarosław Botor. "I came for breakfast the next morning at 7:00 a.m., wearing my down suit, with my harness and helmet on. I was ready to fly," Bielecki says.
But the helicopters were delayed. Some have said the delay was due to haggling over the cost between the Polish and French embassies, the Pakistan army, and the climbers' insurance company. One of Elisabeth's friends quickly organized a crowdfunding campaign. (It has since raised more than $225,000.) Two helicopters finally arrived at K2 base camp at 1 p.m. on January 27, picked up the four rescuers, and headed to Nanga Parbat.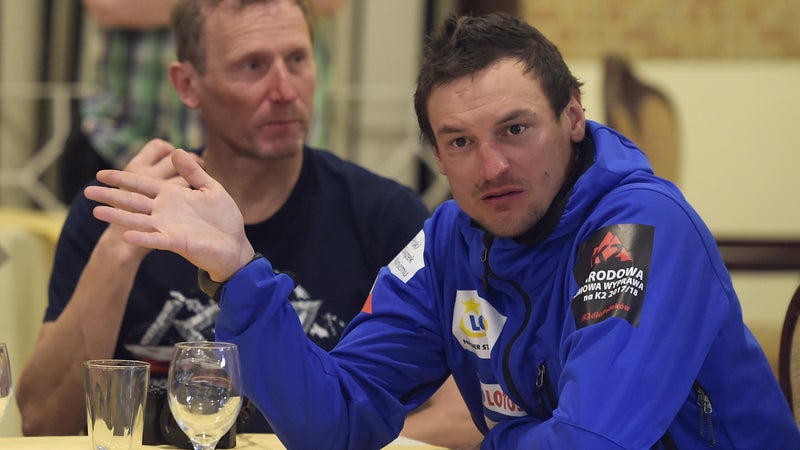 Finding the mountain—let alone a place to land—was not easy. "Pilots have never been there, so when we came closer, I showed them where is the village, where is the base camp, and where to land," Urubko says. "I told them that they looked brave, so maybe they could try to get us really high up the mountain."
Both machines dropped the climbers off at 5:10 p.m. on a tiny, rocky platform just below Camp 1, at an elevation of approximately 15,750 feet—as high as the helicopters could go. The team decided that Tomala and Botor would stay at the landing site while Bielecki and Urubko would climb. They began ascending at 5:30 p.m.
The two men are among the boldest and best climbers in the world. Adam Bielecki, 34, climbed Khan Tengri when he was 17 years old. He has since summited four 8,000-meter peaks, including two in winter. Denis Urubko, 45, has 19 ascents of 8,000-meter peaks to his name. More important, both were familiar with the Nanga Parbat route that Tomasz and Elisabeth were stranded on. They had each tried it separately—Urubko in the summer of 2003 and Bielecki in the winter of 2015/2016.
To reach the pair, the rescuers began climbing Kinshofer's couloir—a steep gully filled with ice that leads to a 300-plus-foot rock wall. For the first several hundred feet, they were practically running through the snow. When they hit the ice wall, they pulled out their ice axes and kept climbing. They were lucky to encounter fields of firn—an intermediate stage between snow and glacial ice that is easier to climb.
"Conditions were good. It was minus 31 degrees, and moon was shining between the clouds, so we could see some of the route," Urubko says.
The two were simul-climbing—both moving at the same time, often without anchors. They didn't place a single ice screw during the climb. In roughly 4,200 feet of climbing, they used only ten placements—effectively climbing unprotected for one of the world's more difficult climbs at altitude and in winter. When they encountered old ropes from previous expeditions, they used those. "It's very risky," Bielecki says. "You never know how old and worn out the rope is."
The reward for that risk: speed. The two rescuers averaged approximately 500 feet per hour. They had spent a night at 20,700 feet on K2, so they were already acclimatized. But the clock was still ticking—Elisabeth and Tomasz had been stranded at Elisabeth's makeshift shelter for two days.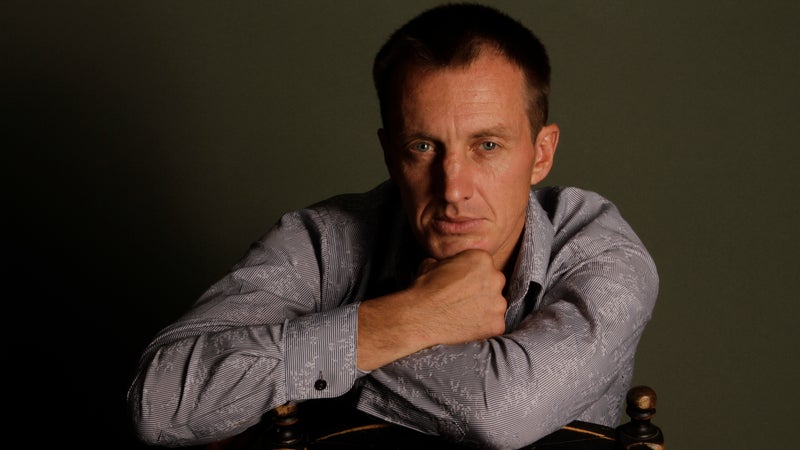 What's more, Bielecki and Urubko didn't know where exactly Tomasz and Elisabeth were. Had they stayed at the temporary shelter she built for them? Had they gone down together? Had they separated? "We were ready to go all the way up for them," Bielecki says.
By midnight—more than six hours into their climb—Urubko was leading through the most difficult and technical portion of the wall. As they topped out, they found a small plateau: Camp 2, at 19,500 feet.
"I began to shout in hope maybe some miracle happened and they were here," Urubko says. "I shouted and shouted through the wind. And finally I heard some quiet voice." It was Elisabeth.
"Liz! Nice to see you!" Urubko said.
But she was alone.
It was 1:50 a.m. Elisabeth was dehydrated and frostbitten. She had spent the previous night in a crevasse with just her harness—no rappelling device, no carabiner, not even a headlamp. With no equipment, Elisabeth wasn't able to make it down the Kinshofer wall safely. So she had stayed put. The night before the two Polish climbers found her, she had been hallucinating—a symptom of high-altitude sickness. Elisabeth believed that someone had brought her tea, and the woman asked for her boot in exchange. "At that moment, I automatically got up, took off my shoe, and gave it to her," Elisabeth told the two climbers. "In the morning, when I woke up, I was only wearing my sock."
Bielecki and Urubko set about trying to help her recover. "First thing I did was give her my gloves to warm up her hands," Urubko says.
"Then we built temporary camp," Bielecki says. "We hid ourselves in the bivouac sack, cooked some tea, and put her between us to warm her up."
"Pilots have never been there, so when we came closer, I showed them where is the village, where is the base camp, and where to land," Denis Urubko says. "I told them that they looked brave, so maybe they could try to get us really high up the mountain."
They asked her about Tomasz. Elisabeth said that he was unable to move, and so she had left him in a crevasse at their makeshift camp. Urubko and Bielecki faced a decision: try to reach him or get Elisabeth back down the mountain.
"We understood that if we left Elisabeth and went up for Tomasz, she would die," Bielecki says. "And if we even reach Tomasz—and he was still alive—we would not be able to get down Nanga Parbat's terrain with someone who cannot walk."
They decided they would not go for Tomasz.
At dawn, Bielecki, Urubko, and Elisabeth began to descend, even though Elisabeth couldn't move her hands. The two men built a system in which Urubko lowered her on one rope and Bielecki rappelled next to her on a second rope, connected to Elisabeth with a sling. Then Bielecki would build a belay stance with ice screws, secure Elisabeth, and let Urubku rappel down to join him. They did this every 120 feet the whole way down, switching leads every few hours.
At 11:30 a.m., approximately 18 hours after they had arrived, Bielecki and Urubku reached the helicopters with Elisabeth.
---
In the ensuing weeks, Elisabeth was transferred from Islamabad to a hospital in France, where she was treated for frostbite. The Polish climbers returned to K2, where they waited a month and a half for good weather but ultimately turned back.
Any money from the crowdfunding campaign not spent on rescue fees will go to Tomasz's children. "Tomasz was a very good man with a big heart. Bigger than mine. He was a really incredible person," Elisabeth told a television crew.
"I miss his flow," says Marek Klonowski, his longtime climbing partner. "I miss his high spirit and never ending energy. I miss it all."
Inevitably, critics began to question Tomasz. Did he have the necessary experience? Was he blinded by his own ambition?
"He used to be an object of raillery and mockery. He was condemned by many mountaineers for climbing with no formal training, with farmer's ropes, with not enough safety precautions," says Wojciech "Voytek" Kurtyka, who received the coveted 2016 Piolet d'Or for Lifetime Achievement, in an interview with a Polish newspaper. "But I see an artistry in his behavior. He was thinking outside the box. His loss is very sad thing."
"He was a pro. He climbed Nanga Parbat in winter! That is an incredible achievement," Bielecki says. "Tomasz had a right to play this game according to his own rules. His strategy was completely different than mine, but I respect it."
A French politician asked President Emmanuel Macron to award the rescue team with the Legion of Honor, the highest civilian award in the country, but the rescuers balked at that sort of recognition. "I think we did nothing extraordinary," Bielecki says. "Everybody would do it. It's the obligation of every climber to help others. It's the duty of every man."
Lead Photo: Ahmed Sajjad Zaidi/Flickr