Big Names Like Alex Honnold Won't Be Climbing in Tokyo. Here's Why.
A lot of the world's top climbers won't be in the Olympics. Here's why.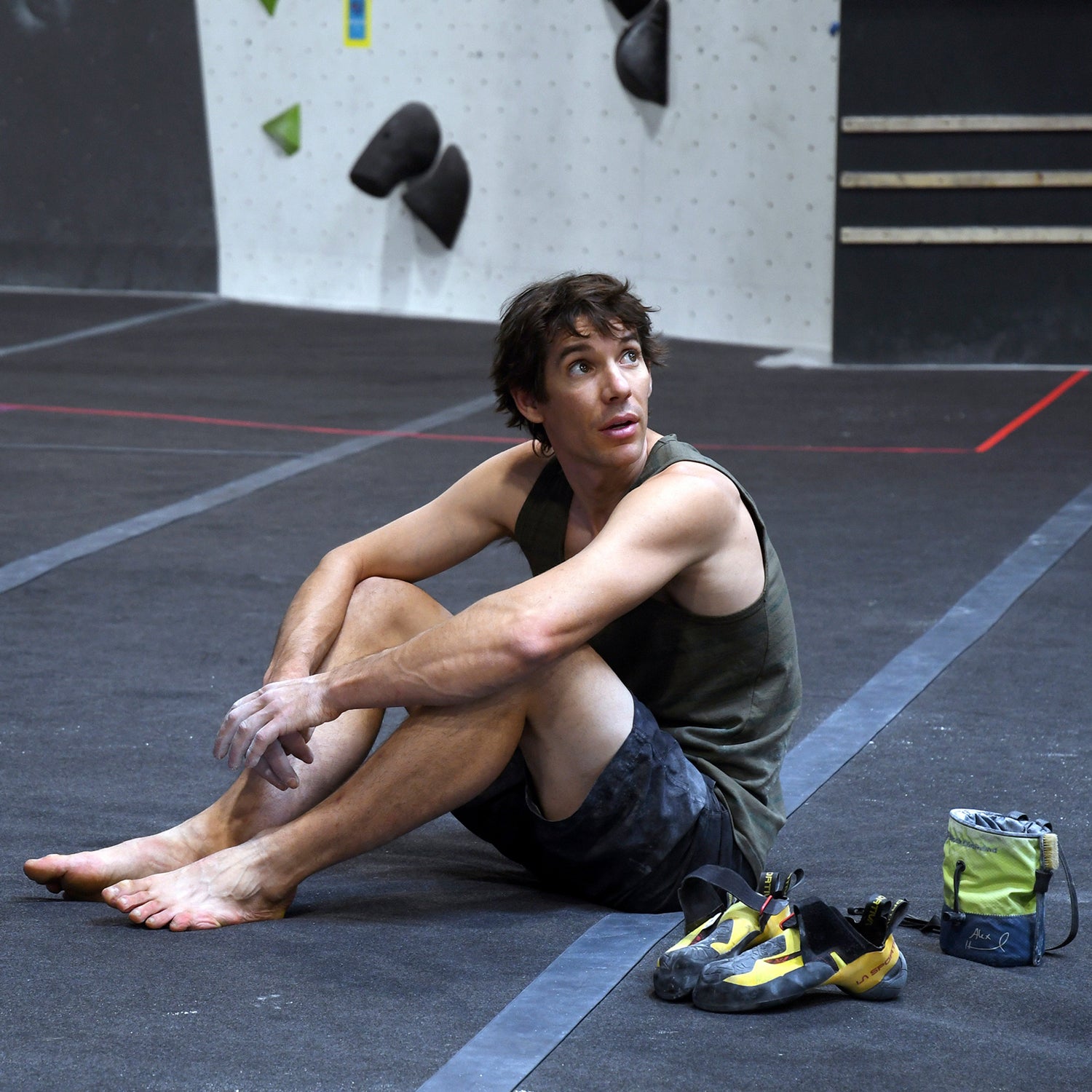 Thomas Peipert/AP
Heading out the door? Read this article on the new Outside+ app available now on iOS devices for members! Download the app.
This article was first published by Climbing.com. To get more of their premium content along with your Outside subscription, join Outside+.
---
A few days ago, we published a piece titled, Who Can Beat Adam Ondra and Janja Garnbret in the Olympics? Fans were quick to toss out names and scenarios in the comments, but it quickly occurred to us that some of the names being volleyed around in that fun speculation were not climbers who will actually be climbing at the Olympics. It's understandable—the Olympics' format is confusing and the field is small, limited to 20 men and 20 women. So, we thought we'd take this opportunity to list some of the names that were brought up and explain the reasons for their Olympic absence.
---
Men's Division
Sean Bailey: Bailey is arguably this biggest American name on the World Cup circuit this season. He won a gold medal in Salt Lake City and then clinched back-to-back wins at Villars and Chamonix. He made a run at Olympic qualification in 2019 and 2020, but ultimately the two American Olympic berths in the men's division were earned by Nathaniel Coleman and Colin Duffy. Still, Bailey's success since then has been a remarkable story of comeback and perseverance, and it's quite possible that he would not be having this dream season if he was also training for the Olympics. Frankly, we like the way things worked out for Bailey.
Veddriq Leonardo: One of the most exciting storylines in the climbing world this year was Indonesia's Leonardo smashing the speed climbing world record in Salt Lake City. He also notched a decisive victory at the Speed World Cup in Villars one month later and nearly broke the world record again. But all this dominance in Speed by Leonardo (and his Indonesian compatriot Kiromal Katibin, who briefly held the world record too) came after the Olympic qualification pathway for all competitors had already concluded. Timing being what it was, Leonardo was just a little late in his ascendancy to be a part of this Olympics. But definitely keep an eye on him for the 2024 Olympics in Paris—where Speed will be its own separate discipline.
Stefano Ghisolfi: There's no question that Ghisolfi is one of the best competitors on the Italian team. He won the most recent Lead World Cup in Briançon, and placed second a couple of other times. He was part of the Olympics qualification pathway beginning back at the 2019 World Championships. He placed 19th and didn't clinch an Olympic berth there, although his teammate Ludovico Fossali did. In some ways Ghisolfi became a victim of circumstance after that. One of the Olympics' Tripartite selections went to Italian boulderer Michael Piccolruaz in April 2020, meaning that the Olympic quota had been filled for Italy's men's division. As a result, any chance of Olympic qualification ended for Ghisolfi. However, like Team USA's Sean Bailey, Ghisolfi has managed to turn those lemons into lemonade on this season's World Cup circuit. His YouTube channel is also more popular than ever, so it all seemed to work out fine for Ghisolfi.
Reza Alipour: Prior to Indonesia's Veddriq Leonardo becoming the biggest name in Speed earlier this season, the reigning superstar of the discipline was Iran's Reza Alipour Shenazandifard. He held the men's Speed world record for approximately five years. Alipour wasn't part of the Olympic qualification pathway when it kicked off with the Combined portion of the 2019 World Championships, although many pundits expected him to make push for an Olympic berth at later events. But then the pandemic happened. Alipour's nation of Iran is part of the IFSC's Asian Council, and the Asia Continental Championships eventually got cancelled as a result of the pandemic. As a result, Alipour, arguably the best speed climber in the world at the time, was left without a chance to make a true push for the Olympics. It was a shame, but at least Alipour has returned to the World Cup circuit this season in top form.
Daniel Woods: People who follow competition climbing closely know that Daniel Woods has not been part of the World Cup circuit for a long time. Still, he's obviously a marquee name to more casual fans, and we've heard his name tossed around in Olympic conversation more than a few times by climbers. Also, Woods' recent ascent of Return of the Sleepwalker proved that he's still one of the best climbers in the world. But looking analytically at past results, his best years on the international circuit were 2008-2011, highlighted by a gold medal at Vail in 2010. He never took part in the qualification pathway for these Olympics, although he certainly played a part in laying the foundation with his past years of dedication to the competition scene.
Alex Honnold: Honnold is the biggest name in the sport, so it's only natural that some fans expected him to be on the roster for the Olympics. However, like Woods, Honnold was never part of the Olympic qualification pathway— and Honnold has always focused more on outdoor projects than the competition circuit. That being said, there are few pro climbers who have done more to promote and stoke the Olympic flame than Honnold over the last few years. He has expressed excitement for climbing's Olympic inclusion in multiple interviews, and the entire second season of his Climbing Gold podcast—which kicks off this week—is dedicated to the Olympics. He will also be providing commentary for the climbing coverage of the Olympics, so he will actually be in the Olympics, just not as a competitor.
Women's Division
Natalia Grossman: If there is one particularly intriguing name to imagine on the Olympic roster, it's Grossman—because she has beaten a number of qualified Olympians in various disciplines on the World Cup circuit this year. But the choice to not be part of the Olympics came entirely from Grossman herself, and good on her for having such self-awareness and self-assuredness. In a 2019 interview with Climbing, in response to a question whether the 2020 Olympics were ever a goal, Grossman (who was in college at the time) responded: "Not really. I think it's really cool, but…if I make something a goal, I need to put the time and effort into it. So many athletes who have that 2020 Olympics goal are probably not in school, or they are just dedicating a lot of their time to climbing. And a lot of those people [training for the 2020 Olympics] have become burnt out because they have been training for so long. The first qualification event was in August, and then one in November, and then in March. It's hard training for pretty much a whole year. That's very taxing."
Oriane Bertone: The standout rookie of the current World Cup season has been France's Bertone, who put silver medals from Meiringen and Salt Lake City on her adult competition resume. However, being just 16 years old now, she was still on the youth circuit when the Olympic qualification pathway got underway a couple of years ago. If this World Cup season is any indication, certainly look for Bertone to be a major name in the next Olympic qualification pathway, for those 2024 Olympics in her home country of France.
Ashima Shiraishi: Another competitor who has had a great start to the 2021 season is Team USA's Shiraishi. Most recently she placed fourth at the World Cup in Briançon. She was part of the Olympic qualification pathway, but admitted to dealing with some personal issues that resonate as loudly as ever now with the larger cultural dialogue about athletes and mental health and wellbeing. She posted on Instagram in 2019: "The World champs did not go well for me and it was the worst lead performance I've had at a comp. This setback reminded me of how important your mental game is in climbing…I was not capable of being stronger than my emotions and could not forget about my personal life when I was on the wall. While climbing, I was taken aback by the lack of confidence and body awareness which led to making costly mistakes." We applauded Shiraishi's honesty and openness at that time, and we're thrilled to see her enjoying the competition circuit again now.
Emma Hunt: Team USA's Speed national record holder, Hunt, was not part of the Olympic qualification pathway when it kicked off in 2019. She did take part in the last American event with Olympic implications, the Pan-American Championships in early 2020. However, by that time Team USA's Olympic quota in the women's division had already been filled by Brooke Raboutou and Kyra Condie. Additionally, it's really this year—2021—that Hunt has taken her speed climbing to a whole new level, evidenced by breaking her own national record three times in the women's final round of the National Team Trials in March. The 2024 Olympics are a long way off, but expect Hunt—and her compatriot John Brosler in the men's division—to be among the American faces of the Speed discipline in the leadup over the next couple of years.
Lauren Bair: Based on results, Bair has to be considered one of the best American all-arounders (i.e., the best at the Combined discipline) who is not on the Olympic roster—specifically because she won USA Climbing's Combined Invitational last year, and placed third at the Pan-American Championships in 2020. But the planned format for the 2024 Olympics will combine just Lead and Boulder, and that would suit Bair. If she continues competing and decides that she wants to make an Olympic push in the coming years, she could emerge as one of the favorites.
Emily Harrington: Harrington made headlines in 2020 for free climbing El Capitan's Golden Gate in a day. Similar to climbers like Daniel Woods and Alex Honnold, Harrington is one of the biggest names in our sport…but not currently a part of the competition milieu. However, Harrington does have some unique Olympic distinction, as she participated in the 2006 Winter Olympics as part of a bouldering demonstration. Basically, Harrington climbed at the Olympics before climbing was even a thing at the Olympics, and we think that's pretty darn cool.
Lead Photo: Thomas Peipert/AP