A Blind Ascent: Summiting Everest Without Sight
ERIK WEIHENMAYER made headlines when he reached the top of the world's tallest mountain in 2002, and we recently included that expedition on our list of the greatest moments on Everest. But he wanted to remind us that such successes are often impossible without support.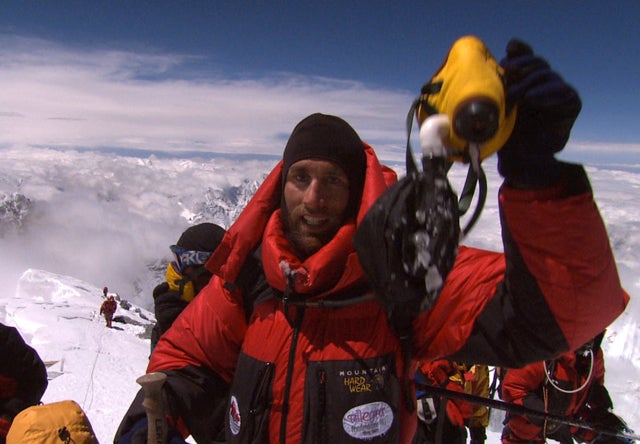 Heading out the door? Read this article on the new Outside+ app available now on iOS devices for members! Download the app.
Outside recently published an article called "The 10 Greatest Moments On Everest." Naturally, the list includes Tenzing Norgay and Ed Hillary's first ascent and Reinhold Messner's solo ascent. But my ascent is fourth on the list! That's quite an honor to be included with those greats, as well as Tom Hornbein, Willi Unsoeld, Apa Sherpa, and Göran Kropp.
However, it's important to remember that I couldn't have reached the summit without my dedicated teammates. Being blind, I knew that no matter how good of a climber I had become, I wasn't going to get to the top of Everest alone. After an ascent of Denali, I was fortunate to meet Pasquale "PV" Scaturro at the Outdoor Retailer trade show. Full of bravado, PV is a modern-day swashbuckler. He approached me and said, "I've heard about you. Have you ever thought of climbing Everest?" And in the next breath he asked if I wanted him to lead the expedition.
Assembling the rest of the team required careful selection of climbers with the right background and a high level of trust. We turned down a couple of amazingly talented climbers who we felt would interfere with team cohesion.
Once the final selections were made, we decided to climb Ama Dablam to test our skills and build our team strengths in a real Himalayan environment. From the start, our climb was plagued by terrible weather. Though we got close to the summit, we ultimately decided to retreat.
During the descent, Eric Alexander took a 150-foot tumble that banged him up badly. Although we were all good climbers, as yet, I didn't have any indication that we were prepared for Everest. But when Eric fell and went into shock, the team really stepped up. First, our laid-back doctor, Steve Gipe, kicked into gear, retrieving the cache of oxygen bottles we had set aside for emergencies, racing back up to Eric, and slowly nursing him down the mountain. The rest of us, much higher up, worked through the storm carrying down loads. Without any prompting, different team members took turns guiding me down the icy ridge in the darkness and wind, and around 1:00 a.m. we straggled into Base Camp thoroughly spent. Surprisingly, that crisis didn't shut us down. Instead it catalyzed us, from a group of individuals into a real team.
A month before we were ready to leave for Everest, Eric was still having lung problems from his injuries that had developed into pulmonary edema. He hadn't been able to train most of the year. He told me I should kick him off the team. "Eric," I said, "people have been counting me out my whole life. If I did that to you, what kind of hypocrite would that make me?" He thought a moment and said, "Damn. Then I guess I'll go. I don't think I'm strong enough to get to the summit, but I know I'm strong enough to help you get there."
On our summit day, two of my teammates, Brad Bull and Jeff Evans, were out in front and were faced with a dilemma. At the base of the South Summit, they looked up to see two sets of fixed lines. On the left was a relatively easy route for sighted climbers, but climbing jumbly, unconsolidated rock is a lot harder for me. The snow slope on the right would be a lot easier for me, but that rope was buried a foot under from a recent storm. Instead of ascending the rock, Brad and Jeff spent two backbreaking hours pulling the ropes free, exhausting work at 28,000 feet.
For me, what was even cooler than my reaching the summit was the fact that 19 of 21 of my teammates reached the top that day, the most climbers from a single team to reach the summit in a single day. Lots of "experts" said my climb was a big mistake and would result in a disaster. Instead, we made history. Guys like PV, Eric, Brad, Jeff, and all the rest of my friends stepped up in a hundred different ways that made the difference. More than 10 years later, I still look at this team as the best I've ever been a part of.
And by the way, each team member has used that experience to do great things in the world. Luis Benitez went back to climb Everest six more times. PV rafted the Blue Nile from source to sea. Our base camp manager, Kevin Cherilla, led a quadruple amputee to the top of Kilimanjaro. Others have climbed Himalayan peaks with blind Tibetan teenagers who were ostracized in their society because of their blindness. Right now, teammate Charley Mace, is attempting Everest's West Ridge as part of a team sponsored by First Ascent. Go get 'em, Charley.
Last year, we all got together to celebrate our 10th anniversary by taking a team of soldiers injured in Afghanistan and Iraq up Lobuche, a 20,000-foot peak near Mt. Everest. We've just recruited another team of injured military to take part in the second Soldiers To Summits program. You can learn more about this work at No Barriers.