Cerro Torre Climbing Controversy
Did two North American alpinists do the right thing when they took the bolts out of one of Patagonia's most famous climbing routes?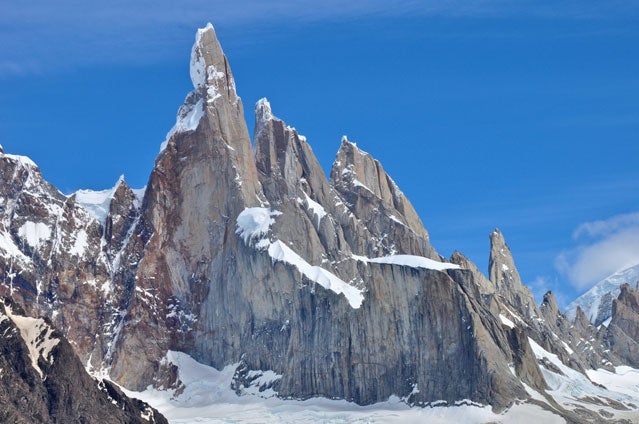 Heading out the door? Read this article on the new Outside+ app available now on iOS devices for members! Download the app.
On January 16, Hayden Kennedy and Jason Kruk stood on the summit of Cerro Torre, a 10,262-foot-high, sheer-walled granite tower on the border of Argentine and Chilean Patagonia. The pair had just completed the first "fair-means" ascent of the Compressor Route, up the mountain's southeast ridge, climbing it without the aid of about 400 bolts drilled into the rock face in 1970 by the route's first ascensionist, Italian mountaineer Cesare Maestri.
Pitch ten of the Compressor route, pre-chop.

Pitch ten of the Compressor route, pre-chop.
As Kennedy and Kruk descended, they pulled out Maestri's bolts. The partners gave each piece of metal a half-dozen whacks with a hammer until it slid easily out of the rock. They removed roughly 125 bolts in all, completely erasing the route's upper pitches. After the climb, they returned to the nearby town of El Chaltén, which serves as a jumping-off point for expeditions to Cerro Torre. 
After news of their actions spread through the town, a mob of angry locals gathered at Kruk and Kennedy's cabin on January 19 to protest. They papered over the windows with posters bearing messages like "Out of El Chaltén!" and "Jason and Hayden Go Home." The situation escalated when a group of 40 people caught up with Kruk in an Internet café and threatened to "lynch" him, according to local news site La Cachaña. When police arrived, they detained the pair, confiscated the bolts, and brought Kruk and Kennedy into the station for questioning.
"We talked about [removing the bolts], and we knew that there were going to be a lot of people who weren't going to like it, and that there was going to be a lot of talk on the Internet about it," Kennedy told La Cachaña. "But we didn't expect this type of reaction in town." 
To understand how a handful of 42-year-old bolts could cause such a controversy, it helps to go back to the beginnings of the Compressor Route. In 1959, 29-year-old Maestri claimed to have made the first ascent of Cerro Torre after a four-day push with Austrian Toni Egger, who died in an avalanche during the descent. While climbers at first accepted his claim, Maestri's vague descriptions of the upper parts of the mountain, coupled with the failure by subsequent expeditions to find any of his fixed ropes or bolts, eventually led most to dismiss his ascent as a fabrication. Eager to shut up his detractors, Maestri returned to Cerro Torre in 1970 to climb its southeast ridge.
Rather than looking for a natural line up Cerro Torre's steep headwall, Maestri and his team used a gas-powered compressor to drill a closely-spaced line of bolts up the blank face, a controversial contrivance known to climbers as a bolt ladder. Setting a bolt ladder is a mechanical process: you add a bolt into the rock, you clip an aider—a short stepladder made of webbing—into that bolt, stand up in it, and then reach up and drill another. Besides permanently altering the rock, bolt ladders dumb down climbing by making it possible to ascend any face through sheer manual labor instead of skill. Maestri claimed to have been forced to drill because he left his pitons at the base of the mountain—a claim that seems implausible, given that he remembered to winch a 400-pound compressor up.
In many climbers' eyes, Maestri had cheated his way up the mountain, stealing the first ascent of Cerro Torre from more skilled alpinists, who could have climbed it free or on natural gear. Maestri didn't even top out the ice mushroom perched on the summit. While Kruk and Kennedy simply ignored the bolts on their ascent, they say that the manufactured route detracted from their experience and set a dangerous precedent. "As long as the hardware remained it was justification for the unreasonable use of bolts by others," Kruk wrote in a statement on January 26.
Kruk and Kennedy say that by removing the bolts, they were returning the mountain to its more natural state, but not everyone agrees. While an overwhelming majority of climbers say that Maestri should never have bolted the Compressor, many believe it was worth preserving for its historical value. In February 2007, an assembly of Argentine and foreign climbers in El Chaltén voted 30–10 against chopping the line. "[Maestri] put up an artificial route on a mountain that could have been climbed naturally," Brazilian climber Edemilson Padilha wrote in a blog on January 23. "On the other hand, the route is from 1970 and is part of the history of this intriguing mountain. And the Americans simply didn't consult with the climbing community." 
Others say the decision to remove or keep the bolts should have been left to the Argentine climbers, not Kruk and Kennedy, who are Canadian and American respectively. Argentine alpinist and guide Rolando Garibotti dismisses these objections. "For me, they are locals, because they come here every year and put a whole bunch of energy into these mountains," Garibotti, who has long been an outspoken advocate of chopping the Compressor, told La Cachaña. "I've lived more than 15 years outside Argentina, and no one ever made me feel that I wasn't a local. I've removed bolts, replaced bolts, installed bolts, and no one ever made me feel that I couldn't do it because I spoke another language or had an accent."
At its heart, the dispute over the Compressor hits at one of climbing's great traditional rules, the principle that subsequent climbers have to respect the first ascensionist's vision. While Argentine and international climbers may agree that Maestri's route was put up in bad style, many say that the route should have been left in peace. Still, chopping a first ascensionist's bolt ladders isn't without precedent. In 1971, Royal Robbins attempted to do the same to the 330 bolts that Warren Harding placed on El Capitan's Dawn Wall. He gave up after a few pitches due to the difficulty of removing them from Yosemite's hard granite. "Generally speaking, bolting is not climbing; it is the elimination of climbing difficulties by the tedious hit-twist method," wrote Robbins, a local, in a 1961 letter to Summit magazine.
For now, it seems probable that the Compressor Route will stay chopped: the number of bolts removed, together with Patagonia's notoriously unpredictable weather and the incoming South American winter, would make rebolting the ladders a monumental job. Climbers attempting Cerro Torre will either have to climb Kruk and Kennedy's fair-means variation or take another line, like the more difficult Ragni route on the West face. In the meantime, the pair's actions haven't slowed progress on Cerro Torre: on January 21, Austrian climber David Lama made the first free ascent of the Compressor, running out long sections of the climb where Kruk and Kennedy had removed the only protection. Unlike Kruk and Kennedy, Lama didn't use any gear to aid his progress, instead climbing the edges and cracks in the rock itself at a grade of 5.13b. He was familiar with the rock and the controversy the bolts had caused in the local climbing community. After news broke in 2009 that a Red Bull–sponsored team filming his attempt to free-climb the Compressor added about 20 bolts to their line, more than 1,000 people signed an online petition asking Lama's sponsors to drop him. Garibotti went up and chopped 17 out of 20 of his bolts, which most people cheered.
"To me this first free ascent of the southeast ridge of Cerro Torre is the end to the probably greatest adventure I experienced in my life so far," wrote Lama on Facebook. "I'm especially proud having it done without adding any bolts."