Chris Waddell's Climb: Before the Summit
Heading out the door? Read this article on the new Outside+ app available now on iOS devices for members! Download the app.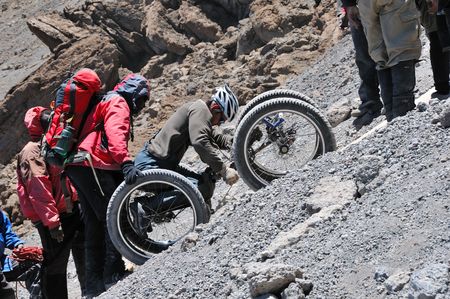 I'm writing from 18,000 feet on what promises to be a pretty chilly evening. Left at 6 A.M. with a variety of expectations. Consensus had us staying at Hans-Meyer, and that looked optimistic after our first adventure on the winch.
The first quarter mile took about an hour and a half. Soon thereafter, we moved to the boards and picked up the pace considerably. I decided to push on past Hans-Meyer at just past 12:30 P.M.
Some of the terrain that I rode on the boards absolutely amazed me. I had thoughts of sleeping in the crater. Then, we started the push past Gilman's Point. As I rode the boards, my front wheels became light– something I thought I would only experience on slick rock.
As I covered the last 50 yards in at least a half hour, I had the vague thought that this must be what it is like to drown within reach of shore. The day's end mocked me as I attempted to reach it in two-to-four-foot increments.
Bob, Nate, and I are snuggled into our tent at 18,000 feet. The line of sun has long departed up, the temperature is dropping, the wind rising, and we are optimistic for a summit push tomorrow.
In the fall of 2009, Chris Waddell will attempt to summit Kilimanjaro.Sounds like a basic goal, until you consider that this star athlete andparalympian will conquer the 19,340-foot-high mountain without the useof his legs. If successful, Waddell will become the first paraplegic tosummit Kilimanjaro unassisted, the tallest freestanding mountain in theworld. He is writing a series of dispatches on this expedition for Outside Online.
Photo courtesy of Mike Stoner
Trending on Outside Online