Climbing at the Speed of Soul
With his supreme skills on rock, hypercompetitive intensity, and new-age bag of tricks, Dean Potter scrambles up big walls faster than any man alive. So what's the trajectory of all this velocity?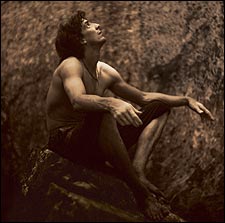 Heading out the door? Read this article on the new Outside+ app available now on iOS devices for members! Download the app.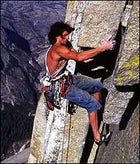 View exclusive online photos from Dean Potter's record-smashing sprint up Half Dome and El Capitan
here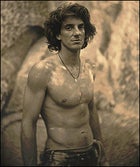 Dean Potter at the base of Yosemite's El Capitan, June 17, 2002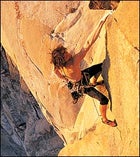 Potter on the 33rd Pitch of Freerider on El Captain. In September 2002, Potter knocked off this route after climbing Half Dome, completing an historic first: free-climbing both of these famously difficult walls in less than 24 hours.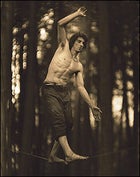 Slackline walking, a climbers' pastime in Yosemite: Potter sometimes performs this dangerous stroll over an 850-foot drop—without a safety leash.

Potter reconnoiters at the base of El Cap. Like many climbers, he tries to visualize a big climb before he undertakes it; unlike many, he invariably dreams about it ahead of time.
"THREE, TWO, ONE, GO!"
Dean Potter punches a button on a plastic wristwatch looped around his climbing harness. His partner, Tim O'Neill, leaps at the rock before him, jamming freshly taped fingers into a slender crack. Above them soars the great granite parabola of the most famous big-wall route in Yosemite Valley—or, for that matter, the world: The Nose of El Capitan. At just under 3,000 vertical feet, with 36 pitches, The Nose requires three harrowing pendulum swings and the negotiation of a hair-raising crux section known as the Great Roof—an overhanging shelf 2,000 feet off the deck, with a crack at the back so narrow that neither the towering Potter nor the diminutive O'Neill can wedge his fingers into it.
Potter often climbs without benefit of ropes or protection, but on this late fall day in 2001, the goal is speed, so the two are carrying hardware. Still, by any sane standard they're ludicrously under-equipped: no packs, no shirts, no food, no water, a few carabiners and a single 200-foot length of nine-millimeter rope between them, plus a handful of spring-loaded camming devices to be placed in cracks for protection. Even Potter's climbing harness is an exercise in minimalism: a homemade thing fashioned from 11/16-inch webbing and stitched together with dental floss.
Potter, 30, doesn't wait for his 33-year-old partner to reach the safety of the belay anchor (a permanent bolt) at the top of the initial pitch, but instead starts climbing as soon as O'Neill has placed the first piece of protection—a risky but hyperfast technique known as simul-climbing. Five minutes later, the two are already 200 feet up, and my neck is sore just from watching them. As I and a couple of other spectators back away from The Nose to get a better view in the meadow below El Capitan, we hear it—a horrible scrabbling of hands and feet on rock, followed by a desperate yell: "Falling!" Looking up, we see O'Neill dropping through space. Suddenly—mercifully—he jerks to a stop after plunging some 25 feet.
There's a moment of silence, and then Potter, who has arrested his partner's fall from his position 70 feet below, is yelling, the bass boom of his voice echoing off the great sounding board of El Cap. "Go!" he yells. "Get on it! Go! Go! Go!"
The intensity is startling. Potter is normally a pretty mellow guy, slow-talking and sometimes painfully shy. One person who knows him—John Wason, alpine team promotions manager at Patagonia, the California-based clothing company that's employed the six-foot-five Potter as a "climbing ambassador" for the past five years—calls him "a gentle giant." In Patagonia, the place, he has a different nickname: Tarzan. Potter says that's because of the monosyllabic way he speaks Spanish when he's on an expedition in Argentina. "You know," he says sheepishly, " 'Me no hablo.' " Maybe, but the name seems to capture a lot of Potter's other qualities, too. With his wide-set brown eyes, prominent, slightly battered-looking nose, tumbling mane, and barrel chest, he could be Johnny Weissmuller come back to life: a brooding denizen of the wild who is occasionally roused to fantastic riffs of action.
Whether propelled by Potter's war cry or his own desire to get back to solid ground, O'Neill, a part-time carpenter from Boulder, Colorado, batmans his way upward, simultaneously pulling himself hand over hand and "walking" up the cliff. A minute later, he has safely clipped into the bolt at the top of the second pitch.
"Anchor," he yells.
"OK, that's the hard part," Potter yells back. "Now go, go, go!"
In El Cap Meadow, the little knot of big-wall groupies grows to a dozen, then two dozen, all of us trading peeks at the climbers through a spotting scope. One trim, 66-year-old observer turns out to be Tom Frost, a Yosemite legend who, along with Royal Robbins and two other partners, pulled off the second ascent of The Nose back in 1960, in a then-mind-blowing time of six days.
"We never talked about how fast people might go someday, just that our record would be broken," Frost says. "But this…" He shakes his head. "You're watching two world-class athletes."
Tiny, distant figures now, Potter and O'Neill swarm up the face. Sometimes they almost seem to be running, gaining speed with each step, springing past obstacles that every rock climber, even those who've never been to Yosemite, knows by heart: the Stoveleg Cracks, Boot Flake and the majestic King Swing pendulum, the Great Roof and the Upper Dihedrals. A little before noon they reach the final headwall, rhythmically clipping their aiders—nylon foot loops—up the last string of bolts placed by Warren Harding on his laborious 45-day first ascent, completed in 1958. A minute later they disappear over the top.
"Three hours and 24 minutes," Frost says, glancing at his watch. "Incredible."
AN HOUR LATER, having rappelled off the back side of El Cap and made the two-mile hike down to the Valley floor, Potter and O'Neill are cracking cold Fat Weasels in the parking lot at Manure Piles, a novice climbing crag. Frost runs around snapping pictures like an excited teenager, while goggle-eyed weekend hackers linger on the periphery, realizing they've witnessed history.
"That fall was the turning point," says Potter, grinning. "We were climbing on half a rope and there were only two pieces of protection between us. When Timmy took his whipper and everything held, it gave us superconfidence that our bare-bones system worked. And then the adrenaline rush shot us up even faster."
But adrenaline alone can't quite explain the record-shattering performance of Potter and O'Neill. What does, other climbers say, is Potter's extraordinary will.
"We were 20 hours into it, getting down to the last reserves," says 30-year-old Russel Mitrovich, another speed specialist, of a 1998 climb he made with Potter on an El Cap route called Mescalito. "Dean took off his shirt and screamed, and we went to the top in an hour and a half. You just don't see that too often, someone summoning that kind of energy at that point in a climb."
Though Potter and his various partners hold more than a dozen Yosemite speed-climbing records, what has really rocketed him into the climbing stratosphere is his unprecedented career as a soloist, where willpower is a prime commodity. He burst on the scene in 1997 with a mostly ropeless solo of the Regular Route on the Northwest Face of Half Dome. His time of four hours and 17 minutes sliced an amazing 16 hours off the previous fastest solo.
Since then, what he calls his "projects"—whether solos, speed climbs, free climbs, or free solos (extremely dangerous climbs done without ropes or any sort of protection)—have established him as the leading climber in Yosemite. Last winter in Patagonia, he took another giant step forward, pulling off three unbelievably fast solos, two of them entirely ropeless, in one of the world's most difficult ranges: two on 11,070-foot Fitz Roy, the region's highest peak, and a third on nearby Cerro Torre, a Matterhorn-like 9,800-foot fang.
The most remarkable thing about Potter, though, is that behind his formidable drive are two apparently contradictory impulses: an intense competitiveness, which he can sometimes scarcely control, and an innate soulfulness that allows him to find serenity in the middle of the most extreme circumstances.
Take, for example, the climb I witnessed on The Nose. Two weeks earlier, Potter and O'Neill had broken the mythical four-hour mark, cutting 23 minutes from the old record of 4:22, established by Hans Florine and Peter Croft in 1992. Nine days after Potter and O'Neill did their thing, Florine, a 38-year-old San Franciscan, recruited a new partner, Jim Herson, 41, and set out to recapture the record. That they did, shaving two minutes and eight seconds off Potter and O'Neill's time. Potter reacted quickly—he and O'Neill loaded up to break the mark again.
"It's not about getting the record back," Potter insisted the night before his second climb. "It's just that our last effort left a lot of room for improvement."
Well, maybe. But it's telling that the best-known story about Potter concerns his bitter, almost obsessive rivalry with Florine. In July 1999, Potter was climbing in Estes Park, Colorado, when friends told him of an announcement on Florine's Web site, speedclimb.com: Two days later, under a full moon, Florine would attempt an historic first—back-to-back solo ascents of Yosemite's two greatest big-wall routes, The Nose and the Northwest Face of Half Dome, in less than 24 hours. Potter, who says the idea for the double was originally his, hurriedly booked a flight to Fresno for the next morning, grabbed a cab for the 85-mile drive to Yosemite, and jumped on The Nose that same afternoon. Twenty-three hours and 40 minutes later, he'd completed the feat. Florine did it himself the next day, cutting two hours off Potter's time, but his thunder had been stolen.
"I admit that the idea to do El Cap and Half Dome in a day was Dean's," Florine says. "It takes a big gulp to even think of doing something like that. But you can't own an idea."
"I did feel a lot of negative energy towards Hans, and I guess that's what made me fly in and do it that day," Potter says of the El CapÐHalf Dome climb. "But by the end of it I was in a trance—just focusing. I forgot all about Hans."
Potter says the same thing happened on the Nose climb with O'Neill: High above the Great Roof, charging up the arrow-straight Upper Dihedrals, he reached "the place where everything goes quiet, the noise stops, and it's just you and the rock."
Such talk can sound suspiciously New Agey, but Potter is sincere. A natural endurance athlete, he spends a lot of time meditating, doing yoga, and simply focusing on breathing. He puts enormous stock in his intuition. Something as simple as seeing a raven—his "totem animal," he calls it, having painted an image of the bird on his climbing helmet—or an unexpected breeze can persuade him to change his plans. Like many climbers, Potter tries to visualize a big climb before he undertakes it; unlike many, he invariably dreams about it ahead of time.
This almost religious intensity helps explain Potter's appeal to his fellow climbers. "What differentiates Dean, apart from his ability, is that what he's doing comes from within," says John Bouchard, 50, a climber and gear manufacturer who befriended Potter 12 years ago in North Conway, New Hampshire. "He's got no external motivations, and that's unusual."
"We're hitting ceilings in this sport, and these solos and speed climbs are the last straws guys can grab at," says 45-year-old Ron Kauk, a resident of El Portal, just outside Yosemite, and a big-wall standout in the eighties and nineties. "The thing about Dean is that he has an earthiness, that connection to nature, and people are attracted to it."
This past September, Potter pulled off his most impressive "project" to date: an unprecedented linkup in which he free-climbed—that is, used ropes and protection only as backup in case he fell, but otherwise pulled himself up the rock without artificial aid—routes on both Half Dome and El Capitan in a combined time of 23 hours and 23 minutes. El Capitan had been freed in less than a day only twice before, once by Lynn Hill, on The Nose in 1992, and last May by Tommy Caldwell, on the Salathé Wall. Potter became the third person to accomplish the feat solo, with a heavy-duty twist: He "warmed up" on the 2,000-vertical-foot face of Half Dome.
POTTERS'S BEEN CALLED "mayor of the dirtbags," a reference to his standing among the crew of hardcore Yosemite wallrats, many of whom spend the season in the so-called climbers' campground, the storied Camp 4. It's not just Potter's prowess that commands respect, but his lifestyle; though he gets a modest stipend from the Patagonia deal and free shoes and gear from two other sponsors, he continues to live simply, even monastically. Until recently, his home was a white Ford van with a 500cc dirt bike hung on the back bumper. When I looked inside, it wasn't the jumble of dirty clothes and half-eaten Cup-a-Soups that I expected, but a spartan temple to the gods of fast-and-light: a futon, a drawer filled with climbing shoes, and another containing ropes.
Potter was born in 1972 in a military hospital at Fort Leavenworth, Kansas, the son of an army colonel father and a yoga teacher mother—an unlikely pairing that may help explain his particular dichotomy. "The meditative side of Dean comes from his mother, and the competitive side from both of us—we do not like to lose," says his dad, Tony Potter, 66, who now lives in Randolph, New Hampshire. Potter's mother, 63-year-old Patricia Dellert, is now a registered nurse in Yarmouth, Maine. (The Potters separated five years ago, but remain close.) One-quarter Skaticook Indian, Dellert is passionate about the outdoors and natural healing, and has long followed a daily yoga practice.
"Dean is like me," says his mother. "I hesitate to use the word spiritual. We're not involved in organized religion, but we're, well, seekers."
When Potter was four, his father was assigned for a couple of years to the Middle East as a UN peacekeeper. Potter's first climbs were scrambles to hilltop fortresses in the hinterlands of the West Bank. Later, after the family moved to New Hampshire, Potter started training by himself, running and lifting weights, and soon he and a friend were sneaking onto a nearby military base to climb a 250-foot crag. "We had no idea what we were doing," Potter says. "We were climbing this pretty scary stuff in Converse All-Stars, getting way up there without a rope or anything."
In 1990, at the age of 18, Potter enrolled at the University of New Hampshire in Durham, where he discovered the sport that, at least on paper, he was made for: rowing. "He oozed with talent, but I think it was a frustration for him," recalls his coach, Chris Allsopp, now at the U.S. Naval Academy. "Crew is the quintessential team sport, and his temperament made it hard for him to conform."
One day early in his sophomore year, Potter skipped practice and didn't go back. "I was having all these thoughts, not really sure what I was doing in school," he says. "And I just said, 'I'm gonna go out and climb.' I had this great day with a friend, bouldering and rooting each other on, and I came back thinking, 'I don't like the way it feels to be competitive. I don't want to be ruled by it.' " Potter left college a few weeks later, working for a moving company in Boston before heading to northern New Hampshire, where he started climbing in earnest. He was more or less adopted by John and Titoune Bouchard, the husband-and-wife founders of the North Conway-based outdoor gear company Wild Things. "He seemed like a big goofy kid, too big to climb, but we went out and he flew up some things that I couldn't climb," recalls John Bouchard, who has remarried and now lives in Bend, Oregon. "Even then, you could see that he was a pretty pure climber. He didn't care what others thought, what kind of shoes he wore, none of that."
A year later, at age 20, Potter headed west on a road trip with some climbing buddies—a trip he's never really returned from. One early stop was at Hueco Tanks, a popular bouldering spot near El Paso, Texas. There he met O'Neill, and a few months later O'Neill introduced him to Yosemite. "When I got to Yosemite and finally saw this place, I realized I'd made the right decision," Potter says. "It was the first time I ever felt that."
Potter had a rough first season in the Valley, throwing himself at big routes that he wasn't quite ready for. "At the end of that year I had no confidence," Potter says. "So in '93 I came back and started from the ground up. I stayed for three months and climbed everything of a certain grade before moving on to the next."
By 1997, Potter's increasingly strong skills had earned him a spot on Yosemite's search-and-rescue team, a prestigious honor that came with the ultimate perk—a free, year-round tent site at Camp 4. But there were problems. For one thing, Potter had frequent run-ins with park authorities, and eventually became convinced that a few rangers were "waging a personal vendetta to try to force me from the place I live." Meanwhile, a relationship with rock climber Steph Davis—which had started after a chance 1994 encounter on the Diamond, the 2,000-vertical-foot east wall of Colorado's Longs Peak—sputtered along in on-again, off-again mode, and Potter found himself yo-yoing between California and Davis's place in Moab, Utah.
"It was a super up-and-down life, too much so," he says. "I'd get depressed, focus on the next escape, and never really pursue things."
ONE AFTERNOON a few days after the Nose climb, Potter takes me to a twilight party at The Rostrum, a towering, semi-detached spire of granite that guards the western end of Yosemite Valley. Throbbing techno music is playing on a boom box, and about 20 scruffily dressed young climbers are gathered in clusters on the rocks, watching the beginnings of what promises to be a psychedelic sunset.
The main attraction is a trio of slacklines that Potter and a few pals have rigged. Slacklines are strips of nylon webbing winched taut and meant to be walked tightrope-style. They're like bouncy, inch-wide trampolines, and it takes a special blend of power and finesse to cross them. The smallest of the lines, a 15-footer, is strung between two trees just three feet off the ground. Another, for more serious walkers, spans a chasm 30 feet across and some 80 feet deep. The third runs out and slightly downhill from the clifftop to the summit of The Rostrum itself, some 120 feet away. I ask a climber what the drop is to the valley floor below.
"Dunno," he says, casually leaning over the edge. "Nine hundred, a thousand. A ways, anyway."
The slacklining begins at sundown, the various walkers gloriously backlit by a cliff across the Valley that shines in the last light of day. Strapping on a safety leash hooked to a carabiner that slides along behind him, a guy named Shawn Snyder starts walking the 30-foot slackline. Halfway across he wavers and falls, catching himself with his arms and then shimmying back to the edge to try it again. Twenty minutes later, with several crossings under his belt, he tries the big line. But he can't make it more than two or three steps before losing his balance.
"I thought I had it wired," he admits after his third fall, "but it's just a whole different ballgame."
Then it's Potter's turn. A silence falls over the group—he's been known to cross to The Rostrum and back without a safety line. Today, however, he snaps into the leash and steps smoothly and powerfully onto the line, arms spread wide, weight perfectly poised over the balls of his feet. It's odd to see such balance in someone so tall, but Potter's in total control, some secret gyroscope spinning in his head. He lifts off the heel, then the toe of each foot, moving steadily across and then hopping lightly onto The Rostrum. A minute later he's back.
"I almost like it better than climbing," he says, flushed with the afterglow of his space walk. "It's just easier to get to that silent place where I'm really focused on where I am and how far I could fall. Your senses are just so heightened—it's a complete awareness of everything."
Potter walks the line twice more before dark. Watching him, I can't help but think of the stylites, fanatical Christian monks of the Middle Ages who would plant themselves atop columns in the desert and stay there for weeks and months. Though the depth of their devotion was beyond question, they had an undeniable exhibitionist impulse. So it is with Potter: Despite his outward shyness and spiritual focus, he, too, is a performer. He sees his big climbs and crossings as statements and, without being a chest-beater, wants people to know about them.
At dark, we all huddle around Snyder while he prepares dinner from a bag of random groceries: pepperoni sausage, vegan "cheese," Ritz crackers. A few of Potter's friends announce they're taking off, and he gets up to show them the way back to their cars. "Nobody leave," he says insistently to the rest of the group. "I'll be right back."
"I think Dean wants a family of kindred spirits to coalesce around him," climbing photographer Eric Perlman says of the scene at The Rostrum. "There are the lonely gifted who are just antisocial, and then there are those who feel distanced by their gifts, but to the extent they can reach out and draw people toward them, they feel more connected and more human."
ONE OF POTTER'S burdens as a leader of the Yosemite wallrats is dealing with the friction between climbers and the Yosemite rangers—an old and perhaps insoluble problem. Back in 1958, Warren Harding's unprecedented Nose climb was denounced by National Park Service director Conrad Wirth as a "trick or stunt climb," and aid climbing was temporarily banned in the parks. Today the main sticking point is a long-standing Yosemite regulation prohibiting visitors from spending more than one week camping in the Valley between May and October—a policy that's taken its toll on the old dirtbag tradition of living in and hanging around Camp 4 all summer. Another Yosemite tradition that's long been illegal is that of bivouacking at the foot of a big climb the night before you undertake it. Potter still does that occasionally; sometimes he'll head to El Cap Meadow to watch the stars and then curl up in the nearby forest. Though he's been repeatedly rousted, those things seem almost mandatory to him—sacred traditions that honor the spirit of the place.
Talk to park officials, of course, and you get a different picture: that of an embattled agency trying to strike a tricky balance among competing "user groups."
"This is a funny place," says climbing ranger Lincoln Else, 25, the park's liaison to the climbing community. "People complain about how overcrowded it is, then flip when they're told they can't camp for more than a week in the season. Climbers make a 'grandfather' argument based on their historical usage of Yosemite. They say, 'I'm not hurting this place, I'm experiencing it as one should experience it.' I go with the spirit-of-the-law concept, which leaves a little bit of room. We're not out there with a stopwatch monitoring you. If it rains and you leave your ropes up for an extra day, OK. But climbers really need to learn to be constructive, not just pissed off."
One potential flash point comes after our feast at The Rostrum, as a convoy of merry slackliners heads down the mountain to Yosemite Valley. Pulling up in front of a pizza parlor, we find Shawn Snyder spread-eagled on the side of his truck while three rangers, two of them armed law-enforcement rangers, search his pockets and his vehicle. His offense? Not using his blinker to signal his intention to turn into the parking lot.
Fifteen minutes later, Snyder is still there, and Potter is livid. "You see, this is exactly what I'm talking about," he snarls. "The guy filed a complaint last week because they cut down his slackline in the woods near Camp 4. So now they're getting even."
Potter's hardest feelings have to do with the circumstances surrounding the deaths of two of Yosemite's more notorious daredevils, Dan Osman and Frank Gambalie. Osman died in 1998 at age 35 when a knot on his 950-foot dynamic rope broke during a free fall in Yosemite Valley—his offbeat specialty was rigging and surviving elaborate jumps. Potter was summoned to sit a night-long vigil next to the body, the idea being to keep bears and coyotes from disturbing it. The next morning, when a team of rangers arrived to carry the body out, Potter bridled at the "disrespectful" way Osman's body was handled. Seven months later, BASE jumper Frank Gambalie made an illegal leap from El Capitan's west wall, then drowned in the Merced River while trying to elude a posse of pursuing rangers.
"You don't go chasing somebody into Class IV waters because they jump off El Cap," Potter says of the second incident. "It's just way out of proportion."
Sensing Potter's anger at their treatment of Snyder, one of the rangers tells us to get moving. I can tell that part of Potter—a big part—would like to pick a fight, and to hell with the consequences. Older climbers-turned-diplomats, like Tom Frost, have made it clear they'd like to see Potter step up and take a leadership role in scaling back the tension. But Potter doesn't seem too interested. "I've never tried to be the leader," he says. "All I focus on is climbing. If something comes up, if there's an opportunity to create better relations with the rangers, then I'll put some energy into it."
The confrontation in the parking lot threatens to become an ugly standoff, and for a while I'm not sure what Potter's going to do. Then, slowly, he begins to cool off. It helps that Snyder seems utterly unfazed. "Don't worry," he tells Potter. "I'm legal. These guys got nothin' on me. Just go."
Potter nods and takes a deep breath. "OK," he says finally. "Let's get out of here."
THE NEXT MORNING, Potter and I scramble up the Death Slabs, the steep but only semi-technical approach to the Northwest Face of Half Dome. Even up close, Half Dome seems almost perfectly featureless, and it takes me a while to make out the tiny, disconnected cracks and ledges that constitute the Regular Route, site of Potter's 1997 breakthrough climb. It had been soloed before, he tells me as we munch on a few figs, but by an old technique called rope soloing that requires laborious self-belays and lots of downclimbing. Potter took 100 feet of rope neatly coiled on his back, and with the exception of one short stretch where it seemed prudent to tie in, that's where the rope remained.
"I was just free-soloing into fog, and then the clouds broke," he recalls. "Suddenly I was firing the Zig-Zags"—a complicated crack section 1,600 feet up that is the crux of the route. "It was a religious experience to be living the dream I'd been thinking about for years." As he came over the top, he ran into a family with a video camera. They taped him as he exulted: "I just soloed Half Dome in four hours and 17 minutes!"
Circling around to the east, we link up with the hiking trail to the top of Half Dome. On the 40-degree slope, long cables function as handrails. Potter ignores them—he wants to see what kind of grip his day-hikers provide on the smooth granite sheets. A couple of white-knuckled tourists, fearfully working their way up the cables, stare in amazement as he saunters past.
On top, Potter shows me the Diving Board, an eight-foot-long tongue of granite that juts out over the top of the absolutely vertical face. Wriggling out on my belly, I drink in the abyss. When I look back, Potter is leaning over me with my camera, snapping a picture from above, his feet just a few inches from the edge. Later, Potter climbs about 30 feet down the face and spends 20 minutes working on a bouldering problem near the top of the Regular Route. I study his approach. He doesn't try any radical moves, and when he gets to a spot where he can't go on, he methodically reverses his hand and foot placements and backs down. It's solid, careful, textbook stuff, but still, he's in hiking boots with no rope or protection and 2,000 feet of air beneath him.
Later I ask him if he feels any anxiety from the height.
"I do feel it," he insists. "In fact, I feel it way more than if I'd started up the face from the bottom."
Does he ever think about what it would be like to fall?
"I know what it's like," Potter says, mentioning an incident below Yosemite's Royal Arches in which he tried to "run across" a 60-degree slab using no hands. "I took a 60-footer, all the way to the ground. I can tell you that you're fully aware the whole time."
If you ask other climbers what impresses them most about Potter, they're likely to mention his 2000 free solo of Astroman, a 1,200-vertical-foot route on the east face of Yosemite's Washington Column. Potter's ascent was not a first—Peter Croft free-soloed it more than ten years ago—but it's the only repeat to date. No rope, no gear. In the numerous overhanging sections, just a few fingertips are hooked into a tiny crack. "When I think about it, my hands sweat," rock climber and mountaineer Conrad Anker says of the route. "You get an amazing sense of being alive and in control if you do something like that, but if you make a single mistake, that's it—you're out like a light."
Potter looks out over the Valley, its white granite going yellow in the late afternoon sun. "That kind of climbing isn't something I'm trying to spread to other people," he admits. "I just want them to understand that it's absolutely not for adrenaline-junkie reasons that I do it. It brings me silence and peace, and I come closer to the pure me. What I call the 'death consequence' removes all the other forces, the lesser motivations, the ambitions and the competitive feelings. They fall away and then there's just that primary motivation, which is staying alive. It's so pure."
SINCE HIS RECORD-SETTING CLIMB of The Nose a year ago, Dean Potter's life has gotten a good deal busier and more complicated. In April, he turned 30, an event that both alarmed and pleased him. ("It's sort of the end of my youth, I guess, but I'm proud I made it," he says. "It says something about my climbing.") And on June 24, he and Steph Davis, who's also 30, were married in an outdoor ceremony, followed by a "desert rave" near Moab. But what really set the climbing world abuzz was Potter's fantastic season earlier in the year in Patagonia. It had been an exceptional Southern Hemisphere summer, with much better weather than usual, and the climbing Web sites were bursting with reports of new routes and records, including important firsts by O'Neill and Davis, both of whom climbed with other partners. But Potter's climbs, all of them solos, stood above the rest. Taken together, they almost seemed to describe the birth of a new sport.
On January 17, he had free-soloed the Supercanaleta, a couloir on Fitz Roy's west face—4,000 feet of steepening ice followed by 2,000 feet of rock and then 700 feet of mixed rock and ice. It was the first solo of the route, and Potter's time, just six and a half hours, was by far the fastest ever. Five days later, he soloed the notorious Compressor Route on Cerro Torre (so named because the climber who established it, Cesare Maestri, had bolted it with an air-powered drill), only breaking out his rope for one pitch and again establishing a record, of 11 hours. (It took Maestri 80 days.) Finally, on February 5, Potter set his sights on the biggest coup of all, free-soloing a new line up the southwest face of Fitz Roy that would link up with the Californian route, established by Yvon Chouinard in 1968.
The reason no one had completed this route before is obvious: a hanging serac, or giant ice block, about two-thirds of the way up that could break off at any time. "It's random when it comes down, but you're under it for four hours," Potter says. "Then to get around it there's 150 feet of vertical ice about three inches thick—just a smear. I changed into ice boots for that, but I had no ice screws, so I just free-soloed it." Potter dubbed the new route, which he climbed in nine hours and 50 minutes, Californian Roulette.
The elation was short-lived. Potter was about 500 feet below the summit, rappelling down, when a toaster-size rock broke loose above him. "Normally in that situation I would try to swing in close to the cliff face to get out of the way," he says. "But this time, I don't know why, I pushed out, and I think it saved me." Still, the rock caught Potter flush on the knee. He blacked out for a few seconds, then came to, to the sound of his own screams. Eight agonizing hours later he reached the base of the cliff face. From there it was another ten hours of hopping and crawling before he got to base camp.
WHEN I CATCH UP with Potter in Utah in March, a month or so after his return, he's still suffering the pangs of reentry. "I had some big plans to go to the Karakoram in Asia this summer and, you know, take it to the next level," Potter says as we drive out of Moab in his van. "But I'm still pretty mentally frazzled from that output. Plus, I'm superswamped with business opportunities. I have all these endorsement offers, and six magazine stories I'm supposed to write. I haven't even been to the Valley yet."
Potter's destination today is a twisting canyon called Kane Creek, site of a great sandstone monolith called the Tombstone. Potter points out the problem he's been working on, which he's dubbed Epitaph. Originally put up by his friend Jimmie Dunn, 54, who called it Playin' Hooky, the route is an intimidating 450-foot crack with an overhanging corner about halfway up.
"When I did it, I used aid and had to put in a slings belay at the corner to take a rest," Dunn tells me later. "Dean is trying to do it all in one 200-foot pitch. Free. It's unbelievable. The crux is just manky finger locks, not much feet. Then you have to turn this roof and back into a 50-foot corner where the wall on the right is smooth as glass. It's slippery, brutal, and huge energy is required."
"I don't rate climbs, but I will say it's one of the hardest climbs I've done in the desert," Potter tells me as we stand at the foot of the climb. "You barely know if you're on the rock or not. In one afternoon, you can take a 50-foot fall half a dozen times, because there just isn't any place to put in protection."
Why this obsession with Epitaph? Potter says that in Patagonia, he came to a realization: The soloist could be "the most efficient and the fastest climber"—the purest of them all.
"It gives me all kinds of ideas for Yosemite," he says. "The problem is, if you go to the great ranges for a few months, you pretty much make the decision not to be a great free climber, because you let your fingers go." Potter glances at his callused hands. "I know I'm not a cutting-edge free climber. Free soloing, I'm comfortable to 5.10+ or 5.11a. But if I was a grade higher I could do some amazing things."
Potter is reluctant to share his list of "amazing things," but in September he pulls off the first of them: his back-to-back free climbs of Half Dome and El Cap in less than a day. "It was pretty hard, especially the stuff at night—I had four headlamps on at once," he tells me afterward. "But it's also safe, because there's someone belaying you the whole time. Now that I'm 30 and, you know, married, I want to avoid the life-threatening stuff, at least for a while."
Two weeks after Potter's twin free climbs, Hans Florine comes through on a vow he made several months earlier, reclaiming the speed record on The Nose with a Japanese crack-climbing prodigy named Yuji Hirayama, 24. With Hirayama leading nearly the entire climb, the two blitz the route in a remarkable two hours and 48 minutes—remarkable, that is, to everyone but Potter.
"I'm really inspired by Yuji," Potter tells me. "He has a good attitude, and really ripped it up—hats off."
But 2:48—is that unbeatable?
"I think that there's a long season left, and I haven't even started speed climbing," Potter replies coolly. "It would be nice to be the Zen master and not feel competitive—but either way, I have way faster in me. I'm not worried about that record at all."
"All of these guys are to be commended," says Yvon Chouinard, Potter's employer at Patagonia and, 40 years ago, a blazing Yosemite star himself. "It's a healthy competition. It's not man against man. They're racing the clock. Man against the clock. There's also a huge element of risk, which I feel is missing in a lot of sports these days. Without risk, climbing isn't climbing, it's gymnastics."
Potter has not yet made another speed attempt on The Nose as Outside goes to press. And in any case, there are other climbs on his agenda—including one that is truly, madly over the edge. "In The Prophet, Kahlil Gibran says something about perfection only being reached by stripping something to the point of nakedness," Potter tells me before I leave Moab. "That's the ultimate project—the naked climber doing the greatest climb."
I look at Potter, not quite sure I'm hearing him right. "You're saying you want to climb—"
Potter cuts me off. "I don't want to mention any names, because I don't want to be held to anything. But what I'm thinking of is something…huge."
"And you want to climb it naked?"
"Just shoes and a chalk bag."
"That's it?"
"That's it," Potter says. "That's the grand finale."