The Daily Rally
Drew Hulsey Talks Himself up the Ledge
After watching 'Free Solo,' the social worker knew he wanted to try climbing. Only his own doubts stood in his way.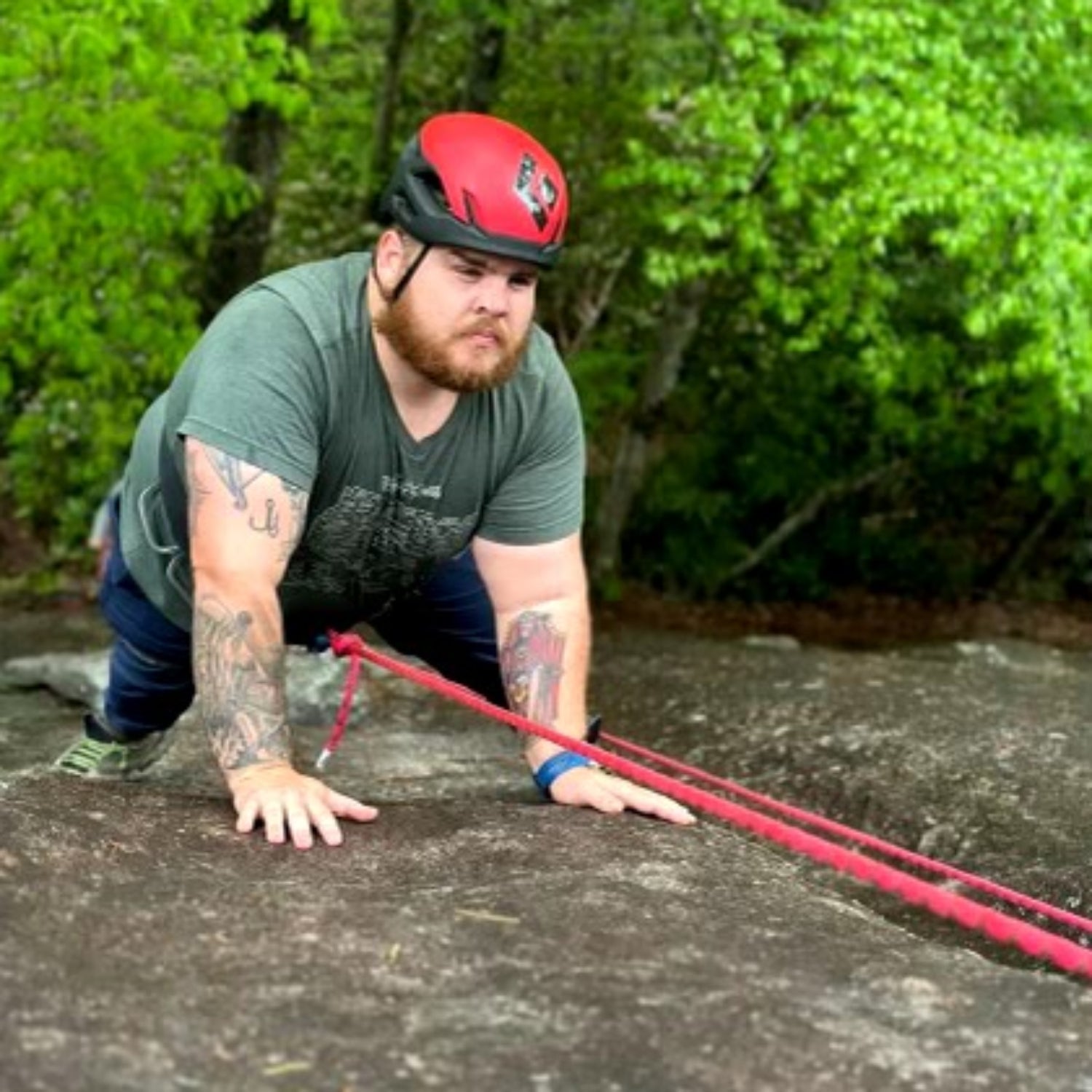 Ana-Marie Alewine
Heading out the door? Read this article on the new Outside+ app available now on iOS devices for members! Download the app.
Drew Hulsey told his story to producer Sarah Fuss Kessler for an episode of The Daily Rally podcast. It has been edited for length and clarity.
There's always a bit of embarrassment when it's a bigger person doing a typical smaller person sport. Kind of like, why am I even here? Why would I even attempt to do this?
My real job is that I'm a social worker case manager. I didn't have many outdoor hobbies before. I went fishing a good bit. But I never really saw myself doing "extreme sports."
I saw the movie Free Solo in early 2019. It was about Alex Honnold, who free solo-d El Capitan in Yosemite National Park. So he climbed about a 3000-foot route without ropes.
It was just something I wanted to go see, and I talked my wife into going to see it as well. I just knew it was gonna be a pretty documentary because it was a Nat Geo film. But I didn't really know much about climbing.
Watching that movie, I was super interested in how climbers live their lives, as far as living in vans and chasing rocks.
I felt like I wanted to be in that situation where I was on a side of a cliff, and I was looking around me, and just that thrill and that adventure and that moment of, My body took me here. And I had not really had that much beforehand.
Immediately I looked over to my wife, I think as the credits were rolling. I was like, "I want to try that." I didn't want to try free soloing. I just wanted to try climbing. So I went home and I Googled, "Can fat people climb?"
I did not find much information or anything. So I made it a point to go to a gym and just ask those questions. Can the ropes hold me? Can bigger guys get on climbing routes and the gym? Will there be a safety issue with it?
And the first gym I went to, they were like, "No, you're good. The ropes hold thousands of pounds." And they had harnesses big enough for me, too. That was like, "Oh, I can do this within my means. I can do this."
I came back a week or two later. Me and my wife bought a Groupon to go to get like three visits and gear. We had our Valentine's Day date.
I think at the time when I started, I was 310, maybe. I was still pretty nervous. It seems silly for me to wanna go after this goal, but I think at most their walls went 20 to 30 feet, which is good to learn ropes on. I made it to the top of the wall, so that was encouraging enough to keep me going.
The goal the whole time was to be comfortable enough to go climb outside. So we both learned together. We took a trip with my gym and we read some books that helped us out, learned anchor systems and that kind of thing.
I'd say the climbing community is pretty welcoming. You gotta work on your self-esteem. Climbing is a sport where you're gonna be surrounded by probably the most fit people you've ever seen. I've had panic attacks at the gym. It would come when I would start comparing myself. I would think that I should be accomplishing it, not falling, or, Oh, so-and-so's climbing this route right now out in Yosemite and you can't even climb this 5.6 in a gym. And that's not healthy for anybody. So in those moments, I've just left the gym and talked to my therapist about it.
There's better ways to talk to yourself than hateful comments. That was me not giving myself space to love myself and be happy for what I was accomplishing.
It became less about trying to climb harder and more about just the fun of it. The goal was never really to lose weight with it or anything, it was just to get my body moving.
A year after seeing that documentary, I got my own climbing van to live in on the weekends. We did a big road trip out there to go to see Yosemite, and that was awesome. I climbed my biggest route, at that point ever, on that trip.
It's an amazing area for climbing, but it can be hard. But I did it. I always think of that moment of going up that wall and climbing 350 feet, and being surrounded by Half Dome, and El Cap's just to my left. And climbing behind Camp Four, which is a big historical climbing area. It was an awesome moment because my wife, Sarah, got to meet me at the top, because there was a walk around. You could just hike to the top of the rock. So I got to climb all the way up there and then get to celebrate with her. All the stoke, big hugs and kisses and pictures, and it became a full circle moment, where everything lined up and I realized bigger things could happen.
When it's not shown in outdoor media that bigger folks go and do these things, the general public probably has no idea that a 300-pound man can go climb a wall. It's just not shown. So that's why I posted it on the climbing Reddit, I think I posted my, "I got my 300-pound self up a wall," and that became the third most-liked post in that climbing Reddit's history. It was more than Alex Honnold soloing El Cap. It passed that.
So that's why I started my Instagram. Where I was like, Oh, maybe people are interested in this. And it's inspired a ton of folks out there to try climbing. It's led to me having climbing clinics focused on body positivity, I get to do those at climbing events.
My focus then became doing cool stuff in the body that you got. Don't let society or norms hold you back from doing those things you wanna pursue. You can just start now. Take it a little bit at a time to start, start small and work your way up. That's the journey. That's what it is really about. Because once you start moving, you really can't stop. Especially if you find the right folks to do it with that are encouraging and that'll keep you motivated.
Climbing is for everybody.
Drew Hulsey is a rock climber, social worker, and an outdoor enthusiast in Spring Hill, Tennessee. Find him on Instagram @drewclimbswalls.
You can follow The Daily Rally on Spotify, Apple Podcasts, or wherever you like to listen. Subscribe to our newsletter and nominate someone to be featured on the show.
Lead Photo: Ana-Marie Alewine