Six Dead After an Avalanche on Ecuador's Highest Peak
The tragedy on 20,549-foot Chimborazo has sparked a debate about the dangerous trend of hiring unlicensed guides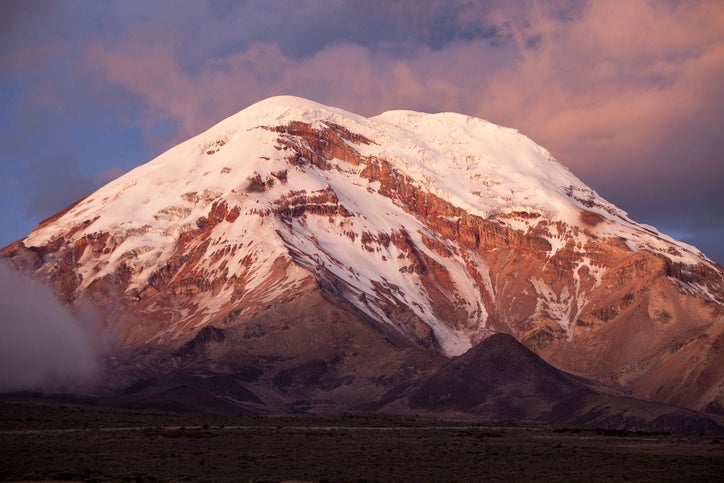 Heading out the door? Read this article on the new Outside+ app available now on iOS devices for members! Download the app.
Early in the morning on Sunday, October 23, a dozen Ecuadoran climbers were hit by a D3/R4 avalanche—a rating that classifies the slide as very large and destructive—while ascending the Standard Route on the west face of 20,549-foot Chimborazo, a volcanic summit and the nation's tallest peak. 
Ecuadorian Association of Mountain Guides (Aseguim) director Francisco Arroba told Climbing that the first of four rope teams triggered the avalanche, which killed half of the climbers in its path. The bodies of three of those six were recovered on October 25, at an elevation of 18,370 feet, while the remaining three are still on the mountain.
According to Arroba, the accident marks the deadliest accident on an Ecuadorean peak since November 1993, when ten climbers were killed on Chimborazo by another avalanche in almost exactly the same spot. 
Chimborazo received 2.6 feet of snow in the three days leading up to the accident. The Ecuadorian government has suspended all mountaineering above 5,000 meters (16,400 feet) in the country through November 12. Bolívar Cáceres, a meteorologist and the head of Ecuador's Glacier Program, says the temporary ban will allow Chimborazo's fickle snowpack to stabilize without putting any more climbers at risk.  
Arroba confirmed that none of the climbers involved in the accident were registered, licensed guides. And while Aseguim has not yet confirmed if any of the climbers were acting as guides, Arroba noted that Ecuador has seen an influx of illegal, unlicensed guides taking clients up the country's mountains for notably cheap prices in recent years. "It was probably something like that [in this case]," he speculated, "but I am not sure." 
The issue of illegal guiding has been exacerbated by the pandemic. "Due to the COVID situation, everyone is out of work," Arroba said. "People here are all looking for work, and sometimes they think that if they climb the mountain once or twice, then they have enough knowledge to guide. We have a lot of these uncertified companies that offer this type of trip for very, very cheap rates, but that's what happens when you hire someone cheap and amateur." 
In response to these accidents, and the increasing number of inexperienced climbers attempting peaks while unguided or with illegal guides, Arroba said his association plans to release a free biweekly report about the snowpack and overall conditions on Ecuador's mountains so that members of the community can better plan their expeditions.
Ecuador has ten mountains over 16,400 feet, and many of them, like Chimborazo and Cotopaxi (19,347 feet)—the two tallest—are extremely accessible and require little to no technical climbing by their standard routes, despite their high elevation. 
"Our mountains are very easy to climb in terms of logistics," said Arroba. "You can drive with an SUV to the parking lot of Chimborazo, and you are already at 17,000 feet. We have experienced mountain people, but we have lots of beginners for sure—from our country and foreigners. Just remember, if you are going to climb with a guide in another country, it's very important to ask for the certifications they have."
Felipe Proaño, a prominent Ecuadoran professional climber, told Climbing that he feels there's a push among Ecuadorean guiding agencies, even officially licensed ones, to fast-track climbs on high-altitude peaks like Chimborazo and Cotopaxi to reduce costs. This results in cutting corners to dangerous proportions. "They want to make Chimborazo a two-day climb," he said. "I mean, it's Chimborazo. It's the titan of the Andes. It's a freaking 6,000-meter peak. That's a climb that should be done in three days at least, if not more." 
Proaño shared advertisements for one illegal outfitter with Climbing, as an example. The outfitter priced guided two-day ascents of both Chimborazo and Cotopaxi at only $70. Ascents of 16,480-foot Tungurahua, another prominent volcanic summit, were listed by the outfitter for a mere $42. This is a rock-bottom rate compared to what professional guides charge. Aseguim mountain guide Jaime Vargas, who is certified by the International Federation of Mountain Guides Associations and based in the town of Baños, directly below the mountain, charges $250 per person to take clients up Tungurahua, and that's for a minimum of four guided clients. Prices are even higher for smaller groups.
"Myself and the entire Ecuadorean outdoor industry want to express condolences to the friends and family of the victims, first and foremost," said Proaño. "But we have a serious problem with demand here. Aseguim has done a great job of trying to train aspiring guides about topics like avalanche conditions, but Ecuador's climbing scene is growing and growing, both from Ecuadoran climbers and foreign ones. The refugios can't accommodate the demand. I was personally rescued by hand, with no support or helicopter, when I was 16 years old, and those things have not improved. It's been almost 20 years since then, and we still do not have high-altitude helicopters operating here, nor an on-call emergency group, public or private, designed to operate in alpine conditions." 
Chimborazo's rapidly shrinking glacier has led to an increase in rockfall (which killed an official guide on the mountain last year). The peak's normal route, which is the easiest, fastest, and sees the most traffic, is no longer its safest. This is particularly true for commercial expeditions, says Proaño. 
"All of us who know about avalanche and snow conditions know that they are climbing Chimbo through maybe the fastest part of the mountain, but definitely not the safest part," he said. I always try to promote climbing from the eastern side, not the traditional west-face route." A high camp has been created on the route to limit use of the refugio, which is now threatened by rockfall, but overall the route is still much more dangerous than alternate routes on the east face, a result of the growing moraine below the shrinking glacier and the avalanche-prone slopes it crosses.

"We've seen this mountain mutate due to climate change in recent years," Proaño said, "and instead of trying to rotate the commercial climbing on Chimborazo to a safer face, a safer route, everyone gets sucked into this tunnel vision of saving cost, saving time. It's tragic."
Lead Photo: Sebastián Crespo Photography/Getty