Ellen Miller: A Role Model for Women Climbers
Heading out the door? Read this article on the new Outside+ app available now on iOS devices for members! Download the app.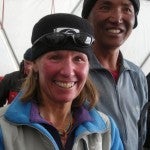 Ellen Miller is a quiet climber. Many people have not heard of her athletic and mountaineering achievements. For example, she is the only woman to summit Everest from both sides within the span of one year.
I first met Ellen in 2002, on an expedition in which she summited Everest from the Nepal side. She was a quiet and confident person with a natural bent towards giving encouragement to others.
She was clearly the strongest climber on our team.I remember on summit night, after we all left the South Col together, I watched her and Ang Dorge Sherpa disappear up the Triangular Face at an amazing pace. They were one of the first teams to summit that night.
Ellen, a long time Vail resident, is no stranger to mountains. She has summited Cho Oyu, Mustagh-Ata, Denali, Ama Dablam, Aconcagua, and Kilimanjaro in addition to the volcanoes of Ecuador and all 54 of Colorado's 14,000 foot peaks.
This past spring, Ellen accomplished another first: she summited the world's 4th highest mountain, Lhotse Peak (27,939') and became the only woman to summit Everest from both sides plus Lhotse.
True to her quiet manner, she was mostly ignored by the cameras. You see, the Discovery Channel was there filming Everest: Beyond the Limit Season 3 with Russell Brice's Himalayan Experience team. If you look carefully you will find her in a few scenes smiling in the background of others.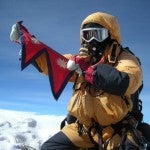 By the way, Ellen had a hip replacement in the previous year. She and Nima Tsering Sherpa, were only two of only a few to summit Lhotse.
In addition to climbing, Ellen was a very successful adventure racer. She was named Colorado Sportswoman of the Year 2002. She competed on the Fila Skyrunning Team and qualified for events in Europe and Tibet and also competed internationally as a professional adventure racer.She is a certified endurance coach and the founder of Mountain Divas.
Today she is the Outdoor Fitness Coach in Vail, Colorado, where she champions many causes and hold several fund raisers every year to raise money for the literacy cause in Nepal.She raises money for Room to Read, Mountain to Mountain, Central Asia Institute, and small schools in the Khumbu Region of Nepal.
You can watch Ellen explain the Room to Read program at this link.
I wanted to ask Ellen her views on Everest routes and Lhotse as we get closer to the spring 2010 climbing season.
Q: How did you find the technical difficulty of the rock and 2nd Steps on the North vs. The Hillary Step and Summit Ridge on the South?

I am fortunate to live in Vail, Colorado, where we have a wide variety of vertical ice for training, thus I found the rock on the Second Step a bit more challenging with my crampons. During 2002, I thought that the Hillary Step was straightforward snow/ice scrambling. I enjoy rock climbing but rarely do it with crampons and a pack, wearing a down-suit! For Lhotse, I trained more on rock with crampons.

Q: Your thoughts on the Khumbu Icefall since you have now dealt with it many times on your Everest and Lhotse climbs?

While the icefall is incredibly beautiful, and can be fun climbing, I like getting through it as quickly as possible, due to objective danger.

Q: Which did you prefer, the higher camps on the north or the lower ones on the south for acclimatization?

 I preferred the beauty of the higher camps on the North, however it was easier to function logistically at the South side larger camps.

Q: Obviously weather changes each year, but did you find the north colder when you summited?

Weather is, and can be capricious on both sides of Everest, so I can't say that I preferred one side over the other due to weather conditions. I found the temps to be tolerable during my seasons on Everest. On Lhotse however, one climbs completely in shadow (in the couloir) until the summit, thus I found Lhotse a colder on summit day.


Q: Both sides can be crowded but was one side more manageable with the crowds?

Yes, both sides can be very crowded, however, this past Spring when I was on the South side of Everest (for Lhotse) I felt like most of the teams made an effort to manage themselves with care. I appreciate when climbers are AWARE (of others on the route) so that they make an effort to keep moving, or to let people pass. It's frustrating to be stopped at bottlenecks when every moment is precious.

Q: Climbing Lhotse is 80% the same route of an Everest South climb. How was the final summit climb to Lhotse in terms of technical difficulty?

After C3 and the Yellow Band, Lhotse climbers "hang a right turn" and head up hiking on steep snow to a tiny C4 beneath the Lhotse couloir. Summit day on Lhotse is steep, and more technical and very narrow in places with a technical rock pitch to the summit. The terrain last season was mixed rock/snow/ice. Rock fall in the couloir was my biggest concern. (and indeed it should have been from what we experienced). The view of the Southeast Ridge of Everest from Lhotse is magnificent.

Lhotse was my favorite 8000M peak thus far because I got to climb with just one other person, my Sherpa-friend Nima Tsering of Phortse. (Nima reached the summit of Everest in 2009 while fixing the ropes to the summit before climbing Lhotse with me!) It was fun, and such an honor to climb with him. It was his third summit of Everest and first of Lhotse.

Q: What type of training did you do for Lhotse to get 8000m ready?

I focused on technical rock and ice. I am an outdoor fitness coach, so my lifestyle is conducive to mountaineering. As a coach, I am fascinated with the science of physiology and adaptation to altitude. Although a "masters" (old!!!) athlete now, I still compete in ski-mountaineering, running and uphill races, and spend a lot of time training year-round up to 14,000ft. I probably log more miles climbing Vail Mountain than any other person! I live at 8000 ft, which I find perfect for recovery. I am blessed to be surrounded by motivating friends. Also,some of the stronger, younger athletes that I coach encourage me to work and train hard.

Q: Any other thoughts for aspiring climbers out there?A: Train hard. Stay focused on every detail of your climb. Be clear about WHY you are climbing. Take care of the mountains.
Thanks Ellen for your insights and best of luck with all your causes.
Climb On!
Alan
Arnette is a speaker, mountaineer and Alzheimer's Advocate. You can read more on his site