Inside Emily Harrington's Scary Fall on El Capitan
What could have been a fatal fall is just a stepping stone on Harrington's path to become the first woman to free climb one of El Cap's hardest routes in a day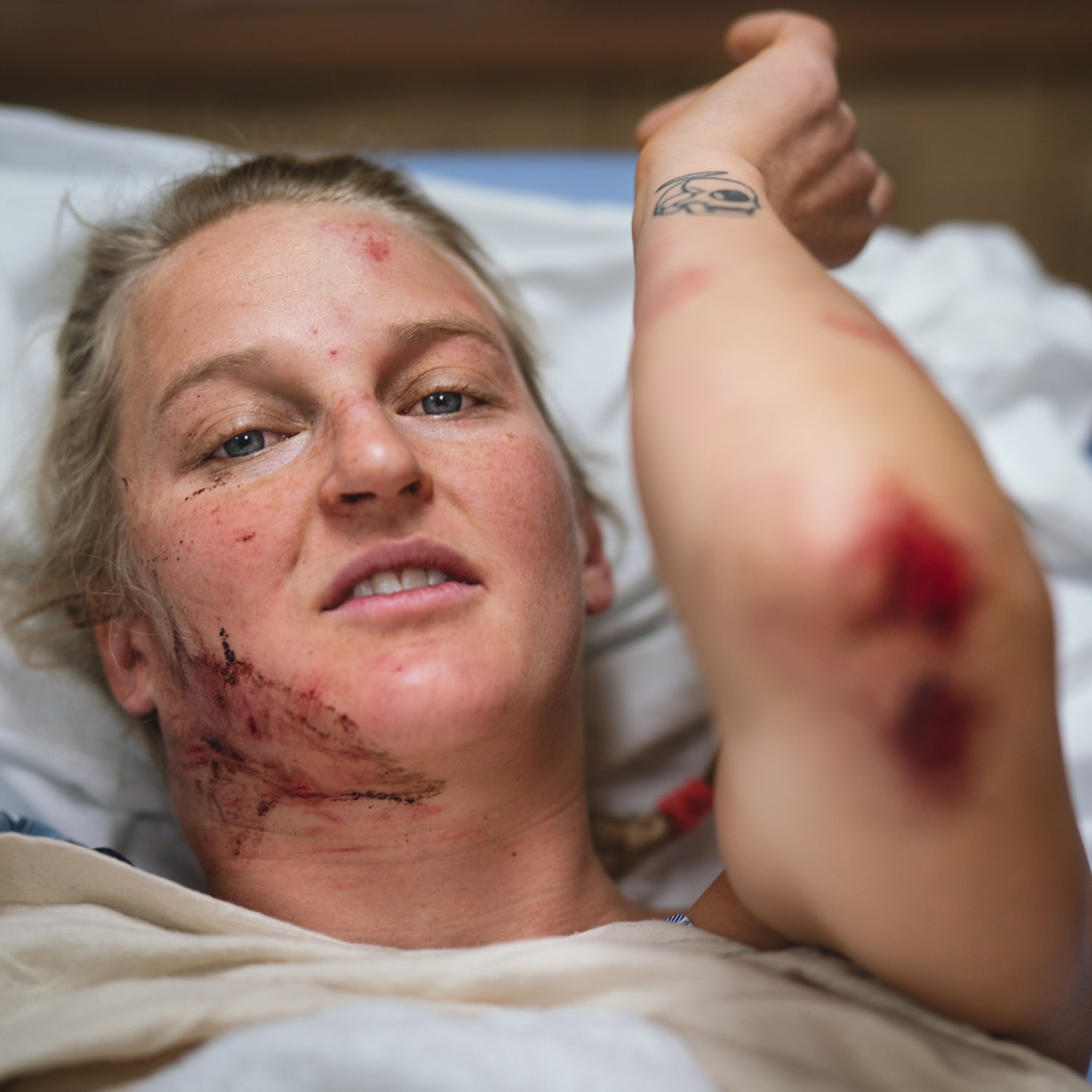 Tara Kerzhner(Photo)
Heading out the door? Read this article on the new Outside+ app available now on iOS devices for members! Download the app.
"I don't remember the impact," says Emily Harrington, at 33 one of the world's strongest rock climbers. "I remember reaching up to a handhold and in that split second before I was solid, my foot slipped. I remember falling. The next thing I remember was Alex being there."
Alex is Alex Honnold, the only climber in the world with an Oscar to his name for his efforts climbing the 5.13 Freerider route up El Capitan without a rope. That's what made him the perfect belay partner for Harrington's one-day free attempt on the 5.13 Golden Gate route up Yosemite's most famous landmark. "Golden Gate is much more difficult than Freerider," says Honnold. So difficult that only three people have ever free climbed it in a day: Tommy Caldwell, Brad Gobright, and Honnold himself. Conveniently, Golden Gate and Freerider share the same route up the first 2,000 feet before Golden Gate diverges for the last and most difficult 1,200 feet. "Alex obviously knows it better than anyone," says Harrington. 
Having Honnold on board as a belay partner was only one part of a strategy that would need to work perfectly in order for Harrington to become the first woman and fourth person to free climb Golden Gate in a day. She'd been working through the moves of the route for years. In 2015, she freeclimbed it in six days. And on November 7 of this year, she came heartbreakingly close, climbing all but the last 30 feet of the final 5.13 pitch before exhaustion overtook her. "It's not about the hard pitches," she explains. "It's about the accumulation of fatigue. Even the 5.10 pitches are really physical, so it becomes this huge endurance challenge that a lot of climbers don't quite grasp."
On November 24, with a snowstorm fast approaching that would signal the end of the Yosemite big-wall season, Harrington wanted to make one last attempt. Well before dawn and with the mercury reading 27 degrees—cold for the slipper-like climbing shoes and long-sleeve T-shirt she was wearing in anticipation of extreme physical exertion and warmer temps throughout the day—Harrington stepped onto the wall.
To stack the deck in her favor, she and Honnold planned to use a technique called simul-climbing, a time-saving high-risk endeavor in which the leader and follower both advance at the same time. The leader places gear sparingly, "running it out," as they say, while the follower cleans the gear. By leaving huge gaps between placements and climbing simultaneously, a team can cover four pitches with the amount of gear and time that it typically takes to finish one. The tradeoff is, of course, safety. If the follower slips, he pulls the leader off with him. If the leader falls, she takes an enormous fall that must be caught by a belayer who is focused on climbing.
"You have to conserve your gear," says Harrington. "Instead of climbing the Freeblast in 12 pitches, we planned to climb it in four pitches." The Freeblast, for people who remember the movie Free Solo, is the lower, less-than vertical-section of Freerider/Golden Gate where the climbing isn't technically as difficult as the upper sections, but it's slabby, slippery, and what Harrington generally characterizes as "insecure." 
"It's dark. It's cold. It's easy for your fingers and feet to be numb and to slip unexpectedly," says Honnold. When he made his abortive attempt on Freerider early in Free Solo, it was the Freeblast section that turned him around rather than the most difficult sections up high. Harrington is a 5.14 climber. When she slipped, she was making the last move of a 5.10c pitch while navigating a pair of twin cracks. Just a few feet above her was a fixed bolt she could have clipped for ultimate safety. 
About 150 feet below, Honnold was belaying Harrington when he heard her scream. "I was sitting on the ground tying my shoes, getting ready to start simul-climbing," says Honnold. "Tons of slack just pools on the ground, which is consistent with huge falls." The phenomenon occurs when the leader is falling but still above her last piece of gear. "The rope is falling at the same speed as the climber," says Honnold. "It's just physics." 
Honnold was belaying with a gri-gri, a mechanical device that's a little bit like the cams in a car seat belt. Its mechanism allows the rope to slide smoothly through it at low speeds but locks down tight if you try to pull the rope through it with any kind of jarring motion. But the energy of the fall never actually reached the gri-gri. In most circumstances, a belayer's hand is never supposed to leave the rope. But at the highest echelons of simul-climbing, that's just not an option. The follower has to climb and remove gear from the wall while also belaying the leader. That's why there's a simple rule of simul-climbing: don't fall. 
"The leader is choosing a strategy with the intention that they're not going to fall on easy terrain," says Honnold. "You can see in the video…" 
Jon Glassberg of Louder Than 11 Productions, was filming and photographing the ascent. (Glassberg shared the video with me but asked that we not publish it, fearing that it might look like Honnold had given an inattentive belay.)  
In it, Honnold's girlfriend Sanni McCandless shouts encouragement upward, "Nice, Em!" 
A second later Harrington's haunting scream arcs out of the darkness. Honnold looks up from tying his shoes, grabs the rope that's pooling around him with his bare hands, and stops the fall with a stunned look on his face. The catch was unorthodox, but so was the fall. 
Harrington's headlamp was knocked off by the impact, so Glassberg, McCandless, and Honnold couldn't see what had happened to her. Honnold lowered her onto a pedestal-like ledge. McCandless put on her harness and took over the belay from Honnold, who soloed up to find Harrington conscious but injured. 
"She had an enormous goose egg on the front of her forehead," says Honnold.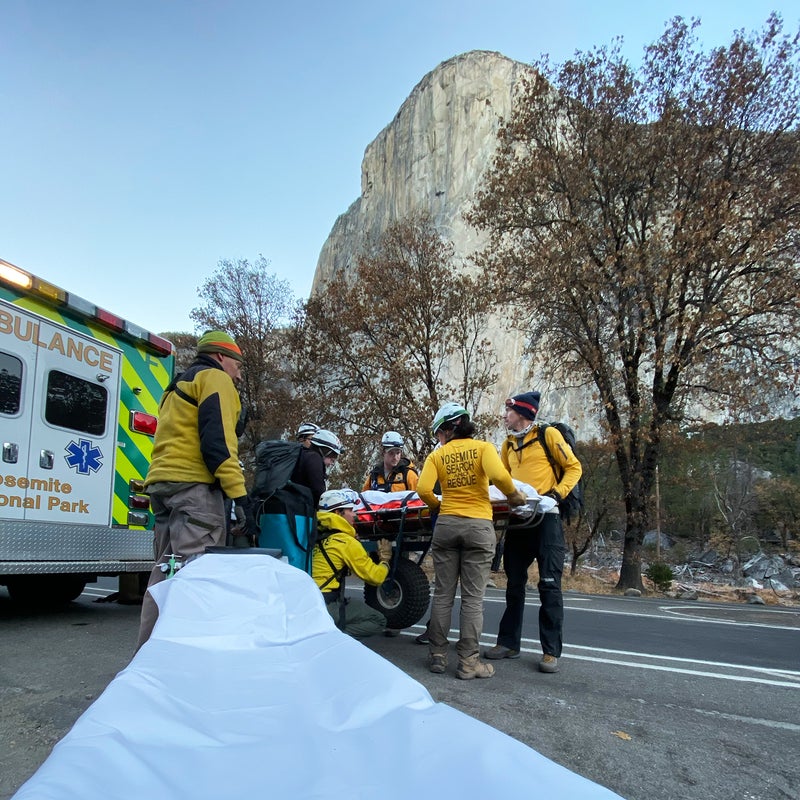 Glassberg radioed to Yosemite Search and Rescue (YOSAR) and to Harrington's boyfriend, the Himalayan guide Adrian Ballinger, that she'd fallen and was hurt. Ballinger had planned to hike to the top of El Capitan, rappel in, and take over belay duty from Honnold for the last 1,200 feet of the climb.
"I remember talking to him. I remember him holding my back up and keeping my head still," says Harrington.
"She kept saying, 'If I was you, I'd be dead. If I was you, I'd be dead,'" recalls Honnold. "I was like, Oh man." It was a reference to the fact that Honnold's friends worried publicly about him climbing this same route with no rope at all.
"We just waited for Adrian and YOSAR to get there," recalls Harrington. "The YOSAR guys said you were so lucky to be so close to the ground."
First Ballinger arrived and then YOSAR. She and Honnold were both shivering. They quickly got her into a litter and lowered her back to the ground where she was loaded into an ambulance. 
At the hospital, her injuries proved to be gruesome but largely superficial. Most shockingly, Harrington had somehow managed to get her neck caught in the rope during the fall and was left with a long bruise that made it look like she'd been strangled. Ultimately she was able to walk out of the hospital a day later. She and Ballinger were planning to Airbnb their Squaw Valley condo starting this week and head out for a ski-mountaineering trip to Ecuador. Now, Harrington at least, is struggling with the prospect of some forced R&R. 
And inevitably, within the climbing community, there will be some level of debate about whether Honnold's belay was up to snuff for one of the world's best climbers. If Harrington had fallen a minute later, while Honnold was on the wall with her, the fact that his hands weren't on the rope would have been a given.
Honnold, who is famously dry when it comes to assessing risk, doesn't view it as a cautionary tale: "In a lot of ways, this shows that the techniques actually work," says Honnold. "She took one of the worst possible falls on the whole route and still wound up basically fine."
Ballinger, who shepherds clients to the summit of Everest most years with a perfect safety record, has a similar take. "For Emily to climb Golden Gate in 24 hours, she has to cut out part of the safety system on the easy sections. Otherwise she'd never have time to climb the hard pitches up high." 
Ultimately, though, Harrington herself sees the accident as a validation, if a painful one: "The system worked. The rope caught me. My gear held," she says. "I'll try again in spring."
Lead Photo: Tara Kerzhner
Trending on Outside Online