Denali Climbers
Camp 14 is one of the liveliest spots on Denali, where climbers acclimatize and socialize before pushing to the summit. Add a photographer and travel writer to the mix and you get a who's who on the highest peak in North America.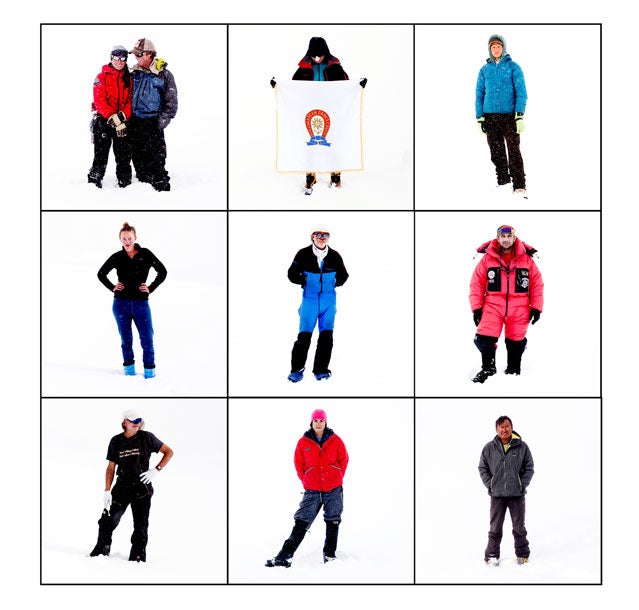 Heading out the door? Read this article on the new Outside+ app available now on iOS devices for members! Download the app.
Faces at 14,000 Feet
In November 2010, my friend Brandon Latham asked me to join his monthlong National Park Service patrol on Denali. I had never thought about climbing the highest peak in North America. I don't like sitting in a tent if I'm not sleeping, and I hate being cold. But I said yes, mainly out of curiosity about the big-mountain world. Going as a patrol volunteer also meant that I'd be serving a purpose rather than just summiting, and it would be free.
On May 26, Brandon and our patrol flew onto the mountain. It was one month into the climbing season, and the Alaska Range had already taken seven lives. There was a sense of jinx in the air as we made our way up to 14,000 Camp, the central hub of the mountain.
It's the liveliest of Denali's camps because climbing parties spend the majority of their time there acclimatizing. It's also the launching point for a few routes – the most commonly used West Buttress, the upper West Rib route, the legendary Cassin Ridge, and the big-line ski couloirs of the Orient Express and the Messner.
Over the course of a week, I made portraits of nine climbers, from novice mountaineers to sponsored athletes like Colin Haley and Nils Nielsen. I asked each person standard interview questions, the same I've been collecting for almost a decade of travel writing and exploring.
By the end of my month on the mountain, it hit me that the random people I had photographed and interviewed together told the story of a season. The pictures show the diversity of climber and shed some light on the weird world of mountaineering, a sport that requires an extraordinary level of time, gear, ego, grit, and self-absorption. The essays below the pictures, I hope, illustrate the connections between those individuals and the mountain. 
Tucker Chenoweth and Leighan Falley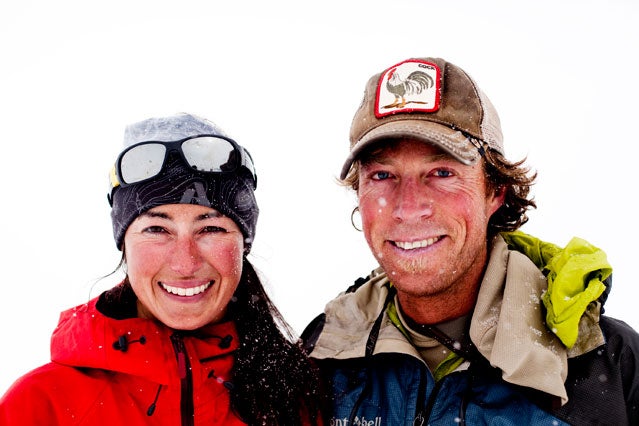 Tucker Chenoweth & Leighan Falley
Tucker Chenoweth, 36
Lives in: Talkeetna, Alaska (born in Boulder, Colorado)
Profession: NPS Mountaineering ranger, executive director of Alaska Avalanche School
Favorite part of your work: The camaraderie of the folks I work with and helping people
Least favorite: Being the executive director, being in charge. I like the practitioner part a lot better.
What do you like to do in your free time: I like to climb with my beautiful wife on warm granite
If you could travel anywhere: Right now it's probably Nepal, next summer.
If you could write a book: It'd be called You're not Going to Believe This: The Circus on Denali
The last meal you ate: Cheesy grits with hot sauce, instant coffee
Are you religious: Just to the mountains
Any regrets: Not climbing Longs Peak in Colorado with my dad before he was unable to do it
Trick of the trade: Scotch. Good scotch.
Leighan Falley, 30
Lives in: Talkeetna, Alaska (born in Fairbanks, Alaska)
Profession: Mountain guide
Favorite part of your work: Getting to be on the High One (Denali). Getting to see Tucker up here at high altitude.
Least favorite: Having to clean up other people's poo
What do you like to do in your free time: Go climbing with my handsome husband on warm granite
If you could travel anywhere: China, for climbing
If you could write a book: A friend and I were talking about writing a book called Alaska Range Dispatches.
The last meal you ate: Cheesy grits with hot sauce, instant coffee
Are you Religious: Spiritual about the mountains, especially this one
Any Regrets: No, my life's been pretty good.
Trick of the trade: Marrying a climbing ranger
Tucker and Leighan met in Colorado on a ski hill. Tucker was ski patrol, and Leighan was skiing too fast. She yard-saled on a slope one day, and three other ski patrollers went right past her because she was known to be a fast-drivin' downhiller. They must have thought she needed to learn a lesson. As Tucker says, back then "she equated speed with skill." But Tucker stopped and made sure she was OK.
They became friends and eventually found themselves working on Denali around the same time, Tucker with the park service and Leighan as a guide. Now they are married and spend part of their year sharing a tent and hot-sauced cheesy grits at Denali high camps.
This year they overlapped at 14 and 17 camps, Leighan with her guided clients and Tucker with his patrol. When a three-man helicopter rescue from the 19,000-foot Football Field below the summit occurred on Tucker's summit day, we at 14 Camp were worried about Tucker's health and temperature. He'd been in windy, negative temps for hours, treating the patients at 19,000 feet. So we made certain that Leighan, who was also up at 17 Camp, knew he'd be coming in late and would be a wreck from the rescue. It was nice and rare to be able to call someone's spouse to be sure the tent was warm and the water hot when her husband returned from his dangerous workday saving lives below the summit.
Tucker and Leighan's time together at the high camps this June was the most they'd seen each other in three months, since their work has them spread out from Argentina to Alaska in the winter and spring. When they finished their professional obligations on the mountain, they reconnected in Talkeetna for a day or two, then flew back onto Denali, still acclimatized, and skied up to 14 Camp for a personal attempt up the Cassin Route. The weather denied them, but they enjoyed the mountain, for a time, on their terms.
Neda Milosevic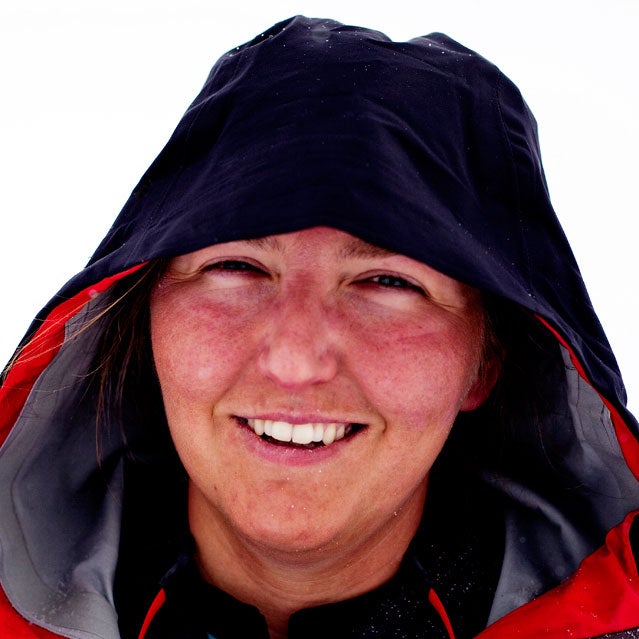 Neda Milosevic
Neda Milosevic, 37
Lives in: Ruma, Serbia
Profession: Prosecutor
Favorite part of your work: Putting bad guys in jail
Least favorite: I don't like that so many young people are criminals.
What do you like to do in your free time: Mountaineering, hiking, painting
If you could travel anywhere: I was just in South America and the Himalayas. Now I want to see Africa.
If you could write a book: Man Versus Nature. Not that the man is a fighter but rather an explorer. He explores himself.
The last meal you ate: Dehydrated mac and cheese
Are you religious: Orthodox Christian
Any regrets: No
Trick of the Trade: Every day is the most important. Almost every piece of gear is important up here.
I first met Neda at 14 Camp as she was setting up her Serbian mountaineering club's flag beside her tent. Her partner was in the tent, and Neda had been busy organizing gear and tidying up the snow wall. She told me that she had known another Serbian man who had arrived in camp a few days earlier. Our patrol had seen him come to our camp from the sky, attached to the Park Service's helicopter via a 150-foot rope and a body harness called a screamer suit. The young Serbian man had been the first patient of what would be a three-patient rescue off the Football Field.
My patrol was in the Park Service communication tent at 14 Camp after dinner that night when the radio called in from 17 Camp. Tucker, the ranger at 17 at that time, was crossing the Football Field with his patrol of four volunteers after summiting when they noticed the Serbian man alone and stumbling like a drunk Michelin man in his red puffy suit. He was suffering from acute mountain sickness because of the elevation. As they began treatment, a Japanese climbing team of three approached on their descent from the summit. The front member of that group collapsed 40 feet from Tucker's crew and the Serbian. Patient number two had arrived on the scene.
We heard this from 14 Camp as Tucker's radio calls came down for a helicopter evac. Soon a plan was in place to fly the patients individually from the Football Field via the screamer suit. They'd land at camp 14, be assessed by our paramedic, Dan, then be repackaged inside the chopper for a deposit at base camp.
As the helicopter shuttling was under way, Tucker called down again and said, "You're not going to believe this, but we have a third patient." They'd come across another staggering, hypoxic climber in a private group. He couldn't power himself down the Zebra Rocks section, and he definitely wouldn't make it down the steep headwall below Denali Pass called the Autobahn.
Luckily, the weather was perfect, and it doesn't get dark in Alaska in mid-June. So a rescue pluck from 19,000 feet could take place at 11 p.m. The helicopter became a sort of designated-driver vehicle for the seemingly wasted climbers who had gotten themselves a little too high too fast.
Neda told me that the Serbian man had been part of her group on Denali. She said he was not alone on the Football Field, that his partners were with him. Tucker found him alone, but who knows? Either way, he likely would have been a body recovery had he not happened to be there on the day when the Park Service patrol was coming off the summit. Or if it had been cloudy and unflyable. Instead, he and the other two patients walked out of the helicopter at the oxygen-rich 7,200-foot base camp feeling perfectly healthy, as if they were stepping out of a cab after a few drinks at a mountaineering-themed costume party.
Robert McLeod and Martha McLeod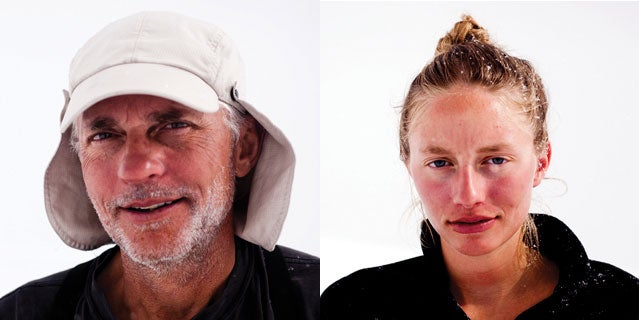 Robert McLeod

Martha McLeod
Robert McLeod, 56
Lives in: Tucson, Arizona (born in Oxnard, California)
Profession: Retired Episcopal priest
Favorite part of your work: There was no limit to what I could talk about to my people. Doctors are limited in terms of going deep with people. As a clergyman, you can get deep with them. People have many different problems, but they all have the same cause and the same solution.
Least favorite: Tons of responsibility and no authority. I've been chased out of every job I've had by sons of bitches, supposed Christians.
What do you like to do in your free time: Rock climb, and I'm a car mechanic. I like old BMWs. I specialize in the early eighties. I bought, fixed up, and gave an old BMW to each of my kids.
If you could travel anywhere: I would like to have a castle in the center of France. My wife and I are going to try to buy a decrepit castle.
If you could write a book: I already wrote one: Everything You Know Is Wrong: The Case for a New Reformation. I'm a theologian, so I'm pissed how the church goes about its business. I think I have some things to add.
The last meal you ate: Just ate a combo of dehydrated food—sort of a chili mixed with chicken rice. After I seasoned it heavily, it was edible.
Are you religious: I'm a Christian. I hate religion, but I focus on the spiritual angle of everything. The church drives me nuts. I try to get things done, which is a problem in the church.
Any regrets: Yeah, I shouldn't have gotten into the car I got into the day I got hit. My life has changed dramatically. For good and bad, but I'm never comfortable, mentally. Can never be at ease. Always wigged out. A lot of emotional problems. And I'm really careful about hygiene. That's why I have this toothbrush up here.
Trick of the trade: My mechanical toothbrush. I swear to God. At my age, I don't like personal discomfort, and I have to keep up with things.
Martha McLeod, 22
Lives in: Tucson, Arizona (born in Jonesboro, Arkansas)
Profession: Graduated from the University of Arizona, studied accounting. Modeled in New York between high school and college and from home during most of high school.
Favorite part (of being unemployed): Being able to go on adventures with the people I love.
Least favorite: No home
What do you like to do in your free time: Run and dance
If you could travel anywhere: New Zealand
If you could write a book: Wear the Heels. My brother suggested this to me out of the blue on the road trip home. I'm a terrible writer, and I would have a sibling ghost-write it. It would probably be a memoir, and the title is a play on the fact that I am rather taller than a lot of men I meet, especially when I wear heels.
The last meal you ate: Same thing as Dad. That lovely corn-rice concoction, which actually has made me a new person, so I won't knock it.
Are you religious: Yes, Christian
Any regrets: The modeling thing… I went to rehab a few years ago for an eating disorder. I don't regret letting the modeling career fall away in the face of this eating disorder. I had an awesome modeling job in high school, but I thought I could never be skinny enough, so I started binge eating. That led to rehab, and I stopped modeling and went to college instead. So it could be a regret, but it's not.
Trick of the trade: A sponge—keeps camp and gear clean. It was a very last-minute acquisition, and it's better than a towel.
I noticed Robert one afternoon as I walked through the snow-walled village of 14 Camp. He was brushing his teeth with a mechanical toothbrush. That was a new sight. I walked past, then turned around and asked to make his portrait, with the toothbrush. Some people actually take their toothbrush into their basement workshop and saw it in half, then drill holes in the stem to cut weight. This man had a full-length brush, plus batteries. I liked him immediately.
After I photographed Robert, he said I should shoot his daughter, that she's a model. I thought he meant at some point later in time, but he said she was in the tent. They had just arrived to 14 Camp, and she wasn't feeling too good, but he roused her and she came out for a photo. Her eyes had definitely looked into a few camera lenses before. She fell naturally into model mode right there wearing wrinkled long underwear and standing in four inches of fresh powder.
A few days later, I saw Robert arriving at 17 Camp. He was alone. He set up their tent, dropped off some gear, and went back down to 14. Father and daughter arrived together the next day, during the first of two days of whiteout and constant though calm snowfall. We got more than 12 inches total, and the Autobahn up to Denali Pass was a bit slide-prone with fresh powder.
Robert said he almost descended on the first morning at 17 Camp after enduring a splitting headache all night. But Martha boiled water for two hours in the morning, and the hydration revived him. They gave it two days, but with the snow unstable and their bodies weak (Martha said she could only stomach a few bars and a liter of water each day), they decided to descend rather than risk exhaustion on the way to the summit. Smart people.
On the way down, they passed Conrad Anker climbing up solo from 14 Camp. He was on the mountain with his North Face ski crew. Conrad walks up a mountain as if he's walking up the driveway toward the Sunday paper in his bathrobe and slippers. He stopped by our tent at 17 Camp to have some coffee and drop off some frozen chicken breasts and sausage links for us. Then he continued on to the summit, where he took a nap for two hours.
Robert asked me via e-mail if that happened to have been Anker he passed on their way down from 17. I said it was. I said that Anker had dropped off chicken and sausage, then continued on. Robert said he might have made it up, too, if he'd had chicken and sausage deliveries. He's probably right.
Marty Raney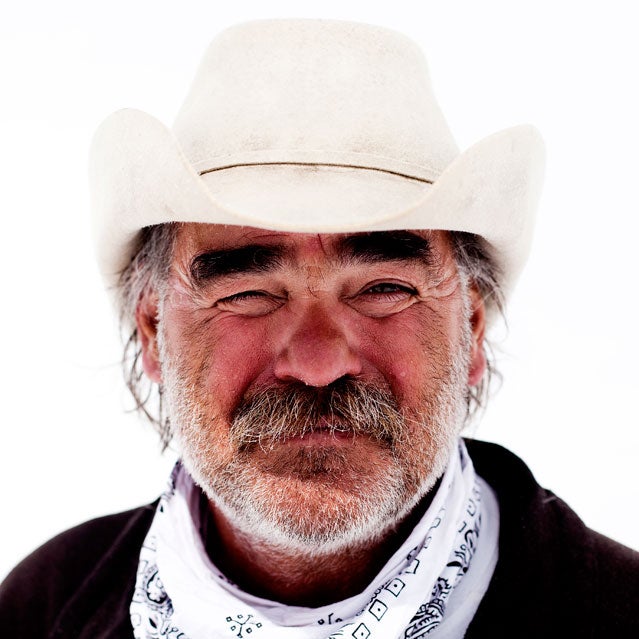 Marty Raney
Marty Raney, 54
Lives in: Wasilla, Alaska (born in Kansas City, Missouri)
Profession: Contractor. my card says "singer, songwriter, log builder, stone mason, mountain guide,"—with a comma at the end.
Favorite part: That was just by shear survival, to live in Alaska without a government job or oil-field job. You have to be diverse to make it. I never dreamed it'd be like this. I've got two log homes to build, a stone house to build, and a record to produce (Strum It from the Summit). I want to enter the Alaska Film Festival this winter, so I need to finish a project I've been shooting for since 1986 up here on Denali.
Least favorite: The Bible says, "Work is a gift from God." Look at this hill—[Points to the Headwall on West Buttress from 14,000-foot camp]. This is going to be the hardest thing I do this year.
What do you like to do in your free time: Backcountry skiing and, of course, recreational climbing in the Talkeetna Mountains—Hatcher Pass. That place has been a centerpiece of our whole family. I have a wife and four kids. My son and daughter have won world extreme-ski competitions. So Hatcher Pass—we were just a poor family, and a ski resort was too pricey, so we got into backcountry. We created some monsters out at Hatcher Pass. My son is biking the world solo now. Every member of my family has climbed McKinley. They just did it on their own.
If you could travel anywhere: I don't know the answer to that question. I'm living "kid-cariously," through my kids. That's a really good question, and it's got my attention. My kids figured it out young and I still haven't, I guess.
If you could write a book: The Best Things in Life are Free. It'd be about the ultimate happiness, fulfillments that have nothing to do with money and commerce, and the kind of life that we think is important.
The last meal you ate: Granola with goat's milk. Coffee from China that a guy poached from a Polish guy. (See, all these international tentacles up here…)
Are you religious: Yes, Christian
Any regrets: I wanna meet the man who answers that question "No." I'd mimic what he did exactly. I'm extremely blessed, but to say I don't have regrets would be a lie.
Trick of the Trade: I would defer that to my association with Vern Tejas. I climbed McKinley two or three times before I met him. He's climbed it like 40 times and the seven summits nine times over. My association with Vern has been almost lifesaving. The things I always remember are: "Hydrate or die," "Patience is a virtue; a little won't hurt you," and "The summit is only halfway."
Marty is a presence on the mountain. He is tall and powerful, usually clad in his blue-black full-body Gore-Tex suit, white cowboy hat on top. When I saw him, his beard was often frosted or looked that way with the density of gray hairs. He was always boiling water and serving tea and cider to anyone who visited his tent. He had many visitors, since Marty's name and his personality move quickly through a small camp community, and the sounds of Marty's guitar or harmonica acted like a homing device.
I first noticed Marty and his crew at 11,000 camp. Their patrol name was Deadliest Cash. Marty liked the play on words, since one of his crew was Brian Young, a prolific halibut fisherman from Kodiak Island.
Marty and crew got bogged down at 14 Camp when one of their members didn't feel strong. Marty liked to take things slow and safe, so they weren't moving to 17 Camp (High Camp) until they had a good weather window and everyone was in full health. Brian felt strong and wanted to go for the summit, so he joined his neighboring climbers, two men from Tijuana, Mexico—Ignacio and Juan—and they climbed to 17 Camp.
On June 9, the Tijuana men and Brian left 17 Camp for the summit. They returned at around 9 a.m. on June 10. Brian talked with Tucker, the park ranger at 17 Camp at the time, and told him it was a great climb and he was going to lie down in the tent. He didn't tell Tucker about his vomiting and stumbling during the summit push.
Soon after Brian lay down, his heart stopped beating. His tentmates called in Tucker and crew, who performed CPR. But Brian never revived. My patrol replaced Tucker's at 17 Camp later that day. By that time, Brian's corpse was in a body bag. We carried it to a snowy knoll above 17 Camp, overlooking Mount Hunter and Mount Foraker. We buried it in a shallow snow grave until the helicopter could lift it off.
The last time I saw Marty was the next day, back down at 14 Camp, where he had remained with his other crew. Marty had just been told of Brian's death and was coming into the Park Service tent to be briefed. He had to stop outside the door to the tent. He grabbed my arm as he bent over double at the waist of his blue-black suit, speechless and nearly crumpled by the loss.
Ignacio Anaya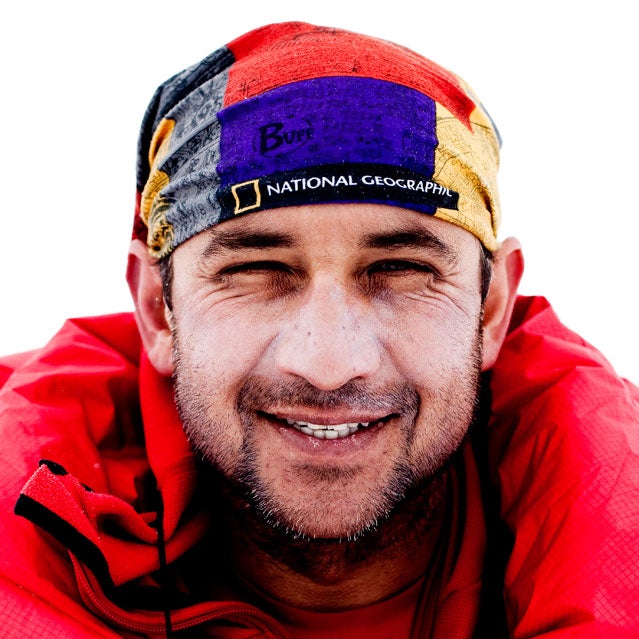 Ignacio Anaya
Ignacio Anaya, 43
Lives in: Tijuana, Mexico
Profession: Lawyer and professor   
Favorite part of your work: Helping the kids
Least favorite: When the women cry in the trials
What do you like to do in your free time: Mountain climbing, biking, swimming, running, Ironman, watching movies
If you could travel anywhere: The truth—the U.S. It's safe, there're no problems, no police. I've driven to Nevada, Texas, Colorado, California. No problems. Favorite place is Utah.
If you could write a book: I am writing a book about climbing Everest last year.
The last meal you ate: Ramen soup with dry meat and a little pretzel and tuna. And coffee.
Are you religious: Yes, Catholic. I believe in God.
Any regrets: No
Trick of the trade: I like to see the world from the top, from the summit. And I like to go down. For gear: my boots because I lost some toes on Everest.
Ignacio wore his giant red down suit all over 14 Camp. He was easy to spot. Ignacio also had a smile on his face at all times.
On our way down from a day hike to 17 Camp, we passed Ignacio and his partner, Juan, on their way up the fixed lines to 17 Camp along with Brian, from Marty's crew. Two days after our encounter, the three men reached the summit. It took them 18 hours, 38 minutes, and 29 seconds to get up and back down to 17 Camp. I spoke to Juan from Tijuana three weeks later, and he still had the time saved on his watch. That is a long period to get up and down on a clear day. Juan said they were using a 30-meter rope and setting handrails all the way up and down Denali Pass.
Juan is a doctor in Tijuana. He was alarmed when, after a calm, cold (minus 35) summit at 1 a.m., Brian started vomiting on the descent. A vomit the color of dark chocolate. This indicated digestive-tract hemorrhaging to Juan. Brian was supposed to have had the radio, but he wasn't carrying it, so they weren't able to call the Park Service. They continued descending, and Juan remembers Brian being sick at least three more times and slipping repeatedly on the way down from Denali Pass.
Once down at 17 Camp, at 9 a.m., the three deliriously tired men went their separate ways—Ignacio to his tent to check his feet, Juan to speak with a friend, and Brian to rest in some fellow climbers' tent where there was space for him to lay down. Juan had suggested to Brian that he seek medical advice from the ranger, Tucker, considering his sickness up high, but Brian failed to mention it. Juan had no medical instruments of his own, so he couldn't provide any care. Plus, he was wrecked from 18 hours moving at high elevation.
The next thing Juan and Ignacio knew, Brian was dead. Tucker, whose patrol had been administering CPR on the unconscious Brian, told the two men.
Juan and Ignacio have photos of the two of them and Brian on the summit and videos of them going up and down, stopping to eat, even singing. They had breakfast with one of Brian's sons in Talkeetna when they made it down, and they've given the family a DVD of images. Soon, Juan said, they'll send the son a knotted piece of the summit rope.
Jane Jackson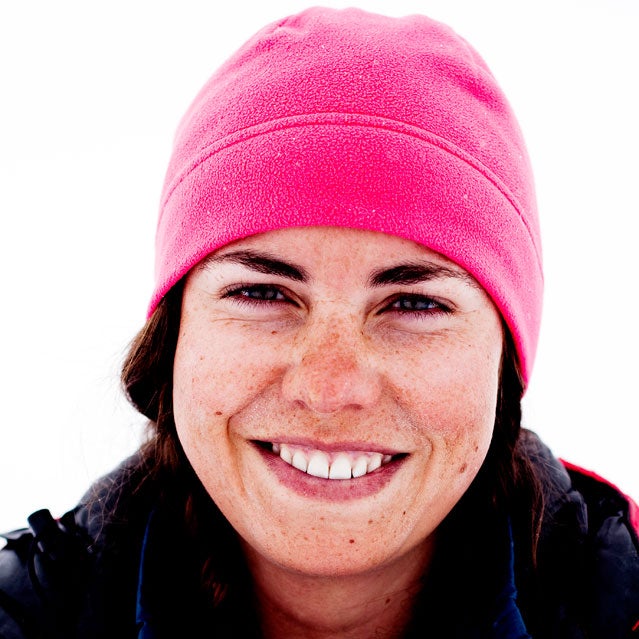 Jane Jackson
Jane Jackson, 19
Lives in: Jackson, Wyoming
Profession: Student
Favorite part of your work: I can pretty much do whatever I want—I'm not tied down.
Least favorite: The transition from moving out of my home and not knowing where I'm going. And having no money.
What do you like to do in your free time: Skiing. Being outside, reading, hanging out.
If you could travel anywhere: Latin America
The last meal you ate: Bagel and cream cheese, water
Are you religious: No, not really. Maybe spiritual.
Any regrets: I went to Spain last year, and I wished I had stayed longer.
Trick of the trade: A headlamp and some non-margarita-flavored Shot Bloks
Jane was the youngest person I met on the mountain. She was part of our patrol, accompanying her dad, Renny Jackson. Jane had not done much mountaineering, but it's in her blood, and that counts for a lot. Renny is a recently retired climbing ranger from the Tetons. He's somewhat of a legend in the climbing, Park Service, and search-and-rescue worlds. He's an original hard man, though you'd never know it considering his modest, self-deprecating demeanor.
Jane remembers family-vacation epics, like the time they scrambled out of a southern Utah canyon at dark, got lost trying to find the car, and bivied—mom, dad, daughter—huddled together by a sage-wood fire. Or the time they were rafting the Middle Fork of the Salmon River and floated into a rapidly escalating forest fire that nearly had them walled in with flames and smoke. Jane and her friend from that trip used the story for their college-application essays. It's an impressive crowd-pleaser.
Most of Jane's gear is handed down from her mom, Catherine: purple Koflach plastic boots; big, round Vuarnet glacier glasses with the soft leather side shields; and an old wooden ice ax that looks like it was pulled from a mountain-lodge mantel. The gear had been up Denali decades earlier, before Jane was born, when Renny and Catherine ascended the big hill.
So Jane has that innate sense of grit, perhaps the most crucial element for the sport of mountaineering or for anything else that's plodding and uncomfortable. She, like the others in the patrol, was just chill, curious, and willing to roll with it all.
On the second day they were at 17 Camp, Jane, Renny, and Dan made it halfway up Pig Hill, the last big push and about 500 feet below the summit. They didn't get to the top, but Jane was OK with that. She's not even 20. Her dad, at the other end of the rope, is 59. With those genes, she's got at least four decades to get back up there.
Eric Frank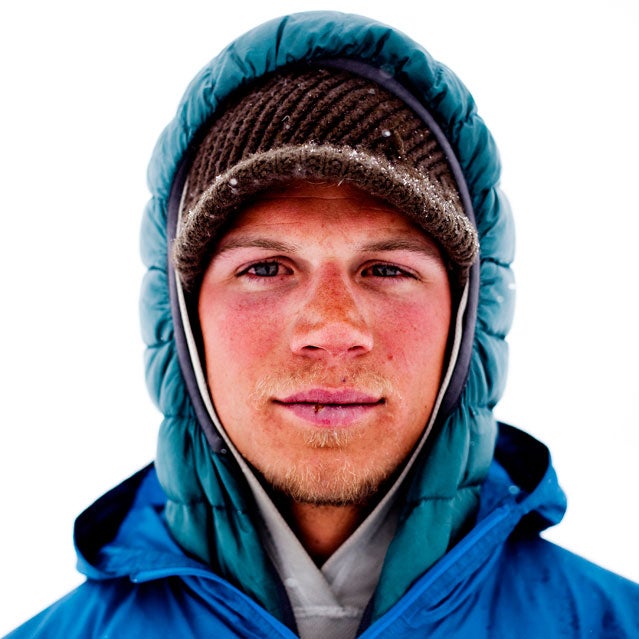 Eric Frank
Eric Frank, 25
Lives in: Washington in summer, car or elsewhere (Las Vegas, Mexico, Patagonia) in winter
Profession: Climbing guide
Favorite part of your work: Sharing what I love with people and the chance to be out in the mountains every day
Least favorite: Having to tell people they're not going to summit when they really want to or seeing the writing on the wall [that they won't summit] before they realize it
What do you like to do in your free time: Read a lot, play guitar, surf, cook
If you could travel anywhere: Morrocco. I was supposed to go a couple years ago. There was a state warning, but we were gonna go anyway. We were stand-by. Then there were two American shootings, so we went to Nicaragua and Costa Rica instead.
If you could write a book: Dirtbag Guide to Camping in the Western U.S. Secret bivy locations or a memoir of living in a vehicle for many months.
The last meal you ate: Thermos of Americano coffee. No breakfast yet. I try not to get out of the tent before 10 a.m. It's cold. Last night we had freeze-dried beef teriyaki.
Are you religious: Yeah, I'd call myself Christian.
Any regrets: No. Living this life always weighs on your mind when you look at your peers and see that they've achieved the normal standards of the world: family, property, etc.
Trick of the trade: I always have a thermos, and I always have good cheese—Brie, Gouda—for the unexpected bivies. I like the high fat content, and it always tastes good, even up high.
Eric had what seemed to be a typical Denali guide season, a period of about two months with a few stints on the mountain, some with clients and one with a buddy. Between the climbing, Eric would hang out in Talkeetna, a town essentially built for three things: scrounging last-minute climbing gear at Alaska Mountaineering School's shop, buying postcards and eating cinnamon buns and ice cream, and getting rowdy at the Fairview Inn bar, where the clientele ranges from the barely 21, international crew of summer hospitality staffers in designer jeans and skater hats to ragged, ravenous, sunburned, and bearded climbers.
So after a night of Talkeetnanigans, Eric and his climbing partner, Andy, flew back onto Denali for a couple weeks of personal climbing. They had a few routes in mind, with the pinnacle being the Cassin Ridge, a proving ground for hot-shot mountaineers on Denali.
Eric and Andy didn't make it onto the Cassin, as the necessary weather window never materialized. They did get to the summit via the West Rib, and they skied off the Orient Express out of 14 Camp. They also had a semi-epic on nearby Mount Hunter, arguably the world's toughest fourteener. They made it to the summit plateau in two days but got caught in a weather cap and had to descend via the Ramen Couloir, a somewhat heinous episode of melted-out waterfall rappels down a steep headwall where they had to leave a trail of pins and knife blades.
They eventually made it back to Talkeetna and to the Fairview, where, in summer, the lights never go out.
Ang Tshering Lama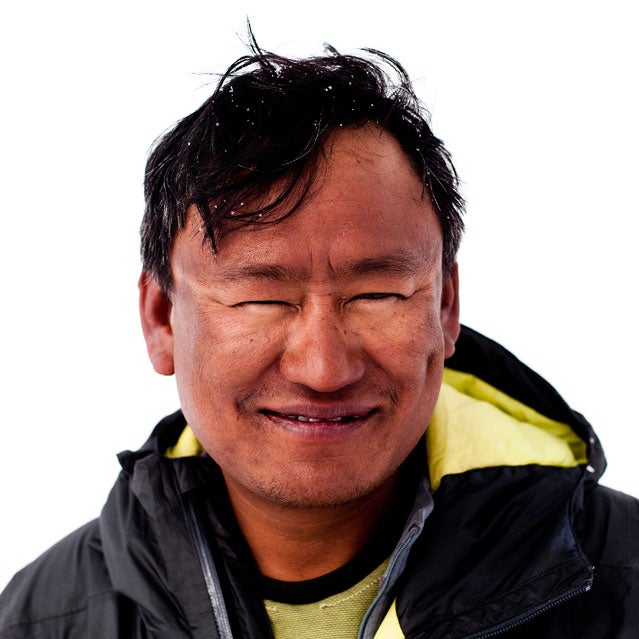 Ang Tshering Lama
Ang Tshering Lama, 39
Lives in: Kathmandu, Nepal
Profession: Guiding, trekking in the mountains
Favorite part of work: Being outside
Least favorite: Whingeing clients
What do you like to do in your free time: Just go out, explore more. Just like to be out all the time.
If you could travel anywhere: Antarctica, New Zealand, Australia
If you could write a book: My autobiography
The last meal you ate: Biscuits and gravy with reindeer sausage. They're good. Too big, though.
Are you religious: Do I look like it?
Trick of the trade: Go light. Have the right attitude. Be positive.
Ang was a volunteer on our patrol. He likes the mountains more than anyone I know. He wanted to stay at 17 Camp for longer than our week patrol time. That is strange—no one wants to be at the cold, hypoxic, freeze-dried-meal-and-frozen-energy-bars 17 Camp for more than a few days.
But if Ang has foot powder, hot sauce (a couple varieties—Latin American and Asian, ideally), fresh garlic and onion, a few nips of whiskey, and boiling-hot water, then he is content.
Ang made it to the mountain thanks to an exchange program set up between Denali National Park and the Khumbu Climbing Center (KCC), a training program begun by various climbers with a mission to train Nepalese Sherpas to be more proficient climbers and guides. The long-term hope is that technical expertise will render them safer on the mountain and open the door for them to start their own trekking and guiding businesses.
Ang has operated Angs Himalayan Adventures for years. He leads treks throughout his homeland, and he's taken advantage of as many training and exchange programs available. He instructs fellow Nepalese at KCC, where he met Brandon Latham, our patrol's ranger. Four years ago, Latham created the exchange program between KCC and Denali. Latham wanted the Nepalese mountaineers to experience perhaps the best-managed big mountain in the world. The Park Service presence at and maintenance of the West Buttress route is unparalleled. It's like having a remote ranger station at three camps (base camp, 14 Camp, and 17 Camp) during the crux of the climbing season (May through mid-July). It keeps things clean and, ostensibly, as safe as possible. Without the Park Service this season, for example, there would likely be at least three more deaths, since the Football Field evac coordinated by Ranger Tucker Chenoweth on July 9 likely would not have happened and the men would have perished without a quick escape down.
Ang knows that the best way to clean up the often trashy mountain scene on many of the Himalaya's most beautiful peaks is to learn best practices on other mountains and bring the knowledge back to his and other exchange participants' communities. Word of mouth goes a long way in the Nepalese climbing world, where the guiding and Sherpa profession is one of the best lifestyles available to young adults.
Ang, fortunately, is not afraid to talk. He knew half the people we met, and if he didn't know someone, he'd introduce himself and use a quick web of names to create a tangential connection. Ang works the scene because he loves mountains and leading people into them. He wants to learn how to protect mountains so he can spread that knowledge and ethic in his homeland.
The biggest question for mountaineers is probably "Why go up there?" I don't know, and I didn't ask these people. It could be a number of things: work, fun, ego, completing a sort of puzzle, overcoming something, pure curiosity. I think everyone here knows that when you put yourself in a challenging situation, even with a contrived scenario like reaching a summit, you learn something new.
Trending on Outside Online