This Finger Strength Training Plan Is Your Pathway to Improved Climbing
Professional climber Jonathan Siegrist shares the secrets to building strong hands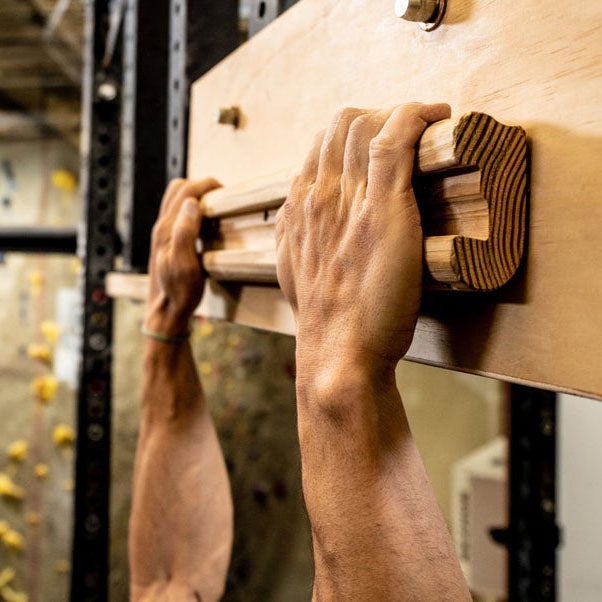 Getty Images
Heading out the door? Read this article on the new Outside+ app available now on iOS devices for members! Download the app.
Climbing harder requires stronger fingers, and developing stronger fingers requires specific training. That's why professional climber Jonathan Siegrist crafted 6 Weeks to Stronger Fingers, a comprehensive training plan aimed at 5.11–5.13 climbers. If you want to climb better and harder, then learn more.
One thing everyone needs to consider when starting a finger-training regimen is injury prevention. Proper form, slow progression, and antagonist drills all help you get the most out of your training while staying injury-free to perform another day. Siegrist spoke with Climbing to discuss possible injuries to beware of while training finger strength, as well as how to prevent and heal from these injuries.
What injuries to the hands and fingers do you typically see in people training finger strength?
The main things to watch for are finger and wrist injuries from overuse. Ideally, when following a finger-strength program, you should be at much lower risk of finger injury compared to just climbing because the workouts should get harder ever so slightly, and you should plan to have plenty of rest [between sessions]. While climbing, we face the risk of a foot slip or a dynamic move that can all of a sudden super-load the fingers.
Watch: Improve your finger strength with Climbing's 6 Weeks to Stronger Fingers online course on Outside Learn
Have you ever been injured specifically while finger-strength training?
Yes, I injured my shoulder while hangboarding because I was using poor form for months and continued to add more and more weight. Thankfully, I have recovered, but the moral of the story is that form is extremely important, as I point out in 6 Weeks to Stronger Fingers.
What other parts of the body are in the most danger when hangboarding and campus boarding?
Primarily the shoulders. Also the elbows when it comes to campusing.
What are some signs that you need to back off from training?
If you don't feel at least 90 percent recovered after your rest day, or you have unusual aches and pains after your sessions, then it's time to back off. The whole idea is to gradually add intensity and then rest well so that the body has time to adapt and, hopefully, avoid injury.
Do weighted hangs increase the risk of injury, and if yes, how so?
Yes, because naturally the strain is greater. For this reason, I only recommend adding weight for climbers with several years of experience as well as an already established foundation of hangboard training.
How long should you wait before resuming training if you've sustained an acute injury? What about with chronic pain?
I'd say you can begin finger training not too long after an acute injury by removing weight instead of adding it, gradually working your way back up to body weight and then beyond. I have used this approach during recovery from little finger tweaks, but of course it should be noted that how quickly one comes back depends on the severity of the injury.
With chronic pain, it really depends on what's causing that pain. In this case, make sure to see a specialist before doing any training to check that it won't worsen with the activity.
What are some of your favorite antagonist drills for preventing finger injuries?
My two favorites are using a simple rubber band or something like a Metolius GripSaver Plus to do oppositional movement with the fingers, and using a simple finger massager after a hard finger-strength or bouldering session to move blood around and ease the aches.
Any other preventive measures you'd recommend?
Drink plenty of water and get sleep! In my experience, resting well between sessions is the best way to prevent injury.
Ready to discover your own dormant capabilities at Outside Learn?
Join Outside+ today
.
Lead Photo: Getty Images
Trending on Outside Online