Four Confirmed Dead in Two Days on Everest
Disaster strikes world's highest peak with only human error to blame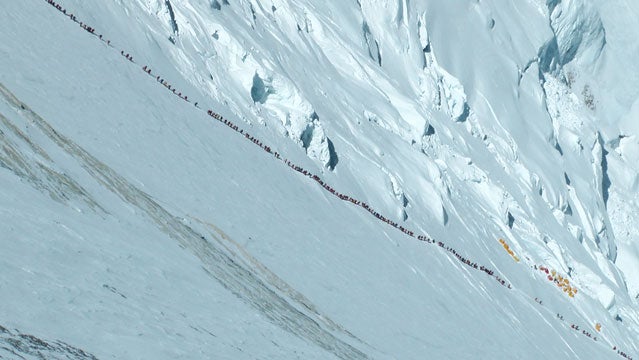 Ralf Dujmovits(Photo)
Heading out the door? Read this article on the new Outside+ app available now on iOS devices for members! Download the app.
"THIS IS THE FIRST TIME I've seen it like this," says Onzchhu Sherpa, 31. Starting on the night of May 18 and going through the 20th, roughly 300 climbers, guides, and Sherpas crowded onto the upper slopes of Everest's Southeast Ridge. From the 19,000-foot shoulder of a neighboring peak, where I was watching, Everest appeared to be lit up like a Christmas tree with the headlamps of climbers converging from the mountain's north and south sides.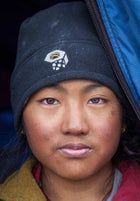 Nima alive and well

Shah's summit photo

Aydin and Nadev
Onzchhu, Dawa Dendi Sherpa, and Temba Sherpa, along with their clients from outfitter Happy Feet had started out from the South Col, at 7,900 meters, at 8:30 p.m. on the 18th. Among their clients was Shriya Shah, a 33-year-old Canadian citizen who was originally from Nepal. Also climbing on the same permit were 16-year-old Nima Chhamzi Sherpa and her father, Dendi, 39, a climbing guide who'd already summited three times. Nima had climbed Lobuche (20,075 feet) the previous autumn, and was now on holiday from school trying to become the youngest woman to climb Everest.
Gradually, Nima and her father drifted ahead, summiting just after noon on May 19th. Despite their relatively late summit time, below them was a long string of other climbers, unwilling to quit. At the South Summit, just before 2 p.m., Nima and Dendi came across Shah, in her red-and-white down suit emblazoned with the Canadian maple leaf. With her were Temba and Dawa Dendi. Nima and Dendi urged Shah to turn back. By that point, she wasn't speaking, but was still signaling aggressively that she wanted to keep going up. Temba and Dawa Dendi had already been urging her to turn around. As Dawa Dendi and Onzchhu later recalled for me when I spoke to them earlier this afternoon at Happy Feet's camp, she'd repeatedly told Temba and Dawa Dendi, "No, I have to go; I have to go."
The two groups parted ways. Nima and her father headed down, while Shah and her Sherpas continued up and, according to Dawa Dendi, made the summit sometime after 2:30 p.m. on the 19th. By 9:30 p.m., they'd descended to the Balcony—where the route first hits the edge of the Southeast Ridge—at which point Shah's last oxygen bottle ran out, and she began to falter. She'd consumed nine bottles over the course of her climb, according to Happy Feet's Base Camp manager, Rishi Raj Kandel.
Temba and Dawa Dendi rigged up a rescue rope and attempted to lower her down the Triangular Face, the last major slope before descending climbers reach the safety of Camp IV, at 7,900 meters on the South Col. But at 10 p.m, still with climbers behind her, she collapsed a few meters away from the body of guide Scott Fischer, who died during the Everest 1996 disaster. Her Sherpas couldn't revive her. Dawa Dendi took the camera from Shah's pocket—the same one she'd used to record her summit photos only hours before. The following day, he returned and photographed her body. Only a few eerie frames separate the triumphant summit photos and the crumpled figure draped in a Canadian flag.
UNFORTUNATELY, SHAH'S WASN'T the only death on the mountain. In all, over the course of the last several days, four climbers, possibly five, have died. Chinese Ha Wenyi, 55, who was climbing with Mountain Experience was found dead just below Shah on the Triangular face. German doctor Eberhard Schaaf, climbing with Asian Trekking, likely succumbed to high-altitude cerebral edema and died between the Hillary Step and South Summit. Both their bodies, along with Shah's, have been roughly identified based on the colors of their suits, boots, and packs.
Then there's the still unraveling case of Korean Song Wonbin. On May 19th, the 45-year-old from the Seoul National University team became combative and disoriented (eating snow). According to several credible reports, he likely fell over the edge of the mountain. Song was apparently wearing an orange suit, but no one I've talked to has yet to confirm an orange-suited body has been located. Instead, there appears to be a dead, and as-of-yet-unidentified climber in a yellow suit. Even more confounding is the fact that no climbing team here is currently missing a team member or employee. (It's possible that the climber in the yellow suit was attempting to climb Everest on his own, and was not a part of any team; given the condition of the body, it's highly unlikely that the climber died during a previous year.) As to whether or not the yellow-suited body could be the body of Song, I'm still not sure. Several sources I spoke with are pretty convinced that this isn't a case of mistaken climbing suit color, i.e. the suit is definitely yellow and not orange.
At this point, until Song's body is located, and/or the climber in the yellow suit is positively identified, we still don't know if four or five people climbers have died over the course of the past several days. (A Czech climber also died earlier today, the 21st, high on neighboring peak, Lhotse.)
What I can tell you is that the mood at Base Camp has been overridingly gloomy since the news of the mishaps first began trickling down the mountain. On the 19th the air may have been filled with the customary bell ringing that that signifies a team member has just radioed in from the summit, but later in the evening I heard loud sobs coming from the direction of the Korean camp. Even now, two days after the chaotic events, the details are foggy. That's because of inherently poor communications and the fact that many climbers are so exhausted and woozy from their efforts at altitude that they have a hard time even remembering what happened during their own climbs, let alone those of their teammates and strangers. With radio communications further hampered by geology and an endless stream of information that's difficult to verify, it would be easier to report on a moon landing.
Not surprisingly, initial reports on the mishaps, rushed to the Web by climbers and bloggers alike, have been all over the map. The most troubling of these counted 16-year-old Nima Chhamzi, now the youngest woman ever to summit Everest, among the dead. "There were just bad rumors," she says.
Earlier today, I visited each of the teams that lost climbers and confirmed the names of those involved in the incidents, either with their team members or straight from permit documents. (The one name I wasn't able to confirm was that of Temba Sherpa; I was told his name was Pemba, but his outfit's website lists him as Temba.) The scene here over the last couple of days has resembled the aftermath of a battle, with the walking wounded literally collapsing into the Everest ER tent. All told, there have been seven helicopter rescues at Camp II, including one this morning for an International Mountain Guides client with a badly frostbitten foot. Today alone, helicopters made roughly two dozen sorties to Base Camp, retrieving both injured climbers and those who'd finished and were simply taking the speediest way home.
INEVITABLY, THESE DEATHS will draw comparisons to the disaster in 1996, which claimed eight lives and led to Jon Krakauer's book Into Thin Air and Anatoli Boukreev's The Climb. But this event is different—mostly because there's no freak storm upon which to blame the deaths. The forecast from Swiss meteorology service Meteotest predicted winds of 10–30km/hr on the 18th, rising to 40km/h on the 20th—by all accounts mild enough weather to try and take clients to the top. On the morning of the 19th, as I was heading back to Base Camp, I passed Rainier Mountaineering guide and 13-time summiter Dave Hahn, who was bristling at a recent New York Times editorial by professional climber, mountain guide, and author Freddie Wilkinson that suggested that, given the rising number of people on the mountain and the fact many of them "are increasingly estranged from the decision-making process," going home was the smartest thing to do. "These are normal summit conditions," said Hahn. At the time, we were both unaware of the events unfolding higher up.
Over the course of the following days, several experienced guides I spoke with all agreed that the recent deaths resulted from simple, collective disorganization and maybe a little bit of bad luck. The summit window was good—though winds were stronger than 40km/h on the 20th—but it was small. And lots of climbers, some 300 or so, who had been anxiously waiting for such a window, rushed in. Adding to the over-crowding was a delay. Many outfitters like to wait to launch their summit bid until lines have been fixed all the way to the summit. And even though the weather had already cleared, Sherpas weren't able to finish stringing ropes to the very top until midday on the 18th.
In an unusual move, International Mountain Guides and Alpine Ascents International—two of the biggest and most respected outfitters—made their summit bids in the first window, IMG on 19th and AAI on the 20th. "I never summited in the first wave when I was leading those trips," says David Morton, a former AAI guide. Many other major outfitters, including Adventure Consultants, Jagged Globe, and portions of IMG, opted to descend rather than fight the crowds and deteriorating weather. Others, like Patagonian Brothers Expeditions, preemptively decided to hold back and wait for the next weather window, which is currently being predicted for around the 25th of May.
Still, there were more people attempting to summit than anybody can remember. And with so many people using the same rope lines, the result was a giant traffic jam. But rather than turn around, lots of people pushed on, summiting late into the afternoon.
For critics who don't think Everest should be guided, or think that supplemental oxygen should be banned on the mountain, the events of the past days will be well-seasoned red meat.
At the Happy Feet camp, manager Rishi Kandel tears up when remembering Shriya Shah. "I met her mother in Kathmandu," he says. "I told her I would keep her daughter safe. What can I tell her mother? What can I tell her sister?"
A FEW HOURS LATER, I came across a couple of climbers still clad in their 8,000-meter gear, waiting near the helipad. It turned out to be Aydin Irmak, the Turkish New Yorker who'd wanted to carry his steel bicycle to the summit. With him was his Israeli teammate, Nadev, both of them climbing with Nepalese outfitter Thamserku.
Contrary to what I'd reported earlier, Irmak, who'd never climbed before, was allowed to return to the mountain but had to leave his bike downvally in Namche Bazaar. Still, he summited. According to Irmak, his Sherpa, for reasons he didn't elaborate on, hadn't wanted to go up, so he grabbed three oxygen bottles and went alone.
On the way down, he stopped at The Balcony. The next thing he remembers is Nadev, who began his summit bid some time after Irmak's, shouting "Aydin, brother!" at him.
Apparently determining that Irmak could use some assistance, Nadev decided to give up his summit bid in order to help Irmak down. Nadev had hoped to become the youngest Israeli to summit, but now he was wondering if he'd notched a different first, and just performed the highest rescue ever. When he asked me as much, I informed him that it was not likely, as somebody has doubtlessly been helped down from the summit.
Either way, they both just appeared relieved and exhausted, their hands blistered with frostbite and God-knows-what on their feet still crammed into heavy boots.
"You made a great bridge between the Turkish and the Israeli people," Irmak tells his friend. "We can share the same hospital room."
"We will share the same room," says Nadev.
"No snoring, man"
And then, with a rush of air and lost baseball caps, and before I could verify the correct spelling of Nadev's name, the red-and-white Eurocopter B3 swooped in and whisked them away.
Update: It appears as if the confusion over the identity of the yellow-suited climber will soon be resolved. This afternoon, Korean expedition leader Park Gye-hoon explained to me in broken English that his teammate Song Won-bin was, contrary to previous reports, wearing a yellow and orange suit. Park is confident enough that the body in question, the as-of-yet-unidentified yellow-suited body, is in fact Song's, that he plans to send six Sherpas and one team member up to the location tomorrow to attempt to bring him down. Additionally, the teammates of Shriya Shah are planning to recover her body from the Triangular Face, above the South Col, in the coming days.
Clarifications/Corrections:
While several of Adventure Consultants' clients turned back from the South Col, the majority went on to make summit bids on May 19th without serious incident.
The correct name of the Korean expedition—of which one member, Song Won-bin , died on May 19—is the Korea Chungnam High School Everest & Lhotse Expedition. The members are all alumni of the school.
Chinese Wenyi Ha's foreign outfitter, Yang Chun Feng Alpine Adventure, was omitted. His local trekking agent was correctly listed as Mountain Experience.
Reporting only pertains to the south (Nepal) side of the mountain.
Lead Photo: Ralf Dujmovits
Trending on Outside Online