"Give Your Sprinter to a Real Dirtbag!"
Some of these vans have so many gorgeous wood panels and stainless steel fixtures, they make my town house look a little dumpy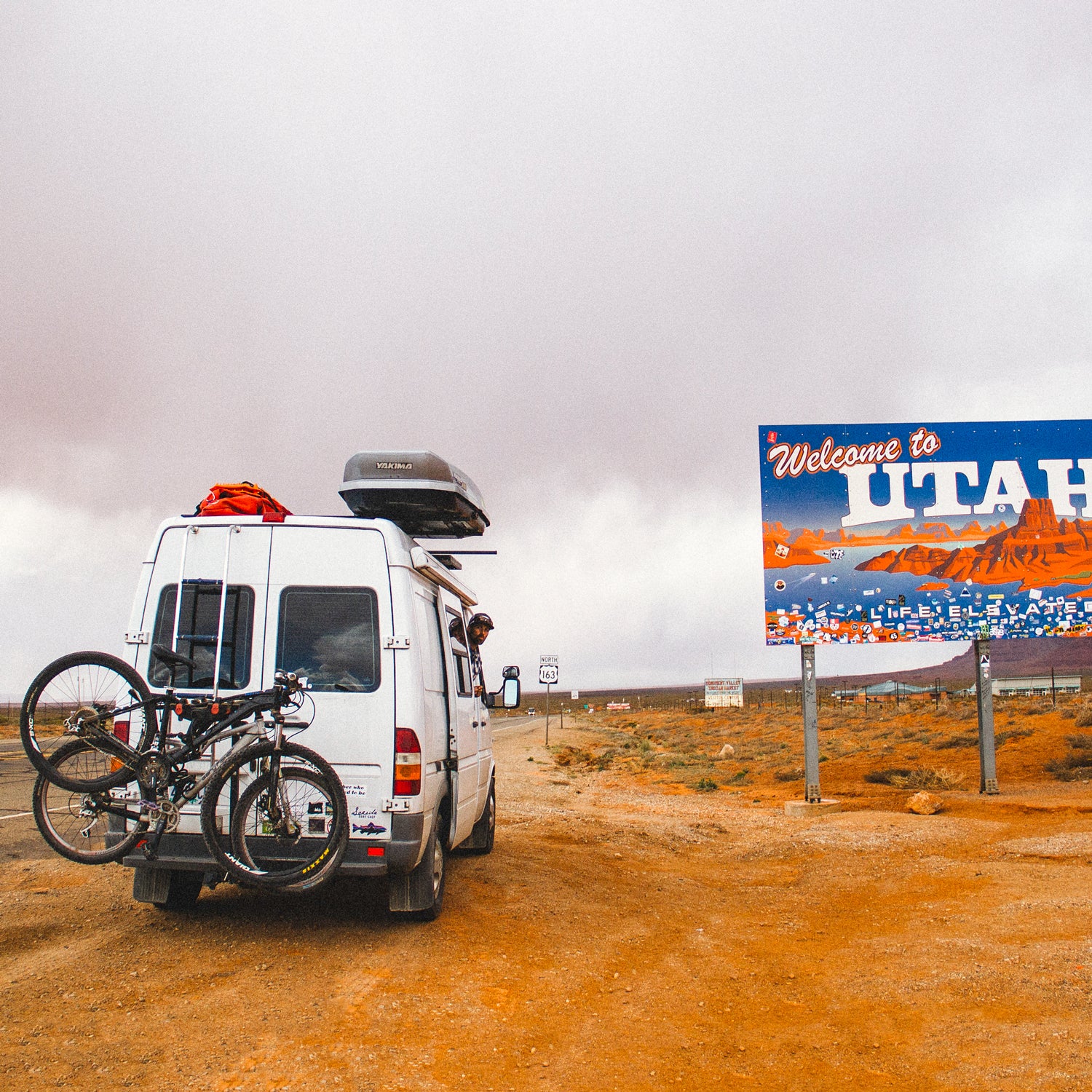 Heading out the door? Read this article on the new Outside+ app available now on iOS devices for members! Download the app.
"There's too goddamn many climbers," I grumble to my wife, Nellie, as we drive up and down Colorado's Rifle Canyon searching desperately for a place to park. The three-hour drive from Boulder has left me a little nauseous and grumpy. "I feel like I'm at a fucking cargo van dealership," I say, as we pass an endless train of 4×4 Sprinters, shiny new Ram ProMasters, and the occasional Ford Transit, each taking up one and a half parking spots in the limited space that Rifle State Park has to offer.
Finally, after 30 minutes of patrolling the canyon, a Sprinter pulls out, leaving plenty of room for my trusty minivan. In fact, by blocking in the passenger side of the adjacent ProMaster, I'm able to leave enough room for another car to park next to me!    
It's a typical peak-season weekend in the beautiful-from-afar—but far from beautiful—limestone canyon that is Rifle. Which means hundreds of weekend #vanlifers from the Front Range to the Western Slope and beyond are here to test their gym-honed tendons on the chossy, blocky overhangs that are, sadly, some of the best sport climbing we have in America. Much like the parking in Rifle, the warm-ups are limited, and we spend a good 30 minutes waiting for our turn to climb on the Meat Wall, home to the greasiest, most polished moderate sport climbs in the world. 
As Nellie and I wait, I marvel at two couples spread out at the base, complete with babies in blinged-out luxury strollers, several dogs, and some comfy-looking camp chairs. It's a far cry from the scrappy dirtbag cragging scenes I grew up with. I eavesdrop on their friendly debate over the pros and cons of the Sprinter versus the ProMaster. It turns out the ProMaster has a square interior and is easier to build out, and maintenance is cheaper and more widely available. I assume—with no small amount of prejudice—that the couples are probably in the tech industry in Boulder and raking in nice six-figure incomes. Having finished their warm-ups, the two couples maneuver back to their massive vans.
"I bet they have separate quarters in there for the housekeeper," I joke.
"You're just jealous that they can stand up in their van," Nellie says.
"We'll see who's laughing when I pass them going 85 on the way back home in my soccer-mom mobile," I tell her.
And it's true: minivans are fast these days! Apparently soccer moms need to get their kids to the game quickly, because my Dodge Grand Caravan hauls some serious ass and handles pretty nicely, too. "Maybe I should go down there and tell them about #MinivanLife," I say.
I have to admit I'm also a bit emotionally attached. I've held steadfast to Big Blue, my trusty minivan for the past five years, as I've watched one friend after the next fall victim to the temptation of the massive tricked-out cargo van. Conversely, the build-out, or lack thereof, in my minivan is simple: I took out the four back seats and put in a mattress.  Nellie, myself, and our two mini dogs, Gus and Bernie, have gotten many a solid night's sleep in the back, and I have privacy inserts for all the windows.
For sure, the build-outs in some of the many vans I've toured over the past few years have been slightly more luxurious than Big Blue. I've seen Sprinters with showers and flat-screen TVs. I've had people offer me fresh-baked cookies from their in-van ovens. Some of these vans have so many gorgeous wood panels and stainless steel fixtures, they make my town house look a little dumpy.   
If wings had popped out the sides and it had gone airborne I wouldn't have been surprised.
It's not that I don't see the attraction. Eight years ago, when I was still living on the road full-time, I definitely couldn't afford a kitted-out cargo van, but it would have made my life a little easier. Tragically, now that I can afford the down payment on a Sprinter, I just don't need it anymore. In fact, not owning a Sprinter has become a point of honor for me, and you can find me at Whole Foods trying to talk my bougie climber friends out of buying them.   
You see, I've always been a bit of a grumpy, hold-out ascetic when it comes to my vehicle. Through most of my extensive dirtbag career in Yosemite and Joshua Tree, I lived out of Silver Lightning, a reliable 1989 Toyota Camry. (May she rest in peace.) Only now that I'm a relatively successful, married, older professional climber have I begrudgingly opted for the comfort of a vehicle I can sleep in.
And since I embarked on #minivanlife, it's been pretty damn glorious. Big Blue has seen me through some epic times, from big walls in Zion to first ascents in Yosemite to my first 100-kilometer flight in my paraglider. Big Blue got me there and gave me a place to sleep, and for that I am grateful. Would a Sprinter have intrinsically changed anything? No. (Also: How much comfort do you really need? I can sit up in Big Blue; do I really need to stand?)
It's not that I blame today's climbers, necessarily—it's just that I think they're getting a little soft. And I see these kitted-out homes-on-wheels as a symptom of that. Everyone wants to boulder and sport climb, but no one wants to run it out above RPs anymore. Everybody wants to go to Rifle for the weekend, but nobody wants to pitch a tent or sleep on a pad. 
After warming up at the Meat Wall, Nellie and I moved to more difficult climbs down the canyon, and, as is the tradition in Rifle, we both got our asses kicked whipping off of our projects. That evening we slept comfortably in Big Blue, climbed the next day, and then headed back to Boulder so that Nellie could get back to work. We ripped along the highway at 15 over the speed limit the whole way home, passing an endless parade of converted utility "climber vans." 
As we pulled into the Boulder city limit, the three-hour drive almost behind us, I saw the mother of all four-wheel-drive Sprinters, decked out with all kinds of after-market racks and add-ons that made the vehicle look like, well, one of the most badass vans I've ever seen. If wings had popped out the sides and it had gone airborne I wouldn't have been surprised.  
We pulled up closer and I looked at the license plate: it read Camp4. I couldn't believe the irony. Camp 4, a walk-in campground in Yosemite, the very emblem of dirtbag culture, plastered onto the license plate of an extremely expensive, borderline-ostentatious camper van almost certainly owned by someone that was as much a dirtbag as Warren Buffet. "Arrrggh!" I screamed, waking Nellie up from her slumber. "Give your Sprinter to a real dirtbag!"
"Honey, Relax," Nellie told me. "It's not that big a deal."    
And she was right. It wasn't a big deal. The poor folks had probably worked really hard for that van, and for all I knew the vehicle was their home. (Though I doubt it.)
As I left the most baller of all baller vans in my rear view, the foam in my mouth receded and my breathing returned to normal, but I had only become more resolute in my anti-Sprinter campaign. I turned to Nellie and started preaching. "When did it become normal for climbers, who have roots in dirtbagging frugality, to drop upwards of $100K on a vehicle?" Nellie smiled at me, realizing, perhaps sadly, that if I could help it, we would never own a Sprinter.
In the last miles home, I started calculating the number of weekends your average climber could spend in a motel right next to the canyon if they didn't spring for the Promaster, and came up with over 700 weekends. So, to the weekend warriors with full-time jobs who are considering buying a Sprinter or the like, I'd like to dissuade you: think of all the money you could save for that trip to Spain, or that nice rack of cams you have been lusting after! And think of the parking spots you'll save in Rifle.
Lead Photo: Ashley Mersereau/Tandem