Giving Everest the Bird
The arrival of high-altitude helicopters on Mount ­Everest and other Nepalese peaks has transformed search-and-­rescue and saved lives. But the choppers have also ­added to the chaos at the top of the world—and introduced a deadly new brand of danger.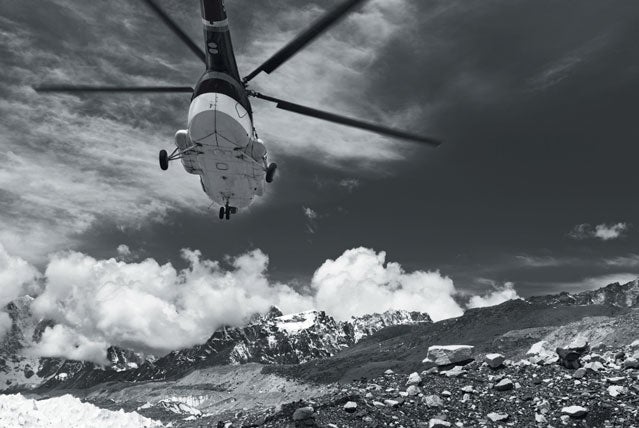 Peter McBride
Heading out the door? Read this article on the new Outside+ app available now on iOS devices for members! Download the app.
EARLY ON NOVEMBER 7, 2010, Sabin Basnyat, 34, one of Nepal's most skilled helicopter pilots, lifted off in a Eurocopter AS350 B3 from the small airport in Lukla. Two climbers were stranded high on the north ridge of Ama Dablam, a 22,494-foot peak about 12 miles southeast of Mount Everest, and Basnyat had been dispatched to rescue them. 
Surviving Everest
Take a look
at where things go wrong on Everest and the support systems in place when they do.
Technical Everest rescue

A technical rescue on Everest in 2006
Khumbu Icefall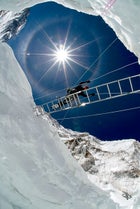 Crossing a crevasse in the Khumbu Icefall
Everest helicopter rescue

Transporting injured climbers from Everest Base Camp
Khumbu Icefall at night

Ascending the Khumbu Icefall by headlamp
Denali rescue

A rescue on Alaska's Denali, where ground teams are backed up by a helicopter
It was a good morning to fly—light winds, clear skies—and Basnyat and his mountain paramedic, Purna Awale, both employees of Kathmandu-based Fishtail Air, one of Nepal's largest private helicopter companies, rose toward the sawtooth skyline. The professional climbers, a German named David Gottler and his Japanese teammate, Kazuya Hiraide, had been attempting a new route on the mountain's steep north face, intending to cross the summit and make a quick descent of the more traditional, and easier, southwest ridge. But upon reaching the north ridge, at 19,000 feet, they discovered that it was studded with giant mushroom-shaped formations of snow and ice, blocking their progress. The climbers had brought minimal gear, and retreating back down the north face was impossible. Recently, Gottler had heard of Himalayan climbers being rescued by helicopters at extraordinary heights, and because cell phones now worked quite well throughout the Khumbu, the region surrounding Everest, he was able to call his expedition outfitter and arrange an airlift for the next morning. 
By 9 A.M., Basnyat was guiding the B3 steadily toward the two men in their frozen bird's nest. Because the air at 19,000 feet is so thin, requiring deft piloting skills to maneuver a helicopter, Basnyat inched in slowly, the landing runners nearly touching the snow. At this altitude, he and Awale could carry only one passenger; the climbers had done schnick-schnack-schnuck, or rock-paper-scissors, and Gottler had won. Once Awale helped him aboard, the B3 swooped down to the nearby village of Chukhung, deposited the German, and then took off again to retrieve his partner. 
Gottler could see the ridge from where he'd been dropped, and he filmed as the helicopter returned to fetch Hiraide. Basnyat approached as he had before, from the east, arcing slowly up toward the ridge until he was only a few feet from where Hiraide waited. The B3 was just above the climber's head when Hiraide heard a loud report and was suddenly showered with snow and ice.
Basnyat had clipped the ridge with the chopper's main rotor. In a flash, the blade disintegrated. Miraculously, Hiraide was unscathed, but he watched in horror as the machine shuddered and rocked to one side before plunging down the mountain. The chassis ricocheted off the massive rock wall several times, then came to rest nearly 5,000 feet below. By the time a second rescue team reached the scene later that day, they found Basnyat and Awale dead. Hiraide spent another night on the ridge, and Fishtail rescued him the next morning with another B3.
THE TRAGEDY STUNNED the Himalayan climbing community. Ever since the infamous 1996 Everest disaster, which left eight climbers dead in a single day, mountaineering accidents had prompted tough questions about risk and responsibility on the world's highest peaks. This time, however, the reaction was intensified by the fact that the deaths were caused by the very machine that is supposed to be saving lives. By most accounts, efforts to improve safety in the Himalayas, and on Everest in particular, have improved measurably over the past 15 years. On Everest, where several hundred climbers go for the summit each year, fixed lines are stitched nearly the length of the route; a seasonal emergency clinic has been established at Base Camp; training and equipment for Sherpas, Nepal's indigenous mountain workforce, have improved dramatically; and commercial operators, climbers, and guides now communicate—and cooperate—better than ever. 
With the growing use of B3 helicopters—light, powerful aircraft designed to operate at up to 23,000 feet—both search-and-rescue and commercialization in the region are taking another large, if lurching, step forward. B3s have been a fixture for decades in other mountain destinations, especially the Alps, where they have saved hundreds of lives. But in Nepal, B3s had until recently seen limited use, including a 2005 stunt flight in which a French pilot landed a stripped-down model on Everest's summit. Over the past several years, Fishtail Air, in partnership with venerable Swiss helicopter company Air Zermatt, has deployed a small fleet of the machines to complete hundreds of successful evacuations in the country, including the 2010 rescue of a three-person Spanish team from 23,000 feet on Annapurna, the highest heli rescue in history, and the plucking of injured American climber Cleo Weidlich from 20,997 feet on Kanchenjunga last May.
But as the incident on Ama Dablam illustrates, the helicopters have also introduced a frightening new dimension of risk. Extreme altitude plus the unpredictable and sometimes violent weather of the Himalayas exacerbates even the smallest pilot errors. Nepal has a grim civil-aviation history: at least five helicopters have wrecked in the mountains since 1997 (none were B3s), and a 2009 report details 43 fixed-wing and helicopter accidents since 1990, resulting in 338 deaths. One recent analysis, by a group called Initiative for Aviation Safety, in Nepal, places a good deal of blame on the country's airline companies, which have displayed "rampant disregard for rules and regulations."
At Everest Base Camp, two helipads sit within a few hundred feet of expedition campsites, and the frequent landings can make climbers uneasy. "The danger isn't so much the propeller downwash," says veteran Everest guide Dave Hahn. "It's that, if there's a crash, we're all living in fabric structures inside the kill zone." 
Others worry that the presence of the B3s alters expedition decision making and encourages climbers to push beyond their limits. Though Gottler is adamant that the ability to call in a helicopter didn't affect his and Hiraide's decisions on Ama Dablam, the expanding safety net is inherently changing mountaineering in the Himalayas. "The old-school thing was, you were self-sufficient," says alpinist Conrad Anker, 49, who has summited Everest twice. "If an accident did happen, you would have the wherewithal to extract yourself and your teammates."
There's evidence that helicopters in Nepal are increasingly being deployed in questionable circumstances. Because the aircraft are so expensive—a B3 runs $2 million, not including pilot training and maintenance—Fishtail and the three other helicopter companies in the country have to contract as many flights as possible to make a profit. This carries some distinct benefits for the region, such as government-subsidized sorties to ferry building materials for schools and hospitals and airlifting sick Nepalis from remote villages. Meanwhile, to attract private business, the helicopter companies offer kickbacks to outfitters that call in flights—as much as 10 percent on services that can run $2,500 an hour. The result is that climbing and trekking agencies are highly motivated to encourage any client with a headache or a hangnail to catch a lift out of the mountains, provided they're sufficiently insured or flush enough to pay out of pocket. One Everest veteran complained to me about the 2011 evacuation of a climber above the Khumbu Icefall even though he could still walk. 
At the peak of the spring season, there are now often three or four daily flights from Everest Base Camp. (At 17,600 feet, it's within reach of many chopper models.) Flightseeing is also a growing business in the region. Reports have even surfaced of climbers completing their acclimatization outings, then helicoptering to Kathmandu to recuperate in comfortable hotels before flying back to Base Camp to begin their summit attempt.
"These kinds of things are definitely happening," concedes Eric Simonson, co-owner of International Mountain Guides, a longtime Everest outfitter. "But they're rare. And if helicopters on Everest mean I don't have to put 10 or 12 people in the icefall to carry someone down, that's a huge benefit."
Russell Brice, owner of Himalayan Experience, one of the largest outfitters on the mountain, echoes that sentiment. The B3s "can get in and out quickly, and they are proving to be reliable," says Brice, whose Sherpas and guides have participated in a number of rescue efforts in recent years. "They're going to be more and more prevalent." 
With helicopters becoming a fixture in the Himalayas, the question becomes: What will this mean for climbing and trekking among the greatest mountains on earth? 
"It's good that helicopters are here," says Luanne Freer, a physician from Bozeman, Montana, who founded and runs Everest ER, an independent medical clinic at Base Camp. "But right now it's a free-for-all." 
MOUNTAIN RESCUES in the Himalayas have always been ad hoc affairs. Despite improvements in technology and communication, there is still no 911 in Nepal, no professional search-and-rescue team, no government agency standing by to help. Climbers and trekkers rely on outfitters, teammates, and the kindness of strangers when trouble strikes. Until recently, helicopters were a last resort, used most famously in the 1996 evacuation of Beck Weathers and Makalu Gau from a then record 19,800 feet on Everest. 
It was a climber in similarly desperate circumstances who would change things. In 2005, the storied Slovenian alpinist Tomaz Humar found himself pinned down by an avalanche at 19,680 feet on the Rupal Face, a daunting slab of rock and ice on Pakistan's 26,660-foot Nanga Parbat. By then, Humar was a national hero, and his predicament became an international incident, eventually prompting the Slovenian embassy to contact Air Zermatt, which had been conducting rescue and transport missions in the Alps since 1968. The company was running a heli-skiing operation in the Himalayas and dispatched its best high-altitude pilot, Gerold Biner, to Nanga Parbat. But by the time he arrived, the Pakistani military had already plucked Humar off the wall, using a French chopper called a Lama. The mission nearly killed everyone involved: Humar was still anchored to the rock when the Lama attempted to fly away.
Four years later, in November 2009, Humar was climbing solo on 23,711-foot Langtang Lirung, in Nepal, when he fell and broke his leg. Again the embassy contacted Air Zermatt, but before the Swiss could respond, Humar died. The incident spurred Air Zermatt to invite the owners and pilots from Fishtail Air, whose three B3s were then the only ones owned by a Nepalese company, to Switzerland to teach them short-haul (sometimes called long-line) rescues—an operation that involves delivering a rescuer to a site via a cable attached to the bottom of the aircraft. The following summer, in 2010, Biner and several Air Zermatt pilots traveled to Nepal to conduct training missions in the Himalayas. The first few months of the project, paid for by Zermatt, went well; the Nepalis were quick learners, though they had yet to conduct a short-haul rescue at altitude on their own. Then came the disaster on Ama Dablam.
"This mission came at the wrong moment," says Biner. "Sabin and Purna had lined out the short haul, but we asked them not to use it because they didn't have the proper communication equipment yet. So they tried to carry out the rescue the conventional way, by doing a partial hover very close to the cliff."
The accident nearly brought an abrupt halt to high-altitude heli training in Nepal. Fishtail had lost its top pilot, a skilled paramedic, and a very expensive aircraft. "We thought it was the end of the project," says Biner. Instead, Fishtail stuck with the program soon after welcoming back the services of a volunteer who'd left in the wake of the tragedy: Simone Moro, a celebrated Italian alpinist and certified mountain pilot who'd recently made the first winter ascent of Pakistan's 26,360-foot Gasherbrum II. "The Nepali pilots are good, but I have more experience in the mountains," says Moro, who has flown 1,000 hours in the past two and a half years. "I'm not scared by the vertical perspective."
Air Zermatt also returned to Nepal last spring, this time to initiate a training program, open to any qualified Nepali pilots, that—if the company can find sponsors—will last until 2016. 
EVEN A STUD ITALIAN piloting the best helicopter can't save everyone—especially in the Himalayas. When conditions don't allow for airlifts, you need ground forces. Thus, for the past few years, Luanne Freer, from Everest ER, and David Weber, a U.S. National Park Service climbing ranger on Denali, have been collaborating to create a team of trained Sherpa rangers on Everest.
"Helis are great, but they aren't a silver bullet," says Weber. "You need people on the ground to stabilize patients and get them to a landing zone when conditions aren't ideal."
Weber believes a model like the one used on Denali—a stand-by helicopter supported by rangers rotating between high camps—is more realistic on Everest than, say, the European system, in which extremely skilled pilots regularly pluck injured climbers, skiers, and hikers from Alpine peaks. Since 2009, Weber has been bringing Sherpas to Alaska in the summer to teach them the Denali approach. This year he has four Sherpas with technical rescue skills ready to go on Everest. That's a big caveat where Everest is concerned. Most outfitters are reluctant to pay for backup, given that guides and Sherpas have pulled off plenty of heroic rescues over the years. "It's a good idea," says Brice about the Everest rangers. "But it's pie in the sky. We've done a pretty good job managing rescues on our own."
Still, as Weber points out, the current we've-got-each-other's-backs approach places paying clients at risk. It can also add large costs to expedition teams in the form of bottled oxygen and manpower (Sherpas who help often expect to be paid), and some scenarios demand expertise that many guides don't have. Freer says she's still haunted by a few unsuccessful rescue attempts, particularly one from 2005, when a Sherpa named Karma came down with appendicitis while at Camp IV. By the time he'd descended to Camp II, he couldn't walk. 
Volunteers "improvised a stretcher and started down," she wrote in an e-mail. "It took days to get him through the icefall. It was agonizing how slowly they went. They were within sight of Base Camp when we got the final call on the radio: no pulse, no respiration. A 23-year-old Sherpa with his life in front of him—dead from appendicitis because they couldn't get him down to us in time." Of the 19 deaths on Everest's south side since the clinic opened, Freer believes that at least a quarter of them could have been prevented, especially if a ground team had been available when a helicopter evacuation wasn't feasible.
"We need trained professionals here, and we need a system that supports them," says Freer, who faced considerable skepticism when she started Everest ER in 2003. Today, Western climbers are asked to contribute a $75 fee to support the clinic, which has become a hub of activity on the mountain. "I've always seen it as a collaborative effort, with involvement from the outfitters, the climbers, and the Nepalese government."
WHILE THAT KIND of cohesion may be years off, the aerial invasion is well under way. With 25 helicopters now operating in Nepal, the thwapping of rotors is becoming one of the landscape's most familiar characteristics. As the three companies that vie with Fishtail for lucrative rescue flights procure their own B3s, the stage will be set for a high-stakes competition to dominate the market, increasing the chances of another deadly accident. 
Fortunately, several smart proposals to control the skies are up for discussion, including shifting all nonemergency helicopter flights downvalley from Everest Base Camp, to a dedicated heliport in Gorek Shep or Lobuche. Another notion gathering support is to require flightseeing pilots to maintain minimum altitudes, as they do in U.S. national parks, to control noise. 
Meanwhile, the modernization of mountain rescue in the country is marching forward. Weber says he has private funding in place to debut the Sherpa rangers this season, though it's unclear how they'll coordinate with helicopter evacuations. Gerold Biner has been urging Nepal's Ministry of Aviation to establish clear protocols for high-altitude rescue missions, including a checklist that would assess risk factors and, ideally, prevent tragedies like the one on Ama Dablam. 
When I asked David Gottler, the German climber who was rescued in 2010, how he felt in light of the accident, he said that he still believes helicopters are a good thing for the region. Still, it comes at a cost, including more accidents until a better management system can be sorted out. The Everest region is flying into the future, but as veterans of the diverse international community who arrive there each spring will tell you, it's still a frontier where self-regulation governs the land. Turbulence should be expected.