Behind the Scenes of Emily Harrington's Historic Climb
After years of effort, the 34-year-old climber motored up El Cap's Golden Gate route and now joins the ranks of Alex Honnold, Tommy Caldwell, and Lynn Hill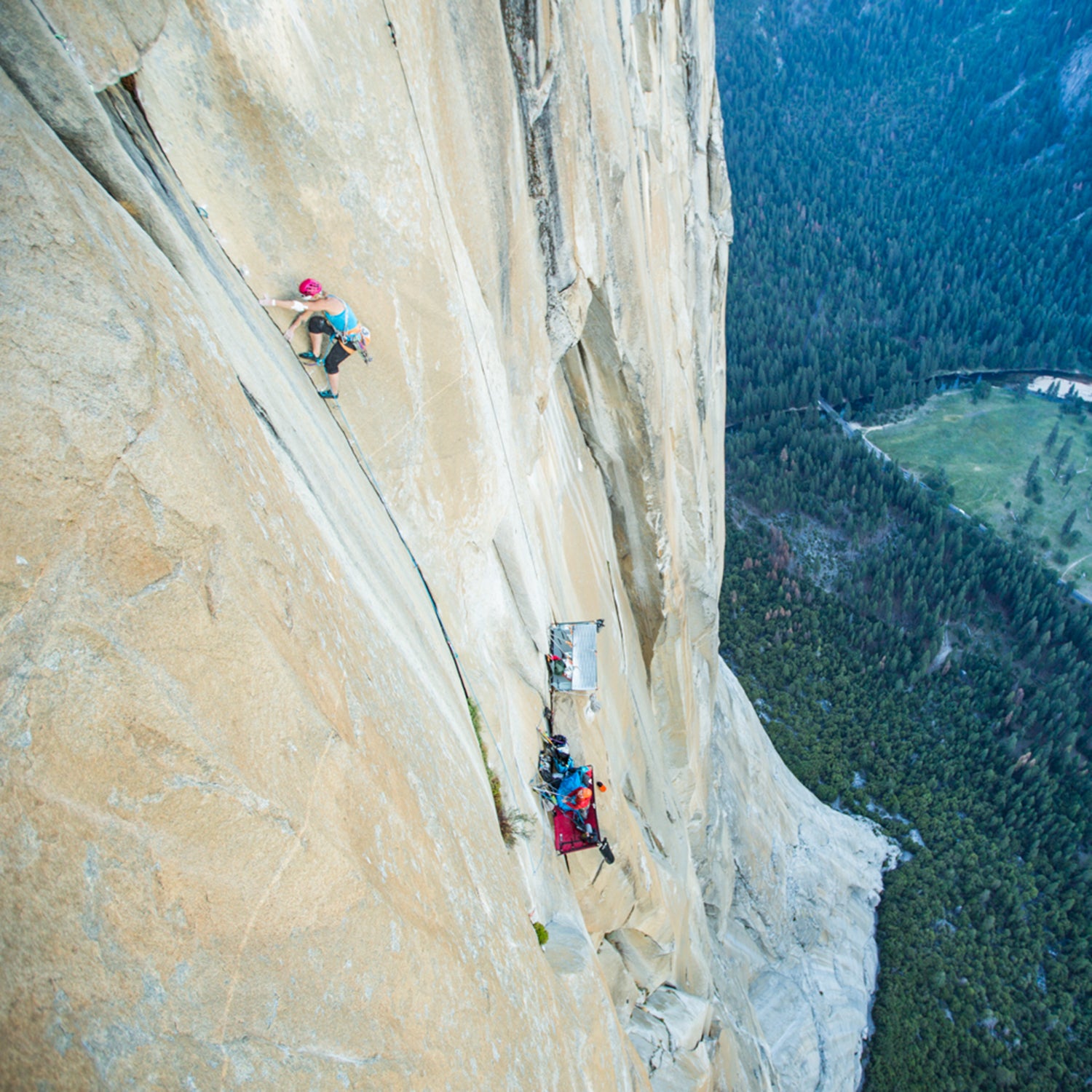 Heading out the door? Read this article on the new Outside+ app available now on iOS devices for members! Download the app.
On election night, while most Americans were doom-scrolling social media into the wee hours, climber Emily Harrington was feeling optimistic while racking up at the base of El Capitan in Yosemite National Park. At 1:34 A.M., she began her free climb of the route Golden Gate, hoping to complete the entire thing in a day. 
"I knew I was so ready," says Harrington, who lives in Tahoe City, California. "But I also knew I'd need a little luck as well."
Over the course of the next 21 hours, 13 minutes, and 51 seconds, Harrington motored up the 3,000-foot line, becoming the first woman to achieve this feat, as well as only the fourth woman ever to free-climb El Capitan in a day, on any route. (In 1994, Lynn Hill became the first person to free-climb the Nose in under 24 hours. Steph Davis and Mayan Smith-Gobat have each climbed Freerider, in 2004 and 2011, respectively, in a day.) 
For Harrington, sending Golden Gate in a day, however, did not come easy or without risk. On one of the route's most difficult sections, the Golden Desert pitch, her foot slipped unexpectedly and she took a sideways fall, hitting her head on a protruding crystal of rock and puncturing her forehead.
"It looked like a gunshot wound. Blood was spurting everywhere," she says. "I thought, Oh no, this is it. It's over."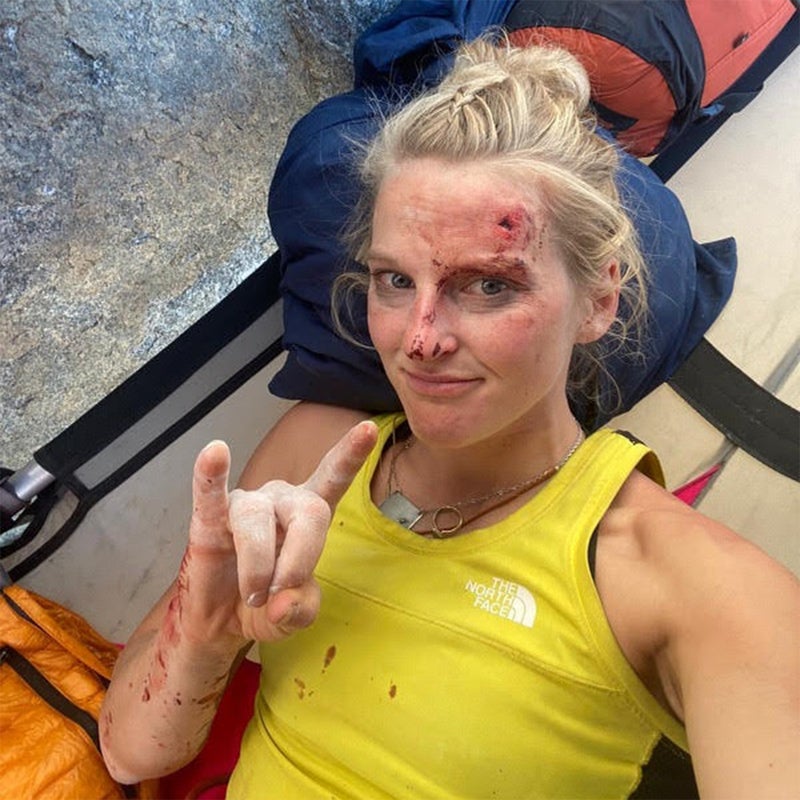 She promptly lowered to the belay anchor, where her partner, Adrian Ballinger ("A.B."), a renowned Mount Everest guide, checked her vitals. After cleaning up the blood and applying a bandage, he determined she was physically OK. The fall, however, really shook Harrington.
"I was ready to give up," she says. "Emotionally, I was blasted. But A.B. said, 'You should try again.'"
Free-climbing a big wall such as El Capitan demands that a climber ascend each pitch in succession, without any falls. As opposed to free soloing, free climbing permits the use of a rope and gear. If a fall occurs, the climber may begin again at the start of the pitch and try once more for it to be considered a success. Golden Gate, with a difficulty rating of 5.13b, contains 41 pitches total, with the toughest ones awaiting in the final ten, which is partly what makes the route such a demanding one to free-climb within 24 hours. In fact, only three other people have succeeded on Golden Gate in a day: Tommy Caldwell, Alex Honnold, and the late Brad Gobright.
A five-time national sport-climbing champion, Harrington's accomplishments span the gamut of disciplines. She's made multiple significant 5.14 first-female ascents of sport routes, free-climbed some of the hardest big walls in the world, won titles at elite competitions, and proved herself in the realm of high-altitude mountaineering, with summits of Everest and Cho Oyu. 
"Emily has always been one of the most versatile climbers," says Honnold, who belayed and climbed with Harrington on the initial 2,000 feet of Golden Gate before being relieved of belay duty by Ballinger, Harrington's fiancé. "By free-climbing Golden Gate in a day, Em has once again shown that she's one of the most capable climbers out there."
This isn't the first time Golden Gate has drawn blood from Harrington. In November 2019, she attempted the route twice. The first time, with Honnold, she ran out of gas on the upper crux pitches. She returned two weeks later, again with Honnold, but took a terrible fall on the first pitch, which ultimately sent her to the hospital with a severe rope burn across her neck. That fall could've been much worse, however, as Harrington and Honnold were employing a risky, if common, speed-climbing tactic called simul climbing. When Harrington fell, there was a healthy loop of slack in the rope. Somehow Honnold managed to stop her fall by grabbing onto the whizzing rope with his bare hands.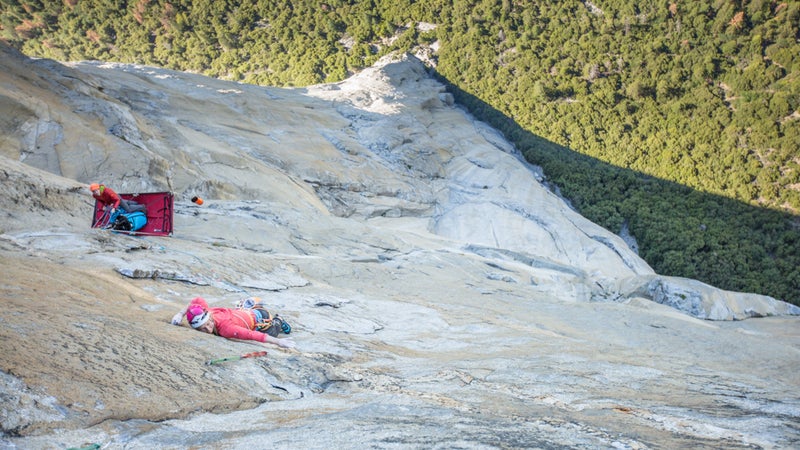 "I've gotten so much shit for not wearing a helmet, mostly from men, even though I wear one 95 percent of the time," says Harrington, who required stitches for the puncture wound on her forehead after this week's fall. "But this is the reality of climbing at your limit—sometimes you can't wear a helmet, because it makes the climbing that much harder. You have to choose your level of risk and accept the consequences. I made that decision consciously, and I would make it again."
One pitch where a helmet makes the climbing more difficult is the Monster Offwidth, whose true difficulty is belied by its 5.11 rating. The Monster is especially hard for shorter climbers like Harrington, who is five foot two, because it's more difficult to gain purchase on either side of the wide crack. When Harrington first tried the 100-foot pitch, it took her two and a half hours to ascend. 
This week, Harrington came up with a slick solution to climbing the Monster: she wore Alex Honnold's climbing shoes over her own.
"I was wearing two pairs of La Sportiva TC Pros," she says. "My shoes and Alex's shoes on top of mine. This made it possible for me to climb the Monster like everyone else and not be so blasted by the top."
It was, to say the least, an unconventional tactic. But Harrington credits it with saving her energy for the upper crux pitches and ultimately helping her succeed in free-climbing the route in a day.
"As a kid, I was focused on comps and sport climbing, and I didn't have much drive for this style," says Harrington. "Just recently, I began to realize this is the epitome of what I love about climbing. So many things can go wrong, there's so much uncertainty. But it all paid off yesterday. It was one of those days I'll never forget."
Lead Photo: Jon Glassberg/Louder Than 11