How an Indiana Church Became a Rock-Climbing Gym
It sounds like a great idea. Churches have high ceilings, are centrally located, and, recently, have been falling vacant. But redesigning them to accommodate climbing routes? Not so easy.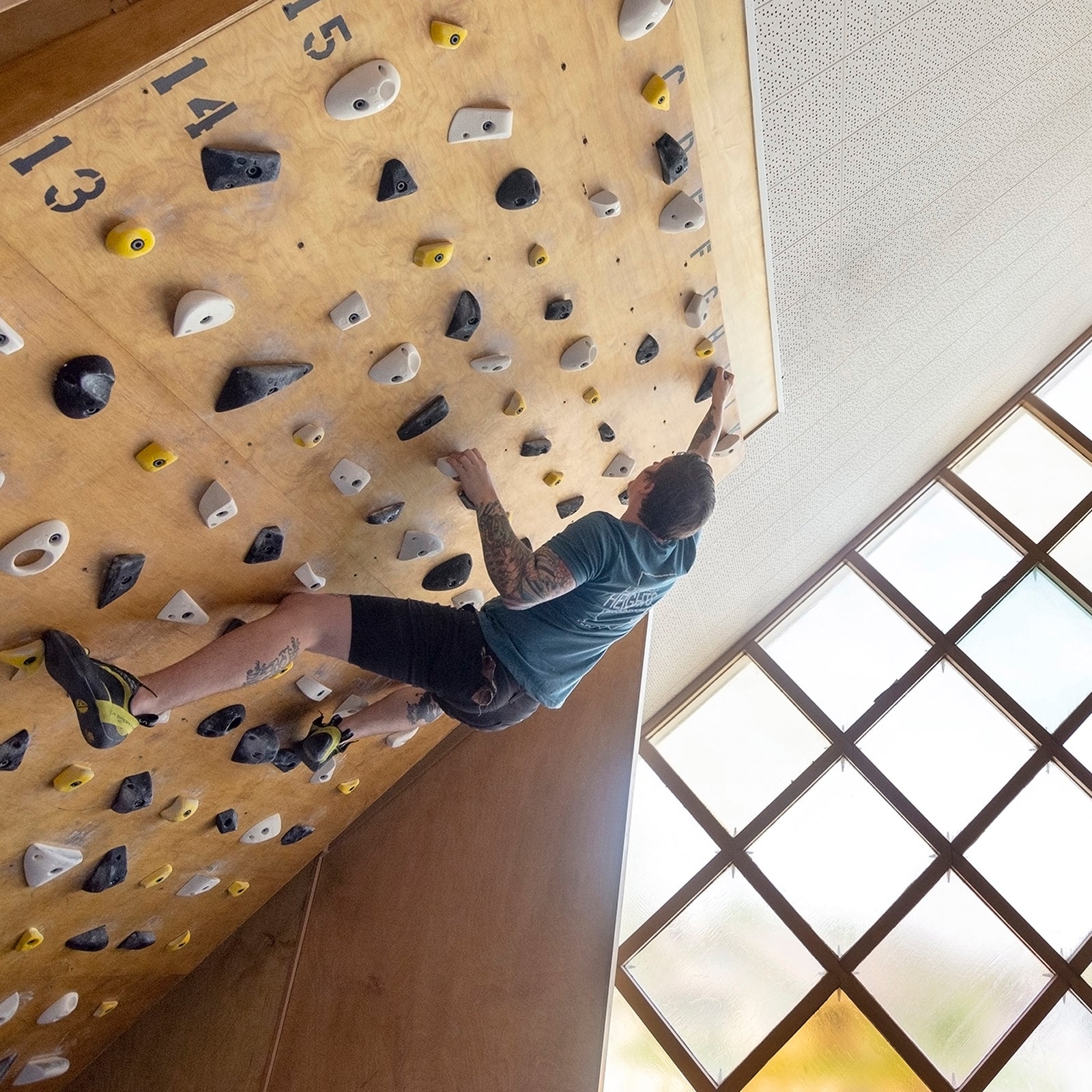 Tyler Bartle(Photo)
Heading out the door? Read this article on the new Outside+ app available now on iOS devices for members! Download the app.
For eight years, Joe Anderson drove by McDoel Baptist Church on his commute from the center of Bloomington, Indiana, to the bland exurban warehouse that housed Hoosier Heights, one of several climbing gyms he owns across the Midwest. He'd always admired the old church—its limestone exterior, its historic charm. When he saw it was for sale in 2016, he had a crazy thought: Business was growing at the Bloomington gym, and he wanted to move it to a more central spot. Why not turn the church into the new Hoosier Heights?
McDoel's congregation hated to lose its building, which had anchored McDoel Gardens, a neighborhood of blue-collar bungalows, since it opened in 1925. In the 1960s, the church added a second sanctuary with a capacity of around 250. "We would fill the whole place," remembers longtime parishioner Pat Suits, 83, who still lives one house down from the old building. "We had so many kids going there, a new youth group."
But like so many churches across the country, McDoel's membership declined in the following decades as the congregation aged and shrank. According to the General Social Survey, conducted by the nonpartisan research organization NORC at the University of Chicago, 2018 was the first year when Americans who didn't attend church outnumbered those who go every week or nearly every week. At McDoel, instead of a new generation of kids, the regulars consisted of elderly people like Suits, and their historic building was now causing them headaches—the only bathrooms, for example, were down a long flight of stairs. Eventually, the congregation decided to sell the church and move into a smaller space nearby.
A climbing gym might seem like a weird and worldly replacement, but a few have popped up in churches across the Rust Belt, including conversions in Lehighton, Pennsylvania, and Dayton, Ohio. It's a match that makes sense (sanctuaries have high ceilings) but often brings distinct difficulties (sanctuaries can be too narrow for belaying). "I've looked at quite a few churches," says Adam Koberna, president of U.S. operations for Walltopia, one of the world's leading climbing-wall companies. "And they rarely work out."
The physical structure is only part of the problem. In Cleveland, Chick Holtkamp and Niki Zmij tried to convert an empty neighborhood church that was built in 1885. "It was a big space," Holtkamp says, "but more than that, it was an interesting space." They toured dozens of gyms, hired architects, gave enthusiastic interviews—only to watch the church they'd hoped to save get torn down and replaced with townhouses. In the end, residents were too worried about the extra traffic that a commercial property would bring. "Honestly, it was politics," Holtkamp says. "The people who didn't want it had a more powerful voice."
There can also be issues with historical-preservation requirements and with securing the financing required to rehab a quirky old building. In Cincinnati, Chris Wiedeman and his brother, Joe, have put tens of thousands of dollars over the past year into stabilizing a beautiful, abandoned 1870s church that they hope to turn into a gym called Cincinnati Rocks. "The church has been exceedingly neglected," Chris says. "There were holes in the floor." The construction of the ambitious design, which highlights the building's arched windows and architectural details, is proving tricky enough, though it's made more feasible by the fact that Chris himself works as a general contractor. The fundraising is even trickier. "That's where we're running into the most trouble," he says.
In Bloomington, Joe Anderson understood the potential problems but decided to give the renovation a shot anyway. "Doing a gym like this is a labor of love," he says. "It was not a purely economic decision." And it did not go smoothly at first. "There were literally bats in our belfry," he says, and that wasn't the only hiccup. Working with Walltopia to design and build the gym, he had to consider the limitations of the old structure while finding a way to support enormous freestanding climbing walls.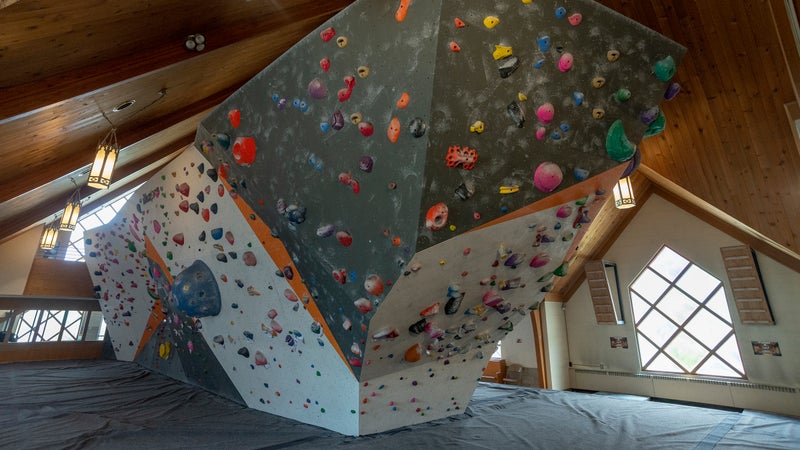 To pull it off, he wound up adding a second building for top roping. But, Anderson says, "It was important to me that you still walk in and say, Whoa, this feels like a church." So pews became seats for changing into climbing shoes. Carabiners clipped the sanctuary's vintage pendant lights to the sloped ceiling, creating more clearance for the bouldering wall. The church's kitchen became the spot to clean the holds, with its giant hood sucking up the vinegary smells. And the choir loft morphed into a secluded spot for advanced climbers to train on MoonBoards.
In 2018, after more than a year of construction, the facility opened with 16,000 square feet of climbing. The location, just off Bloomington's popular B Line multi-use trail, allows many climbers to walk or bike to the gym. That's been especially helpful in luring students from the city's Indiana University; for the first time in a while, young people are filling up McDoel.
As for the McDoel congregation, it still gathers on Sunday in a rented office building in the same neighborhood. The service usually draws about 20 worshippers, and Pat Suits notes how thankful everyone is that the bathrooms are located on the main level. "It's all just right there," she says.
Two blocks away, Hoosier Heights opens on Sundays at 9 A.M. Anderson is happy that the gym has boosted the neighborhood and that saving an old building has proven economically and environmentally sustainable. But most of all, he's thrilled to see so many people using the space, whether it's the neighborhood association hosting its annual Christmas cookie swap, just like it did at the church, or climbers reaching for their next hold as sunlight filters through the stained glass. The gym captures the sense of community and wonder that has defined the building for close to a century. "We took over a place designed for positive community gatherings," says Anderson, "and we're trying to still be that."
Lead Photo: Tyler Bartle