The House of Rock
Help Wanted: Exum Mountain Guides, the country's premier climbing service, is looking for supremely talented alpinists with world-class résumés for seasonal work in the Tetons. Must be willing to follow in the footsteps of legends. If qualified, don't bother calling. We'll find you.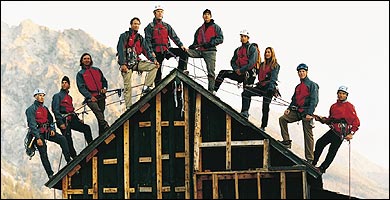 Kurt Markus
Heading out the door? Read this article on the new Outside+ app available now on iOS devices for members! Download the app.
IT'S A CRISP PREDAWN MORNING AT 12,000 feet in northern Wyoming, and a crescent moon is bleeding off just enough light to illuminate a narrow ledge snaking across the southeastern face of the Grand Teton. The ledge is called Wall Street, and it extends like a stone catwalk along the mountain's near-vertical flanks to a point where it appears to intersect with a massive ridge that ladders up toward the summit. Just five feet short of that ridge, however, Wall Street fractures, with pulse-spiking abruptness, into a thousand-foot drop to the glacier below—a void of inky air that swallows the beam of Chris Morris's headlamp.
exum mountain guides, grand teton, the tetons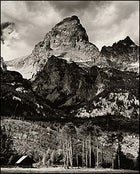 The signature spire of the Grand Teton
exum mountain guides, grand teton, the tetons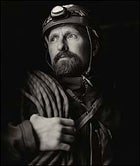 First-year Exum guide Chris Morris
exum mountain guides, grand teton, the tetons

Faces of the guild: clockwise from top left: seventh-year guide Amy Bullard, and Exum co-owner Al Read, Tom Hargis (with son Connor), and Peter Lev
exum mountain guides, grand teton, the tetons

The high life: clockwise from top left, fourth-year guide Chris Bassett at the Lower Saddle; Grand Teton weather; guide Jim Williams; inside senior guide Jack Tackle's cabin
exum mountain guides, grand teton, the tetons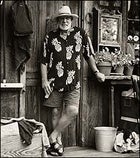 "Stellar dude": Jack Turner outside his cabin at Guides' Hill
exum mountain guides, grand teton, the tetons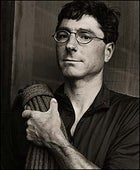 Co-owner Mark Newcomb
exum mountain guides, grand teton, the tetons

Senior guide Jack Tackle
exum mountain guides, grand teton, the tetons

From left: Chris Morris lead-climbing on the Exum Ridge; scoping out the rappel
exum mountain guides, grand teton, the tetons

From left: Chris Morris walking "The Horse," a knife edge on the Exum route; and belaying a client

A seasoned mountaineer with alert hazel eyes and a brushy beard, Morris, 38, is more than a month into his rookie year with Exum Mountain Guides, and today it's his job to shepherd me and two other clients to the top of the 13,770-foot Grand. Making it up and back down safely is not a problem for Morris, who exudes a catlike combination of power and agility that enables him to flash across a steep slope of precarious talus hauling a 65-pound pack without dislodging a single stone. For his city-dwelling clients, the climb isn't such a cakewalk.


Tied into the rope behind me is Chuck Procknow, 47, a Denver investment banker with short gray hair and a quick laugh. Right now, Chuck looks as if he'd rather be basking in the soothing blue glow of his computer screen. Instead he's trying to tie a length of rope onto his daughter Hillary's climbing harness. The climb is Hillary's 17th birthday present from Dad, and thus far it's required her to, among other things that will impress her friends back home, spend a night in a mountain hut clogged with 12 flatulent male strangers before waking at 3 a.m. to confront the yawning gap at the end of Wall Street.


I've come along to watch Morris in action and to find out what it takes to make the cut as an Exum guide. Morris, who arrived from Boulder a little more than a month ago with his new wife, Kim, a documentary filmmaker, is one of only two first-year guides who've been tapped to try out for Exum this summer. His apprenticeship has placed him under relentless scrutiny by the veteran guides who teach and lead clients on a wide range of climbs in the northern Rockies. If his performance passes muster, he may earn an invitation back for a second season, the next step on the eight- to ten-year apprenticeship path in the most elite mountain-guiding service in North America.


At the moment, though, the normally benign Morris has fallen into a stern mood. The weather is looking suspect, his team is moving slowly, and we've reached a crucial point in our climb. Back in 1931, when a young climber named Glenn Exum arrived at the end of this ledge, ropeless and wearing a borrowed pair of leather football cleats two sizes too big, he simply leaped across the chasm—a bold, unprecedented move that opened the route to others. These days, teams negotiate the obstacle in a slightly less desperate fashion, performing a hand traverse on a narrow crack while their boots feverishly claw the granite wall. It's the Grand Teton's equivalent of turning onto a one-way street: Prior to crossing the gap and starting the 12 pitches that lead up the Exum Ridge, it's possible to bail out and descend via an easier route. But once across the gap, the only way to get off the mountain is by firing up and over the top, which leaves you vulnerable to Wyoming's infamous, and sometimes lethal, summer storms.


Three weeks ago, on July 26, 13 self-guided climbers from Idaho were halfway up the ridge on a notoriously sketchy stretch of rock known as the Friction Pitch when one member, a young mother named Erica Summers, was struck by lightning and instantly killed. The others were left stranded, five of them seriously injured, more than a thousand feet above the Middle Teton Glacier. It took a 50-person squadron of park rangers and search-and-rescue teams, plus a pair of Bell 206-L4 high-altitude helicopters, nearly three hours to pull the survivors off in fading light and foul weather. Neither the incident nor the rescue involved any Exum clients or guides, but it dramatically demonstrated the consequences of poor judgment on the way up the route.


"OK, let's go," Morris announces abruptly. "We're maintaining a good pace, but if the weather goes bad, I'll pick up the speed considerably—and I'll expect you guys to keep up."


With that, Morris flits expertly across the gap, disappearing up the ridge and into the darkness.
ABOUT SIX MILES PAST the southern entrance to Grand Teton National Park, a narrow dirt road turns off of Highway 191 and dead-ends in front of a large, green meadow framed by sawtooth peaks and dotted with 11 Park Service-brown plywood cabins. This tiny community is known as Guides' Hill, and it serves as home to Exum's tribe of legendary climbers, who gather each summer for the brief ten-week Teton high season.


Inside each 10-by-20-foot cabin, ice axes, carabiners, and racks of climbing protection hang from the ceiling, competing for space with cookware and battered mountaineering parkas. The walls display a hodgepodge of maps, totems, and prayer flags that the occupants have fetched back from Patagonia, the Karakoram, and far-flung points in between. There's no indoor plumbing, so residents must share showers and washing facilities at a wooden bathhouse next to the parking lot. At the center of the enclave are several picnic tables and a fire pit where vets and rookies gather to chow down and talk shop on rope techniques, route conditions, and other alpine esoterica.


The cabins are occupied by senior staff, while newcomers like Morris must fend for themselves. Chris and Kim plunked down next to Jackson Lake in "the Discomobile," a 1983 Chevrolet Land Yacht RV with orange shag carpeting, dark paneling, and a yellow mood light in the shape of a cross. "We had a killer setup," Morris told me. "I'd get home, drop my pack, hit the water, and sea-kayak for an hour, and then Kim would meet me at the door of the Land Yacht with a plate of food and a can of cold beer. It was paradise." Other guides bunk with friends in Jackson or, as a last resort, camp discreetly throughout the park, moving every week or two to avoid getting booted by the rangers.


Cantankerous, colorful, and roiled by clashing personalities, this eclectic confederacy of dirtbags, freebooters, and aristocrats represents the crowning ambition of working guides all across America. Thanks to an invite-only policy, however, it's considerably easier to break through the doors of an Ivy League university than to get tapped by Exum—an honor generally reserved for those who combine exceptional achievements (first ascents, new routes, exploratory trips overseas) with the patience and poise necessary to chaperone couch potatoes out of their comfort zones and up into challenging vertical terrain.


Exum Mountain Guides is a private corporation that holds the longest unbroken climbing concession in any American national park. Since its founding in 1929 by Paul Petzoldt, a pioneering young Tetons guide from Idaho, it has grown from a tiny mom-and-pop operation that barely generated enough cash to cover the owner's bus fare home each fall to a flourishing business that runs a mountaineering school and leads more than two dozen established climbs in the Tetons each summer, plus expeditions throughout Wyoming's Wind River Range.


Last summer, Exum hosted approximately 5,000 clients, about 1,000 of whom ascended the Grand, its showcase climb. Depending on the number of climbers in their party and the difficulty of the route, individuals pay between $400 and $600 apiece for the experience. Exum draws all kinds, from boldface names—Cheryl Tiegs, Christy Turlington, Chelsea Clinton, Robert McNamara, Tom Brokaw, Jerry Spence, and Jordan's Queen Noor—to Boy Scouts, high school teachers, and Rotarians. Today the corporation is owned and operated by a group of seven people. Al Read, 65, the president, and Peter Lev, 64, the financial officer, have both been with the company for 43 years; 69-year-old vice president Rod Newcomb's tenure stretches back 40 years, and technical supervisor Tom Hargis, 56, has served as a guide since 1977; Read's wife, Susan, is the office manager, while Cyndi Hargis, Tom's wife, manages reservations. The youngest owner is Newcomb's 37-year-old son, Mark, a 15-year guide who is being groomed for a leadership role.


Together, this group controls corporate policy and divvies up profits among themselves while sharing considerable decision-making power with a group of 19 senior guides who, in most cases, have been with Exum a quarter-century or more. Regardless of title, each of the 73 working guides is paid on the same scale, and guides who commit to the entire summer typically gross between $7,000 and $18,000, including gratuities.


It may seem strange for someone like Chris Morris, who ran his own guiding company in Alaska for 12 years, to be enlisting with a group that requires him to undergo a potential ten-year apprenticeship before he can even be considered for the position of senior guide. Why run this gantlet? Because joining Exum is like hitting a trifecta on the mountain-guide circuit: a well-paying gig with a blue-chip company, unimpeachable prestige, and the chance to spend the summer networking with peers who run successful off-season operations and private trips all over the world. If Morris survives this tryout season and beyond, it will take his career to a level he never dreamed of touching as an obscure, overworked entrepreneur humping through the mud and mosquitoes of Talkeetna.


"There are lots of other great guide services out there," Morris told me, "but none with the depth and the knowledge that Exum has. They've been around forever. The Tetons are some of the most beautiful mountains anywhere. And you're working with the best. Even the people you don't click with, you still have great respect for, because everybody is so accomplished. I've done an awful lot of guiding. But when you get that letter of invitation, it's like you've arrived."
A THICK BLANKET OF SNOW still drapes the high peaks when the Exum alums and neophytes fly, drive, bike, and hitchhike in from mountain ranges all over the world, assembling in a large log cabin not far from the Exum office at 8 a.m. on June 30: Guides' Day. This is the official start of the summer season, so the attire is mountain casual—Hawaiian shirts, shorts, and river sandals. But the laid-back dress code belies the high-powered résumés in this room full of alpha dogs.


Near the front of the room is Rolando "Rolo" Garibotti, 33, an alpinist who holds the record—under seven hours—for the Grand Traverse, a route linking nine Teton peaks that takes most clients two days to complete. Standing in the back is Jim Williams, 49, the first person to have successfully guided all Seven Summits in one year. Behind Williams is Miles Smart, 24, who holds speed records on four Grade VI Yosemite climbs. Near the window is Brian Harder, 42, who spent four years as a sniper with the 101st Airborne Division, and Cindy Tolle, 42, who has a Ph.D. in microbiology and has freighted each of her three children to the top of the Grand Teton—in utero. Not here, but certainly felt, are Stephen Koch, who recently attempted to snowboard Everest; climber and filmmaker David Breashears; and the late Alex Lowe, who died in 1999 in an avalanche on Tibet's Shishapangma.


"In that room, you just wonder if you can measure up," Morris tells me later, confessing to a bad case of Guides' Day nerves. "I don't care who you are, or what you've done, or how bad you think you are; when you see how many of the best of the best are actually there, it's intimidating."


Rod Newcomb, sitting in for Al Read, who's ill, welcomes everyone back and then calls for an introduction of the new guides. The crowd focuses on Wesley Bunch, a tanned, sinewy mountaineer from Jackson with a massive blond afro.


"This is Chris Morris," says Bunch. "I'm here to tell you that nobody can handle a shovel at 17,000 feet better than this guy."


The remark elicits a few smiles, but he's not joking. Bunch, 40, has been with Exum for 11 years and is a close friend of Morris, having guided with him in Alaska. In June 1998, the two led efforts to save seven climbers injured in three separate accidents on Mount McKinley's West Rib—the biggest rescue in the history of Denali mountaineering. Impressed by Morris's "quiet competence," Bunch approached Read last year and suggested that Morris be invited to apprentice.


Read receives about 40 such nominations for new guides each year; on average he invites fewer than five to try out. What drew the boss's attention in this instance was Morris's connection with Erik Weihenmayer, the blind climber from Colorado. After successfully, if painstakingly, guiding Weihenmayer to the summit of McKinley in June 1995—Morris walked a few steps in front of his sightless client for ten hours a day, ringing a cowbell and calling out descriptions of the terrain in a verbal shorthand that included terms such as "knee bashers" and "rollers"—they went on to knock off Aconcagua, Mount Elbrus, and Antarctica's Vinson Massif together. Perhaps most impressive, in late spring 2001, Morris helped Weihenmayer become the first and, to date, only blind climber to summit Everest. "I thought that if Chris has the patience to guide a blind person up Everest," Read told me, "then surely he's going to have the intuition and the caring to guide Exum clients."


After Morris's introduction, it's Susan Detweiler's turn. Detweiler, 38, is a Coloradan who has spent 14 years guiding in the Rockies and the Cascades, as well as on McKinley and Aconcagua. She has long brown hair, rock-scratched forearms, and an air of intense, thin-lipped resolve. Last winter, when Read expressed interest in meeting her but was unable to schedule a get-together, Detweiler drove to Jackson and offered to ski 20 miles to the backcountry cabin of a senior Exum guide for her interview—a display of determination that impressed Read.


For Morris and Detweiler, basic training officially starts this evening with the "phone-in," a nightly ritual that requires all guides to call the office after 8 p.m. and listen to a recording of their climbing assignments for the next day. For the first few weeks, the two rookies will "audit" climbs (read: assist senior guides for free) until they are deemed suitable for the next phase: teaching rock school and leading one or two climbs a week for the rest of the season. At the end of the summer, the company's 19 senior guides will huddle for discussion and then provide written recommendations to the owners. The crux of the rookie season takes place on September 10, after the new guides have departed, when the owners convene in Jackson for a star-chamber confab to decide which recruits merit an invitation to continue their apprenticeship.


But that's still months away. For now, the rookies are just trying to grasp the folkways of this guild as the Guides' Day gathering rolls through wide-ranging topics like how many bowls should be left for guides in the storage locker at Exum's Grand Teton high camp and the current condition of the park's wolf pack, bison herd, and bear population. (Clients often quiz the guides about local wildlife.) On the whole, the meeting has the backslapping atmosphere of counselors returning to camp. But toward the end of the morning the tone shifts as an older guide with deep-blue eyes and a gray ponytail strides to the front. This is Dave Carman, one of Exum's two chief guides, and he's here to deliver a succinct reminder before everyone splits for the rest of the day.


"Many of our clients are exhausted and at the limits of their abilities, and they make mistakes," he solemnly tells the group, which has grown quiet. "Sometimes they release their brake hand just when somebody falls. Sometimes they step on the exact rock that you've told them not to. Or they untie their knots when you're not looking and then tie back in poorly. What this means is that our clients are trying to kill each other, they're trying to kill themselves, and they're trying to kill you. Each of us needs to remember this at all times. That's our job."
ONE MORNING TOWARD THE END of July, I arrive at the Exum office, a pitched-roof cabin surrounded by aspens and firs, just down the road from Guides' Hill. The base is buzzing as younger guides pull up in their battered pickup trucks and brightly painted vans while a few veterans mill around, introducing themselves to clients and gearing up for climbs on Symmetry Spire and in the Wind River Range.


Over the last month, Morris has sailed through his audit climbs and quickly been dropped into the teaching-and-guiding rotation. Today he's taking me and two clients who have enrolled in Rock School for a session on a crag near Hidden Falls. Dressed in Patagonia river shorts, a pair of well-beaten Nike Air Exum approach shoes, and a blue ball cap, he looks the part and converses with his new clients about their climbing experience, hometowns, and professions. But once class begins, he's all business—even when client Mike Cloyd, a 33-year-old accountant from upstate New York, tries to get him to open up.


"So what's the biggest mountain you've climbed?" Cloyd inquires.


"Well, I guess that'd be Everest," Morris replies. "Now show me how to tie that bowline knot again, my friend."


For the next two days, Morris will patiently walk us through a range of rudimentary climbing techniques—rope handling, knots, rappels, and top-roping. The aim is to teach clients these new skills and then apply them on the Grand in the "caterpillar" system, a method unique to Exum, in which clients belay one another in turn as the team works its way up the mountain.


Later in the morning, I catch sight of Jack Turner, a senior Exum guide who put up pioneering routes in Colorado and Yosemite in the 1960s before becoming a philosophy professor at the University of Illinois. Turner, who is also an acclaimed author (The Abstract Wild; Teewinot: A Year in the Teton Range), is standing about 20 feet below us, winding up an elaborate lecture on the origins of belaying to a group of 16-year-olds.


"I'm told by education experts that you kids have an attention span of about five seconds," booms Turner, who wears a Hawaiian shirt and a straw hat and sports a close-cropped white beard. "Well, your attention span has to be more than five seconds here, because when you yell down and tell your partner it's OK to climb, I consider it a moral contract that you're going to do nothing but watch out for that person until she gets to this ledge and says, 'Off belay!' Because if you don't, if Johnny here decides to start picking his nose while his partner is climbing"—Turner energetically drills into his nose with his index finger—"then it's like Sally here is getting pushed out a window of an eight-story building, and she is going eight floors into the deck."


Turner pauses for emphasis.


"Does everyone here know what that means? It means that when Sally hits the ground, she will look like Alpo. Everybody here know what the inside of a can of dog food looks like?"


The kids laugh.


"It's not funny, right?" barks Turner. "Anybody here think that's funny?"


The kids clamp their mouths shut and shake their heads no.


"As I explained earlier, this is very different from European guiding, where you are basically just baggage that the guide is hauling up the mountain. Here, you have a responsibility, which is an American way of doing things . . ."


The kids stare up at him quizzically until Turner continues with something they can relate to a little easier.


"And failure to take that responsibility means that Sally's going to look like what?"


"Alpo!" comes the chorus.


At the end of the day, as we're boarding the boat that will take us across Jenny Lake and back to the Exum office, Morris tells me about the past few weeks. "The person I probably learned the most from, at least in the schools, was Turner," he says. "What amazed me about Jack is that he's got a bunch of people standing around, and you have to keep them entertained for the entire day but also present this information so that they're going to remember it in days to come. It's pretty important that you teach the stuff well, because these people are going to go up the Grand and be using these skills and hopefully not killing each other, right? Jack will kill me for saying this, but watching him teach is kind of like hanging out with your grandfather. He's a stellar dude."
TO FULLY UNDERSTAND LIFE as an Exum guide, you need to know something about the two guys who got the whole thing started. Paul Petzoldt came to Jackson from Idaho in 1924 at the age of 16 and, with no climbing experience, proceeded to pull off the fourth ascent of the Grand Teton wearing cowboy boots and toting two cans of beans, a quilt, and a penknife that he used to cut steps into the ice. Glenn Exum, who was also from Idaho, moved to Jackson in the summer of 1929 to play saxophone at the Jenny Lake Dance Hall. Unlike the disheveled Petzoldt, who looked like a cross between a grizzly bear and a large potato, Exum was a mustachioed rake who bore a striking resemblance to Errol Flynn. The two men became friends and founded the Petzoldt-Exum School of American Mountaineering, offering to take campers to the top of the Grand for $23 a head.


Among their early clients was one of particular importance, a Scotsman named Sir Albert Victor Baillie, Dean of St. George's Chapel at Windsor Castle—private chaplain to the King and Queen of England. The Dean of Windsor didn't climb, but he had such a good time hiking around the Teton's meadows and lakes, and dipping into Petzoldt's stash of moonshine, he invited both men to visit him in England during the mid-1930s.


Apart from being an amazing opportunity for two Idaho roustabouts in the midst of the Depression, the trips to England and Europe exposed both Petzoldt and Exum to the tightly regulated system of European mountain guiding, where guides chaperoned no more than two clients at a time and offered none of the instruction that might encourage clients to pursue the sport on their own. It left a poor impression on the two Americans, clashing with their philosophy of self-reliance in the wilderness.


Petzoldt passed away in October 1999, and Exum died in March 2000, but their thinking lives on. "Glenn and Paul were both of a very like mind," says Exum co-owner Peter Lev. "Their feeling was that this is simply not the way things work in America. Their idea was to teach people, not to make them slaves to guides who refused to part with their knowledge."


The protocol that evolved at Exum places unique demands on the guides, who must handle three or four people while simultaneously processing a stream of fluctuating data that includes, among many other factors, the condition of the route, changes in the weather, and the progress of other rope teams on the mountain. All of which, the guides will tell you, is specific to the Tetons. This intimate knowledge of their home turf has helped cultivate an attitude of defiant independence and unassailable autonomy—qualities that contributed to a tradition of eccentricity and irreverence among legendary Exum characters from the past.


Chuck Pratt, a pioneer Yosemite wall climber, used to forbid clients from bringing Quaker Oats on climbs because, the story goes, he and Yvon Chouinard—the founder of Patagonia Inc. and also, briefly, an Exum guide—had once been forced to spend three days in an Arizona jail, where they were fed nothing but oatmeal. Willi Unsoeld, the alpinist who lost nine toes to frostbite during the bold 1963 first ascent of Everest's West Ridge, horrified his clients by pretending to fall off his own rappels, screaming the entire way down. And Gary Hemming, an American famous during the sixties for first ascents in the Alps and a daring rescue of German climbers on the Dru (and infamous for getting drunk and picking fights in bars), was beaten unconscious one night by three ax-handle-toting cowboys in an alley behind a Jackson bar. Hemming later died, in 1969, of a self-inflicted gunshot wound to the head near the old Guides' Hill at Jenny Lake.


As Exum has grown larger and more buttoned-down, the company has come under increasing pressure to shed its unorthodox past and conform to international standards, particularly those promulgated by the American Mountain Guides Association, in Boulder, an affiliate of the Gstaad, Switzerland-based International Federation of Mountain Guides Association. This summer, Exum's helmet policy came into question. Clients have always been required to wear helmets, and in 74 years the guide service has had only three clients die on its watch, a safety record that is much better than industry averages. But guides can don helmets at their discretion, and the owners have grown uncomfortable with the laissez-faire rule.


One afternoon, the entire guiding staff gathers on the patch of grass outside the main office to debate the helmet policy. Jim McCarthy, a lawyer from Jackson and a past president of the American Alpine Club, has come by to see if he can talk some risk-management sense into the Exum gang.


"It is absolute madness for your employers not to require you to wear helmets all the time," he declares. "If there's a death and you're not wearing a helmet at the time, Exum will be sued, and you will be named. A single case will wipe out this guide service, and your livelihood along with it."


The pronouncement provokes a flurry of protest, especially from Tim Toula, who has been at Exum 14 years and who is so strong he can perform multiple one-armed pull-ups.


"Can we not all agree that we're leaders?" he demands, strutting across the grass and windmilling his arms. "Are we going to allow some guys who don't even know how to rock-climb to make this decision for us?"


Nods all around.


"Are we going to continue to use our judgment and freedom to make the right choices about safety, or are we going to just go"—Tula puts his head down and begins bleating like a sheep—"Baaaa-aaaa! Baaaa-aaaa! Baaaa-aaaaa!"


As his colleagues clap and laugh, Al Read, who has been listening without comment, stands up.


"All right, that's it," he says. "We're all going to have to wear helmets from now on."


The message is clear: Independence is fine, but it isn't going to trump corporate decree. Anyone who doesn't want to abide by the new policy is free to find work at another guide service.
CLIMBING THE GRAND is a two-day proposition: one day hiking to Exum's hut on the Upper Saddle, where you spend the night, and the summit day, which typically starts between 3 and 4 a.m. Morris, Chuck and Hillary Procknow, and I are all up by 3. We ram down some food, gear up, and are en route by 3:45. By the time we're across the Wall Street gap, dawn is breaking in lavender striations across the eastern horizon. Just above the first pitch, a tawny stretch of 5.4 rock known as the Golden Staircase, Morris yells down to Chuck and Hillary.


"You guys need to be making your transitions much faster, OK?"


No response. In the darkness below, it's impossible to see what's causing the holdup. Morris raises his voice a notch and yells again.


"Chuck, are you climbing?" Pause. "No? Well, get on it!"


For all his spartan professionalism, Morris is not a climbing fascist. He intersperses his reprimands with frequent compliments, telling Chuck that he's "climbing like a badass" and christening Hillary a "Teton wild woman." Coaching clients while at the same time tuning in to all the various factors around you—weather, rockfall, other climbers—may be a guide's most important skill.


"One of the things about the guides who don't make it here is that they lack a certain quality of heightened awareness," says Jack Turner. "It's not as though they're not careful, but sometimes you just pick up on what Wittgenstein called 'fine shades of behavior,' little things that would pass by the casual observer—like the manner in which someone double-checks to make sure that a knot has been properly tied—in which they're not being as careful as you think they should be. These are vague issues of judgment and trust—very subtle, very fine, very delicate shades of behavior. Vibes are what I call 'em."


The challenge, of course, is to strike a balance between drill-sergeant seriousness and inspiring support. Rookies are evaluated on many criteria, from technical mastery to how they get along with the senior guides, but the most important may also be the most subjective: the Turnerian vibe—an almost intuitive sensitivity to the circumstances of each climb. It's a quality that the Exum guild observes closely, if discreetly, and it can have a lot to do with getting a second-year invitation.


"I never felt like I was being scrutinized, ever, but you know they're watching you, making their evaluations all the time," says fifth-year guide Brian Harder, 42, recalling his first season. "There's a large number of aspiring guides here, and a few weeks into the summer, you just stop seeing one or two of them. You never really know why."


Following Morris up the Grand, we've shot past the Friction Pitch, where the Idaho climbers were struck by lightning. At 9:30 a.m., we top out on the blocky summit, shed our packs, break out our energy bars, and gaze north toward Yellowstone through a light scrim of sleet. Barely five minutes pass before Morris issues the order to rope up.


"I don't mind telling you guys that I don't like the look of this weather," he announces. "Let's move."


The descent follows the Owen-Spalding route, which involves a scramble down another ridge with some dicey loose rock and a long 120-foot rappel off an overhanging cliff. At one point a rope team appears below us, led by a guide from Jackson Hole Mountain Guides—another Teton outfitter—and they make a dash to reach the belay station before we do. In the process, a client on that team kicks loose a small rockslide, which peppers the rappel chute, where a third team is descending. No one gets hurt, but Morris is furious at the guide. "Fucking asshole," he huffs, breaking Exum's no-profanity rule.


We reach the Lower Saddle without further incident, snatch up our gear, and race down Garnet Canyon to emerge three hours later at Lupine Meadow. This is Morris's final climb of the season; he's cutting his summer short by two weeks to return to Boulder for his wedding celebration and to start an off-season business as a personal trainer. While Hillary shakes Morris's hand, Chuck thanks him profusely, apologizing about being slow.


"What I always say," Morris responds, "is that it'd be like me trying to walk into your office to do your job. You gotta realize, man, I'd bankrupt your entire company in about two hours."
BY SEPTEMBER 10, snow is already returning to the high country and Exum's summer season is drawing to a close. By now, most of the cabins at Guides' Hill have emptied out and the occupants have begun their autumn migrations to places like Patagonia, the Alps, Africa, and Park City, Utah. For some, the departure came earlier than they had hoped. Halfway through the summer, a guide who had been on the apprentice track for several years was asked to leave.


"He was very, very good with people, but it takes more than that to survive the process here," says Peter Lev. "He just wasn't quite as switched on as he needed to be. He didn't have that quality of having eyes in the back of his head."


Today, six of the seven owners—Lev, Al and Susan Read, Rod and Mark Newcomb, and Cindy Hargis (Tom Hargis is away teaching a clinic)—gather at a bed-and-breakfast in downtown Jackson to decide the fate of the rookies and a handful of "overflow" guides, recruits who are still in their first few seasons and haven't yet transcended evaluation. I've been permitted to sit in on this meeting on the condition that some names and details not be revealed. The pace is brisk, the tone serious, with none of the joking that lightens most Exum get-togethers.


Read, who has brought along the written appraisals from the senior guides, opens the meeting without any preamble, launching right into a pull-no-punches appraisal of the guides on his list. The meeting goes smoothly, with the others occasionally voicing their own opinions in terse one-word summaries: Solid. First-class. Keeper. Superstrong.


The group hangs up on only one young guide, who handles clients well but who, according to one senior guide, hasn't been paying sufficient attention to safety issues. It's a classic case of questionable vibes.


"We have this problem," Read says, turning to me. "One of the senior guides doesn't like one of the new guides."


Then, back to the group: "OK, now we have this case of [the disputed candidate]," says Read, "and needless to say, the senior guides wrote a lot about him."


Peter Lev: "I simply can't understand or accept it. I don't buy it for a minute. This is an example of extreme unfairness."


Cindy Hargis: "He's still not anyone's best friend, but he's a good, strong, hardworking guide." Peter Lev: "He is also a very solid, safe climber, very strong, very attentive in all possible ways."


Rod Newcomb: "What did the report say?"


Al Read, reciting from the senior guides' report: " 'Needs procedural review. Personality versus trust, judgment, and safety.' But he seems fine to me, too."


"You know," says Mark Newcomb, "it might be the case that he just has to learn a few things about where to belay and methods for handling four people. It does happen a lot with overflow guides, who learn a thing but then it will be two weeks or more before they actually get that assignment that puts them on the Grand. Maybe that's the case here, and if so, I don't think that's a reason not to invite him back. I remember that I screwed up a lot in my first few years."


The group consents to ask this guide back, on the condition that he is earmarked for intensive observation next year. If he fails to improve, it will almost certainly be his last summer at Exum.


They march through the rest of the names, including Morris's fellow rookie, Susan Detweiler, approving each of them for return invites without much discussion. "OK," concludes Read, "that's all we have to say about guides."


The only odd thing is that Morris hasn't been mentioned. After the meeting, Read explains the exception: Just before Morris took the Procknows and me up the Grand, he was called into the Exum office and told that if he was interested in coming back next summer, he'd be welcome.


The early nod signaled how impressed the old pros were with the rookie. It was a moment that must have ranked as a high point in his career. But I can't really say. In all the hours that we spent together, Morris never said a word.
Trending on Outside Online