How do I choose an ice axe?
I've done a small amount of mountaineering and have been trained on how to use an ice axe. But now I'm getting more into the sport and would like to buy my own equipment. How do I pick out an ice axe?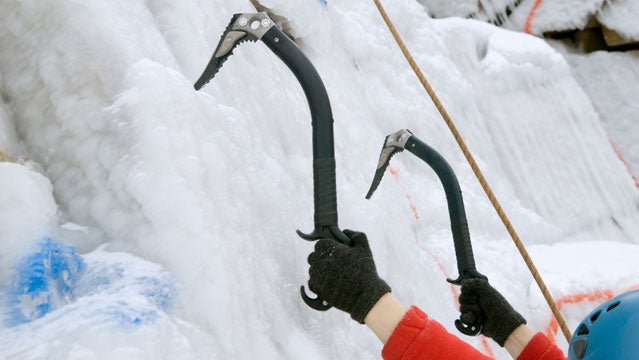 Bork via Shutterstock(Photo)
Heading out the door? Read this article on the new Outside+ app available now on iOS devices for members! Download the app.
The short answer is this: For all-around mountaineering, you choose the length of the ice axe simply by grasping its head (adze end) as if you were about to go for a hike with it, and hold it, relaxed, at your side. The pointy end should be about at your ankle. It isn t a walking stick you ll be using it mainly when ascending moderately steep, or steep, snow and ice, and you want it short enough so that you can reach up-slope and plant it without having to reach over your head to do so. Similarly, the correct length facilitates using the ice axe in self-arrest, or as a swing tool on steeper slopes, or when chopping hard snow and ice to create a tent or resting platform.
Black Diamond Raven ice axe

Raven ice axe
So that's a pretty easy decision. And, realistically, so is picking a specific model of axe. They need to have pointy ends and sturdy construction, otherwise, ice axes aren t especially techy pieces of gear. Black Diamond s Raven ($70; www.bdel.com) is a fine, all-purpose ice axe, with a strong but light aluminum shaft. REI s Brenva ($75; www.rei.com) is worth a look. You know, the first item REI sold was an ice axe. They were $3.50 – big money in the 1930s. If you really intend to do some steep stuff, then Petzl's Cosmi tec ice axe ($140; http://en.petzl.com) has a curved shaft that gives a bit better clearance when swinging above your head. But really, that s probably more than you need.
Lead Photo: Bork via Shutterstock