Ice Climbing Proves It's Worthy of the Olympics
A recent World Cup in Denver blew all expectations and leads the way toward the 2026 Winter Games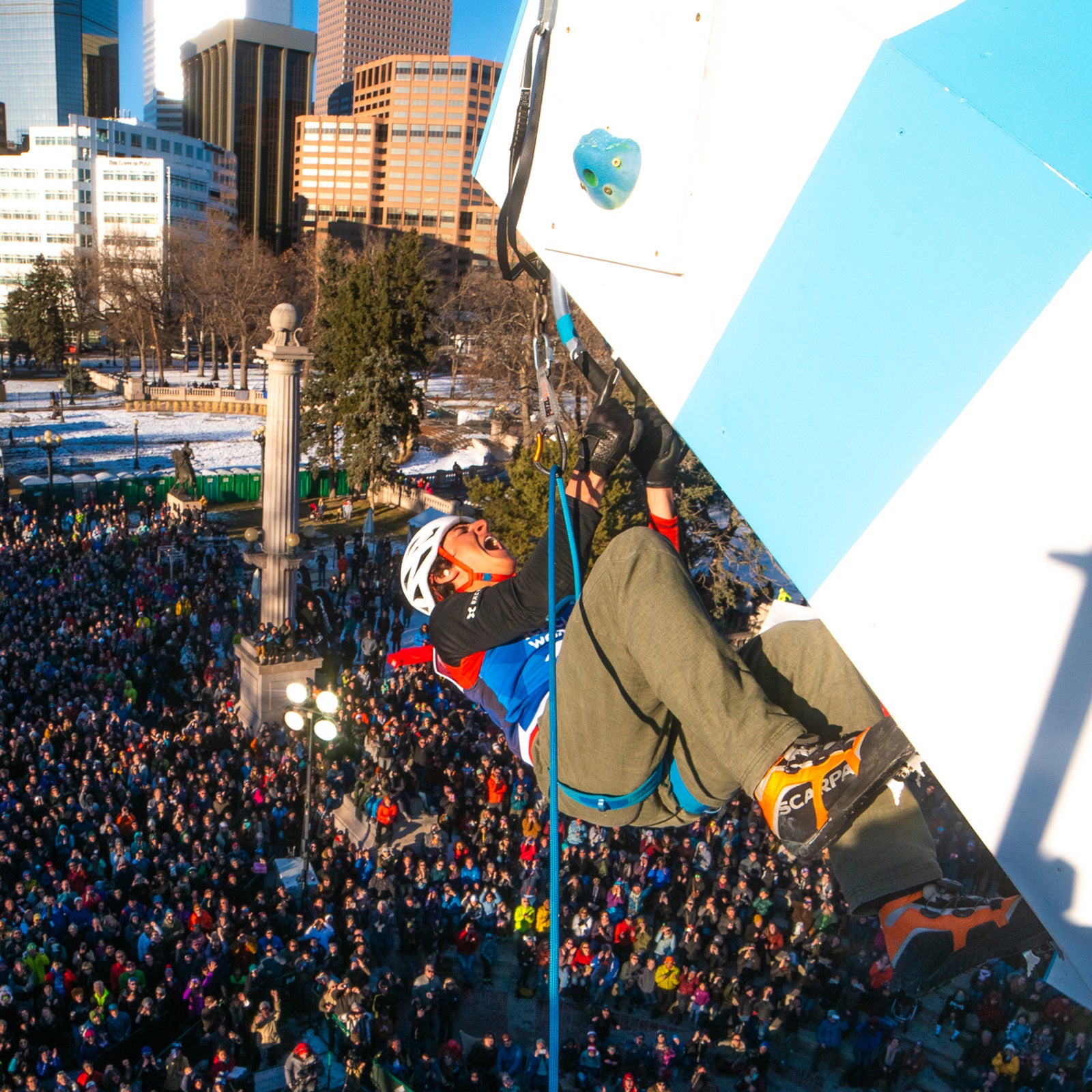 Heading out the door? Read this article on the new Outside+ app available now on iOS devices for members! Download the app.
Late last month, Denver's Civic Center Park hosted the sixth and final UIAA Ice Climbing World Cup of the 2019 season. And for the first time in the competition circuit's 19-year history, the action took place in a large metropolitan city center.
Thirty-eight men and 26 women from 15 countries fought their way up a 50-foot-tall arch for a spot on the podium and for the overall World Cup title. An estimated 25,000 people came out to watch over the weekend—more than an average Denver Nuggets game and the largest-ever live audience at an Ice Climbing World Cup.
The event was an experiment of sorts. Most Ice Climbing World Cups are held in small mountain towns, such as Saas-Fee, Switzerland, or Rabenstein, Italy. But as rock climbing prepares to make its debut at the 2020 Olympics, officials at the International Climbing and Mountaineering Federation (UIAA), the governing body for competition ice climbing, see an opening for their sport. The goal is the 2026 Winter Olympics. 
"Before Denver, the biggest attendance at an ice-climbing competition was 2,000 people," says Phil Powers, CEO of the American Alpine Club, the organization that hosted the competition. "So I think we've proven a point."
Even within the climbing community, ice climbers are a tiny minority, and competition ice climbers are a fraction of that.
Attendance at the event got a boost from a concurrent festival on the same grounds called Barbegazi, named for the mythical French and Swiss gnomes. Spread out in the park before the climbing tower were about a dozen stations for weird and wintry activities, such as human curling (on snow tubes), ax throwing (hatchets, really), lumberjack games (sawing logs), arm wrestling, fat biking, snowskating, a snowball slingshot, an obstacle course, and a mini ice maze. Entry to the festival, and to watch the climbing competition, was free.
Ice-climbing competitions can use all the help they can get. Even within the climbing community, ice climbers are a tiny minority, and competition ice climbers are a fraction of that. So it's no wonder that ice competitions have never garnered much attention. Still, competition ice climbing is arguably more exciting to watch than competition rock climbing. Like in rock competitions, ice also has lead and speed disciplines (bouldering is left out for the obvious reason that landing on the ground with sharp, spiky ice tools in your hands and crampons strapped to your feet is a recipe for disaster).
In the lead event, difficulty is the game. Athletes climb a route of plastic and metal holds with their ice tools and kick their crampons directly into the plywood wall wherever they want. Their goal is to make it to the top of the route, or as high as they can, within a set time, generally between four and eight minutes. The route gets progressively harder the higher it gets.
While rock climbing is very precise and subtle, ice is barbaric. It's full of swinging and kicking and flying shards of ice.
Speed climbing, on the other hand, is usually on real ice. The speed wall in Denver was imported from Austria and made from eight-inch-thick panels of ice. In speed, two competitors race side by side up the wall, then switch sides and repeat. Top competitors' times range between seven and 15 seconds. Picture vertical running up a featureless skating rink.
While rock climbing is very precise and subtle, ice is barbaric. It's full of swinging and kicking and flying shards of ice. It requires precision and brute force. From a nonclimber's perspective, it's easier to grasp. "Not only is ice climbing a legitimate international sport, it's also wild and crazy, and the athletes are doing these interesting, acrobatic actions 40 and 50 feet off the ground with spikes on their hands and feet," Powers says. "The struggle is more obvious, and the falls are dramatic—there's real risk involved."
Over the course of the weekend, at least two competitors stabbed themselves with their own ice tools during the speed competition. David Bouffard of Canada punctured his thigh badly enough to need to go to the hospital, yet he still managed to take home a silver medal. American Marcus Garcia gashed himself in the thigh during the semifinals (and kept climbing) and again in the arm during finals. "He should have gone for stitches both times, but he just kept competing," Powers says. Officials had to shovel the blood out of the snow at the base of the wall.
Ice climbing was an exhibition sport in the 2014 Sochi Winter Olympics—the competition wasn't included in the medal count, but it took place during the Games to show off and promote the sport. Several now classic Winter Olympic sports debuted as demonstrations and later evolved into medal events: curling, freestyle skiing, and short-track speed skating, to name a few. If last month's World Cup was any indication, we might see ice climbing earn its own place as an official Olympic sport sooner than we think. And even though the Olympics won't have a Barbegazi festival, Powers isn't worried.
"The Olympics want things that are attractive," he says. "And ice climbing is attractive."