Infinite Sorrow
The disappearance of two of North America's best alpinists left a grave question: What happens when the only way out is up?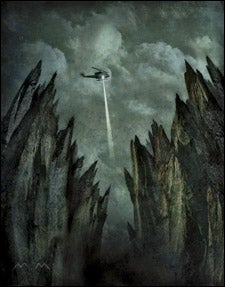 Heading out the door? Read this article on the new Outside+ app available now on iOS devices for members! Download the app.
THE SEARCH PLAN DROPS SICKENINGLY, banks hard, tilting the fuselage windows downward, and sweeps the south face of Mount Foraker. Denali National Park and Preserve rangers Joe Reichert and Tucker Chenoweth peer through the Plexiglas, searching for any sign of life. Somewhere down there, climbers Sue Nott and Karen McNeill are missing, lost in a vertical maze of ice and snow and rock.
alpine rescue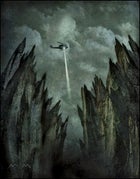 At 17,400 feet, Foraker is the second-highest peak in the Alaska Range. The highest, 20,320-foot Mount McKinley, lies 12 miles to the northeast. Foraker's south face is fearsome—shattered stone walls, avalanche chutes, crevasses everywhere. Bisecting the south face is a severe arête called the Infinite Spur, a 9,000-foot line that extends from the glacier straight up to the summit. It is one of the hardest mountaineering routes in North America, having seen only seven ascents in almost 30 years, all by world-class two-man teams. Until now, no women have ever attempted the Infinite Spur.
Nott, 36, and McNeill, 37, are two of North America's most accomplished mountaineers. They started the Infinite Spur on May 14, with approximately 12 days' worth of food and fuel. Today is June 8—they have been on the mountain for 26 days. Even rationing themselves, they'd have run out of food and fuel more than a week ago.
They're also missing gear. Six days ago, on June 2, Nott's backpack was found atop old avalanche debris near the base of the route. Her foam pad was still tied to the pack. A two-way radio—considered standard safety equipment on Foraker—was inside. Nott's sleeping bag, stuffsack, glove, and fleece jacket were discovered nearby, but there was no sign of the women.
Staring at the south face from the plane, I'm struck by the topographic treachery of the Infinite Spur. A series of hanging glaciers—death zones on any peak—press in on both sides of the arête. In the event of an accident, heavy snow, or Arctic wind, there are only two ways off the Spur: Retreat directly back down the precipitous ridge or go up and over the summit and down one of Foraker's less technical routes.
The Navajo twin-engine circles tightly and we make another pass at 16,500 feet. We are looking for anything remotely human: a rope frozen to the ice, a half-buried tent, an ice ax, a hand waving from a hole in a snow cave.
Nothing. We make another pass and then another and another.
Speaking through his headset, Reichert asks the pilot, Ed Dearwent, to take the plane as high as he can in hopes of getting a clear view of the summit. But there's nothing to see. Less than an hour ago, rangers at 14,200 feet on McKinley radioed in to the search-and-rescue headquarters in Talkeetna, about 50 miles to the south, that Foraker was clear. We jumped into the plane and flew straight to the mountain, but by the time we arrived, smooth, lens-shaped lenticular clouds obscured the summit.
Dearwent begins to circle Foraker in hopes of getting a better perspective of the summit, but the weather is already so bad on the north side of the mountain that we're forced to turn around.
One more pass by the Infinite Spur. One more desperate look. One more chance for everything to miraculously work out. We see nothing. Another storm is devouring Foraker. We arc south, back to Talkeetna.
NOTT AND MCNEILL spent the past 15 years working through a rigorous mountaineering apprenticeship. Sponsored by gear maker Mountain Hardwear, they climbed extraordinarily tough, technical routes that only other alpinists would know. McNeill, a Kiwi who'd relocated to Canmore, Alberta, made the first ascent of Dos Cuernos, on the Patagonian Ice Cap, in 2004, put up three new hard lines in Greenland, and climbed extensively in Canada and Alaska. She chose to do most of her expeditions with other women. Nott grew up in Vail, Colorado, and was a serious backcountry skier before a friend introduced her to ice climbing in 1990. She completed the first ascent of Glass Onion, a difficult ice-and-rock route in southeast Alaska, made four attempts on Patagonia's Fitz Roy, and climbed extensively in the French Alps.
"Climbing gives me so much joy, so much happiness," Nott told me when I interviewed her in the fall of 2003; she had been selected by this magazine as one of the top female athletes in the world. At the time, she was living in Chamonix, France. That year, climbing with her boyfriend, John Varco, Nott had become the first American woman to complete a winter ascent of the north face of the Eiger. "The climb was great," she told me enthusiastically. "It was cold and classic and everything you could possibly hope for."
When I spoke with Varco that fall, he gave her the ultimate alpinist's accolade: "Sue's motivation never wavers. She wants to get to the top. When it gets grim, there are a thousand reasons to go down, and it's hard to find just one reason to go up. Sue always finds that one."
McNeill was equally committed to the climbing life. After moving to North America in 1994, she spent four years as an instructor at Chicks with Picks, an all-women ice-climbing school in Ridgway, Colorado. According to cofounder Kim Reynolds, a close friend of both women, McNeill had three rules: "First, you could never say you're sorry while climbing," recalls Reynolds. "Second, as Karen lowered you off a climb, she would stop and hold you one foot off the ground until you said, 'I am a goddess.' Third, after you got off the climb, you always had to state one thing you did well."
For the past three years, McNeill worked as a teacher at the Morley Indian Reserve, near Canmore. "She encouraged the kids to get rid of the clutter and pressure of society, tune in to themselves, and pursue their own dreams," says Margo Talbot, 42, a Vancouver-based guide for Antarctic Logistics and Expeditions and a good friend. "She didn't have many female role models, so she lived her own dreams and grew into the role model she wished she'd had."
In 1999, Nott and McNeill teamed up for the first time, climbing in Peru. It was a natural fit: two women who were instinctively drawn to the mountains and found through climbing the confidence and courage to break out of hackneyed female stereotypes. In 2000, they climbed the west ridge of 21,466-foot Shivling, in India's Garhwal Himalayas, in a grueling five-day push. In 2004, they paired up to climb McKinley's highly coveted Cassin Ridge. They set out with five days of food and seven days of fuel. On the tenth day, when they didn't show up at camp at 14,200 feet on the West Buttress, the standard descent route, the Park Service launched a search-and-rescue mission. A high-altitude Lama helicopter found them snug, if hungry, in their tent on the summit, having become the first female team to complete the route.
Mount Foraker was their most ambitious climb to date. One of the most difficult and dangerous mountains in the Alaska Range, Foraker is described in one guidebook as the "ultimate test-piece and one of the world's finest alpine challenges." Since 1979, only 24 percent of climbers who've attempted Foraker have summited, and 19 have died. Of the 26 climbers on the peak this spring before McNeill and Nott began the Infinite Spur, not a single one summited.
The route up the Infinite Spur has been even more unforgiving. When renowned mountaineers Michael Kennedy and George Lowe put up the first ascent of the route, in 1977, it took them eight days and more than 80 pitches of roped climbing. Both men survived bad falls. The route was not repeated until 1989, then not again until 2000. All attempts on the Infinite Spur between 2002 and 2005 failed.
No one I spoke with described the two women as reckless or fearless or puffed up with their own egos. They were driven and competitive but realistic. They went into a climb with a plan and knew when to call it off. They'd turned around on 19,127-foot Taulliraju, in Peru, because they were dehydrated; high winds, deep snow, and ice-plastered rocks had forced them to abort their attempt on Shivling's east ridge. They retreated and, a week later, summited via the west ridge.
Both of them understood that for alpinists, death is just a mistake away. "Mountains make me dig deep, pull into myself, and overcome," Nott told me in 2003. "Alpine climbing is extremely hard mentally. You can't have meltdowns, because you can't, to survive. You get used to being careful and making deals with the devil: Just get me past this serac, just get me through this bergschrund, just get me through this storm . . ."
ON MAY 14, two climbers, Will Mayo and Max Turgeon, retreating from a new line to the right of the Spur, met up with Nott and McNeill at the start of the route. The women were carrying huge packs and told Mayo and Turgeon that they hoped to be back at base camp in ten days.
A week later, on May 21, Mark Westman—a member of the last team to summit the Infinite Spur, in 2001—flew over the south face on a routine flight back to Talkeetna and spotted tracks at the base of the arête. He saw no one on the route, but there was little cause for concern. The pair had planned to move slowly and steadily, and by their own most optimistic estimates they would have still had several more days of climbing before they finished the route.
Later that same day, an Arctic cold front from the northwest collided with a gigantic high-pressure system in the Bering Sea, producing eight days of unimaginably high winds. From May 25 to 28, winds at the 14,200-foot camp on McKinley were clocked at 50 to 70 miles per hour, with gusts as high as 100 miles per hour reported at higher elevations. During this tempest, Foraker and McKinley were lost inside monstrous lenticulars.
Winds dropped enough on the 29th for Will Mayo to get a "pretty good look" at the upper half of the Infinite Spur from the window of a bush plane. He saw no tracks and no humans. Alarmed, Paul Roderick, owner of Talkeetna Air Taxi and the bush pilot who had taken Nott into base camp in late April and McNeill a week later, flew over the route the next day. He found no trace of the two women.
"I was worried," Roderick told me a week later from his hangar. "That windstorm was unbelievable. Just brutal. It was the first time weather had actually grounded me in years. I couldn't imagine what it must have been like high up on Foraker."
In Talkeetna, he called Daryl Miller, Denali's South District Ranger. A Vietnam vet who did two tours of duty as a combat marine, Miller, 62, joined Denali's SAR squad in 1991 and has since participated in hundreds of rescues and dozens of recoveries. In 1996 he was presented with the International Alpine Solidarity Award for saving so many lives.
"I spent the 31st evaluating the information we had," Miller told me solemnly when we met in his Talkeetna office on June 6. "The weather events, the ability and personality of Sue and Karen, the route. And the next day we launched the search and rescue."
It was deemed too dangerous to search the Infinite Spur on foot, so Miller dispatched a Lama helicopter to fly a reconnaissance mission. The pilot spotted tracks at around 14,000 feet, but no other sign of the climbers. The next day, Lama pilot Jim Hood, along with climber Mark Westman and ranger Meg Perdue, flew multiple sorties over the route and discovered Nott's pack, pad, and sleeping bag. Due to the risk of avalanche, they used a hydraulic "grabber" suspended below the Lama to retrieve the gear.
Lashed to the outside of the battered pack was the sleeping pad; it was sun-faded, indicating that it had been in that position for a number of days. The radio inside still worked but had not been used. Judging by the position of the pack's shoulder straps and hipbelt, Miller ruled out the possibility that Nott had been wearing the pack when it was lost. A more likely scenario, he hypothesized at the morning briefing on June 3, was that it had been accidentally dropped or blown off from somewhere above 11,000 feet—and that Nott and McNeill had continued climbing without it.
That day, the Lama flew the lower sections of the route. A fixed-wing aircraft scoured the Sultana and Southeast ridges, the standard descent routes off Foraker's summit, but saw no tracks. Two searchers were stationed with a spotting scope at an 8,000-foot camp a mile east of the Infinite Spur. Nothing.
BACK AT THE TALKEETNA ranger station, the atmosphere was strained. As search efforts continued, there was a palpable but unspoken sense of doom. John Varco, along with a dozen of Nott's closest friends, had arrived in Talkeetna a week earlier to help with the rescue effort. Sue's mother, Eve, and her two sisters, Karen and Sarah, had flown in as well. Karen's mother and father, Elaine and Neil, and her sister Wendy were en route to Alaska from New Zealand.
From the start of the operation, Daryl Miller had been in daily contact—either in person or by phone—with their families and close friends. He kept them apprised of every flight, every new discovery, every evolution in the thinking and execution of the operation—often speaking with the parents two or three times a day.
"Constant communication is imperative," Miller told me. "They need to know exactly what's happening. My mission was to keep all those who loved these two women in the loop at all times." Which meant that as each day passed and Nott and McNeill didn't turn up, everyone was coming closer to accepting the heartbreaking reality.
On June 4, the Lama flew four separate sorties up and down the route. Pilot Jim Hood spotted tracks at 15,600 and 15,800 feet. Flyovers on day five revealed tracks at 16,400 and 16,600, and the focus of the search shifted to the summit.
Our flight on June 8 with Reichert and Chenoweth yielded no further clues—and then another storm moved in, blasting Foraker for five consecutive days and grounding all aerial search efforts.
Three days later, in consultation with the search-and-rescue team, Miller conducted a survivability analysis—a detailed investigation into the likelihood of the two women still being alive. They began with the essential facts: Nott and McNeill started the route on May 14 with almost two weeks' worth of food and fuel. They'd have now been without food and water (you need fuel to melt snow for water) for two weeks. There had been a solid week of mortally high winds. Their route had been aerially scoured—more than 27 hours of flying—with no luck.
That evening, after informing the families of the decision, Denali National Park and Preserve officially announced that the search-and-rescue operation for Sue Nott and Karen McNeill was transitioning into a "limited search"—a body-recovery effort, not a live rescue.
It was over.
SO WHAT HAPPENED? How could two extremely experienced alpinists vanish on Mount Foraker?
Reconstructing a mountaineering accident is much like reexamining the evidence in a criminal investigation: You try to piece together all the clues to create potential scenarios.
"Three things are certain," says Miller. "Sue and Karen started the route on the 14th of May, lost the pack several days later, and continued climbing, reaching at least 16,600 feet."
Was it a mistake to keep climbing without the radio (their best shot at summoning help should they need it), sleeping bag, and pad? Probably not. According to Miller, McNeill and Nott had initially considered going to Foraker with just one sleeping bag, to save weight, a common practice among serious alpinists. Depending on where the pack was actually blown off, it might well have been safer and easier to finish the route, rather than retreat and rappel down dozens of pitches. At that stage, somewhere between May 15 and 20, the weather was still good and the two women were climbing in the sun and on pace.
Studying photographs of the tracks above 15,000 feet, it's clear they climbed this section of the route before the windstorm—the footprints are raised pedestals of compacted snow, indicating that they were made when the snow was still deep, before it was blown off the ridge. Which means that despite the loss of a pack, pad, and sleeping bag, McNeill and Nott probably finished the Infinite Spur on schedule in eight to ten days and were on their way up the lower-angle, mile-long snow slope to the summit when the wind started to maul Mount Foraker.
What happened then is pure speculation, but there are really only two realistic scenarios: They were blown off or they tried to burrow into the snow and froze to death in 50-below windchill.
"When you're that high on a difficult and committing line like the Infinite Spur," concludes Miller, "you cannot descend back down the route you just completed. Your only escape is up, and you just hope that when you reach the top to exit, the weather window will allow you safe passage. Sue and Karen were hit by winds so strong it would have been impossible to go up. They had no exit."
On June 18, a thousand people—climbers, friends, family—packed Vail's Ford Amphitheater for a service celebrating the life of Sue Nott; two days later a memorial was held in Canmore for Karen McNeill.
"Sue and Karen were in the right place at the wrong time," John Varco told me afterwards, in a voice barely more than a whisper. "There was nothing they could do about it. It would have been like trying to climb in a tornado. Anyone up there—you, me, the best alpinist in the world—would have met the same fate.
"But don't call it a tragedy. Yes, it's tragic for those of us left behind, but Sue and Karen were living big. Huge! They were celebrating life. We should do the same."