An Insider's Look at Everest 2010
Heading out the door? Read this article on the new Outside+ app available now on iOS devices for members! Download the app.
Everest 2010 looks to be special for an interesting reason – nodrama. The past two years have been difficult with last minuterequirements by the Chinese that resulted in almost every team climbingfrom the south. 2010 looks to return to normal – whatever that means onEverest – but we have come to expect the unexpected recently.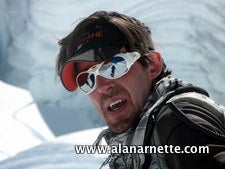 Theowner of Altitude Junkies, Phil Crampton, took some time to discuss theupcoming 2010 season with me. I wanted to look at the politics, therealities and if the events over the past several years would have anyimpact on this upcoming season.
If you don't know Phil, he is quite well-known in the Himalayanmountaineering circles; however being what I call a "boutique"operator, not well known outside the circle.
Phil started by leading several expeditions to both Cho Oyu andShishapangma at the start of the decade under the Altitude Junkiesbanner. He also served as a guide and logistics manager for MountainMadness. But it is his work with the China Tibetan MountaineeringAssociation's (CTMA) climbing school in Lhasa that he is proud of wherehe helped train Tibetans as serious high-altitude mountaineers.
Today he runs his own guiding business full time. His stated goalfor Junkies is to offer good value expeditions for the budget consciousclimber without risking safety and reducing the quality of services.
Q: Phil, you have been deeply involved on both sidesof Everest for many years. What are the thoughts in the Kathmanduclimbing community about the upcoming 2010 season? Good season in termsof number of trekkers and climbers?

It seems as if the spring season should be busy. There are climbingexpeditions planned to both sides of Everest, Cho Oyu will be crowded,and there are two firsts with both a British and Australian commercialexpeditions making their debuts on Makalu. The spring trekking seasonalways brings a large number of trekkers to base camp and with Tibetopen, there should be plenty of tourists driving to base camp on thenorth side of the mountain.

Q: Do you think 2010 will be a "normal" year on the north with a return of teams?

It seems as if the Chinese authorities that regulate the mountainare relaxing their permit requirements for expeditions wishing to climbEverest from the Tibet side. There were strong rumors that the newrules imposed on Tibet expeditions in the fall of 2008, that requiredall teams be sized a minimum of 5 and maximum of 13 persons, with onlytwo different nationalities, may have been scrapped for the future.

Tibet for the most part has seen no further demonstrations that itwitnessed in 2008 so the Chinese should hopefully welcome backclimbers. The locals who rely heavily on working for the westernexpeditions to Cho Oyu and Everest will have a much-needed source ofincome once again.

As far as I am aware at the moment, it will be the usual commercialoperators on both the south and north sides in 2010, with the exceptionof Himalayan Experience, who will be operating their second south sideexpedition. Some of the independent teams that used to be on the northside should start returning as the logistical costs are lower and thiswill then balance out the numbers of climbers on each side. This canonly make each route less crowded, therefore safer for every climber.

I am unfamiliar with the rope fixing practices on the north side in2009 as I was on the south side. I get the impression that the CTMA,with the assistance of the Tibetan guides from the Tibet MountaineeringGuide School, will possibly fix the ropes from the glacier at the footof the climb to the north Col, all the way to the summit. It makessense, especially now that the commercial team who fixed the rope onthe north side of Everest in the past is no longer operating on thatside. Having one qualified group of experienced climbers place thefixed ropes is beneficial for the safety of all the climbers on thenorth side of the mountain.

Q: In 2009, the Khumbu Icefall and the shoulder of Everest werevery unstable. This made some teams minimize the acclimatization tripsto the Western Cwm by using other peaks. Do you think more teams willtake this approach in 2010?

The icefall in 2008 was very different to 2009. The route this yearwas more direct but did swing dangerously close to the shoulder. Therewere not any sections of the icefall where three or four aluminumladders were strapped together to make passage over crevasses or up icewalls like there were in 2008.

I may be wrong, but I think there were three large collapses of theWest Shoulder during the 2009 season. The first was caught by many onfilm and video as it happened shortly after breakfast and many climberswere resting at base camp. No one was injured but there were a fewclimbers stranded and had to wait for the Icefall Doctors to replacethe displaced and destroyed ladders so they could continue to descend.

The second collapse I remember well, as it was 4 am and my team andSherpas were roughly an hour into climbing up the icefall. We heard thecrack and the rumble that followed, and my group reacted fantastic, aswe all managed to take shelter behind a serac before the blast anddebris hit us. None of us were injured, just covered head to toe insnow from the blast. Unfortunately a collapse happened at the samelocation at 11.30 am in which a Sherpa lost his life while descendingwith his clients.

I had a good friend die in the icefall in 2005, so I always takecare and clip in wherever there is a rope. As it proved this year, theearly morning can be just as dangerous as late afternoon in theicefall. I think getting familiar with the icefall and terrain isbeneficial to building up a climbers' confidence on the mountain.

Some teams are planning to acclimatize on Lobuche once again but Iwill let my team decide on what they prefer to do. There are plenty ofday trips close to base camp where one can get close to the sameelevation as camp one on Everest for helping their acclimatization.This way they do not risk the chance of hurting themselves before thesummit push. I prefer to keep the team on a schedule that sees them goup through the icefall a maximum of three times if possible.

Q: Prices for commercial Everest climbs continue to increase witha few operators now asking $75K. What is driving this increase?

Even though Nepal is still one of the poorest countries in the worldthey still experience a high inflation rate. The daily wages of theporters, cooks and climbing Sherpas have increased by 40 percent fromthe rates paid in 2009. Nobody should complain about paying these hardworking staff extra daily amounts, as compared to western standards,they are paid very low for a day's work. Food, propane, kerosene,transportation costs, etc., have all increased dramatically, hence theincreased prices asked by the commercial operators.

Some of the expeditions who ask $75,000 have a very high ratio ofguides to clients and for that price you would expect a western guidefor every two clients and a 1:1 Sherpa to climber ratio. Peoplesometimes forget that the guides also have permit costs and all theother relative fees and expenses that go with an Everest expedition.The $60,000 expedition price tag should provide a guide for every threeclients and also a 1:1 Sherpa to climber ratio. The cheaper expeditionsshould provide a minimum of 1:1 Sherpa to climber ratio and at leastone experienced western leader.

One of my main concerns is that all my staff are paid well,regardless if it is the porter who carries our loads from Lukla to basecamp, the head cook, a kitchen boy or the Sirdar who directs all mySherpa staff on the mountain.

There are many different budgets on Everest. It's not always thecase in paying more gets you more. There are some expeditions, whichare very comparable even though they are priced $40,000 and $65,000respectively.


Q: How does your 2010 look? Which side will you be climbing?

I have spent so much time in Tibet at Everest, Cho Oyu andShishapangma as well as the Guide School in Lhasa over the years that Inever thought I would ever climb Everest from any other route exceptthe North Col-Northeast Ridge. When the Chinese decided to close downthe north side in 2008 for the Olympic Torch relay, I got the chance toswitch the expedition to Nepal and climb on the more exclusiveSoutheast ridge.

It was quite a different experience on the south and it seemed as ifmost of the teams worked together in coordinating the fixing of theropes. Already several of the commercial expedition leaders havestarted dialogue in regards to the rope fixing for 2010. I am pleasedto be going back to the south side once again. We have such acomfortable base camp and having fresh vegetables and meats deliveredto base camp every several days makes life much easier for my cooks.

Our team is looking great. I prefer the Junkies Everest teams to besmaller than our Gasherbrum and Manaslu teams. An ideal size is 6climbers, 6 cooks and 6 climbing Sherpas, which gives a climber a morepersonal and rewarding experience while climbing "The Big E". We have aminimum 1:1 Sherpa to climber ratio and most times bring a few extraSherpas just to make sure everything will be dialed in.
So Phil is expecting a good season with minimal political drama.However, the season does not start until climbers are at Base Campwhich is still 16 weeks away leaving a lot of time for surprises. Iknow in 2008, I left the U.S. not knowing if I was climbing from thenorth or south so uncertainty is part of the game today.
Thanks Phil for your time and safe climbing this season.
Climb On!
Alan
Arnette is a speaker, Mountaineer and Alzheimer's Advocate. You can read more on his site.
Trending on Outside Online