International Mountain Guides' DaRita Sherpa Dies on Everest
Although initially reported as the result of altitude sickness, the death of DaRita Sherpa on May 5 was likely the result of a cardiac event. We take a look at why Sherpas are less susceptible to altitude-related illness.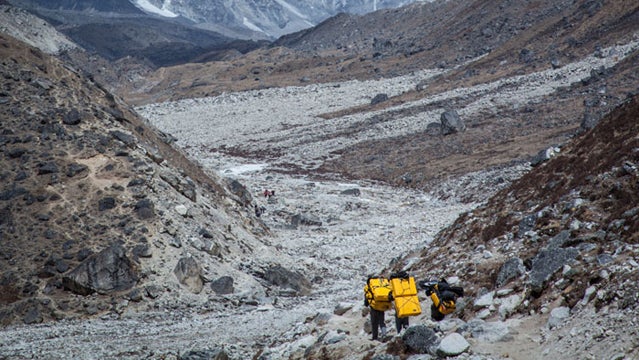 Grayson Schaffer(Photo)
Heading out the door? Read this article on the new Outside+ app available now on iOS devices for members! Download the app.
A Sherpa from the International Mountain Guides team died at Camp 3 on the morning of May 5.  Although his death was originally reported as the result of altitude sickness, a closer look makes that seem unlikely.
According to Eric Simonson, IMG Director, "DaRita Sherpa from Phortse reportedly spent the night at Camp 3 without any problems. In the morning he was up, had breakfast, was fully dressed, boots on, preparing to descend back down to Camp 2 when he suddenly felt dizzy. He lay down in the tent and stopped breathing, and despite CPR efforts by his teammates, died. The HRA doctors at Base Camp think that this was probably either a sudden cardiac or cerebral event."
It was 37-year-old DaRita Sherpa's fourth expedition with IMG, and he'd summited Everest before. "I saw the report and said, 'no way was it altitude,'" says Dr. Peter Hackett, Director of the Institute for Altitude Medicine. "People who die of altitude sickness don't just drop dead."
Altitude sickness is the umbrella term for three kinds of altitude-related illnesses: acute mountain sickness; general altitude sickness, which can range from difficulty breathing to loss of consciousness; high altitude pulmonary edema, which is fluid build up in the lungs; and high altitude cerebra edema, fluid build up in the brain. They all stem from the blood vessels' inability to pump blood when there's a lack of oxygen in the body. HACE and HAPE can both be deadly and usually occur at elevations over 14,000 feet.
Hackett says that Sherpas can get HACE and HAPE, but that it usually happens at above 20,000 feet, and they usually show signs of distress at least 24 hours before. He thinks that DaRita Sherpa's death was likely the result of a heart attack or stroke, unrelated to the altitude. Initial reports cited the cause of death as altitude because some of the late-stage symptoms of AMS look similar.
Dr. Benjamin Levine, director of the Institute for Exercise and Environmental Medicine says that people who are born at elevation have respiratory systems that are used to being stressed. "If you're born at altitude, you have life long adaptation," he says. "Tibet natives tend to have less constriction of the pulmonary arteries, which allows them to pump more blood. "
Levine says that there have been studies done about how different populations respond to altitude, and that people born in the high Himalayas are highly adapted. They've compared people of European descent born at altitude to Sherpas and there are distinct differences in how much they breathe and how high the pressure in their arteries gets. Sherpas also tend to struggle less at high altitudes than natives of the Andes and other high mountain ranges.
Hackett says there have been altitude-related Sherpa deaths in the past. "It does happen; there have been a couple of Sherpas that have died of pulmonary edema, but it's very unusual," he says. Last year, Karsang Namgyal Sherpa, who had summited Everest 10 times died of altitude-related sickness, although there were rumors that alcohol was also involved.
DaRita Sherpa's body is being flown back to Phortse, where his wife and two children, and the rest of his family will perform Buddhist rites.
Lead Photo: Grayson Schaffer