Karl Egloff Just Beat Kilian Jornet's Denali Record
The Ecuadorian-Swiss climber set a blazing-fast time on North America's highest peak—besting the previous record, set by rival Kilian Jornet in 2014, by one minute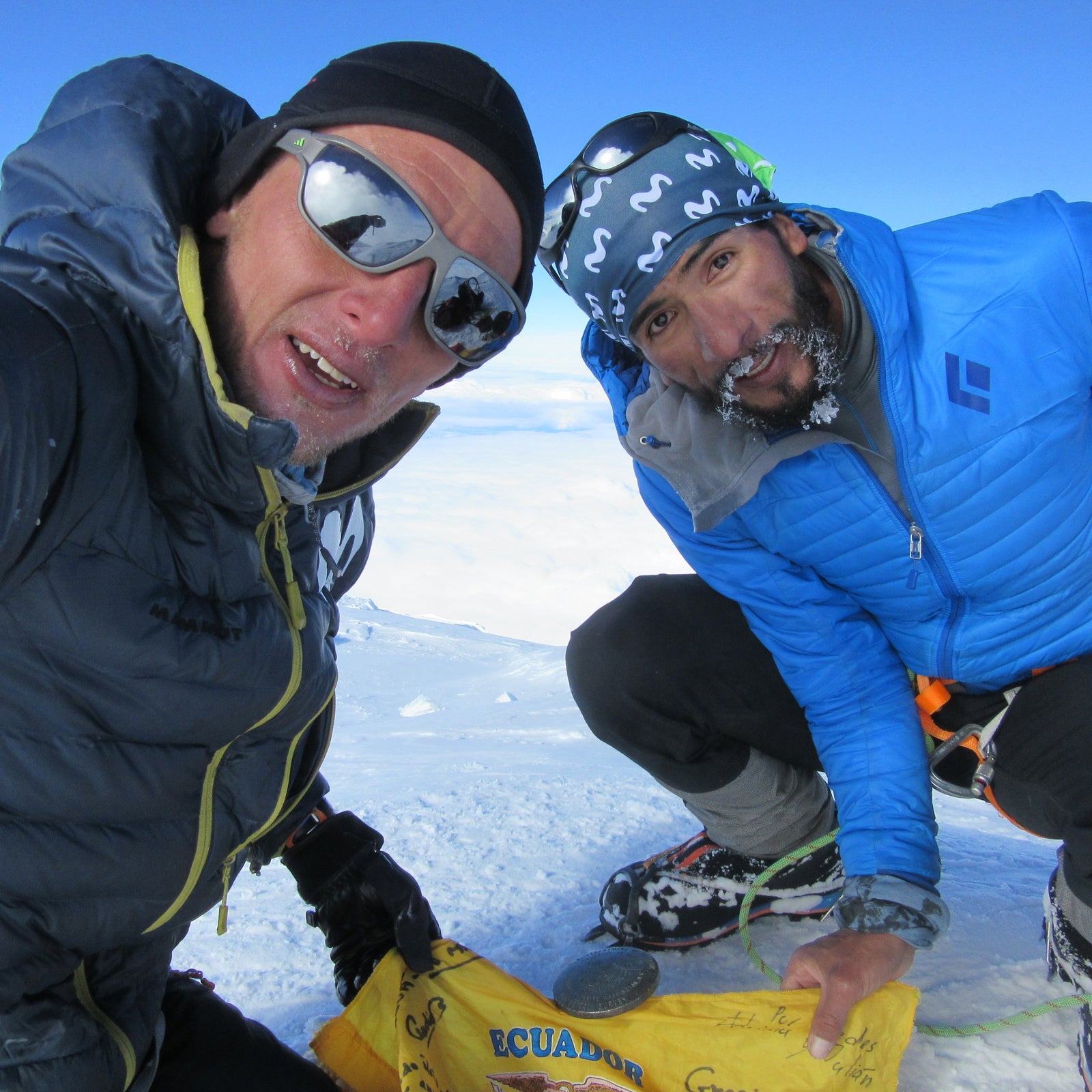 Courtesy Cumbre Tours(Photo)
Heading out the door? Read this article on the new Outside+ app available now on iOS devices for members! Download the app.
On Thursday, Ecuadorian-Swiss alpinist Karl Egloff climbed up and back down Denali—at 20,310 feet, the highest peak in North America—in 11 hours and 44 minutes. In doing so, he broke the previous speed record, which was set in 2014 by Spanish alpinist Kilian Jornet, by just a single minute.  
Even more impressive is this: Egloff, who left basecamp at 7 A.M., topped out on Denali in seven hours and 40 minutes—two hours and five minutes faster than Jornet summited five years ago. What's more, Jornet skied down Denali, a much faster mode of descent than what Egloff employed to get down the mountain, which was a combination of hiking boots, snowshoes, and running shoes.  
"It felt like I was running on water," Egloff, 38, told me when I reached him by phone on Friday. He had just made it out of Denali National Park and was resting in the outpost town of Talkeetna, Alaska. "From Camp I to Camp III [6,400 feet of climbing], I used crampons attached to running shoes but it was still very slippery."
From there, Egloff switched to boots and put on a heavy down jacket to help shield him from the nearly 20-mile-per-hour winds. Upon summiting, he looked at his watch and says he was surprised by his time. "I was thinking, 'I have a huge gap'," he says. "It was hard to believe I was more than two hours faster than Kilian."
Still, Egloff knew it'd be difficult to beat the record. He'd developed a headache and was well aware that his ski-less descent would be slower. "But when I got back down to Camp III, I knew I could do it," he says. "I started pushing myself. From Camp III on, I was watching the watch more than my own safety. I drank two litres of water on the way up but nothing on the way down. I was just going. I got to basecamp, saw that I was a minute faster, and I stretched my hands in the air."
This isn't the first time the little-known Egloff has knocked off one of Jornet's records. In 2012, Jornet began the Summits of My Life project, in which he'd attempt to set fastest known times on what he calls seven of "the most important mountains on the planet," which includes Denali, Argentina's Aconcagua, the Matterhorn (Switzerland's famous pyramidal peak), Mount Kilimanjaro, France's Mont Blanc, Russia's Mount Elbrus, and Mount Everest. He was successful during all of his record-setting attempts except for his climbs up Elbrus and Everest. On Elbrus, he was forced to turn around. On Everest, his time was several hours off the record set in 1996 by Italian Hans Kammerlander.
But in 2014, Egloff, who works as a mountain guide, decided he'd try to set speed records on each of the seven summits—the highest peak on each continent. That year, he bested Jornet's time on Kilimanjaro. Seven months later, he eclipsed Jornet's time on Aconcagua. In 2017, Egloff set the speed record on Elbrus.
Though Jornet fans tore into Egloff, accusing him of cheating and "destroying Kilian's world," Egloff and Jornet have developed a friendship. "Our sport is a gentleman's sport," says Egloff. "He's the biggest sky runner in the world and I wouldn't be here if it wasn't for him. Killian took this sport to another level and nobody would know who I am if it wasn't for Kilian. He motivates me."
On Friday, Jornet congratulated his friend on Twitter.
Next up for Egloff is Indonesia's Puncak Jaya, the highest peak on the Australian continent. He hopes to tick that off next year. After that, he'll climb Mount Vinson in Antarctica. And in two or three years, he'll attempt to set the speed record on Everest. "I'll need to go up and down in less than 22 hours," he says. "I hope I can do it."
Lead Photo: Courtesy Cumbre Tours