Remembering Lama Geshe, Blesser of Everest Climbers
Generations of mountaineers stopped at the small home in Pangboche for an audience with the humble, loving Buddhist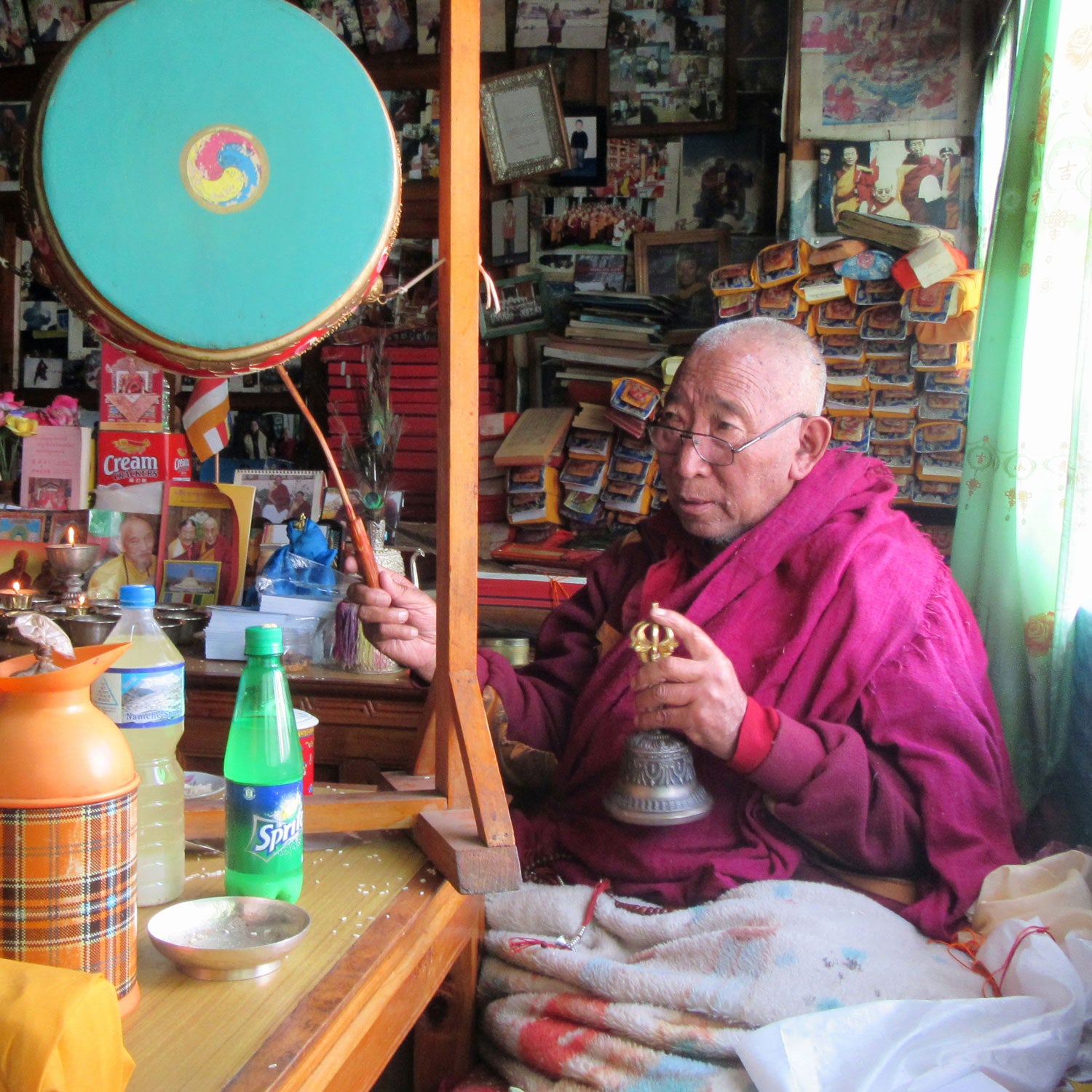 Heading out the door? Read this article on the new Outside+ app available now on iOS devices for members! Download the app.
The Nepalese village of Pangboche sits at the foot of Ama Dablam, about halfway along the modern ten-day approach to Everest Base Camp. It is one of the last continually inhabited villages that one encounters on the journey. There are trees, teahouses, and terraced potato fields. A good number of the inhabitants—farmers and yak herders—are also phenomenal high-altitude climbers. In recent decades, Pangboche had become well known to visiting climbers, because it was also the home of Lama Geshe, a worldly, unassuming man in red and gold robes with a shaved head and a ready smile. As the highest-ranking lama in the area, his blessing was sought by thousands of foreigners heading up to try risky things in the mountains and by thousands more who simply valued an audience with a learned, devout, and humble Buddhist.
Lama Geshe died on February 12 at age 87. I had plenty of visits with him over the years, as I made 21 attempts on Everest, but I'm not under the illusion that he knew who I was. Still, I considered him a good friend, despite the fact that he didn't speak English and I didn't speak Tibetan, Nepali, or Sherpa (pathetic, considering how much time I spent in the Himalaya).
Usually, when we ducked through the doorways of his house and came into his living room with the hot stove and butter lamps, our Sherpa Sirdar would take a crack at explaining to him why we thought we were special and how he might recognize some of us as repeat offenders in the mountain climbing game. I was always a little relieved that none of that seemed to faze him. Lama Geshe would be sitting cross-legged in one corner of the room, with a bunch of Tibetan prayer books open on the table in front of him. Far too often, in recent years, it was clear that he wasn't in great health, but he was always in great spirits. During the busy climbing seasons, one team after another would crowd into his room with cameras and microphones and abundant hubris. I never once saw him scold a visitor for spilling tea or bowing at the wrong time. He was just genuinely and obviously happy to see you, to bless your endeavor, to pray together, tie a special string around your neck, and give you a head butt. He'd often laugh a little while he did it. Lama Geshe would then give you a card, on which he'd handwritten a prayer, and would ask that you take it to the top of the Goddess Mother of the Earth, Chomolungma (the Tibetan name for Everest).
One of his living room walls was filled with pictures of climbers—some famous, many not so famous—who'd posed on the summit with the cards and had taken the trouble to get the pictures back down to Pangboche and to Lama Geshe. For a trip leader, he'd sometimes give a pouch of specially blessed rice grains to be carried through the Khumbu Icefall for protecting the team. Lama Geshe, while placing silk khata scarves around our necks, reminded us not to kill anything on this sacred mountain and to be kind to one another. I'd then follow his instructions exactly, despite or maybe even because of my lack of spiritualism. Typically, six weeks later, while trying to shave every ounce from my summit pack, I'd look at that prayer card that needed a ride to the summit and I'd think for a moment about my beliefs and consider leaving it behind. But I never did, because Lama Geshe believed, and the Sherpas risking their lives to help me believed. And because perhaps that wise, kind, and humble man down in Pangboche knew more than I did about the top of the world.
I was always a little scared at the start of a two-month Everest expedition, and I liked going to the Himalayas with folks who were similarly apprehensive. I wanted climbers who knew what they could lose and who appreciated that Sherpas would be doing a whole lot more than just "working for them" on such a trip. So, going for a blessing on the way in and conducting a puja at Base Camp weren't ceremonies done just for believers or Buddhists—they were done out of respect for the mountain and its people.
The pilgrimage to Lama Geshe's home could be a little confusing for first-timers, because across the river and down valley from Pangboche was a grand and shining temple at Thyangboche. Wouldn't that be where the good juju was? Why were we going for our blessing to some guy's living room in a house that looked like all the other Pangboche houses? But the Sherpas I climbed with absolutely revered Lama Geshe, and I think I came to know why. He really seemed to care about people.
My last time up there in the Khumbu was the earthquake year of 2015. That was a hard time, with death and disaster all around. I'm asked all the time now whether I miss the mountain. And I do. But mostly I miss the people. Like many, I was only just coming to terms with the news that Elizabeth Hawley had passed in Kathmandu. Coupling that with Lama Geshe's death, I can't help thinking that it is the end of an era. It isn't a tragic end. They both lived admirably long and full lives. And God knows the Hillary Step sat up there patiently at 29,000 feet for long enough before it disappeared. But rocks come down, mountains change, and people finish their lives.
That doesn't mean the game is finished. There isn't any shortage of Everest left to climb at the head of the valley. There will still be great folks to send you off to your mountain with a blessing and perhaps even a knock on the head to settle your stomach butterflies and stiffen your vertebrae. And afterward, in Kathmandu, good folks will still document your achievements and endeavors. But that is all for a new era.
I intend to live in the past and hang on to Hillary, to Hawley, and to Lama Geshe a bit longer.
Dave Hahn is a mountain guide and ski patroller. He has reached Everest's summit 15 times.