Lori Schneider Interview: MS Didn't Stop Her Everest
Heading out the door? Read this article on the new Outside+ app available now on iOS devices for members! Download the app.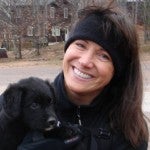 In 1999, at the age of forty-three, Lori Schneider awoke with numbness in over 50 percent of her body. Two months later, her entire body was numb. She had Multiple Sclerosis – MS.
MS is a disease that attacks the central nervous system, and often goes undiagnosed or misdiagnosed for years, because the symptoms come and go.
Lori had been experiencing symptoms of numbness and tingling for 10 years prior to that total body attack. Doctors told her that it was rapidly progressing and she could be in a wheelchair some day.
"It scared me. I was really afraid that my physical life was over," Lori said.
So what did she do? Set a goal to climb the highest mountains on the seven continents – of course.
MS  disrupted her balance and vision. She began steroid treatments to address the symptoms. With her numbness abated and balance returned, she went on to summit Aconcagua on New Years Eve 1999.
When it came time to climb Everest in 2009, it was a tall order. She had to train near sea level, take out a loan for $80,000 to pay for the climb and figure out if her MS would be an issue at 29,035 feet
Now almost a year later, Lori took time away from her busy speaking schedule to share her experience with me.
I am always impressed with people who set tough challenges for themselves against all the odds. Of course we all followed Mark Inglis who summited in 2007—with prosthetic legs—on the Discovery Channel's Everest series. Also Eric Weihenmayer, who is blind, and made it to the top in 2001.
Then there are those people who see the opportunity, have a small support system and few contacts, and climb without sponsors or television contracts. They see their challenge as life changing and, more importantly, meaningful to others.
Last week we visited with Cindy Abbott who has a rare disease, WG. Similar to Lori, she has no sponsors, has taken out a huge loan, and lives near sea level.
Lori summited on May 23, 2009, becoming the first person with MS to complete the 7 Summits quest plus becoming the first person with MS to summit Everest. Today she uses that notoriety to inspire others that they can achieve their dreams through their own empowerment.
I wanted to ask Lori if it was worth it? All the risks, the pain, the sacrifice. I wanted to know how she was feeling today. And I wanted to share with the world how she is a making a difference.

Q: Did summiting Everest "change your life"?
I returned a different person after summiting Everest.  For me, those ten surreal minutes on top of the world, had a profound impact on me.  When I was diagnosed with Multiple Sclerosis, I thought my physical life was over.  As I stood on the summit in the snow, wind, fog, and clouds, I could not see a thing.
After 16 years of climbing, I had no view from the highest point on earth.  The only thing I could do was to look inside.  What I saw was a woman who had become brave.  A woman who thought her physical life was over the day she woke up with half her body numb, no longer feared for her future.  Climbing Everest allowed me to believe in the unbelievable.
Q: Can you discuss the differences in the physical vs. the mental challenge of climbing Everest?
I think climbing Everest is one part luck, one part physical strength, and one part mental strength.  In spite of bad weather on summit day, we were lucky to have any shot at all.  That is where the luck came in.  For me, I think the key lies in being mentally tough.
You can lift weights, run, carry heavy loads, and do exercises to get you physically ready for Everest.  It takes hours per day to get in the shape you need to be in to climb, at least it did for me.  On the mountain, that physical training really paid off in strenuous areas like the Khumbu Icefall, the Lhotse Face, and the Hillary Step.
I believe the TRUE key to success really comes from mental toughness.  It takes a positive attitude to deal with long days of climbing, intimidating terrain, and the constant threat of danger.  You must be able to put fear aside, in order to remain focused.
As a 52 year old woman with MS, I knew I was not going to be the strongest on the team, or even close.  What I did know, was that I was going to give it my best shot, with my best attitude.  I think a positive mindset can be your most valuable piece of equipment.
Q: You live in Wisconsin, elevation 1283' and your training was via treadmill with a 50lb pack among other techniques. Any advice for other aspiring climbers living in the lowlands?
I am a retired teacher and had no money or sponsors to help pay for a climbing or training camp.  For me, my only option was to make use of the terrain I had.  I spent three days a week climbing the hills of our local ski area, attempting to put in 1000 vertical feet each time, as I went back and forth up the slopes.
I put a 50 pound bag of dog food in my pack for strength training, and hurled myself down snow covered slopes with ice axe in hand to practice self-arrest techniques.
The treadmill added low impact incline training on alternate days, in addition to weight lifting, an  exercise program, and  core strengthening.  I also simulated ladder crossings by putting ladders across hay bales and up trees in my yard, then crossing them while wearing my crampons. 
You climb Everest slowly enough that your body will acclimatize while you are there, so being at elevation ahead of time is not crucial.
Bottom line is, a step is a step is a step, no matter where you take it.  Just get in peak condition, have a positive attitude, and go with a great climbing company to increase your chances of success.
Q: I know you were thrilled with Alpine Ascents (AAI) as your guide. They are one of the most expensive. Can you tell us about that experience?
Climbing with Alpine Ascents was the best decision I made, and I could not have been more pleased.  You may pay more than some of the other companies, but I think you get more.  The client-to-guide ratio was low, so there was always someone covering your backside.
The experience level of the guides and the Sherpa team was very high, with many Everest summits between them.  The tents, food, equipment, and technology were top notch, as well as the relay of information that was passed along to friends and family back home.
I think one of the things that I enjoyed most about Alpine Ascents was their ability to make the trip enjoyable. Head guide Vern brought along a travel guitar and entertained the clients and locals as well.
Lakpa Rita, Ellie, JJ, Garrett, and Michael were compassionate, competent, and helpful, all adding to the success of the trip. Most of us only have one shot at Everest.  Why not give it the best shot that you can?
Q: Sherpas play a key role in every Everest climb. Can you tell us a bit about your Sherpa team?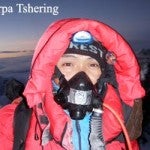 The Sherpas are the unsung heros on Everest.  They made it possible for us to climb with relative safety, because of their behind the scene efforts.
On the day to day front, they checked and set the climbing ropes, carried and secured our tents,  prepared excellent nutritional meals, hauled water for the weekly shower, even washed out your clothes if needed.
On summit day, they took your life into their own hands, and assisted with everything from safety checks, carrying extra O's, making sure you were warm enough, to guiding us safely to the summit and return.  They are worth their weight in gold.
A special thanks to our Sirdar Lakpa Rita, and to my climbing Sherpa Tshering for your strength, compassion, courage, and assistance.
Q: Did you have any health issues during the climb? How are you today?
I was one of the lucky ones on Everest in '09.  I stayed relatively healthy for the entire two months.  I did not get the stomach bugs that many got on the approach hike.  Our climbing company stressed good health practices, so that really helped.  I did experience the Khumbu cough towards the end, and was told I had a deep sexy voice for about a month after the climb.
My MS had been pretty stable for a couple of years, and I did not experience any relapses while climbing Everest.  Today, I remain healthy with very few symptoms, although I need to get back into an exercise routine once again.
Q: You have become quite the successful inspirational speaker and author. What is the primary message of your presentations?
Upon summiting Everest, I became the first person in the world with MS to complete the  'Seven Summits'.  That propelled me into the world of speaking, faster than I could have ever imagined.  My message is to encourage others to believe in themselves, and not be afraid to try. 
Ordinary people can achieve some extraordinary goals, if we just set our mind to it.  We must not let our age, our gender, or our labels, determine what we can and can not do.  It is what we have inside that gives us our strength, and we must not be afraid to challenge ourselves.  You can't summit if you don't try!
Q: Any big future plans?
I would like to use all that I have learned from this experience, and give hope to others with MS or other illnesses that their physical lives are not over.  Yes, I am lucky with my MS because it is stable right now.
I have gone through total body numbness, vision loss, balance issues, and difficulty walking at times, but now I am feeling strong.  I know that many with MS can have difficulty just climbing a flight of stairs.  They were MY inspiration while climbing Everest.
I now give talks in the USA and abroad, about climbing the obstacles in your life, whatever they may be.  I have also planned a trip back to Kilimanjaro in 2011, to take a group of climbers with MS and help give them back their sense of power. 
On my website EmpowermentThroughAdventure.com you can support our efforts through the purchase of Lori's Leap Of Faith Necklace, and my book, Everest-Climbing Beyond Our Limits. 
The book contains journal entries and photos from my 2009 summit of Everest.  The proceeds from these sales go to a scholarship fund for projects & trips benefiting others with MS. Those of us with MS sincerely thank you.
Thank you Alan for sharing the stories of other Everest climbers.  You have given all of us a glimpse into a world that we once thought was only for someone else.  Cheers and I look forward to following the 2010 season with great anticipation!
I know all of Lori's old and new friends are extremely proud, not only of her accomplishments but of her spirit. She is truly an inspiration. If you have a chance to hear her speak – grab it!
You can keep up with Lori via her website and Facebook page. But send her a note just to say hi. I am sure she would appreciate it.
Climb On!
AlanArnette is a speaker, Mountaineer and Alzheimer's Advocate. You can read more on his site.