Meet Vu Nguyen, the World's Best Barefoot Climber
The climbing guide is pushing limits with the soles of his feet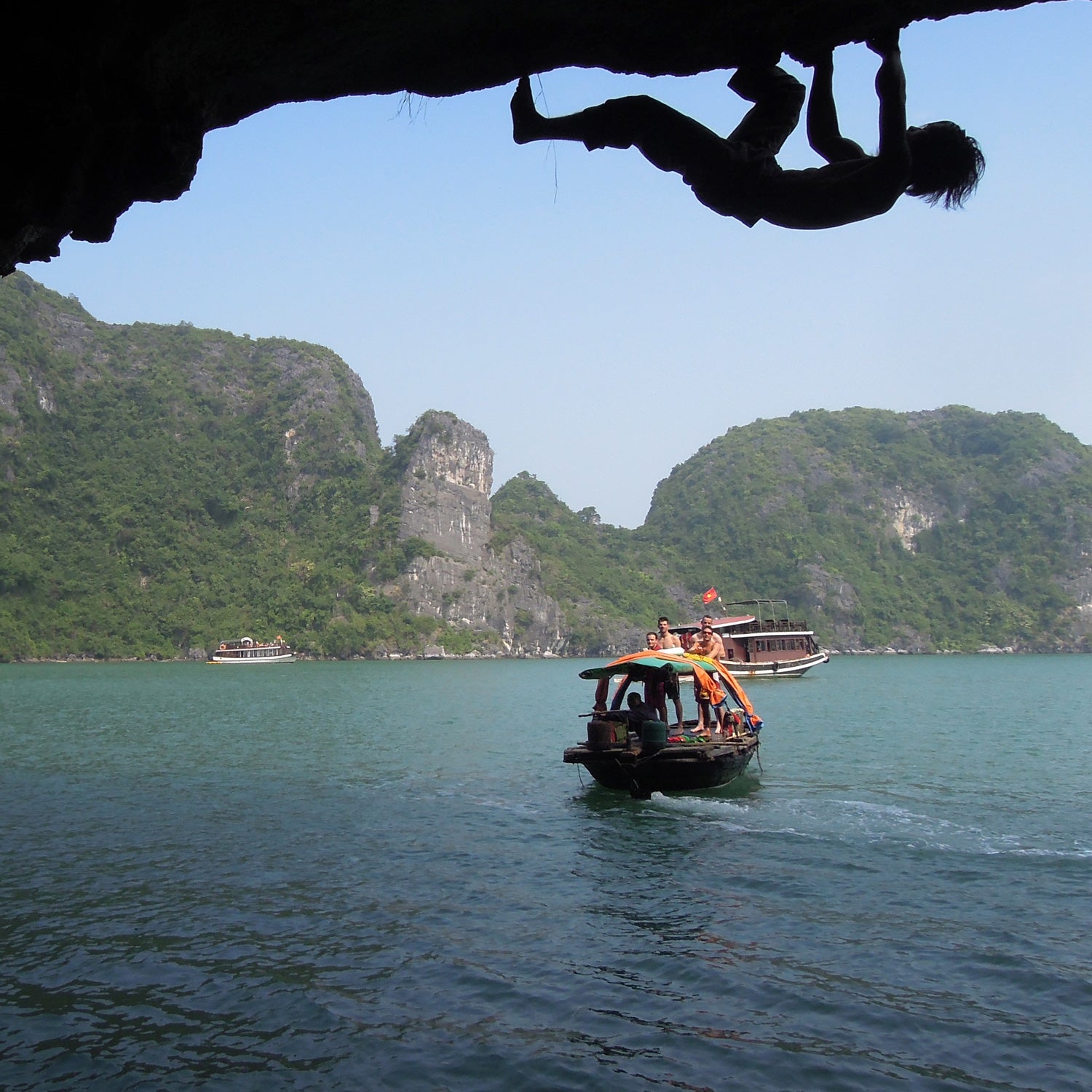 Heading out the door? Read this article on the new Outside+ app available now on iOS devices for members! Download the app.
When you talk to Vu Nguyen about climbing, you'll quickly notice two things: first, he's very shy, and second, about every few words out of his mouth is "strong." Nguyen is slim, muscular, and nimble, with coiffed hair and a quiet demeanor. Sitting on a beach just off Vietnam's Ha Long Bay, he explains how he scrambled up a 5.13 limestone route and dangled by the hook of his heel for several minutes over the water with ease—without climbing shoes.
Nguyen digs his toes dig into small crevices and grinds his heels against the pockmarked stone, moves that would make most other people grimace in pain, but he doesn't seem to mind. "It hurts a little bit," he admits in his limited English, explaining that the direct contact with the rock, although grating, actually creates a more secure hold. "But no shoes—more strong."
The 24-year-old, who hails from Hue in central Vietnam, is a climbing guide at Asia Outdoors. However, recently he's become better known as one of the best climbers in the country, and one of the best barefoot climbers in the world. To be fair, the climbing culture is just developing among Vietnamese, and barefoot climbing isn't especially trendy. There are no official barefoot climbing competitions, and most climbers will tell you that shoes allow you to grip the rock and stick your feet in cracks and crevices that would be incredibly painful in bare feet. 
Lynn Hill, an American climbing pioneer and one of the first Western climbers to bolt routes in Ha Long Bay—a popular climbing and vacation spot—in the late 1990s, says many climbers like to boulder or climb barefoot casually, for the sake of simplicity, but she doesn't know anyone who does it regularly and to the degree of difficulty that Nguyen does. "I've never heard of anyone climbing something as hard as a 5.13 barefoot," Hill says. "I don't think I could do that, because I'm so used to wearing shoes all the time. 
"However, I could see how climbing barefoot could be an advantage," Hill adds. "Our movements are based on sensory inputs, and if you're wearing shoes, that's mainly through your eyes and your hands. You can see the appeal of having your feet on the rock as well." Ha Long Bay's intimidating spires offer plenty of small rock hooks that would favor a single bare toe over an entire shoe—but it's limestone, which really tears at bare skin, Hill says.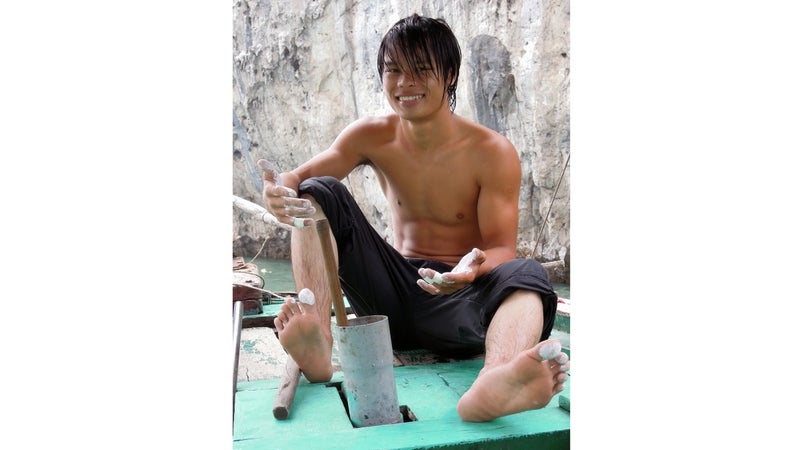 Asia Outdoors is based on Cat Ba Island just off the bay. The dramatic, craggy cliff islands that dot the bay boast 100-feet high limestone routes and cracks on ominous-looking white and gray walls. It's an area famous for deep water soloing (climbing above water with no rope or harness, where a climber can fall safely), and is an emerging climbing Mecca. It's Nguyen's playground, and whether he's guiding a group or off duty, when he climbs, all eyes are on him.
Casually, Nguyen chalks up his fingers and toes and hops onto Hawaii 5-O, a 5.13-rated deep-water solo route. He crawls onto the main wall with a series of difficult bouldering moves, and in about a minute has scaled about a hundred feet up on the towering cliff like a monkey would. He's in his usual: no shoes and baggy sweatpants. At the top, instead of jumping into the water like everyone else, Ngyuen swiftly climbs back down and hops into a waiting boat. "I don't like to jump. I like climbing down," he says.
Nguyen started climbing when he was 18, having taken a job with Asia Outdoors, a company where his brother and sister previously worked as office staff and guides. He took to it naturally. For him, guiding simply seemed like a better prospect than the motorbike mechanic shop where he'd been working. Plus, he has seven siblings and he wasn't going to pass up good work.
"Before I worked here, I thought I'd come here to make some money to help my family back in central Vietnam. But then I thought climbing was so interesting, and I wanted more climbing challenges. It made me feel happy and accomplished, and I couldn't get enough," said Nguyen through a translator. He remembers realizing he had exceptional talent four years ago when he was guiding a group of elite climbers. He noticed he was completing some very difficult routes while others weren't. It was an amazing feeling, he says. Nguyen began pushing his abilities, training daily, and even building a bamboo training gym of his own design on the roof of his apartment building.
As for climbing barefoot, it is just the way Nguyen has always done it. He remembers putting climbing shoes on for the first time. They were uncomfortable and hurt his toes. He decided to climb barefoot, and soon made a habit of going shoeless on the rock. "Now, I prefer to climb without shoes because I am able to feel every detail of the rock with my toes, and I love feeling so close to nature," he says. 
Plus, he's exceptional at it.
Nguyen once tried wearing shoes for a bouldering contest he entered, but struggled to adjust to the cramped footwear. After the competition, frustrated, he took off his shoes and flashed the final route as everyone stared. "When people see him (climb barefoot), other people inevitably want to try. No one does it at the level that Vu does, though," said Asia Outdoors general manager Chris Johnson.
Barefoot climbing gained some brief popularity in the '70s, most famously done by German climbing great Bernd Arnold. Chris Sharma appears in one segment of the movie Rampage messing around with no shoes, but as Hill points out, few people climb this way at a high level. Nguyen, however, climbs tough 5.14 routes in Ha Long bay's Butterfly Valley in his bare feet. 
"I personally do not know of anyone that climbs routes that that hard barefoot—especially on limestone (which is more slippery than sandstone to granite) on a regular basis," said the USA Climbing team's head coach Claudiu Vidulescu. "Nevertheless, it's an amazing feat."
Nguyen has dreams of climbing professionally around the world, and getting the chance to test his limits for the first time on a 5.15. For now, he's only ventured as far as Vietnam, China, and Thailand. However, he sees his most important role as an ambassador for the sport in his home country. He may get a chance to climb in front of Vietnam as part of his latest challenge, which isn't on the rock, but as a competitor in Vietnam Ninja Warrior. He completed the preliminary rounds in November and hopes to return to Hanoi for the show in February.
"Most Vietnamese people don't know much about climbing. They think it's something for foreign people, but not for Vietnamese," he said, adding that it even took a while for his parents to appreciate what he does. "I want to be a good, good climber, go everywhere in Vietnam and put up more routes. Maybe more people will discover climbing, want to try it, and find it as fun as I do."
Lead Photo: Dave Lucas