Nirmal Purja Just Shattered the 8,000er Record
Over six months and seven days, the Nepali climber summited all 14 of the world's 8,000-meter peaks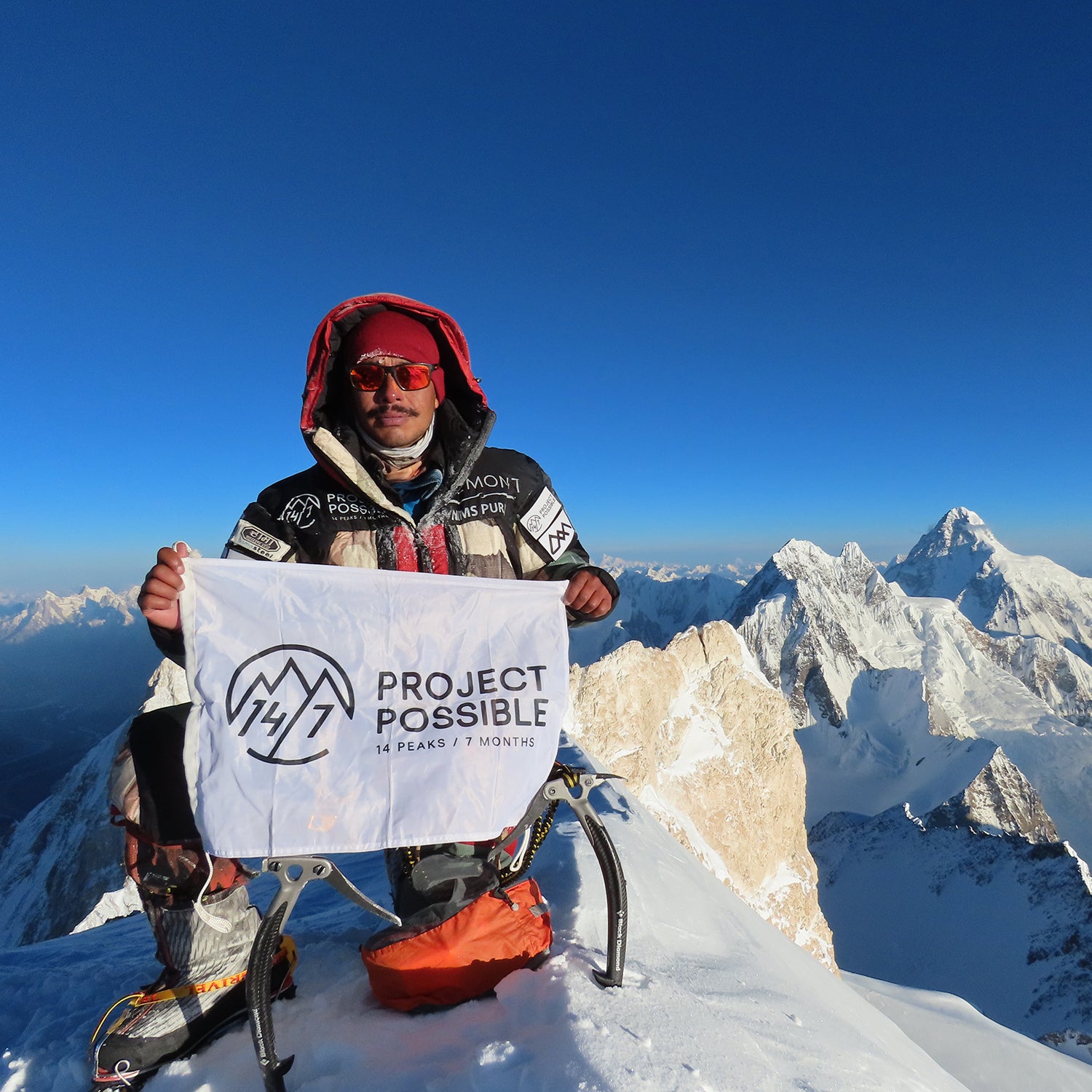 Courtesy Project Possible(Photo)
Heading out the door? Read this article on the new Outside+ app available now on iOS devices for members! Download the app.
On October 29, Nepalese climber Nirmal Purja reached the summit of 26,335-foot Shishapangma in Tibet, finishing a season that saw him summit all 14 of the world's 8,000-meter peaks in just six months and seven days. 
With the summit, the 35-year-old handily broke the previous fastest time of just under eight years, set by South Korean Kim Chang-Ho in 2013, and became the 43rd person in history to climb all 14 8,000-meter peaks. Purja used supplemental oxygen, while Kim did not. 
Purja grew up in Nepal's low-lying Chitwan region. At 18, he joined the Nepalese Ghurkas, a regiment in the British Army, and served for 16 years, including 10 years in the Special Forces. He didn't set eyes on the giants of the Himalaya until 2012, and almost immediately fell in love with climbing the big peaks. In March of this year, Purja quit the military, abandoned his pension, remortgaged his house, and started off on what he called Project Possible, a mission to climb all 14 of the world's biggest peaks in seven months. With Project Possible, he hoped to inspire people to tap into their potential. He also wanted to show the world just how strong Nepalese climbers are. "I climb with a Nepalese team purely because these guys are the best climbers," Purja told Outside last spring. "They're the only ones who can keep up."
Project Possible consisted of three phases. During the first, Purja climbed Annapurna, Dhaulagiri, Kanchenjunga, Everest, Lhotse, and Makalu over the course of 30 days in April and May. On Annapurna, he and his team fixed the ropes to the summit. On their descent, they learned that Malaysian climber Wui Kin Chin was in distress and alone above 7,500 meters. Purja organized the rescue and helped get Chin off the mountain (Chin died five days later).
While descending Kanchenjunga, the world's third highest peak, Purja's team found three climbers who'd run out of oxygen. The team gave up their own supply and helped the men down. To finish off phase one, Purja climbed Everest, Lhotse, and Makalu in under 48 hours. He tagged Everest and Lhotse in the same day, despite waiting in line for hours en route to Everest's summit. That delay gave him time to snap the most viral photo of the Everest season. 
Funding problems threatened to stymie phase two before it even started, and Purja was left waiting in Nepal while teams were already setting up their base camps in Pakistan's Karakoram region. Eventually he was able to raise enough money from donations and sponsors to kick off the second stage of his project, which consisted of Nanga Parbat, Gasherbrum I and II, K2, and Broad Peak. He summited those five peaks in a little over three weeks. K2 is about 785 feet shorter than Mount Everest, but is far more dangerous—the statistical likelihood of perishing on K2 is around 25 percent, according to 8000ers.com, a website that tracks data on the world's highest peaks. This year heavy snowfall forced most of the teams on K2 to abandon their attempts, but Purja remained, along with a team led by British mountain guide Adrian Ballinger. "To have Nims show up and say, 'Hell yes, we're going to try this thing! We deserve a good try! It doesn't matter what anyone else did,' it was great motivation," Ballinger said in an interview with Men's Journal. 
Phase three began on September 23, when Purja summited Cho Oyu in Nepal. Just four days later, he stood on top of Manaslu. With one peak to go, Purja faced a significant obstacle: the Chinese government had closed Shishapangma to climbing for the season. The Himalayan Times reported that the Nepalese government asked that Purja receive a special climbing permit, a request that the Chinese government ultimately granted. 
"I am overwhelmed and incredibly proud to have completed this final summit and achieved my goal," Purja said in a release. "It has been a grueling but humbling six months, and I hope to have proven that anything is possible with some determination, self-belief, and positivity."
On Instagram, though, he was already looking forward.
"I have been thinking a lot already about the next project," he wrote. "Believe me my friends, it's only the beginning."
Lead Photo: Courtesy Project Possible
Trending on Outside Online