Inside the First Afghan Women's Ascent of Mount Noshaq
In July, a group of Afghan women set out to climb 24,580-foot Mount Noshaq, their country's highest mountain. No Afghan woman had ever reached the summit, and many challenges stood in their way, from hostile Afghan men who think that women shouldn't exercise, to the terrorist attack in a district near the peak two days before the climb began. This is their story.
Heading out the door? Read this article on the new Outside+ app available now on iOS devices for members! Download the app.
"Oh my God, oh my God, oh my God."
Hanifa Yousoufi speaks only a little English, but the words she knows she repeats over and over again. She's a member of an all-woman Afghan mountaineering group called Ascend: Leadership Through Athletics, and along with three of her teammates, she is attempting to climb 24,580-foot Mount Noshaq, the country's highest peak. So far, Hanifa's journey has consisted of a four-day trek to base camp, at about 15,000 feet. This is her first test climbing higher on the mountain, and her eyes are filled with terror. She's gripping a large rock band, looking down 800 feet at the steep, icy slope beneath her.
Emilie Drinkwater, the 41-year-old American mountain guide leading the expedition, is a few feet ahead, hacking steps into the ice to create a path so that Hanifa and her teammate, Shogufa Bayat, can reach steady ground on a small rock terrace. A few moments earlier, they watched as I fell and then slid down this slope, which consists of densely packed ice broken only by jagged rocks. I was tethered to the expedition's medic, Rob Gray, by a short rope. Had I not rammed my crampons and ax into the ice at his order, I wouldn't have been able to regain my balance before he lost his, and we both could have fallen to our deaths.
Carefully, Hanifa begins to climb, stumbling as she follows Emilie, who she is roped to. She pants and moans, less from exhaustion than fear.
Hanifa is anything but frail. She has thick, black hair and long eyelashes. When she tilts up her chin, she looks proud and taller than her five-foot-two frame. But at times she appears tired, vacant—with a sense of hopelessness in her expression. She can look you in the eye from a distance that can never really be crossed.
Her family lives in poverty in Kabul, Afghanistan's chaotic capital, where in 2018 alone, hundreds of people died in bombings and suicide attacks. She's the youngest of six sisters and two brothers, and like 80 percent of women in Afghanistan, she is illiterate. Her family has never celebrated her birthday, and she doesn't know how old she is. She assumes about 23. Before the climb, when I asked her through a translator at Ascend's office in Kabul if she had any happy childhood memories, she fell silent for a moment before mumbling, "very little."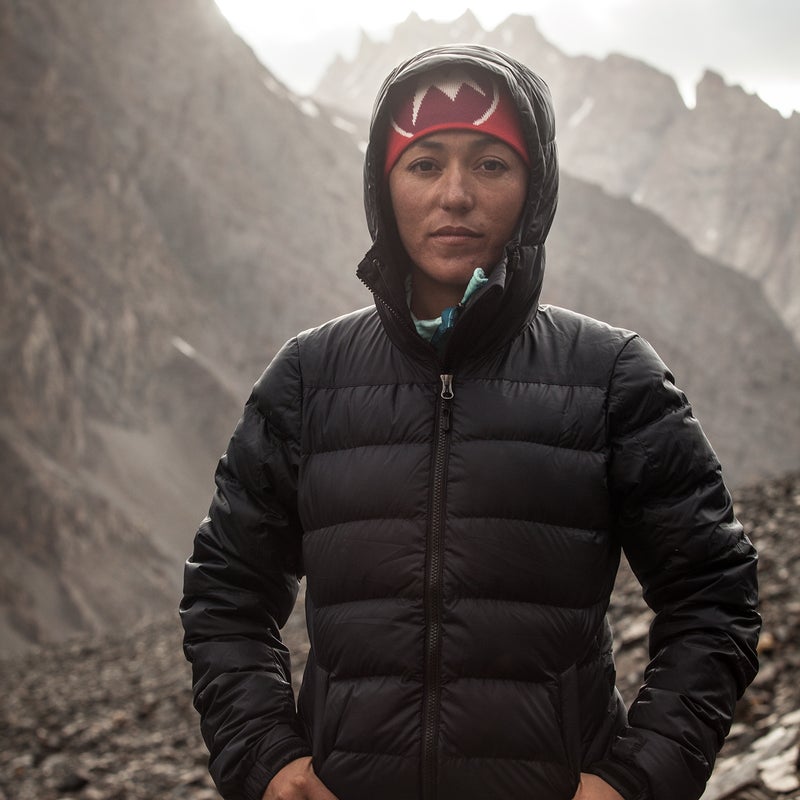 Hanifa talks about her past only reluctantly, but when she does, words pour out as she cries. Like many young girls in Afghanistan, she was married off to an older man when she was about 14. She was sent to Pakistan to live with him.
"Other girls in my husband's family were going to school," she told me in Kabul. "I was like a slave for cooking and cleaning."
Hanifa knew that she would rupture her family's peace if she left her husband. Still, she recalled thinking, "It is my life and I can decide what to do with it. I didn't want to live with this man."
After two years, she fled back to Kabul. When she arrived at her parents' door, she feared that her relatives and neighbors would shun her. Other women in the country have been ostracized—burned with acid, noses cut off—or even killed for shaming their families. But her parents took her in. Hanifa says that they were heartbroken when they learned how deeply unhappy she'd been. For years after her divorce, Hanifa barely left the house. "I became this quiet girl," she said. "I started to dislike everything. I would think people were bad-mouthing me. I didn't want to go anywhere."
Then, three years ago, her cousin, 18-year-old Shogufa, encouraged her to join Ascend. Founded in 2014 by an American former international-development worker named Marina LeGree, Ascend aims to empower Afghan women by teaching them athletic and leadership skills. In addition to physical training—like strength workouts, hiking, and climbing—team members volunteer for local nonprofits and attend workshops on subjects including interpersonal communication, public speaking, and self-esteem. Spending time together exercising created a bond among the women that Hanifa had never experienced before.
"I couldn't sing, dance, or play with the other girls at first," she said. "I wanted to be in a corner." Since then, mountain climbing has transformed Hanifa from a woman who walked hunched over and rarely spoke into one who keeps her head high and her back straight. She helps support her family with the small income she earns working as an Ascend program assistant, teaching new members about rock climbing and fitness, among other responsibilities. "Suddenly, I had hope for my life," she told me.
Some family members and neighbors have criticized Hanifa for mountain climbing, shamed her for divorcing her husband, and insisted that she should remarry. And while many women are part of the Ascend team because it's fun, it's freeing, and it gives them something to focus on, for Hanifa it's about survival. She persevered through two years of training just to make it to Noshaq base camp. Her tolerance for pain is serving her well on the mountain. She never complains while climbing—not when she's tired, not when she's thirsty, not when she's hungry. "Go up?" she asks impatiently, always eager to continue. But the mountain is proving to be more difficult than any of us anticipated.
---
Noshaq isn't a particularly technical climb. More challenging is its remoteness. It sits in the Hindu Kush range of northeastern Afghanistan, along the Wakhan Corridor between Pakistan and Tajikistan. There are no detailed topo maps for the mountain, and there's little information available about possible routes to the top.
Noshaq was summited by a number of expeditions in the 1960s and '70s—a Japanese team was the first to do so, in 1960—but violence in the region has deterred most climbers since the 1979 Soviet invasion. To this day, there are few expeditions. In recent years, some individuals and small groups have climbed the peak and blogged about the experience. (During our expedition, we encountered a Polish solo climber, a Polish team of four, and a multinational team that turned around after a few days at base camp due to an outbreak of intestinal illness among its members.) But reliable data about summits, injuries, and fatalities is almost impossible to come by. One thing is certain: Noshaq has never been climbed by an Afghan woman.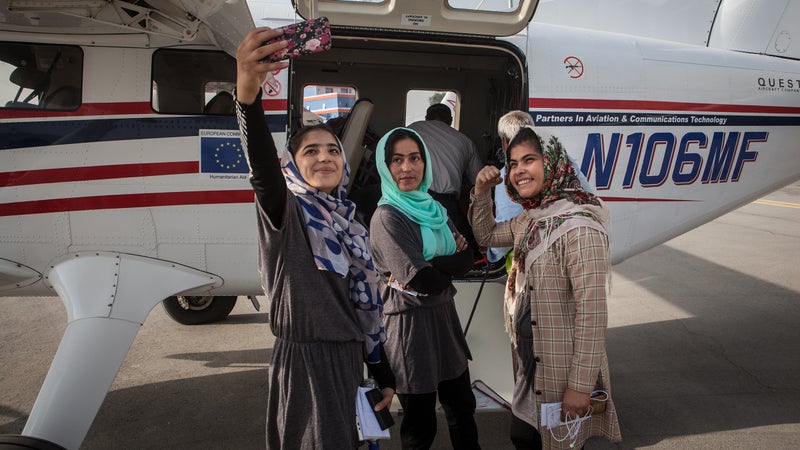 To Marina LeGree, that represented an opportunity. "There have only been three Af­ghan men who summited Noshaq, and I wanted to prove that girls can be just as strong as men," she says. "Afghanistan is full of mountains, but they are only used by shepherds and insurgents. I wanted to bring change to women, using something that was already there."
Marina lives in Arlington, Virginia, but she's no stranger to Afghan culture. Starting in 2005, she worked for various development programs and other organizations in Afghanistan, including NATO and USAID. In 2014, she decided to start her own NGO and named it Ascend. Her goal is to use climbing as a means of personal growth for young Afghan women. "Mountaineering is a way for them to find their own path and develop their own voice," she says.
To run Ascend, which typically has 11 employees, seven board members, and multiple volunteers, Marina travels to Afghanistan four times a year. She visits girls' schools to promote the program and invites students to apply. There are usually about 20 members, ranging in age from 15 to 23. The economic background of the young women's families is varied, but most are poor. Team members must participate six days a week, after school and on weekends, for at least nine months. They interview with Marina, Ascend program leaders, and prominent women in the community to demonstrate their commitment. Once accepted, the girls need to get their families' permission.
"Afghanistan is a predominantly Muslim, very culturally conservative country with strict rules about what women can and can't do," Marina says. "It would threaten the girls' lives if their fathers didn't approve. Each woman who's part of Ascend takes a risk. So does her family. There's a lot of extremism in Afghanistan. Honor killings still happen. Male relatives feel obligated to protect the family honor, and a girl who does something perceived to dishonor the family can be punished by any of them."
Over the years, Marina has brought in athletes to provide first-aid and fitness training and to lead trips, like Emilie Drinkwater, ultrarunner Megan Kimmel, and mountain guide Danika Gilbert, who has worked with Ascend since 2015 and has accompanied the women on multiple outings. The four Ascend members climbing Noshaq—Hanifa, Shogufa, Freshta Ibrahimi, and Neki Hai­dari—were chosen for their physical strength and the skills they demonstrated on training climbs, in addition to their emotional endurance and commitment to the program. Just a few years ago, none of them could have imagined coming to Noshaq's rugged terrain.
"I had never heard of girls climbing mountains before," says 24-year-old Freshta, Ascend's program coordinator and a team member since 2015. She loves to read and spends much of her time deep in thought, usually about human rights and Afghan society. She was ten years old when she first realized how unjustly women were treated in Afghanistan. "They made me wear a head scarf for my ID-card picture. I didn't like that they forced me to do that," Freshta says. "They took that decision away from me."
Freshta knew that her ticket out of poverty was education. She studied hard, competed for scholarships, and in 2017 earned a bachelor's degree in business administration from the American University of Afghanistan. The other Ascend members look up to her and seek her advice. Freshta was scared when she first started to climb. But she says, "I got to know myself, found self-­confidence, and tapped into hidden abilities."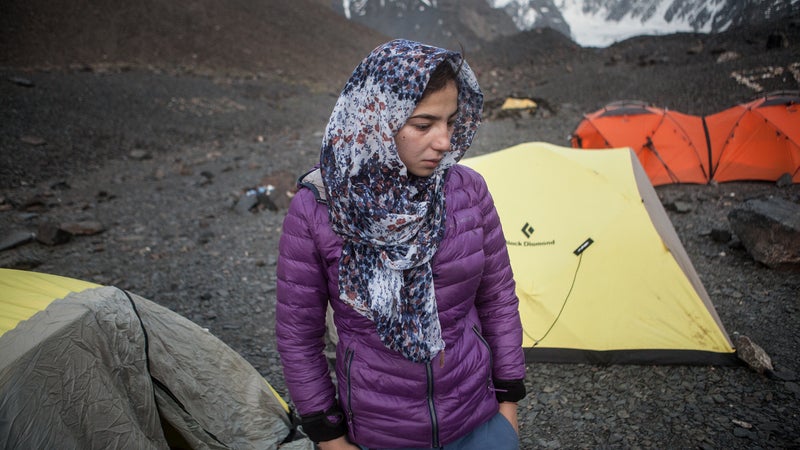 Like Freshta, Hanifa knew nothing about mountaineering before Shogufa convinced her to give it a try. Once Hanifa was in the mountains, she says, "I felt like I got free from a cage. I decided that from now on, I want to be a powerful woman who, when I see someone whose hand has fallen, I will take their hand and help them. No longer should women feel weak."
Shogufa learned about Ascend when the organization gave a presentation at her high school. "I was flying when they talked about it," she says. She saw an opportunity to spend time in the outdoors, something she loved as a child, climbing trees in her home province of Ghazni. Shogufa, who like Hanifa works as an Ascend program assistant, refuses to adhere to what's expected of Afghan girls: being quiet and subservient. She's a joke-cracking tomboy who's quick to challenge her teammates to an arm-wrestling match and just as quick to comfort them when they're sad.
Neki, 18, is the quietest team member. Her friends call her Panda because of her round, smiling face and calm demeanor. She spends much of her time painting, everything from pastoral landscapes to incarcerated women. "I learned how to express my feelings through art," she says. "I want my name to remain after I'm gone and continue to shine a light on the plight of women."
Though their families hail from different provinces, the women have spent most of their lives in Kabul, which can be a grim place. The city sits in a basin surrounded by mountains; the heavy traffic produces thick clouds of smog, and sewage clogs the canals. Decades of violence and continued fighting between the Taliban and the state's security forces, in addition to the presence of ISIS, have turned Kabul into a city where many citizens are traumatized and distrustful of one another. Terrorist attacks occur frequently, often weekly. Some Ascend members exhibit signs of possible trauma; one woman, an 18-year-old originally chosen to climb Noshaq, suffered a series of seizure-like episodes while hiking. A doctor didn't find evidence of epilepsy and thought the incidents might be panic attacks.
Many in the Ascend group have never exercised before, let alone climbed a mountain. In Afghanistan, it's considered shameful for women to do sports. In early 2018, when a trainer asked a new team member to hold her body in a plank position, she almost immediately collapsed under her own weight. Training outdoors is difficult because of safety concerns. During a day trip in March 2017, as the team descended a mountain on the outskirts of Kabul, some teenage boys appeared on the ridge. At first they only shouted obscenities, but soon the harassment escalated to violence. They used slingshots to launch rocks at the women, forcing them to rush down. "They hate us," one Ascend member said.
While the women's fathers have given permission for them to participate, not all have done so enthusiastically. One let his daughter join because "he had nothing better for her to do." He made sure to tell Marina what he thought of her efforts: "You're wasting your time. Everybody knows that girls are worthless."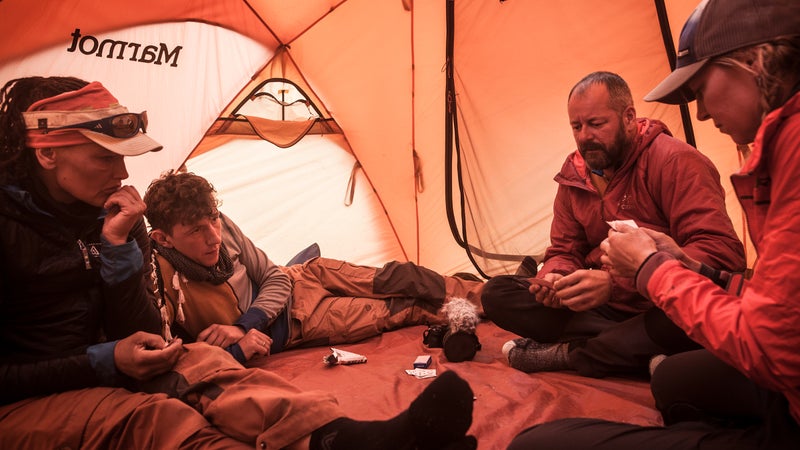 Many Afghan girls internalize these sentiments. When asked to describe herself, Neki responded, "When I was born, no one was happy, because I was a girl." Shogufa, who has a close relationship with her father, remembers an old story that her grandmother told her: " 'When a girl crosses underneath a rainbow, she will turn into a boy.' Whenever a rainbow appeared, I chased it."
For Shogufa, Neki, Freshta, and Hanifa, summiting Noshaq would be the ultimate proof that they are stronger and more capable than society would have them believe. "Of course we will make it," Shogufa said confidently a few days before the climb.
---
First they have to get there. Marina and Danika Gilbert had been attempting to pull off the expedition for a few years, but it had to be postponed for a variety of reasons: because of safety issues, to fill gaps in training, or because Ascend hadn't yet raised the tens of thousands of dollars needed to fund the monthlong undertaking. In July 2018, the project finally came together. (Ascend funded the expedition through the support of private donors, the Danish Government, and two family foundations; American photographer Erin Trieb and I funded the film team with money from a Kickstarter campaign. Ascend and the film team shared in the costs of guide Emilie Drinkwater. Gear was donated by Aclima, Marmot, and Scarpa, among others.)
Less than two weeks before the team was scheduled to leave for Noshaq, however, the expedition was nearly cancelled when Danika had to pull out. Her partner had been seriously injured while running in the Colorado mountains. Emilie stepped up and agreed to lead the team.
Then, two days before everybody was scheduled to fly to Ishkashim, in the northern province of Badakhshan, where Noshaq is located, the expedition was challenged again. The Taliban had attacked the district of Zebak, near the mountain. Marina negotiated with the charter airline to reroute our plane to a safer village, located 13 hours by car from Qazi Deh, the hamlet where the trek to base camp would begin.
Emilie, who earned a prestigious IFMGA accreditation from the American Mountain Guides Association and has extensive international experience, was part of the climb from the start. Originally, her role was to guide Erin Trieb and me as we reported this story and shot a documentary film. To support our efforts, Erin and I had also brought on Sandro Gromen-Hayes, an accomplished British climber and videographer, his friend Vibeke "Vibs" Sefland, and Rob Gray. Vibs, a 43-year-old Norwegian armed-forces member and medic who works in South Sudan, climbs 8,000-meter peaks in her spare time. Rob, 48, is a former member of the British special forces with extensive work experience in Afghanistan and would serve as an assistant, medic, and security expert.
In 2015, Emilie and Danika co-guided a different group of Ascend members on an expedition in Afghanistan near 19,058-foot Mir Samir. But Emilie had never guided the women going up Noshaq. She was aware that they, like Erin and me, were novice climbers, and she was cautious from the start. (Marina was joining the team as well to stay at base camp for a few days before returning to family obligations in the U.S.) Still, way too much had gone into the planning to just walk away.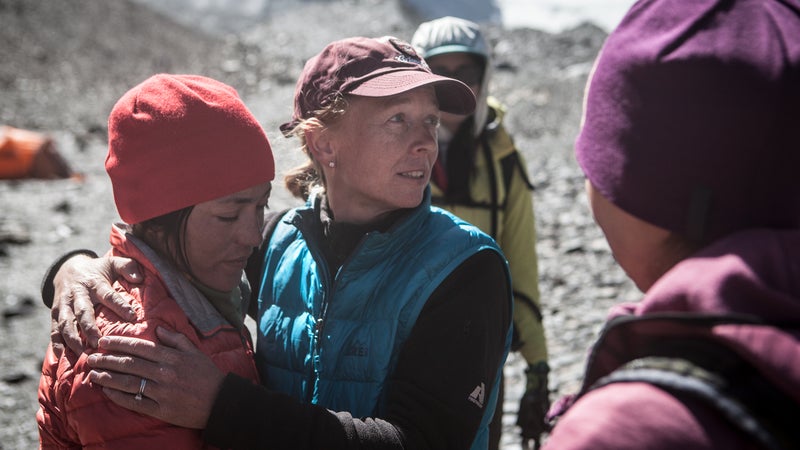 After so much uncertainty, starting the trip was a relief. Forty-one porters carried most of the loads on the four-day, 22-mile trek to base camp, walking ahead of us with donkeys. The air was warm, about 60 degrees, and the path was surrounded by sunlit mountains, green fields, and a wide river to the right. The women's steps kicked up dust, perfuming the air with the scent of lavender. But it was dangerous, too. One of the local porters pointed at white stones marking the path ahead.
"Make sure to stay on this trail," he advised. "We're in a minefield, and this path is the only bit that has been cleared." The mines were laid in 2000, when Afghan warlord Ahmed Shah Massoud's Northern Alliance troops fought the Taliban.
Emilie had mapped out a 28-day journey. At base camp, the team would acclimatize for a few days, then make a series of reconnaissance trips to the higher camps, carrying up gear and food, before descending to a lower elevation to rest. Above base camp, we'd encounter snow and ice. Crampons, ropes, and axes would be required.
When the team arrives at base camp, the women blast Persian music from their phones as they set up tents. A few makeshift structures remain from previous expeditions, including two pit toilets and a cooking area surrounded by a small rock wall to shield it from the wind. While we acclimatize, the women spend their days basking in the sun, listening to music, and dancing. Hanifa and Shogufa brought prayer rugs with them and pray five times a day, as the Koran dictates.
Emilie, Vibs, and Rob sit outside the group tent and talk over the climbing schedule. "We'll have to get to know the terrain," Emilie says.
"We also have to see how the girls will be doing," Vibs says.
Emilie and Rob agree. "Everybody has to be strong from the very beginning," Rob says.
"No one can get weak up there," Vibs adds.
"I think this mountain is being vastly underestimated," Emilie says. "It's not going to be a walk up."
---
On day seven, Emilie and Vibs decide to take the women on a supply run to camp one, which sits at about 18,000 feet. Freshta, her short black hair framing her serious face, opts to remain at base camp. She's been struggling with a back injury for months, and the hike in didn't help. As the team begins the ascent, the slope quickly turns steep and icy. Most of the women struggle to climb in crampons while carrying 45-pound packs. Shogufa complains about stomach pains, and Neki's crampons get tangled up. She slides and falls often. Vibs tries to coach her, but after a few hours, Vibs and Emilie decide that Neki should return to base camp. "Unfortunately, Neki is very slow today and has bad footwork," Vibs informs the group. At first, Neki refuses. She sits down on the slope, crying behind her sunglasses. "If you don't go down, we all go down," Emilie says. Eventually, without saying a word, Neki gets up, and Vibs takes her back to base camp.
Hanifa and Shogufa move on with Emilie. There is no clear route to camp one. At times we're on a long rock moraine where the team risks sliding or kicking off boulders. At other times the terrain is so icy that each step takes tremendous concentration and downward force to avoid falling.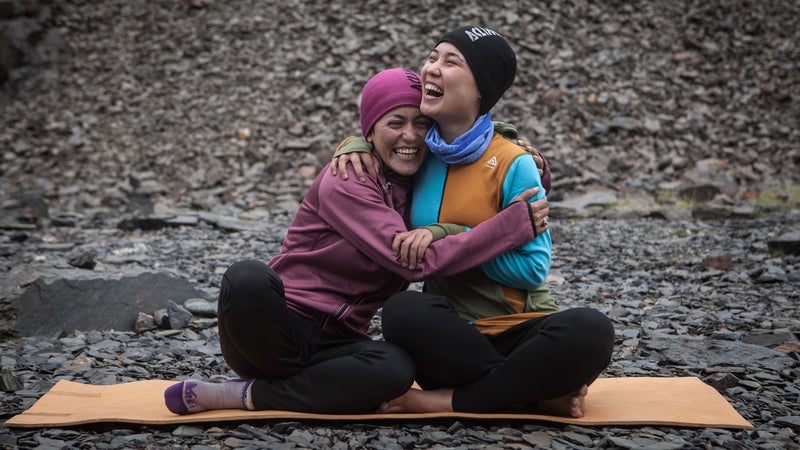 On the way up, Hanifa proves to be the strongest and fastest of the Ascend women. Shogufa keeps up with her for a while. Then, after a few hours, she falls behind. Exhausted, Shogufa loses hold of her pack when she removes it at a rock band, and we watch as it tumbles down the slope. It's getting late in the day, and Emilie decides to turn the team around to head back to base camp. The climb was a reality check. Based on what the guides saw of the women's abilities, they reevaluate their plans. Emilie and Vibs agree that if they want a chance at the summit, they would only be able to take Hanifa. Gathered in the cooking area at base camp, they give the women two options: work together to try to get everyone to camp one as a training experience, forgoing a summit attempt, or let Hanifa head up alone.
Marina has known from the beginning that summiting Noshaq would be a huge reach for the women. She discussed their expectations with them before the trip, explaining that just being on the expedition qualified as success. "We won't have a chance at the summit if everybody goes, and that's OK with me," she says to them now. "But it's a decision that should be taken by the girls."
Emilie adds, "One thing that concerns us is that we are all roped together. I am an anchor. So if somebody falls, I could be pulled off too, and we could all go falling down."
Freshta speaks English and translates the conversation. Shogufa, who also speaks some English, appears increasingly exasperated as they weigh the options, crossing her arms. Eventually, she admits: "It is harder than we were thinking."
Prior to the climb, the women had practiced using crampons on snow on occasion, but none of them had walked in them for hours while carrying a heavy load. Ascend members have to travel far from Kabul to find safe terrain with snow to train on, and the organization can't always afford those trips.
The women decide to take a couple of hours to think everything over. Eventually, Neki and Shogufa agree to stay behind, giving Hanifa a chance to make history. Also, for safety reasons, Emilie and Vibs decide that only Sandro and I from the media crew will follow Hanifa on her summit attempt.
Over the next few days, as Hanifa acclimatizes at higher elevations, Neki and Shogufa struggle with their decision. On day 12, when everybody is back at base camp to rest, Shogufa sits on the floor of the group tent with the team. Her voice trembles as she speaks. "If you guys think only Hanifa is strong, OK," she says. "She can go up. I don't have any problem with that. And I'm weak. I want to go back to Kabul, to make my body stronger for another time."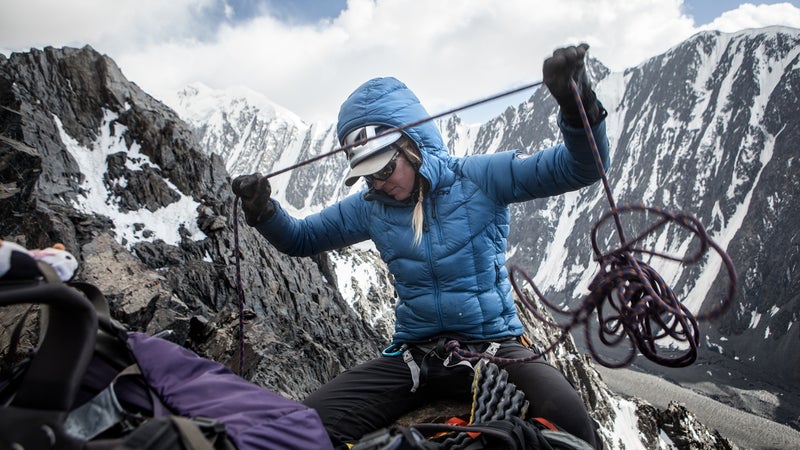 Neki is sitting next to her. She fidgets but doesn't speak. Shogufa breaks into tears, shaking with disappointment. "I would never have come here if I had known I wasn't allowed to climb beyond base camp," she says. "I'm worried that if I go back to Kabul, I will have to tell my father that I'm weak and slow."
Marina tries to reassure her. "You are not weak," she says. "None of us knew what would happen when we got here."
"I've only been climbing for three years," Shogufa pleads. "I need more help to go up."
"It's a matter of safety," Marina says, trying to reason with her.
Shogufa looks away. Eventually, she says: "Thank you for everything. If my words bothered you, I'm sorry." Hanifa doesn't say anything and stares vacantly at the floor.
---
On day 14, Emilie prepares the climbing team to move higher up the mountain. From this point on, we won't return to base camp until after a summit push. Hanifa hugs and kisses her teammates who are staying behind before heading up to camp one. Two days later, on the way to camp two—2,300 feet of vertical gain—Hanifa begins to struggle.
She fights, but the mountain fights back, and each step becomes more difficult than the last. The air is icy, and breathing it burns her lungs. There's never enough oxygen to bring relief. As Hanifa ascends, new mountains become visible all around us in the distance, layer upon layer of jagged, snow-capped peaks. It's difficult to say where Afghanistan ends and Pakistan or Tajikistan begin.
After a night at camp two, Hanifa wakes with a raging headache. She unzips her tent and staggers out. Managing to take a few steps, she bends over and throws up. Emilie measures the oxygen levels in her blood. Between 95 and 100 percent is normal at sea level; a number in the seventies (with only minor altitude-sickness symptoms) is considered safe at this elevation. Hanifa is at 49. "If she doesn't get better by the afternoon, she has to go down," Emilie tells Vibs.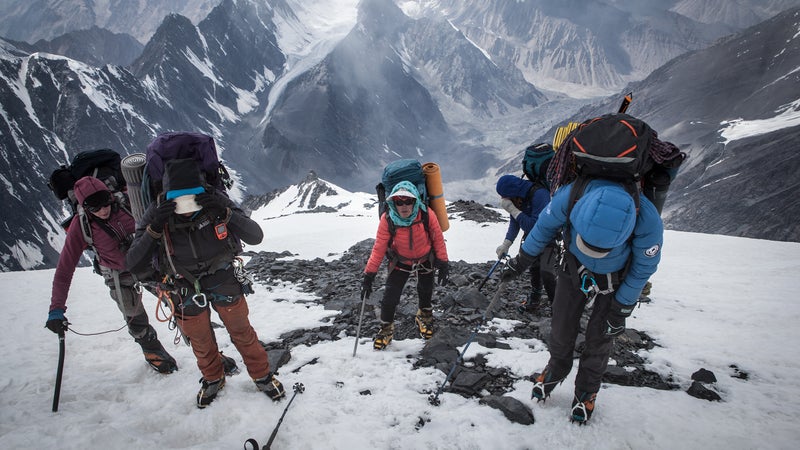 Hanifa doesn't get better. She throws up tea. She throws up chicken soup. She throws up anti-nausea medication. Emilie, who has been checking on Hanifa hourly, tells her that they need to go back to camp one to get her oxygen level up. If her health doesn't improve there, she might have to go back to base camp where there's a bottle of supplemental oxygen for emergencies. Despite Emilie's reasoning, Hanifa is defiant. "No," she says, "camp three."
But Hanifa doesn't have a choice. That afternoon, Emilie helps her pack her bag, making sure she has the few things she always likes to have: her favorite snack of dried dates, a makeup mirror, and a leaflet with a prayer from the Koran. Hanifa left her green and gold prayer carpet behind at base camp to save weight. After two nights of rest at camp one, Emilie radios camp two. "Good news," she says. "Hanifa is better. We're coming up again."
On day 20, Hanifa is back at camp two, squatting in the snow and talking on the radio to Shogufa at base camp. Neki and Shogufa are fighting boredom and disappointment. Shogufa wakes up with nosebleeds, causing her to cough up blood. Hanifa barely sleeps at all. They share their anxieties about the expedition and concerns about the safety of their families back home. Shogufa hints that she wants to return to Kabul. She fears that something bad happened to one of her family members, based on contact she's had with them via satellite phone. "Everyone is in Gardez," Shogufa tells Hanifa, referring to a small city in Paktia Province where many of her relatives live. "I don't know what happened in Kabul that they all went to Gardez." Every time she asks her family if everyone is OK, she says, they won't answer her.
Hanifa and Shogufa become impatient with each other. The mountain has put enormous strain on their bodies and minds. They underestimated the acclimatization process, the time needed to rest and refuel, and the number of days a summit attempt would take.
"I'm totally confused about what to do," Shogufa says to Hanifa on the radio. "Do I sit here or go down?"
"However you feel at ease, do what you want to do," Hanifa responds. "If you go back to Kabul, say hello to our families. Goodbye now, I don't want to talk anymore."
Hanifa hands the radio over to Emilie, throws herself into her tent, and cries.
---
From that moment on, Hanifa speaks very little. Her blood-oxygen level is now between 55 and 65, and most of her altitude-sickness symptoms have subsided. The team decides it's time to move to camp three, at 21,800 feet. The mountain is shrouded with clouds, and at times it's hard to see farther than 30 feet. Still, she marches on. We arrive at camp three in a snowstorm, which doesn't die down for 24 hours.
As dawn breaks on the morning of day 23 and we prepare to climb to 23,000-foot camp four, Hanifa tells Emilie and Vibs that she dreamed something bad happened to her mother. Then she falls silent again. A 200-foot rock wall stands between the team and camp four. It's very steep, and Emilie decides to use a fixed rope to make the climb easier and safer. Hanifa is visibly uneasy. Emilie has to coach her on how to move the climbing knots to progress upward. "I go?" she asks, her voice muffled by the balaclava that's shielding her face from the cold.
The sun is setting as the team reaches camp four. An icy wind blows over the vast snowfield. We are now about 1,500 feet from the summit. Emilie and Vibs stomp down the snow to build a campsite. Hanifa, in an almost catatonic state, sits on her pack and watches. She's too weak to help.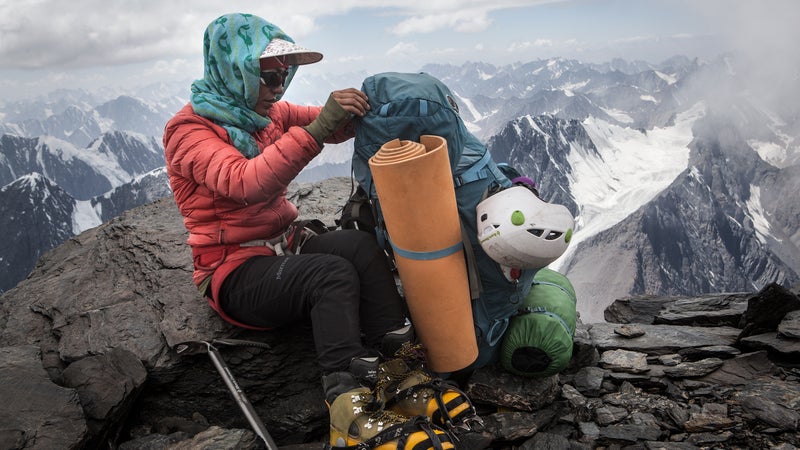 "It doesn't look good," Emilie says to Vibs and Rob once the tents are set up. Vibs asks Rob for dexamethasone, a medication that reduces skull pressure and helps with the symptoms of altitude sickness. But before they can administer it, Hanifa falls asleep. Emilie and Vibs keep a close eye on her over the next few hours, and Vibs is in frequent contact with a Norwegian military doctor via InReach to monitor Hanifa's condition.
No one expects Hanifa to summit anymore. We console ourselves by saying that we have already made it further than anyone could realistically have hoped. The next morning we sleep in, mentally prepared to descend to the lower camps and end the expedition. But to everyone's surprise, Hanifa wakes up bursting with energy. Over the course of the night, she got some rest. The sun is shining. Hanifa breaks into a smile, spreading her arms and pointing to the top. "Yes," she says, beaming.
Normally on a summit day, the team would rise before dawn to make an attempt. It's already past 9 a.m., and with every passing minute our chances of reaching the top decrease. The ascent and return to camp four will take at least ten hours, and we still need to eat and melt snow for drinking water. The guides decide to see how far we can get. Shortly before noon, Vibs helps Hanifa put on her pack, securing the straps and her ice ax. "Today maybe we'll make history," Rob says. Hanifa looks at the ridgeline above her. She's anxious but excited. She's lost weight over the past three weeks, but she looks stronger and more determined than ever.
The team moves slowly, with Emilie and then Sandro, who has proven to be a tireless climber, breaking trail in deep snow. Each step requires a tremendous amount of effort. It takes hours to zigzag up the slope, with a break every 20 minutes. Around five o'clock, we reach a ridge, still at least two hours from the summit. The climb feels endless, and the wind has picked up. Emilie and Vibs discuss whether it's safe to continue.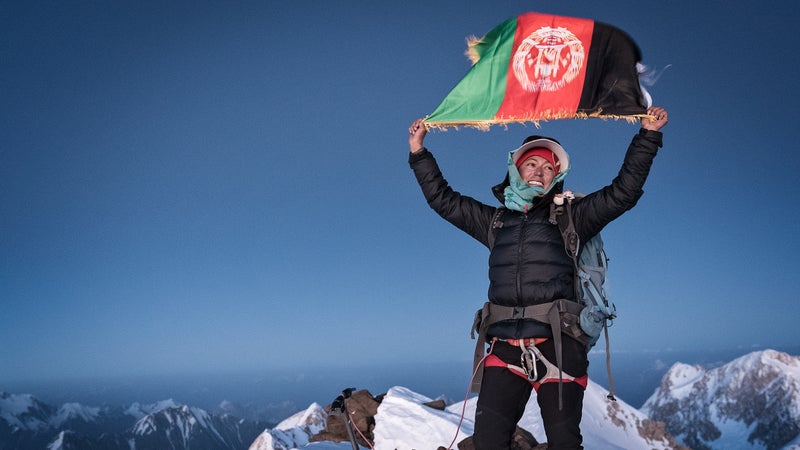 "It means we'll have to go down in the dark and the cold," Emilie says. "I don't think that's safe." The others are torn. I feel increasingly sick and have to stop myself from vomiting with every step. I haven't been able to eat or drink since morning, and I know that pushing on would be gambling with my health and safety. Emilie doesn't feel well either, and I ask her to guide me back to camp four.
"We've come so far," Vibs says. Being the one with the most high-altitude experience, she feels well enough to move forward. So do Sandro and Rob. Eventually, she asks Hanifa: "Do you want to go up? Do you want to ­summit?"
"Yeah," Hanifa says with an exhausted smile.
Emilie feels confident about Vibs being in charge but leaves her with a stern warning: the second Hanifa starts to feel unwell, they must turn around. "Please be safe," Emilie says before joining me to descend. As we head down, Vibs gives Hanifa a kiss on the cheek and some water, wraps her arm around her shoulder, and motions for her to keep going. They resume walking, in silence. Speaking requires air that can't be spared. Hanifa is roped to Vibs and doing her best to keep up. Her will and persistence overcome her exhaustion. Hanifa is beyond stopping.
A year and a half earlier, Hanifa said, "I want to stand on the highest point, strong on my feet, to lift up those who have fallen and be a hero for women in Afghanistan." At 7:02 P.M. on August 10, 24 days into the expedition, as the sun sets below Noshaq, Hanifa reaches the summit. Vibs, Sandro, and Rob cheer as she drops to her knees and kisses the ground. After a moment, she gets up again and pulls the Afghan flag out of her pack. "Long live the girls of Afghanistan," she shouts over and over again while the flag flutters above her head in the wind.
---
Two days after becoming the first Afghan woman to summit Noshaq, Hanifa returned to base camp, exhausted but proud.
"Shogufa! Neki! Freshta!" she called out as she entered. No response. "Shogufa! Neki! Freshta!" She looked around. The tents had been abandoned; the only sound was the wind blowing through them. Hanifa sat on a rock and lowered her head into the Afghan flag she'd been carrying, trying in vain to hide her tears.
While we were higher on the mountain, there had been some confusion about who would stay at base camp and who would leave. When Emilie realized that no one would be there upon our return, she tried to communicate it to Hanifa. But without Freshta to translate, it was difficult, and Hanifa appeared to have held on to a sliver of hope that someone would be there to greet her.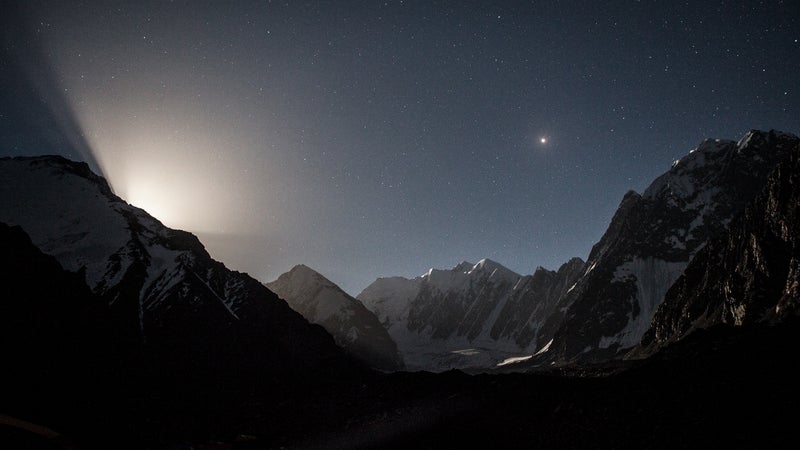 What Hanifa didn't know is that Shogufa had returned home and had learned that, on August 3, during Friday prayers, two suicide bombers had detonated explosive vests inside a Shiite mosque in Gardez. Women and children were among the 23 killed. Four of them were Shogufa's relatives. For various reasons and obligations, the other expedition members at base camp had returned to Kabul, too.
Four days later, Hanifa arrived at the Kabul airport to find her friends and family gathered outside the terminal. As she turned the corner, they cheered and showered her with flowers and confetti. And there was Shogufa, cheering along with them. The cousins fell into each other's arms and didn't let go. All, it seemed, was forgiven.
A few months after the climb, things are back to normal at Ascend. Freshta is still the program coordinator, and Shogufa and Hanifa continue to work as program assistants. Neki has started university and joined the program again for 2019.
It's clear that the climb took a toll on everyone. In the weeks that followed, Shogufa, who is now studying medical technology in college, wondered whether she should continue mountaineering. "I trained so hard for this," she says. "Even in the month of Ramadan, I was running on the treadmill. I couldn't drink water during the day because it is forbidden. I was so thirsty, but I pushed myself because I had this goal in my mind." Ultimately, she decided that she didn't want to give up because of one disappointing experience. "I don't like the word can't," she says, her face brightening. She mentions other mountains she'd like to climb, including Everest.
Marina was realistic about the team's chances of summiting Noshaq from the start. "It was always a possibility that just one would make it," she says, pointing out how little training the women could receive living in a place like Kabul. For Marina, Noshaq was more about the symbolism than the summit. "I am thrilled with the result," she says.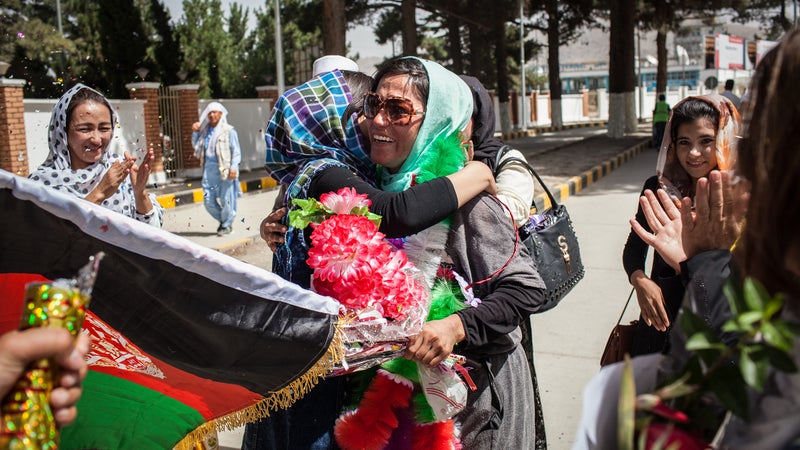 Marina made the decision not to speak to the Afghan media about the expedition, to avoid placing the women on extremists' radar, but she says that as a result of Noshaq, change is happening at a grassroots level. "The girls are talking in public schools about the climb and sharing their stories, acting as role models for future generations and raising the ceiling on what women can do," she says. Marina and her staff are working on a new training curriculum and creating a system to evaluate members' skill levels. In June, Hanifa, Shogufa, and another Ascend member will travel to Chamonix, France, to take an alpine mountaineering course sponsored by the Jonathan Conville Memorial Trust, which supports training young climbers. And Ascend has six expeditions planned in 2019. "We won't do Noshaq again this year," Marina says, but adds that "one of them will be big."
Meanwhile, Hanifa and her immediate family are proud of her achievement. She exudes health and confidence and is learning to read and write. But there had been an underlying hope that her summit would change her life in a more profound way. She wants to be known for her accomplishment, but when a bakery in her neighborhood hung up a picture of her on the summit and a family member discovered it, for safety reasons Hanifa went there to take it down. In the future, she wants to become a mountain guide. Freshta and Hanifa also hope to open an Ascend branch one day in Bamiyan, a mountainous province west of Kabul, but the organization currently doesn't have the funding to pursue it.
But ten days after she summited and returned to Kabul, all that's on Hanifa's mind is her welcome-back party. She looks like a princess in a white dress embroidered with flowers, layers of makeup on her face and rhinestones in her hair. Afterward, she'll go home to help her parents cook and clean. But today is about her triumph. For herself and all the women of Afghanistan.
Theresa Breuer (@theresa_breuer) is a writer and filmmaker based in Berlin. Erin Trieb (@erintrieb) is a photographer and filmmaker based in Istanbul. Breuer and Trieb's film about Ascend will be released in 2020.
---
Editor's Note: The story has been updated to clarify how the expedition was funded.
Lead Photo: Erin Trieb