The Other Man: Graham Hunt (1985-2015)
Unknown outside of the Yosemite orbit, Dean Potter's frequent flying partner was an accomplished climber and BASE jumper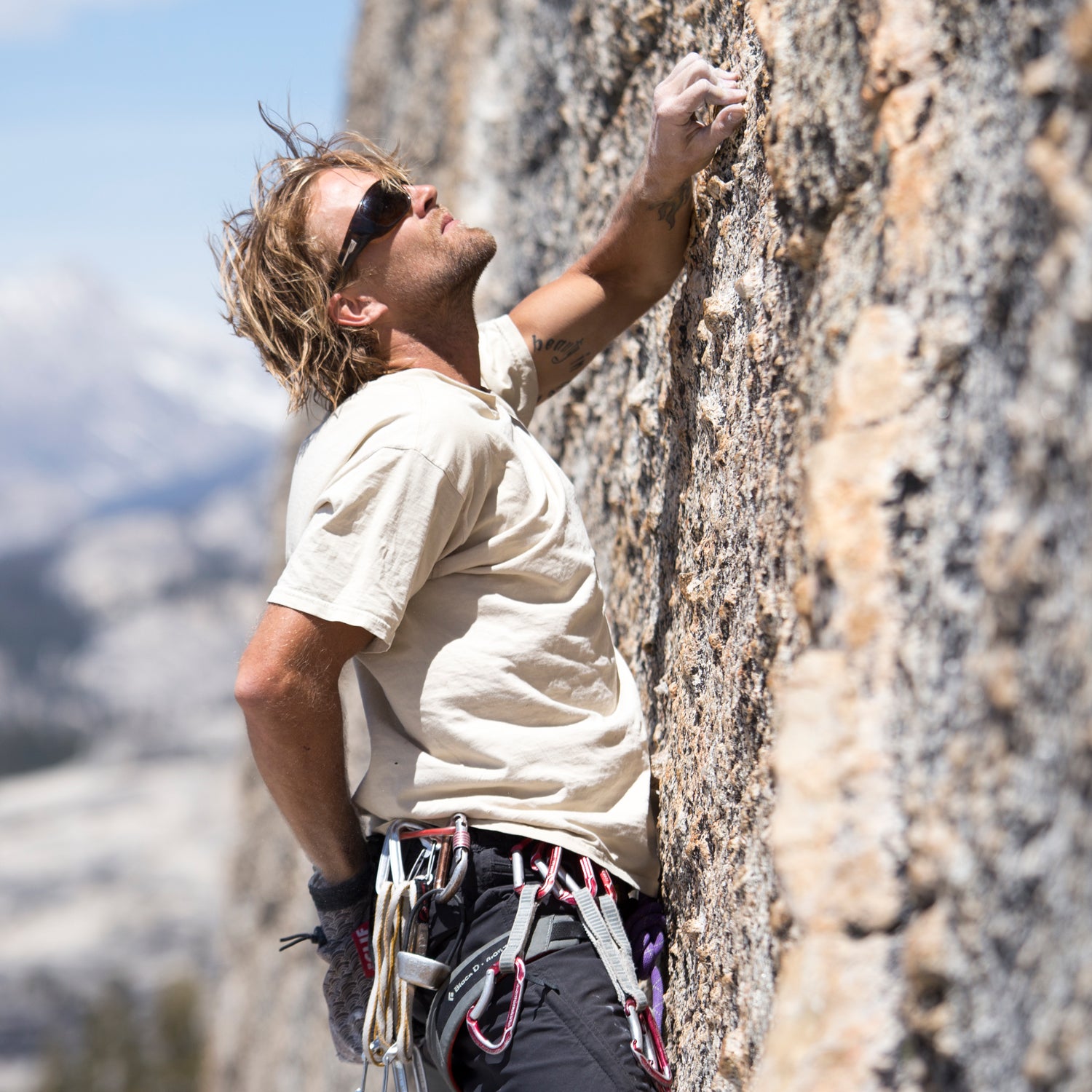 Fred Pompermayer(Photo)
Heading out the door? Read this article on the new Outside+ app available now on iOS devices for members! Download the app.
Since the news began to filter out that two men had died in a wingsuit-flying accident in Yosemite on Saturday, thousands of words have been written about one of them, Dean Potter, 43, and far fewer about the other, Graham Hunt, 29. 
Which makes sense: Potter was a towering figure in the outdoor sports world, a renowned-climber-turned innovator, and a proselytizer for a range of high-altitude pursuits, among them highlining, free-BASEing, and, of course, BASE jumping and wingsuit flying. So when word came that Potter had died, the tributes poured out, many of them nearly ready-made, because, while tragic, Potter's passing was not entirely unexpected. 
Hunt, on the other hand, was mostly unknown outside of the close-knit fraternity of BASE jumpers and climbers in the Yosemite orbit. What's more, his complete disinterest in self-promotion and nearly non-existent digital footprint rendered him un-Googleable, which has meant that most of the coverage in the immediate wake of his death barely registered who he was, other than that he happened to be flying with Potter when something went terribly wrong. The basic narrative was, "Dean died, and this other guy was with him." 
But among those who knew him and had climbed, jumped, and lived with him, Hunt had a reputation for soulful, unshakeable competence and confidence, for being reliably reliable when situations got tricky in the mountains, as they often do for this tribe. He'd progressed rapidly in his early twenties from the climbing gyms of Sacramento to the walls of Yosemite, with 5.12 first ascents to his credit. He was someone people turned to frequently when they needed a solid partner for exploits in the Valley. In recent years, he'd gravitated more towards jumping and wingsuit flying, and though he'd only been at it for five years, he'd gone full tilt, evolving from apprentice to being among the sport's best. "Whatever he focused on, he became really good at, and he was probably one of the top wingsuit flyers in the world," says Shawn Reeder, a photographer and climber who met Hunt shortly after he arrived in Yosemite as a 22-year-old. "He got really into jumping, and Graham and Dean became really good friends through jumping. He was Dean's partner, his compadre." 
Or, as a Facebook post from slackliner and BASE jumper Andy Lewis put it: "Graham Hunt was a G who rolled silent like lasagna. He was known only by those who needed to know."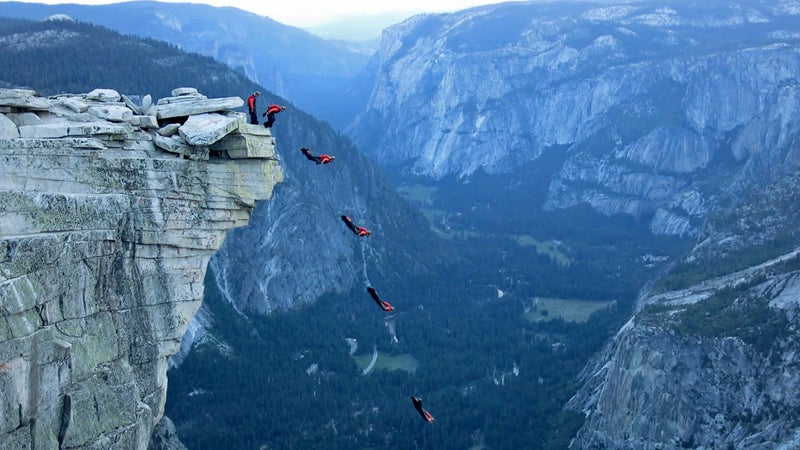 Graham Hunt, or "Grambo" as some friends called him, was from Shingle Springs, California, near Placerville, and though he'd been living the life of a climbing vagabond for years, when he was not climbing, jumping, or traveling, he could generally be found in El Portal, steps from Yosemite's entrance. Hunt had worked as a hotshot firefighter and carpenter, among many other short-term jobs, and had also done odd jobs around Yosemite, like working overnight shifts on a janitorial crew helping clean up park facilities. He was quietly charismatic and genuine, a man known for giving big, heartfelt hugs, reading books to children, and taking local kids bouldering. He drew people in with his warmth. "He was so present with people, no matter who they were," says Reeder. "It was pretty apparent right away that he was a special guy, and also really talented at pretty much whatever he wanted to put his efforts towards." 
Lately, his efforts had been directed at BASE jumping and wingsuit flying. "He got way into it," says James Lucas, another friend, climber, and Yosemite fixture. "I bet he was the most prolific jumper in Yosemite." He would jump with friends, jump alone, jump under the full moon, jump at dusk. And he got good. "He was the guy who could fly right next to you with the camera," says Jeff Shapiro, a climber, BASE jumper, and hang-glider who climbed and jumped frequently with both Potter and Hunt and considered Hunt to be like a brother. "And he would laugh his guts out after." 
News reports of the accident inevitably recorded Potter's long list of accomplishments, among them his record for the longest wingsuit BASE soar, a four-mile, nearly three-minute flight off the Eiger in the summer of 2013. What they failed to mention was that Hunt made that jump with him. But even as Hunt progressed in the sport and watched how people around him were making a living by promoting themselves and their sponsors, he stayed out of the limelight. 
"He struggled with the idea of knowing that he needed to get himself out there to tap into that ability to make a living," says Shapiro, who was supposed to meet up with Hunt and Potter in Yosemite next week. "It's this internal struggle that we all have, but he wanted to, in his words, spend his life shredding." 
Much has been written about Potter's acknowledgement of and struggle with the obvious risk and danger of what he did. Hunt was no less thoughtful, according to those who knew him. A touchstone moment for both men was when their friend and frequent partner Sean "Stanley" Leary died in a BASE accident in Zion National Park in March 2014. Hunt, in a video posted on YouTube after his death, referenced the death of Leary, the man he called his mentor. 
"So that reality is there for sure," he says, while the video alternates between shots of him in Yosemite, climbing, hiking, jumping, and talking. "But then there's the cliché of, well you can die driving your car, and it's fully true, man. So, I mean, I have to believe that we don't have to die doing this. I honestly feel like I could be a 75-year-old man and still go for a hike and fly." 
Though Saturday's jump was the latest in a long line of slim-margin exploits, neither Hunt nor Potter would have seen it as anything out of the ordinary. Hunt, in fact, had executed a successful flight off Taft Point three days before his death.  
As slackliner and BASE jumper Andy Lewis put it: "Graham Hunt was a G who rolled silent like lasagna. He was known only by those who needed to know."
When the margin for error is mere inches, no matter how much control you have, or how good you are, it doesn't take much for something to go wrong, and Hunt was fully aware of that. "I hung out with Graham quite a bit last month in Moab and we talked a lot about the jumping," says Reeder.* "And I came away really respecting the space that he was coming from in making his choices. He knew the risk, and he knew that he was pushing towards the edge, but he also truly believed that he would be 75 years old and still doing this." 
There have been low-key gatherings of friends in Yosemite as people process the latest loss in their small community. Hunt's family came to the park Sunday, and Monday night people met at the trailer where Sean Leary used to live. "We talked and just kind of remembered them," Lucas says, "and it's definitely like people are starting to process it a bit." 
In thinking of his BASE jumping friends and the way they lived, Lucas said he'd been mulling over a Tom Robbins quote from the novel Still Life with Woodpecker. "'Unwilling to wait for mankind to improve, the outlaw lives as if that day were here,'" he recited. "And that kind of really embodied what these guys did." 
There will be much hand-wringing, and many questions asked, about whether Hunt and Potter's "outlaw" friends should re-evaluate the risks they take. Some may be inspired by their friends' example to charge harder. "We as individuals make a community that CAN and DOES provide positive inspiration from doing all the ridiculously arbitrary things we are captivated to complete," wrote Andy Lewis in a Facebook post, "[and] if we stick to our guns, stay true to ourselves, we as individuals can inspire an entirely new generation of ideas and actions."
But for others, there will be a lot of reflecting and processing ahead. "It really rocks your whole system," says Shapiro, speaking of the deaths of Leary, Potter, and Hunt, "your ability to believe that if you make logical decisions, good decisions, that these things we do are sustainable. So there's a lot of re-thinking." 
*Due to an editing error, an earlier version of this piece attributed this quote to Shapiro.
Lead Photo: Fred Pompermayer