Finding a Foothold As a Plus-Size Climber
When Drew Hulsey started climbing, he weighed 300 pounds and wondered if the ropes would hold. He found out that they would, and found a community that embraced him. Now he sets an example that inspires others to join him.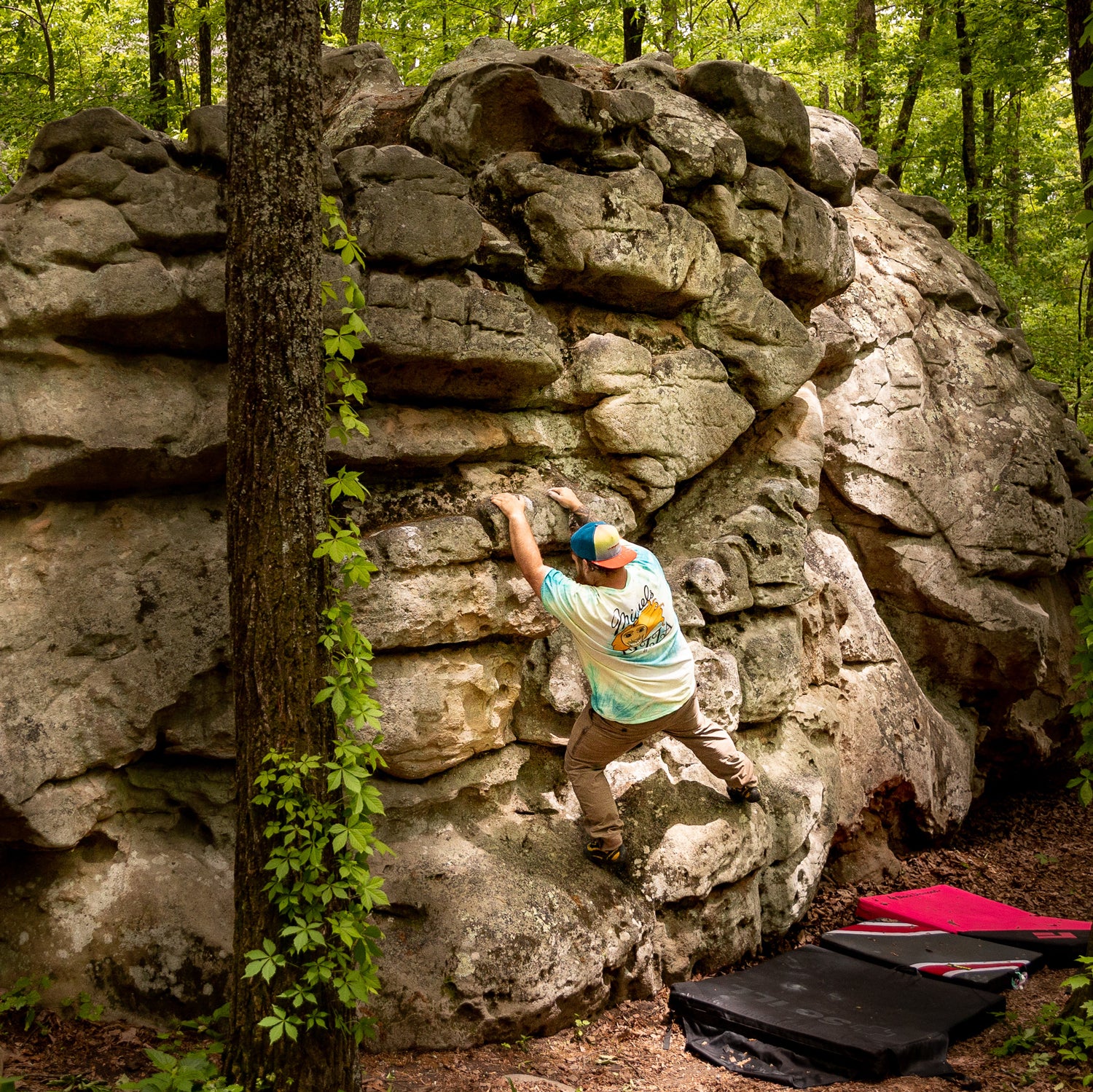 Heading out the door? Read this article on the new Outside+ app available now on iOS devices for members! Download the app.
This article was first published by Climbing.com. To get more of its premium content along with your Outside subscription, join Outside+.
---
Walking into the gym, I was nervous. I didn't really know what to expect. The previous night I had spent an hour on the internet researching the question, "Can a big person climb?" I was weighing in at 300 pounds. I wore a size 46 pant. I didn't look like any of the climbers I had seen up to this point. While I found some discussion, the advice varied, and I couldn't shake the thought that the people writing in might be lighter and more able than I was.
Twenty minutes before I entered the gym, I had been sitting in my car trying to get out of it. I texted my wife, Sarah, who promptly told me, "Just go in and ask. You won't stop thinking about it until you do." Yet I wasn't sure how I would be received. What they would think of me. Knowing Sarah was right, thought, I got out of my car.
The woman at the counter smiled as I approached.
"Can bigger people climb?" I asked, and hesitated. "Like, will the rope hold?"
She said, "Yep, the ropes can hold thousands of pounds." She gestured for me to fill out the waiver.
I really don't know if this is a normal experience for smaller-sized people in the climbing community, or if it's even a worry. Will the rope hold? Will the holds hold? Can I do this? My only exposure to the climbing world had been seeing the movie Free Solo the week before. That movie opened up a whole new world to me: the community, the rocks, the whole living-in-your-van thing. But as I walked into the gym, I didn't know what I was getting into.
The gym had short routes, only about 25 feet tall, but it looked like a long, scary 25 feet. My first route was a nice jug haul, but everything seemed so hard: At least three times I said, "I can't do it." Reluctant to let go, hands hurting, sweating like crazy, I kept on, reaching the top and blowing from doing zero activities to a full-blown workout. I walked to another route, and another. I would start one and wonder what I was even doing on the wall. But each time I tried, it felt less frightening and more exciting.
After that first time climbing, I knew it was the thing I wanted to do. I was having fun, even in one day I progressed, and I was doing a sport—something I had never before experienced. At times in my life, I had tried other sports and was typecast due to being large. I was seen as a lineman on the football team, for example, but that just wasn't who I was or wanted to be. I have always been a big guy. I wore "husky" clothes from the time I was 8. There hasn't been a time in my life that I wasn't big. My body had more potential than what other people were giving it credit for.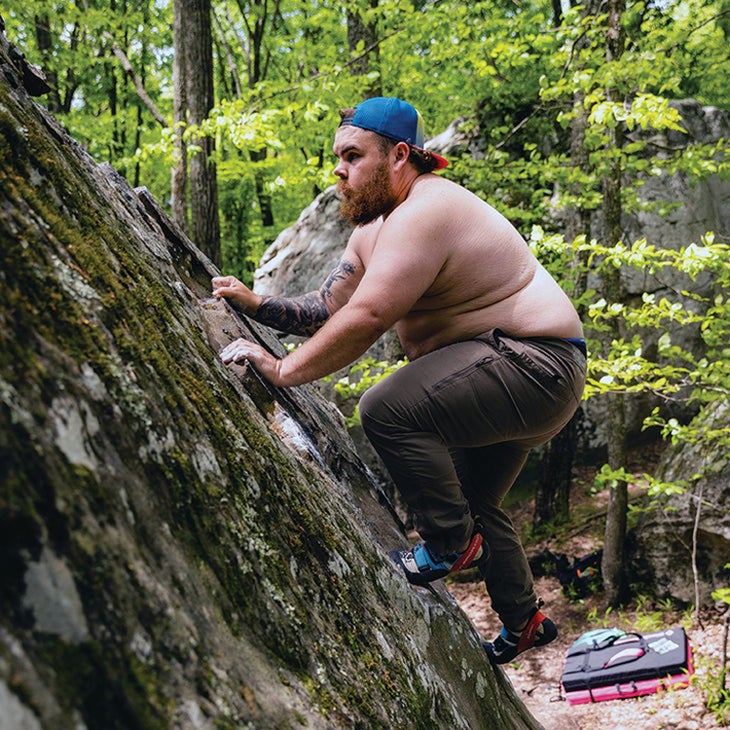 Over the following weeks and months, my love for climbing only grew, but comfort is not a word I would use to describe the experience of being a beginner always surrounded by buff men grunting on the wall. I didn't really see myself represented in the strong-person scene I was immersed in. It's intimidating to be surrounded by athletes and feel you do not look like one. The glances, comments, and unsolicited advice, however well-meant, stung. These actions hurt and made it hard for me to find my identity as a climber. If others didn't see me as capable, would I ever be able to identify myself as a climber? I was already so passionate about the sport and wanted to find my place in it.
People would ask, "Are you new here?" when I had been at my gym for over a year.
They'd say, "Keep your hips to the wall," when I was physically incapable of achieving that kind of suggestion. I still get these comments, even though I've been at this for nearly two years now.
Furthermore, people assume that, if you are fat and doing something active, the goal is to lose weight. That's just not always true. I am often asked what my fitness goals are, and I regularly receive comments from other climbers on ways that they have lost weight. In my experience, I have found health—not weight loss—through climbing.
My initial goal was simply to be more active, not necessarily to lose weight. However, over time and as I gained more skills, I sometimes became frustrated when I was unable to get to the next grade or stick a hard move. More than once I had to leave the gym because I was being so hard on myself. I would compare myself to people who had been climbing for years and wonder, "What am I doing here?"
A couple of months in, I had to shift my perspective to enjoying climbing as it is. I knew and still know I want to love this sport for everything it gives me—not just for the strength that it takes. I can climb easy stuff for the rest of my life, and that will be OK. I can do this sport at my own pace, and I can enjoy it without having to fit a certain body type. This is a realization that has taken some time to come to. Prior to changing how I thought about climbing, I struggled with panic and anxiety attacks at the gym during my sessions. The negative thoughts about myself and my body were so loud in my head when I was on the wall. Any failure I experienced was just proof in that moment that confirmed all of the false beliefs I had about myself.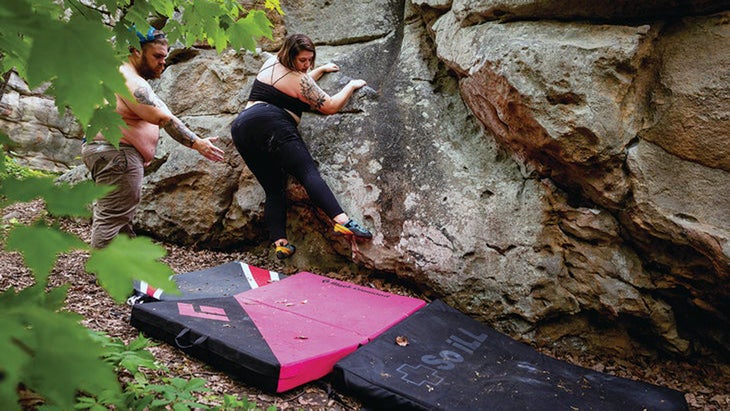 I was starting to hit a plateau in my strength and was struggling to climb harder than I had been. I didn't understand why this was happening. If I wanted to keep climbing, I was going to have to address this issue. This was most apparent when I was struggling to hold myself together during a panic attack in a packed gym. I was shut down on a route. There were so many strong people around me enjoying themselves. My friends were nearby and I knew I had to get out of there. After that night, I began to notice that there may be some things that my body wasn't able to do at this time. I connected with my therapist to flush this process out and adjust my viewpoint on the issue. Since that moment, I'm not as fazed by those comments and suggestions that used to feel like salt in the wound of my self-image
At the same time, I reached a turning point in my climbing journey. I didn't really see anyone who looked like me doing the sport, so I started sharing my climbs and my journey on social media. I wrote about climbs that I sent, what I was working on, and what I was unable to send. When commenters made cracks or gave me flak, I pushed back. Having only seen people doing amazing and wonderful feats on social media, I wanted to create a space within the community to encourage others, regardless of their size, to try climbing as well. My journey has grown in a way that I never expected.
What started as posting on my Instagram and sharing videos of me climbing has turned into finding an online community where people talk about climbing and body positivity. Many people have reached out to say thank you: for simply showing up as a bigger-bodied individual. These online conversations, which incited further dialogue at gyms and crags, gave me a validation that I needed initially to know that I was on the right path.
As I have continued sharing my climbing experiences on Instagram, I've gained a sense of where change needs to happen. I often receive messages asking for gear advice, since there is little information out there for what harnesses fit or which shoes are the widest. When I started sharing this part of my life, I knew that a voice was needed for people who looked like me, but I never expected it to be mine. I never expected for people to see what I was doing and be inspired to try it for themselves.
I receive messages that say "You've inspired me to try climbing," or "I didn't know I could climb before now, I always thought I was too fat to do it." Seeing people try something that they didn't know was accessible to them reminds me of why I put myself out there on social media. I hope that I can be a type of resource that I was looking for when I first started.
There are still parts of the community that tell me I don't belong. That I shouldn't be climbing. Climbers who feel they are the gatekeepers show up in my comments on my posts frequently, most often when I share how I struggle at times with self-image. They tell me I don't deserve my sponsorships because I "don't climb that well" or that I should just quit because I'm too fat. These climbers don't want change. I assume these people don't feel comfortable seeing someone making a way for others who don't fit in the normal body type that we see in climbing and climbing media. They seem to think that climbing is only for those who have visually defined muscles, and l know what I share and stand for makes them uncomfortable.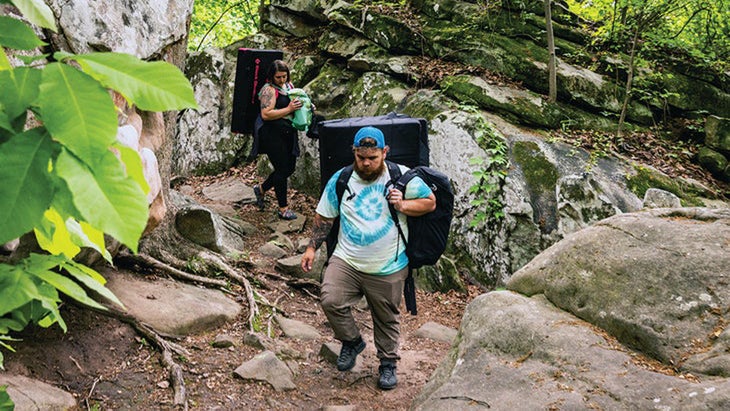 I typically remove those statements. I want my little corner of the internet to be safe for those exploring a new sport. The comments could be dangerous and triggering for people who haven't healed from a negative self-image. There's much room for improvement in the climbing side of social media. Maybe one day I won't receive any comments about how I'm promoting an "unhealthy life" by sharing about being a fat climber.
Climbing can be so much more than a feat of strength. It's more than swinging around on tiny holds. It can bring you a feeling of belonging. Everyone is welcome in this sport, and I truly saw this with the outdoor community during my first climbing trip.
I'd been climbing about eight months when my wife and I drove to Kentucky for a weekend of climbing. I arrived at the Red River Gorge excited and nervous. I had been looking forward to this trip and the new experiences. The Red was the closest hub of climbing where I live. It was the real deal. We pulled into the campground and saw strong and fit climbers everywhere. This would be my first time seeing the climbing community in person on such a large scale.
I wasn't sure what to expect but we did know that some awesome 5.3 and 5.4 climbs awaited us, along with some friends I'd connected with online. At the end of a long day, Sarah and I shared a meal with our new friends Jessie Briggs and Molly Finch at Miguel's Pizza and talked about our experiences from the day. We shared a language and a passion for climbing. They were as excited for me as I was about simply showing up and climbing, regardless of the grade. There was no expectation to keep pushing grades. Something clicked for me. That day was when I felt seen as a climber.
I often hear the phrase or thought that climbing has no meaning. Why do we do it? Why do we haul ropes out on 45-minute approaches just to fail? Why do we stare up at rocks from the comfort of a bouldering pad? I do not think it's meaningless. Climbing has a point. I have found myself in these rocks. I had struggled to find a place where I could be myself and continue growing as a human. Climbing has given me that, and now I hope to show others that they can also try climbing and be a little adventurous.
There are people at climbing gyms who are just there for the workout. As the sport continues to grow, there will be more people who fit into the "here to workout" mold, and their experience is just as valid as that of people who have been climbing for years. What they don't know is that they may be missing out on the beauty of the community that can be found once you start climbing for reasons other than a workout.
My initial goal was simply to move and be more healthy. But I came back for the community. For the times spent around a campfire at the end of a day of climbing. Eating pizza together. Talking about El Cap for the 600th time. Imagining what it would be like to actually achieve our goals. And the awesome feeling when we do.
In climbing, you just have to be there for yourself, and you have to find your people. Find acceptance. Show up. Do the work. Eat the pizza. Do it again the next day.
Want to learn how to climb from a top-tier expert? Check out our Intro to Sport Climbing online course on Outside Learn, where Outside+ members get full access to our library of more than 50 courses on adventure, sports, health, and nutrition.
Lead Photo: Matthew Cunningham