Rising Son
Can a reluctant climber avoid his fate? In an exclusive excerpt from his new book, The Eiger Obsession, John Harlin III faces his legacy—and the mountain that killed his Father.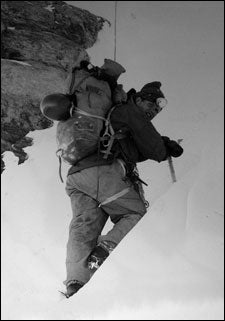 Heading out the door? Read this article on the new Outside+ app available now on iOS devices for members! Download the app.
eiger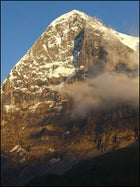 The Eiger in September 2005, shortly before John Harlin III's ascent.
eiger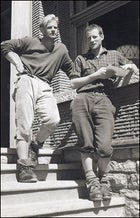 John Harlin II and Konrad Kirch after their ascent of the north face of the Eiger in 1962.
eiger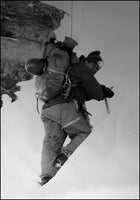 John Harlin II approaching an attempt on the Eiger Direct in 1964.
John Harlin III Interview
My father used to tell Mom that she would make a pretty widow, as she wore black well. It infuriated her, as did his bragging about close calls. He told her that again the winter he died. So she wore to the funeral the very dress that had prompted his comment. It was one she had bought to stuff in a backpack: It didn't take up much space, it could be washed in a stream, and when they went to dinner during expeditions in the Alps, it would not look as if she had come directly from a base camp. I was nine years old and my sister, Andréa, was eight when our father, John Harlin II, died. Three years earlier, in 1963, we'd moved our skis and stuffed animals into a chalet in Leysin, Switzerland. Previously we'd lived in Germany, where Dad flew for the U.S. Air Force until he told his commander he wouldn't drop a nuclear bomb and was immediately demoted. It was Mom who found them both jobs teaching at the Leysin American School in her case, biology; in his, sports, which meant mostly climbing and skiing.
My parents chose Switzerland in large part to be near Dad's obsession: the north face of the Eiger. Six thousand feet from base to summit, the wall is by far the tallest in the Alps. Among serious climbers it's the most infamous cliff in the world. Every aspiring alpinist is schooled in Eiger stories. Nicknamed the Mordwand ("Murder Wall" in German), it claimed eight lives before the 1938 first ascent, by a team of Austrians and Germans. In 1962 Dad had become the first American to climb it, following the established and, at the time, only route. After his ascent, Dad's obsession switched from merely climbing the wall to putting up its second route. This new route would be a direttissima: straight up the middle.
Between attempts on the Eiger Direttissima, Dad established many new routes in the Alps, including some of the hardest of the era. While his deeds went unheralded in the States, in Europe where the press made front-page news out of climbing successes and tragedies his star was bright. One colleague and climbing partner, Ted Wilson, recalls, "It was fun to walk into restaurants or public places with him and watch the eyeballs click in his direction." Dad actually received a postcard once that was addressed simply, EIGER JOHN, SWITZERLAND.
Despite his other successes like the Hidden Pillar Route, on Mont Blanc the Eiger Direct loomed unfinished. Dad spent countless days strategizing, waiting, scouting, and then attempting the route, only to be beaten back by storms time after time. By the autumn of 1965, there was real pressure for him to finish this project, and not just because it had already consumed so much of his time: The competition was heating up. It was that era's "last great problem," and everyone was waiting, even the nonclimbing public. Dad couldn't let someone else beat him to it.
Amid rumors of a large team of Germans training for the direttissima, Dad put together his own team for an attempt in February. They would be three. The ice specialist was 25-year-old Dougal Haston, an ambitious and talented Scot. The rock specialist was Layton Kor, 28, an American who was already a legend for putting up groundbreaking new routes in Colorado. Dad, 30, was the alpine generalist with the experience to bring it all together. The plan was for a single ten-day push in classic alpine style a single, fast push to the top without resupply.
Things didn't go as planned. They arrived at the base of the Eiger in early February, but the storms never stopped. Then Dad dislocated his shoulder skiing, and the rumored German team showed up. The problem with the Germans was the invincibility of their strategy. They had an eight-man team, the largest ever on a climb in the Alps. And they planned to siege the wall with fixed ropes a Himalayan strategy new to the Alps. The weather didn't much matter to them they could climb whenever it stopped snowing for two hours, not two weeks.
Dad's team was not about to give up; instead, they decided to blend their alpine tactics with the Germans' Himalayan strategy. The trio would fix ropes and inch up from camp to camp during bad weather. Chris Bonington, 31, photographing the climb for London's Weekend Telegraph, would temporarily join the team, bringing it to four when needed. As soon as the storm cycle broke, the original three would push quickly to the top, with the smaller, faster team flying by the Germans.
The American-British team started up the face on February 20, two days after learning about the Germans. Week after week, Dad's team thought they saw breaks in the weather and prepared for a summit push; week after week they were disappointed and went back to fixing ropes parallel to and sometimes overlapping the Germans'. After several weeks, the two teams had dug separate caves in a steep snow face at Death Bivouac, where the direct line crossed the original route just over halfway up the face. Death Bivouac had been named in honor of two climbers who had frozen there in 1935. But now, nearly a month in, things finally looked good for Dad, Dougal, and Layton. The forecast was so promising that Chris rappelled down the fixed ropes in order to take his side-view photos before shooting the conquering heroes as they neared the summit, three or four days later. Spirits soared: At last they would really move.
MY PARENTS FIRST MET in 1954, through the Stanford Alpine Club, in Palo Alto, California, where Dad taught Mom how to belay. She fell for this sensitive hardman who paused on the approach to a climb in order to comment on the shape of a gnarled tree or a striking flower. Though he was on the JV football team and in ROTC, his major was art and dress design, and Mom loved these contrasts. Soon they were engaged.
But early on she developed second thoughts about the maturity of her 20-year-old fiancé. Among the things that troubled her was his reaction to the death of their good friend and classmate Ann Pottinger, who'd succumbed to exhaustion while attempting to climb Higher Cathedral Spire, in Yosemite. Mom wrote to her parents, "John has eternal admiration for Ann, because she forced herself." By contrast, Mom had turned back on the same climb the weekend before Ann's death, because the heat and strain were too much for her. Dad had been furious at her weakness. After Ann died, Mom pointed out the obvious wisdom of her own action. Dad blew up at that, scolding her with "At least she tried!"
About a decade later, when I was eight, I was having my own run-ins with Dad. The first that sticks in my memory occurred when I returned from the Trofeo Topolino, a ski race in Italy that Dad's parents, visiting from California, took me to compete in. While the parades and the crowds had been exciting, I was deeply disappointed, as I'd not done well. My parents took the cog rail down to Aigle to meet us when we got off the train from Italy. On the ride up the hill, I admitted that I'd fallen twice in the race, not just the once that Dad's parents had reported. Dad's contempt was palpable. I don't recall any words, just a sense of being shamed.
Dad had no tolerance for weakness, and he expected others to push themselves as hard as he pushed himself. Fortunately, in the mountains I was learning to measure up. When I was six, Dad took me on my first roped climb. We were camping among the seaside walls and towers of the Calanques, a rugged coastline of white limestone cliffs and turquoise finger inlets stretching from Marseille to Cassis, on the French Mediterranean coast.
I remember the alternating current of terror and exhilaration that I felt as I followed Dad up the Petite Aiguille ("Little Needle"), which towered over the beach. Dad tied me in with a bowline around my waist, and thus began my education in knots and in stomach butterflies and sewing-machine leg. Suddenly the 200-foot pinnacle that had looked so attractive became a towering wall of intimidation. Initially the scrambling felt easy, but then a section of rock loomed vertically, and below I saw the open space into which I'd plunge if my hands couldn't hold or my foot slipped. Gripping the rock with everything I had, my body tensed until my leg started chattering uncontrollably. When I finally topped out on the pinnacle, Dad cut loose a mighty yell that echoed down the canyon walls. I felt ten feet tall make that 210 feet tall.
On my ninth birthday, in May 1965, we went to Les Diablerets, where a glacier allowed skiing when other runs had melted out. The gondola lifted us in three cliff-jumping stages to the top. Shortly after stepping out, we stood on the flattest, smoothest glacier I'd ever seen. It was like a gently tilted skating rink frosted with spring corn snow. We cruised along, making huge turns.
Then an idea came to us, and I don't recall if I thought of it first or watched one of the grown-ups do it. I just remember swiveling my skis quickly so that the tails pointed downhill, and then carving the same arching turns as before, only backwards. Soon we were all doing it, racing each other backwards down the mountain, checking only occasionally to make sure nothing surprising lay below. Sunshine glittered brightly on the snow, melting it into a perfect buttery consistency. Rock bands hemmed in the glacier, and we swooped past and around each other in a ski game I've never been able to duplicate. This was close to heaven, and Dad yodeled so loud that it bounced off the rocky rim.
ON THE 18TH OF MARCH, 1966, Dad called Mom from Kleine Scheidegg, the cluster of hotels at the base of the Eiger. The team's earlier optimism had been premature. They'd been forced down by bad weather and were now looking to ascend the fixed ropes yet again for a final push, after a month of battling the mountain. He told her how eager he was to finish the climb so that he could get back to us. Mom suggested giving it up, but Dad felt that this climb had taken up too much of his life and that it was time to complete the job. Besides, he was sure things would go smoothly from here.
Events on the face seemed to prove him right. The next day Layton led a delicate three-hour aid traverse across the base of the Central Pillar, and then Chris took over to lead an equally delicate pitch of nearly unprotected thin ice that kept threatening to break out from under his feet. He was 80 feet above a bad piton by the time he reached firm snow, risking a fall of 160 feet, assuming the piton held, and much worse if it didn't. It would be the only pitch on the entire route that Chris led (he was, after all, only supposed to take pictures), but in combination with Layton's traverse, it proved the key to unlocking the upper face. That day the Germans were foiled on their line and asked if they could join forces for the rest of the climb. Layton and one of the Germans climbed together the next day while Dad prepared supplies for the final effort.
On the 21st, Dad and Dougal climbed to Death Bivouac with their loads. The weather report was for three fair days, and things were finally looking good very, very good. Dad and Dougal were sorting gear for the summit push when the afternoon radio forecast came in: "Regret to state that preliminary weather reports from Zurich and Geneva say that there is a cold front approaching. This should arrive sometime tomorrow night… Does not look good." Dad and Dougal swore violently, but there seemed to be no choice. The summit push was scrapped yet again.
The next morning, after Layton had descended to rest and conserve food and fuel during the expected storm, the midday weather forecast predicted a delay in the strongest cold front. Dad and Dougal decided to blast for the top after all; Layton would follow with the Germans, which he'd already agreed to do if necessary. There was talk of champagne on the summit.
Dougal and Dad exchanged huge grins. They were finally going for it. Dad paused for the final Death Bivouac cleanup while Dougal started up the fixed ropes. These were terrifying trips, spinning in space under overhangs, with a 4,000-foot drop to the foot of the wall, then another 4,000 vertical feet of steep valley to the village of Grindelwald. The ropes they were ascending were a mere seven millimeters thick, but at least those particular ropes had been there only a few days.
Dougal was fighting his way up the rope on the side of the Central Pillar when he saw Dad emerge on the Third Icefield, about to start up the steeper ropes. On the final overhang below the infamous avalanche corridor called the Spider, Dougal noticed the rope "going over a particularly bad spot," as Chris remembers him saying. My mother recalls Dougal telling her that he noticed a fray there, but he thought the rope would hold.
A few minutes later Dad clipped his jumars to the free-hanging rope leading to the Spider and started up. He was poised to be in the first team to complete the greatest route of his generation, the most sought-after climb in the Alps, the route he had been trying to knock off for three years. This rope was taking him to the Spider, and after that a single day of fast climbing would transform his all-consuming dream into the greatest satisfaction he'd ever known. He slid his jumars up the rope left, right, left, right, gaining about a vertical foot with each step and fighting to keep from spinning. Then, just 50 feet from the top of the rope, the line above went slack. He hurtled downward, the Third Icefield rushing toward him.
ON HEARING THE NEWS, I mostly remember confusion. How could Dad have fallen off the mountain? It didn't make sense. Falling and hitting a ledge I could understand, but all the way off the mountain? I needed information, to learn that he hadn't made a mistake; I couldn't imagine him failing to tie in or not clipping himself to a fixed rope. Dad didn't make dumb mistakes like that. Somehow the information about a broken rope must not have reached me. On the back of a photograph I found recently, someone I have no idea who had written,SON JOHNNIE VERY GOOD SKIER. COMMENTED ON HEARING OF FATHER'S DEATH: "IT WASN'T HIS FAULT."
Mom did not speak at the funeral, but if she had, she likely would have said what she wrote down later: "John offered me a world of feeling, observation, and participation that I could never have experienced on my own. One cannot measure him by the yardstick used for ordinary men. It would be like measuring an elephant in microns."
At the funeral, in Leysin, I remember crowds spilling out the door, processions of mountain guides from France and Switzerland, all in their guide's knickers and sweaters; walking up the steps to the freshly dug grave, where wreaths of evergreen boughs and huge bouquets of flowers were piled under the falling snow; and a throng of people looking down as Dad's casket was lowered into the earth.
On the day Dad was buried, Dougal and four of the Germans battled the storm of their lives to finally reach the summit. They named their achievement in Dad's honor: the John Harlin Route.
My mother refused to see the corpse: Dad's body had been mutilated by his 4,000-foot fall and she didn't want to remember him that way. She was warned that she would have dreams about Dad if she didn't see his body, and it came true. In her dreams Dad's death was a hoax: He had gone to Algeria to escape his family commitment. Then she'd meet him on ski lifts or trains, and always she'd ask, "How could you do that to the children?"
In my own dreams, Dad would simply show up at the dinner table or on a train. He was silent, and I silently observed him and wondered where he'd been. My dreams faded much sooner than Mom's did. Eight-year-old Andréa had the hardest time, and her confession to Maria Coffey in Where the Mountain Casts Its Shadow, Coffey's 2003 book, shocked both Mom and me nearly four decades later. Andréa told Maria she had never cared whether Dad "succeeded" on a climb so long as he came back to her. Furious at him in his death, Andréa turned her anger on Mom. She started building her fantasy: Dad was not dead; the coffin was empty; he would come back and take her with him to wherever he'd gone. She was a junior in high school, she told Maria, when suddenly she realized, "No, he's not ever going to come back. He's dead."
Within the family we referred to Dad being "away on an expedition," and we tried to live as best we could by pretending this was a normal absence. Life for me was so busy and difficult that I barely had time to notice that Dad's "expedition" extended ever longer. In June, three weeks after my tenth birthday, Mom and I went to Zermatt, where we hiked under the north face of the Matterhorn and slept in an abandoned grain house. Mom wrote a friend afterwards, "Johnny has not given up his intention of being the youngest climber of the Matterhorn, despite the fact that the original guide is no longer around. Told me yesterday that if no one takes him up before he is 17, he will solo it. I do not know if that was meant as a threat or a fact."
I don't remember or understand how Mom managed her time. She had a full-time teaching job that included field trips to the coasts of France and Greece, lab preparations, exams, and grading. She sorted the radio conversations from the Eiger climb and pulled Dad's writings together. And she corresponded endlessly with James Ramsey Ullman, who was writing a book: Straight Up: The Life and Death of John Harlin. And she never lost sight of her own dreams. The summer after Dad died, Mom moved us back to the States, where she began work on a Ph.D. in marine biology at the University of Washington.
BY THE TIME I REACHED college, I seemed to be following in my mother's footsteps. I planned to become a biologist, like Mom, only my discipline would be Arctic ecology. But at the University of California at Santa Barbara I fell in with climbers, and in 1977, during my senior year, I became president of the UCSB Mountaineering Association, as Dad had been at Stanford 20 years earlier. I also met an 18-year-old freshman named Adele Hammond, who agreed to marry me when she graduated.
Adele would spend her junior year abroad, in France, and I planned to use her Paris apartment as a base camp while climbing my heart out. First I intended to repeat all of Dad's big routes, then I wanted to finish his namesake line on the Eiger. After that I planned to do new routes of my own.
But my first stop that summer would be the Canadian Rockies, where I hoped to hone my skills in preparation for the Alps. The Rockies came as a revelation the most magnificent mountains I'd seen since the Alps. My heart was already set on the highest summit of them all: 12,972-foot Mount Robson. I soloed the easiest route on Robson, then went to Jasper to find a partner for stiffer fare. There I met Chuck Hospidales, a first-generation Canadian of Venezuelan descent. Chuck was overflowing with enthusiasm and we hit it off immediately. I was 23 and he was about a year younger. We climbed a couple of moderate ice faces, and then I wanted to try a more difficult route on Robson.
We settled on the Wishbone Arête and reached the crux climbing not long after daybreak on the second day. Almost the entire mountain seemed to be a consistency halfway between talus and rock, with runnels of rotten ice for diversity. We moved together, with me ahead placing protection and Chuck cleaning the gear as he passed it.
Finally we got high enough that the rubbled ridge had a permanent coating of glassy ice. At last we'd found something worth climbing! For nine 150-foot rope lengths, we wove among pillars of ice. A few hours later we were high-fiving on the summit. We had only one concern in the world: getting down. The perfect weather hadn't changed, but the sun insisted on keeping its own schedule.
There were two ways to reach the Ralph Forster Hut, where we intended to spend the night. We deemed the Hourglass Route the best choice, as it was more direct. It had the disadvantage of passing under a long ice cliff, and the guidebook warned of falling seracs as bits of the hanging glacier calved off. But the Hourglass would be more likely to get us down before dark. We would rely on the standard mountaineer's trick in realms of falling rock and ice: speed.
We made good progress descending fast, unroped until encountering an eight- or ten-foot band of steep rock. I climbed down to see how it would go. The holds were solid and secure and led to a snowy ledge about five feet wide. I walked along the ledge briefly and could see that it led to a snowfield, which in turn led to the glacier below. This was it, the end of difficulties.
Chuck's crampons were ten feet above me as he studied the problem. "There's a good foothold just down there," I said, pointing, "and good handholds at about knee level."
He found those, and then started pawing for more handholds in the deepening dusk.
"The handhold is right there," I said. "Can't you feel it?"
"No, I can't!" he cried.
And then panic gripped his voice as he moaned "Oh, no!" and fell backwards. I lunged at him and touched his coat but couldn't get my fingers on it. I thought he'd stop on the ledge I was standing on, but instead he bounced right off.
"Omigod, omigod, omigod!" I screamed as sparks flew into the dusk each time Chuck's crampons hit rock. I heard whimpering noises through my screams, then nothing more as Chuck was swallowed by darkness.
Two people were brewing tea in the Forster Hut when I burst into their cocoon. After quickly telling them what had happened Chuck had fallen more than 500 feet, and his lifeless body was already turning blue when I reached him I crawled into a bunk to wrestle with my demons. Eventually I wrote something in the hut log, a short passage that tried to distill what had just happened. Twenty-five years later, the president of the Alpine Club of Canada sent me a copy. The account concluded, "Having lost my father on a 4,000 ft fall, and now watching Chuck die, I think I am coming to the conclusion that climbing is a bit too serious a game. Chuck was the most safety conscious and careful climber I knew. Were it not for my superior skill and impatience, I am sure that he would have been roped. But then with a rope we might have been slow enough to fall victim to one of the icefalls an earlier party mentioned [in the logbook]. I think too many people are dying in the mountains, are they worth it?"
When I called Mom I remember gasping, crying, and the feeling that if it had been me who had fallen, she might not have survived the news. My alpine climbing dreams had crumbled, and in particular my dream for the Eiger. I vowed to stick to safe rock, and maybe some protectable ice. To a certain extent, I managed to keep those vows for the next two decades.
I DON'T REMEMBER when exactly I started talking again about climbing the Eiger. I think it was around the time our daughter, Siena, was born, in 1996, when I was 40. Until then I'd done an OK job of sticking to my promise. I'd continued to climb on protectable cliffs and had even worked as a climbing guide in Colorado for a few years. With great effort I'd managed to stay mostly clear of real mountains. The big peaks are where ice, rock, weather, and scale combine into the perils and pleasures of genuine alpine climbing the kind Dad had loved so much.
But then I climbed a new, very alpine route on Mount Waddington, British Columbia, with my friend Mark Jenkins, Outside's longtime Hard Way columnist. I enjoyed that adventure perhaps as much as anything in my life, and I started to wonder whether I still had the willpower to reject this kind of climbing. Evidently, I didn't. My German friend Nicho Mailänder was with me once when someone asked if I would climb the Eiger. Nicho answered for me: "He has to."
This wasn't a dare or a provocation or anything except a deep understanding of what made me tick. I felt grateful for Nicho's response it validated my feelings. Mark and I spoke often of the Eiger as well. This climb would be a pilgrimage for me, not simply a route. It felt like an inexorable force, like gravity itself, was pulling me to the Eiger. Like any climber, I'd read plenty of Eiger stories. And in that literature, Dad's name the same as mine would come up over and over again. Every climber seemed to know it. On being introduced to me, climbers regularly asked if I was any relation to "the real John Harlin."
In the midst of my angst about the Eiger, I was at a party when a friend someone who'd been a hero in the 1970s for his extreme climbs asked point-blank, "What have you ever done besides being born to a famous father?"
I tried to make "Nothing" sound ironic, but in fact it was how I felt inside. My guiding business had failed; Summit, the magazine I'd edited for five years, had failed; my climbing ambitions had never gotten off the ground; and I endlessly pounded the keyboard as the Northwest editor for Backpacker when I wasn't digging ditches to divert water from flooding the basement in our new Hood River, Oregon, home.
I spoke about my Eiger ambitions to almost no one. I didn't want to worry my family, and with others I didn't want to talk about things undone. So Nicho, Mark, and I kept it mostly to ourselves. And I dwelled quietly on whether I could justify the risk.
Every time Mark and I get together, we debate risk. I argue that the only way I can rationalize alpine climbing is by building my skills in relatively safe environments on good rock and solid ice before applying those skills to more dangerous environments. Even more important, I insist, is to enter those dangerous situations only infrequently and to pass through them as quickly as possible. Then chance is in my favor. Mark cries bullshit. He points to coin-flipping, where the odds of the next flip coming up tails are 50-50 no matter how many times you flip. And then I'll retort that the odds of flipping at least one tail in the next ten flips are a lot higher than 50-50.
All of which sidesteps the central problem: When I look down and see bad protection or look up at an avalanche cutting loose, the bottom drops out of my stomach and the whole climbing enterprise looks like the selfish, foolish, absurd, and potentially destructive activity it really is. Condemning Siena to grow up fatherless, Adele to become a widow, and my mother to live through her son's death becomes an unforgivable sin. What can justify this? Nothing. I can only pretend that this pursuit is irresistible.
Dad didn't have such qualms. To him death was "just part of it all," and he wrote once about dying: "I knew how much I yearned for that ultimate experience and how fear had masked it." That was Dad speaking, not me. To me, death is ugly and hurtful. Even so, the best I could manage was a revised version of my vow: I would climb the Eiger only when conditions were right on the mountain, in my head, and in my body.
IT TOOK YEARS for all three to line up. In 1999, after warming up by traversing the Matterhorn, Mark and I arrived in Kleine Scheidegg with our eyes on the Eiger. But conditions on the mountain and in my head were all wrong. Mark and I were back in Switzerland in 2003, intending to climb the Eiger after putting up a new route on Mont Blanc. But a huge storm shut us down on Mont Blanc, and then rain blanketed Switzerland. The next year, a cold front put the Eiger out of commission yet again. I was visiting friends in Leysin, pretending I was despondent about the weather (while secretly being half relieved), when a call came in from an old friend, Stephen Venables, with whom I'd discussed the Eiger years before. He'd been hired to provide a storyline for a film about the Alps. Would I be willing, he asked, to climb the Eiger for an Imax movie?
The question floored me. I told him I didn't know. My goals on the Eiger were so personal that only a handful of people even knew I was thinking about it. Doing a movie was the last thing on my mind. One problem with a movie would be that I could no longer keep my intentions secret, especially from my mother. But the film would be a tribute to my father, and I knew he would appreciate it, if only he could know. And it would be a legacy for Siena, who was about the same age I'd been when Dad died. I would have to talk it over with Adele before deciding.
Mom had retired to Portland, just an hour from our home in Hood River. After Adele gave her concerned blessing, it was time to bring my secret dream into the open with Mom. She had suspicions already. While I had never brought up the Eiger with her, Mark had written about it. His Outside column about the Mont Blanc climb mentioned our follow-up plan, the prize we'd been warming up for: the Eiger. Mom had asked me about it, and I'd told her an even softer version of what I'd told Adele: "Ah, well, you know, if the conditions had been perfect on the Eiger, I suppose we might have had a look, but you know how Mark needs to tell a good story."
Mom was not amused to learn that I really did have my sights on the Eiger. And even less did she like fixing a date that she could worry toward. But neither she nor Adele ever tried to stop me, in part because I told them that my partners on the attempt would be the Germans Robert and Daniela Jasper, two of the best climbers in the world for such a route, and that we would climb it only under the safest conditions. It wouldn't do for me to die in a family film. In the end, I had their best wishes if I really felt I had to do it.
And I did. In the private recesses of my soul, immune from the pressures of responsibility, I'd always felt that of all the mountains in the world, there was only one I had to climb.
Finally, here I am.
It's September 2005. Robert and Daniela are on the rope in front of me. We've been waiting two weeks in Kleine Scheidegg for conditions to get right, and now they are. Above I can make out many of the named features of this, the 1938 Route: To my left, the Shattered Pillar reclines precariously against the wall; above, the Hinterstoisser Traverse; the three numbered icefields follow, famously peppered with falling rocks; then we'll reach Death Bivouac, where Dad spent most of the last two weeks of his life; the Ramp will try to block us with its notorious Waterfall Chimney and Ice Bulge pitches; the Traverse of the Gods, leading to the Spider, will allow me to look down on where Dad's rope broke; then, if all goes well, we'll climb the Exit Cracks to reach the summit.
The rope comes tight and my eyes return to the immediacy of climbing. Eiger rock feels cold to my bare hands. There is a long, long way to go.
Trending on Outside Online