Simone Moro: Alpinist, Helicopter Rescue Pilot, Everest Kingpin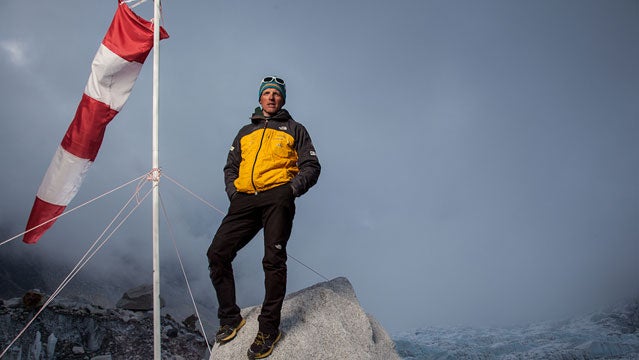 Grayson Schaffer(Photo)
Heading out the door? Read this article on the new Outside+ app available now on iOS devices for members! Download the app.
For his second act, Italian climber Simone Moro has become a helicopter rescue pilot, and one of the central figures at Everest Base Camp. Though he only got his pilot's license in 2009, he's already racked up 1,000 hours of flight time. At the time of this interview, Moro was planning to climb Everest without oxygen and then reverse course and climb Lhotse. But since the evacuation of Cory Richards, all speculation points to Moro as the most likely candidate to change his permit and join American Conrad Anker for an attempt of Everest's West Ridge.

Simone Moro.
What's the highest rescue that's been performed on Everest?
We've been to 6,400 meters and 6,900 meters for both body recoveries and rescues. For example, we went last year to Manaslu and took the body of a Sherpa. We clipped him with a long line and brought down. But this recovery (the one near Camp I on Everest in April) was the first one in which the helicopter held three people—the pilot, the co-pilot, and myself—to move the body into the helicopter.
That would have never happened two years ago, right?
No, that's right. Now, it's changing very fast thanks to collaboration between the European pilots, from Switzerland and Italy, and the local pilots. I have also to say that there are some stupid problems. For example, one was just solved two hours ago. Any foreign pilots that come here to fly need a work permit. That is quite normal, but it takes 60 days to get this permit. The person has to come—you can't apply before—and sit here watching the sky for 60 days.
Are the pilots besides you all from Nepal?
They are mainly from Nepal. Now there is Maurizio Folini who I recommended as a substitute to myself. He got his work permit two hours ago. He was the guy who flew the rescue (in early April). If you stay here and I don't tell you who is the pilot, you immediately understand when it's Maurizio and when any other pilots arrive. [Moro mimes a helicopter coming in smoothly and another rocking it's way in like a falling leaf.] I think Maurizio can teach a lot to the Nepalese pilots.
Is this possible because of the widespread adoption of evacuation insurance?
Before, there was not this alternative. Let me make an example. Let's say you have no insurance and you are in deep shit at 7,000 meters. You don't start to ask whether you have the money to pay or don't have the money to pay. You call and pray. Now, the hope for a rescue is a reality that moves all the systems. We can also say that there are more people who have the specific insurance. A flight to here [Everest Base Camp] and back to Lukla versus a flight from Lukla to Camp I is only four minutes difference, but the price is more than double. The risk to crash the aircraft is so big.
How much does it cost?
$15,000 or $20,000. If they start from Kathmandu, it's $20,000. If they start from Lukla to Camp I, it's $10,000.
That's because of the risk to the machine?
You have to understand that in the manual of the Eurocopter B3+ it says that you can fly until 7,026 meters. On Manaslu, I flew to 7,400, looking for a body. If I should crash, I'm not covered. But you know you're above the limits of the machine. Do they know if you were at 7,000 or 7,400? No, but the insurance company is ready to jump on you to find a reason not to cover.
I've heard that a number of evacuation companies are considering dropping Everest evacuations from their plans or at least adjusting their prices because there are so many rescues now.
I have a solution for this. It could be enough that the entry visas were increased $5. Then everybody would be covered for the period of their stay.
But that still won't stop people from flying out with less-severe medical conditions—like a cough.
Yes, this is also true. But on the other side, to save money, Fishtail Air keeps a helicopter staged at Lukla, so you can make it from Base Camp to Lukla for $4,000.
You own a portion of Fishtail, don't you?
I am now in negotiations. But I just freezed my purchase because they have crashed three helicopters in the last years. One B3 crashed on Ama Dablam, so the pilot and technician are dead. Then they had a tail-rotor strike on the B2. And then they destroy a third. So I was owning a helicopter company that was missing helicopters.
I hadn't heard about the other two crashes.
Now the situation is improving, thanks to the open-mindedness of a few managers of the helicopter companies. Now the pilots go to Zermat, Switzerland, to learn. Here, the standard is not so good. Here, there's no such thing as a hangar. All of the machines are outside through wind, dust, and monsoon. The government doesn't allow anybody to build a hangar outside of the airport.
What about maintenance?
That's not so bad because they are all from the army and have been sent to France to learn from Eurocopter.
How much do these machines cost?
The B3+ costs more than $3 million. The B3e has been out for less than a year and in two weeks we'll have our first one here.
Is the B3e more powerful?
No. It has the same amount of horsepower (843) but no matter how high it goes, it doesn't lose power—just like the old Lama. The Lama is still the best on the planet. The world altitude record for a helicopter is still held by a Lama: In 1972, a Lama flew 12,443 meters. Here in Nepal, it could be fantastic. The B3 is a horse. The Lama is a donkey. Nepal is a country of donkeys, not race horses. But there is a law here that forbids any aircraft older than 20 years to fly. That is the most stupid law.
Who makes the Lama?
It used to be Aeroespecial but then Eurocopter took it over. But they stopped making it 26 years ago and recently declared that in 2019 you won't be able to get spare parts, even. But there is a place where you can get a new Lama: Bangalore. The Lama was developed in India for its war with Pakistan. But they couldn't produce it, so they asked Eurocopter to produce it. But they can't sell it in Europe or the U.S. But it could fly here. A Lama, in theory, could lift 80kg from the South Col of Everest. A B3? Bye-bye.
Lead Photo: Grayson Schaffer