Skiing Makalu: Coming Home
The team attempting the first ski descent of Makalu didn't summit due to avalanche danger—but they did make it back alive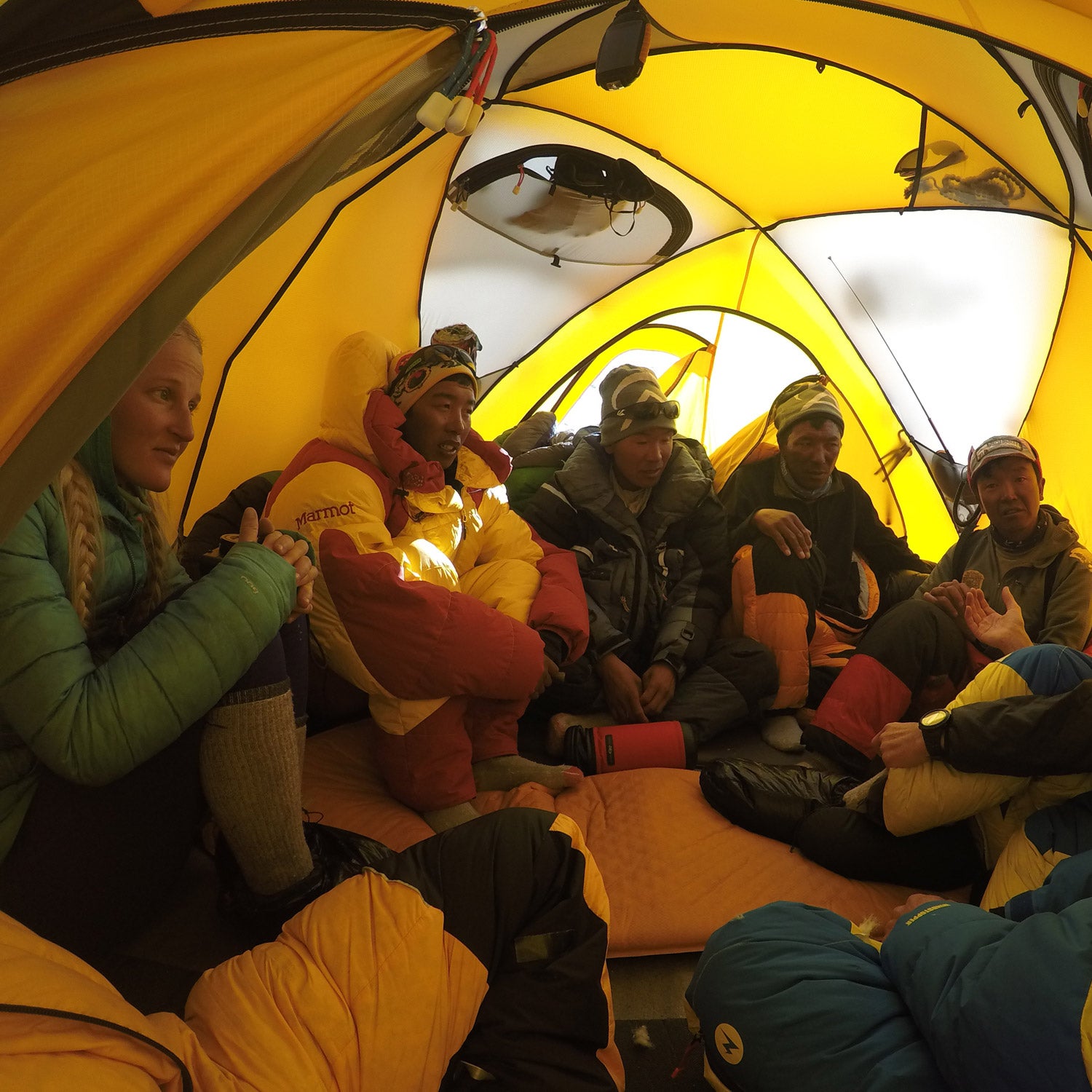 Heading out the door? Read this article on the new Outside+ app available now on iOS devices for members! Download the app.
It's always the same with big trips. No matter how many years of planning, how many weeks approaching the mountain, how many days stocking camps and acclimatizing, or how many hours on the summit push, the expedition can feel slow—but the end is always frantic and fast. And that means the processing, the "what if's," happen at home. 
This expedition was still a success, at least in my terms. We didn't summit, and we didn't ski the peak. Makalu awaits a ski descent from its summit. We skied only 500 vertical feet more than I skied in 2012, and we skied it in far worse conditions this time. After a month of low winds, stable snow and days of boot-top pow and cream, our summit push was characterized by breakable crust and sketchy wind slabs. That's the way of Himalayan skiing. 
What made it a success for me was the way our team worked. The biggest reason I love expedition climbing and skiing is not the summit. Or the turns. It's being a part of the human experience. Expeditions magnify that human experience. Life is at its most intense. Desire, risk, uncertainty, pain, and exhaustion all blend together to create intense stress. 
On Makalu, that culminated in camp 4, above 25,000 feet. The four skiers, along with two Sherpa, moved to camp 4 in high spirits. We felt strong and had an incredible weather forecast. Meanwhile, of their own volition, our other two Sherpa teammates had continued above camp 4 to scout a line towards the summit. They quickly kicked off three small slab avalanches attempting to climb one side of the face. They retreated, reassessed, and tried another line. It was at this point that Mingma Chirring triggered not one but two larger slides. The second was a two-foot thick windslab that carried Mingma hundreds of feet. Mingma, banged up but not buried, retreated to camp 4, and the team dove into discussion. 
Back at home, it now seems that our decision should have been easy. A team-member was almost killed and the slope above was clearly unstable. But big mountains are not that straightforward. Deciding to climb and ski a peak like Makalu always meant we would have to accept a level of risk. What level is "acceptable" is deeply personal. Each of us has a different tolerance. Could we find a way around the dangerous slope on vertical rock? Had the slab been cleared, so that the slope could now be passed? Would a slide on a possible alternate route up the center of the face mean even a slough would take us over ice cliffs? And a dozen more hypotheticals.
We discussed all of this for two hours on the night of Mingma's slide. And for another two the next morning. All at 25,000 feet. We debated for hours. And ultimately, when we did descend, we played different roles. Jim and Hilaree skied the sweet couloir (with big packs and challenging snow), experiencing a highlight of their trip. I had skied it before in 2012, and decided it was more important to carry a chunk of Mingma's load so he could descend (with badly bruised ribs) more easily. Emily climbed down with me, choosing a bit of additional safety while carrying an epic pack. 
All of this went on, in a really stressful and painful place to simply exist, and none of it went bad. After all the discussion and debate, I made the call. We all digested it, we shed a few tears, and then we got to work. And for me, this is why I would adventure again with this team anytime, anywhere. When it was all on the line, we didn't fail at staying alive. We listened to each other, tried to respect each other's differing views, honored the final decision, and were still able to laugh, cry, and drink tequila with each other back in base camp.
And we all came home.
Lead Photo: Hilaree O'Neill