Spires of the Bugaboos
Forget the Yosemite circus. Head north to Bugaboo Provincial Park, a fortress of world-class granite in a quiet corner of British Columbia.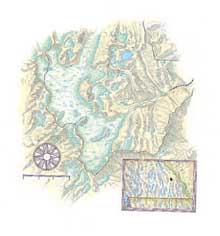 Heading out the door? Read this article on the new Outside+ app available now on iOS devices for members! Download the app.
HALFWAY UP the South Howser Tower, a 2,000-foot spire of white granite in the far reaches of Bugaboo Provincial Park, my partner, Rob Frost, a 30-year-old professional climber from New Hampshire, and I stop to contemplate our options. It's July, about four in the afternoon, and massive thunderheads swirl around the peak. "I think we should bivy here," says Rob, gesturing toward a sandy ledge encircled by a wall of stones. Plopping down with our backs to the rock, we gaze west past a glacier-cut valley and beyond into a no-man's-land of 10,000-foot peaks draped in jackets of blue ice. A few minutes pass, visibility drops to nil, and lightning cracks the air around us. When sleet begins to fall, we crawl into our bivy sacks.

Rock Steady: Rob Frost takes the lead on South Howser Tower.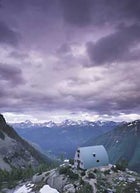 The Conrad Kain Hut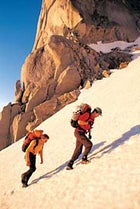 Sunshine seekers: the author and Frost hike to Snowpatch Spire.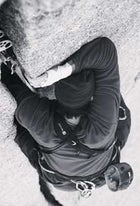 On crack: The author jams up the Sunshine route on Snowpatch Spire.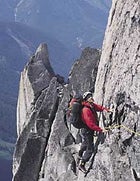 The author plans his next move on South Howser Tower.

Summit views.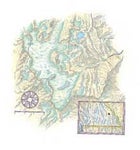 The plan had been to spread the single sleeping bag over us, but since Rob isn't paying attention, I keep the bag dry in my sack. I repeatedly tell him that it's only a passing squall, but after two hours, the storm increases in intensity and rivulets of slush flow down the wall and across our ledge. Static electricity sticks our hair straight up. Our fingernails tingle. Then a bolt of lightning slams into the peak a couple of hundred feet above us. The boom-crack makes my ears ring and the stone trembles beneath me. Making it through the night is no sure thing, but rappelling off right now would be suicidal.


Like many climbers from around the world, we chose to risk a thunder-lashed night for the opportunity to climb in the Bugs, an oasis of clean crystalline granite in the middle of the Purcell Mountains, a Canadian range notorious for crumbly sedimentary shale. Climbs here vary from easy 20-foot top ropes on glacier erratics just outside a backcountry hut to remote 3,000-foot faces that could easily be mistaken for something in Patagonia, Alaska, or Greenland—perfect for wall rats burned out on the carnival atmosphere of Yosemite Valley. The Bugs have become a required stop on the world climbing circuit, and they just happen to be in our own backyard, in the southeastern corner of British Columbia, a four-hour drive west of Calgary. July and August are ideal months to climb here, but as we're experiencing firsthand, the weather is unpredictable; wicked afternoon storms pop up frequently, with very little warning.


Three days earlier, after parking our car and wrapping it in chicken wire to protect the brake lines from hungry porcupines, Rob and I staggered under 80-pound packs onto a flat dirt path meandering along the banks of a silty creek. A massive glacier spilling chaotically between twin granite spires dominated the view from the trailhead. After 20 minutes, we emerged from a dense forest of cedar, Douglas fir, and hemlock below a steep rock wall. That's when we realized why the sign at the trailhead read NO DOGS ALLOWED: In front of us was a broken cliff with bolted-on ladders and cables, similar to the via ferrate in the Italian Dolomites. Gaining 2,100 feet in three hours, we arrived at the Conrad Kain Hut by early afternoon.



The modified A-frame shelter, named after Bugaboos pioneer Conrad Kain, who scaled many of the area's peaks in the early 1900s, sits on an exposed granite slab just above tree line. A handful of people lounged in the yard, an alpine meadow spotted with buttercups and fire-red Indian paintbrush. As we stepped in the door, we were greeted by Joe Boucher, the hut's bearded thirtysomething custodian, who's a dead ringer for Tyrolean mountaineer Reinhold Messner, and a large portrait of Kain in tweed pants and hobnailed boots. Dropping our bags at a sitting area with sturdy pine tables and a magnificent view of the crevasse-riddled Bugaboo Glacier, we followed Joe to some empty floor space in the third-floor loft. It was easy to see why so many climbers travel across the world only to become benchwarmers who'd rather luxuriate amid the electricity, running water, stoves, and sleeping mats than face a falling barometer. "The outhouse," Joe explained, "is about 35 yards back down the trail. You may want to go easy on the hot chocolate before bedding down."


When the new morning sun pulsed in a clear blue sky, the hut's inhabitants quickly scattered among the surrounding peaks. (In order to avoid crowding, we had all discussed our plans the previous night.) Some headed for the McTech area, on the south face of Crescent Spire above Crescent Glacier. Less than an hour's hike from the hut, it offers more than a dozen single- and multipitch crack climbs, from 5.5 to 5.11+. Others chose the West Ridge of Pigeon Spire (5.4), hands down the most popular route in the Bugs, and for good reason: Everyone agrees that crawling along the knife-edge of Pigeon Spire is the quintessential Bugaboos experience. In places, climbers have literally worn a path into the granite. Others decided to work their way up the laser-cut Northeast Ridge of Bugaboo Spire. This rock climb is one of the most sought-after routes in the Bugs because of its sustained but moderate difficulty (ten pitches, 5.7), its commanding views of the surrounding Purcell Mountains, and its inclusion in the seminal guidebook Fifty Classic Climbs of North America.
We planned to warm up on a nine-pitch 5.10 called Sunshine, on Snowpatch Spire, also less than an hour from our overnight digs. At its base, I torqued my hands into the cold granite spotted with electric red, orange, and green lichens, and immediately realized that the friends who'd recommended Sunshine had downplayed the difficulty of the first pitch. Rob and I swapped leads up the wall, following one continuous crack up and over small roofs, clean headwalls, and open-book dihedrals. Unlike Yosemite granite, which is largely blank and holdless between the cracks, the coarse stone here was rippled with edges and tiny flakes. We were tempted to push for the summit, but drizzling rain made the rock slick, foreshadowing our epic to come. Nine raps and a 30-minute jog later, we were back at the hut.


The stink of ripe human bodies mingled with the aroma of several different meals in progress. Steam fogged the windows, and drying backpacks, clothing, and equipment hung across the walls. When Joe emerged from his office at 6 p.m. with the latest weather report in hand, we descended upon him like vultures. "High pressure is blowing in from up north," he said, fighting his way to the chalkboard to post the report. "Should be good for the next four days." Everyone cheered.


Rob and I realized without discussion that we should start packing up for our main objective: the Beckey-Chouinard route, a 2,000-foot 5.10 on the west buttress of South Howser Tower, where a granite monolith rises from the glacier and shoots skyward for 1,000 feet before connecting to a shining headwall splintered with cracks. The tiny, ethereal summit sits 1,000 feet above. It's been on my tick list for years.
Leaving the hut at 3 a.m. we carried a light rack of protection (camming devices, chocks, slings), two ropes, a stove and fuel canister, two days of food, bivy sacks, and one sleeping bag. We picked our way over the Styrofoam surface of Vowell Glacier as a ribbon of orange illuminated a jawline of crooked black teeth along the eastern horizon. A steep ice gully led us down to the remote west side of the Howser Massif. Three hours after leaving the hut, we stood face-to-face with our objective.


Rob and I scrambled unroped up the first section. Tying in to the rope, we began running belays between fixed anchors when the ridge steepened past fourth class and hundreds of airy feet loomed below us. Cracks crisscrossed the rock like a spider's web, providing endless opportunities for protection and convenient hand and foot jams. We put most of our weight on our legs since the face was less than vertical. It was late afternoon and we'd climbed 1,500 feet when it suddenly became apparent that Joe's weather forecast was incorrect.
At the night-from-hell ledge, Rob and I crawled into our bivy sacks just before the clouds went electric. But now I'm too cold and scared to sleep. My only consolation is that Rob is taking it much harder than I am. Every minute or so I feel him shiver uncontrollably.


A raw wind rakes across the ledge at dawn and wakes us from our half-sleep. A thin veneer of ice coats everything and Rob is spooning me hard. Worst of all, it's my lead, my "breakfast of fear." With frozen fingers I pick my way up a long chimney plastered with ice. This granite elevator shaft ends at a notch in the summit ridge several pitches higher. Suddenly we've got drop-offs on both sides, and a stunning view over the south side of the peak, toward Bugaboo Spire. We simultaneously climb along the spine of a knife-edge ridge. By noon, we're straddling a perch so narrow we can't comfortably stand: the summit of South Howser Tower. The sun burns away the clouds from yesterday's storm and treats us to a breathtaking 360-degree panorama. Rows of jagged, snow-covered peaks stretch around us like miniature Himalayas. In the immediate vicinity, Bugaboo, Pigeon, and Snowpatch Spires stand sentinel above the white skin of the Vowell Glacier. Crunching on a tangle of uncooked ramen, Rob turns to me. "What storm?" he says.
Bugaboo Provincial Park is a playground for rock climbers from late June to mid-September and an adventure-skier's dream from December through May. The 33,720-acre park is open year-round, although 40 feet of annual snowfall blocks ground access in winter; admission is free. For more information, contact British Columbia's Kootenay District Parks Office (250-422-4200; www.elp.gov.bc.ca/bcparks).


Getting There: From Golden, British Columbia, follow Highway 95 about 40 miles south to Brisco; from there, a gravel logging road leads you 38 miles west to the park's entrance (and only official trailhead). Round-trip flights between New York and Calgary (185 miles east of the park) start at $482 (all prices in U.S. dollars) on Air Canada (888-247-2262; www.aircanada.ca).
Where to Stay: The Conrad Kain Hut, the only sheltered lodging within the park, is a three-hour hike (3.5 miles with a 2,100-foot vertical gain) from the parking lot, on the park's only maintained trail. The hut sleeps 40 and is outfitted with sleeping pads, cooking utensils, and propane stoves. Make reservations up to six months in advance with the Alpine Club of Canada ($14 per person per night; 403-678-3200; www.alpine clubofcanada.ca). You'll find primitive campsites at Boulder Camp, just below the hut, and at Applebea Camp, a half-mile hike north ($3.50 per person per night; no reservation necessary). The only other trails in the park are the well-worn paths between major climbing routes in the southeastern section. Backcountry camping in the fragile alpine tundra is not permitted.


Climbing:
Bugaboo Rock: A Climber's Guide, by Randall Green and Joe Bensen ($17, The Mountaineers Books) provides detailed route information and is a must for self-supported climbers. Five- and six-day climbing trips with Yamnuska Inc. (403-678-4164; www.yam nuska .com) and M&W Guides (403-678-2642; www.mwguides .com), both based in Canmore, Alberta, cost $750 to $1,230 per person, including guides, meals, and accommodations at the Kain Hut.


Heli-Hiking: Heli-hiking trips with Banff-based Canadian Mountain Holidays (800-661-0252; www.cmh hike.com) include three days of exploring the alpine ridges on the park perimeter and three nights at CMH's private, 24-room Bugaboo Lodge, near the park entrance. Trips, offered June to September, start at about $1,100 per person.


Ski Touring: Experienced backcountry skiers can explore the Bugs starting in December; you'll need ten to 15 days for the 95-mile Bugaboos­Rogers Pass Traverse, which starts at the Conrad Kain Hut and winds north through the park. Hire a guide for $110 per person per day (three-person minimum) through Yamnuska Inc. (See above.)


Heli-Skiing: Canadian Mountain Holidays (see above) offers seven-day heli-skiing trips in the Bugaboos from December to early May, starting at about $2,700 per person.